No Comments
True shows champion's kick; set to battle Rupp at USAs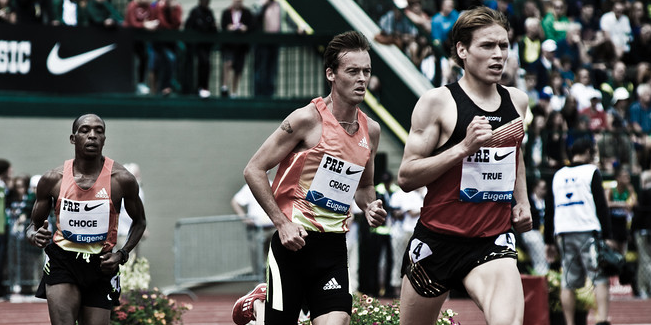 Daily Relay | On 15, Jun 2015
Photo via TrackTownPhoto
The climactic weekend of Ben True's breakout 2013 season was something of an anti-climax. He finished a dreaded fourth in both the men's 5,000 and 10,000 at USAs, missing out on the World Championships by a single spot in both races.
It's nearly two years later, and in race after race True is showing he's ready to put the disappointment of 2013 behind him. The latest — and probably greatest — example of True's readiness came Saturday at Icahn Stadium on Randall's Island in New York where he became the first American man to win a Diamond League 5,000m.
"I was feeling pretty good and kind of surprised," said True about the pace that brought he and most of the rest of the field through 4,200 meters in just 11:30 on a hot, cloudless afternoon. "Last year, with 800 to go, it always really started rattling up. Last year in the Zurich final, the guys who won put four seconds on me in the last 300 meters. Today, some way I was just able to get myself in the right position and bide my time until the last 100 meters."
In that Zurich Diamond League final last August, the pace was faster through 4,200 meters. The leaders went through in 11:09, although the heat Saturday in New York may have made an 11:30 effort not too dissimilar to 11:09.
Still, True was right that the penultimate lap was nearly two seconds faster in Zurich (62.25) than in New York (64.16) and off a faster pace. The differences in the early pace, that next-to-last lap buildup and True's fitness meant he could not hang with the 55.46 final lap (he lost to Caleb Ndiku by 4.23 seconds), whereas he was able to win Saturday with a 55.12 final lap.
"I wanted to get myself in the position so that they had to go around me before they started their main kick, so that they had to use up a little bit of energy getting around me and then just try to save something for the last 100 meters," said True. "When they came around me, I was able to hold on them pretty well. I was surprised and I tried digging deep and found something else and was able to start closing back on them."
He outkicked not just Thomas Longosiwa — the bronze medalist in the 5,000m in the London Olympics — but also the man who ran the second fastest time in the field this year, New Zealand's Nick Willis. The 2008 silver medalist in the 1500m is, of course, better known as a miler, and it appeared he was going to use his miler's kick to win this tactical race. Instead, True found another gear and raced past Willis over the final 50 meters.
"I'm always fairly confident in my kick, but with these guys you never know," said True. "These are the best in the world. It's hard — Nick Willis is the silver medalist at the Olympics. He's got a very vicious kick. Having him go around, I was like, 'Oh, no, a 1500-meter guy's gonna take all the 5K guys down.' And I honestly didn't think I was going to get back around him. But somehow I was able to get by him."
Whatever asterisks some may want to attach to True's historic win because of the time and the quality of the field won't be remembered for long. Yes, Hagos Gebrhiwet scratched before the race and Dejen Gebremeskel started but didn't finish. Longosiwa was the only man in the race who had broken 13:20 this year. But True can only race the runners who show up, and Longosiwa was good enough to win a 5,000m race in Birmingham a week ago.
Saturday was True's third notable victory since failing to make Team USA for March's World Cross Country Championships. True bounced back to set an American road record in the BAA 5K (13:22) in April and then outkicked road racer extraordinaire Stephen Sambu to win the UAE Healthy Kidney 10K (28:13) on a muggy day in Central Park two weeks ago.
True has not decided whether he will run the 10,000m or 5,000m at USAs, which begin June 25 in Eugene. He doesn't yet have a 5,000m qualifying standard for Worlds but isn't worried about having to chase a time afterward should he qualify. He'd prefer an honest pace to get the mark while at the trials.
At USAs in 2013, True was focused on the 10,000 and was crushed and drained when he finished fourth on a very hot night in Des Moines, Iowa. He then took a shot at the 5,000m three days later, but he was outkicked despite being the one to push for home with 1,500m to go off a laughably slow pace.
"Last few times at USAs have been tactical, and I've always drawn the short stick and always been outkicked," said True. "It's something I've always been working on is try to make it so I'm always in a good position instead of getting fourth or fifth. Hopefully I can make a team, and I want to win a race."
One of the men who beat him in 2013 was Galen Rupp, who finished first in the 10,000m and second in the 5,000m. Rupp and his coach Alberto Salazar are now at the center of controversy after an article published by ProPublica and a companion documentary by the BBC that describe alleged violations to Therapeutic Use Exemptions, improperly obtained prescriptions and more potential doping violations.
"To be honest, it's nothing that surprising," said True of the recent revelations. "It's things that have been rumored for years."
"I'm really interested to see what will come of it," he continued. "If the allegations are true, then I definitely hope very swift, harsh punishments come about. I am very opposed to any sort of cheating, and I think it's a disgrace. But they are allegations at the moment, so we gotta get all the evidence possible."
True was more philosophical on Rupp or others who may have broken the rules to gain in advantages in races in which True has run.
"The sad thing about sports is that you're always going to find cheats, and I'm sure I've raced drug cheats in the past," he said. "When you toe the line, there's nothing you can think about other than you try to do whatever you can to win the race.
"If it comes out afterward that people are doing things that are not kosher, then I definitely want them out of the sport, but if you think about it too much when you're on the starting line you can kind of psych yourself out. And it's something that you really just have to try to push down when you're actually in the act of racing. And just try to beat them regardless."
True is almost certain to the toe the same line as Rupp in perhaps both the 5,000 and 10,000 at USAs. By then it'll be two years since the defining weekend of True's "almost season." Might Saturday's kick be the extra injection of confidence to help True turn "almost" into making a team?
"I had doubts," said True of battling Willis on the final straight Saturday. "I definitely had doubts, but on that straightaway I moved out to lane three and really pushed hard and realized I wasn't losing more. I was starting to gain, and you had that little bit of positive feedback that you were closing a little bit. Mentally, that's such a big gain that you can just really go for it."