No Comments
Ahmed runs and speaks with a powerful message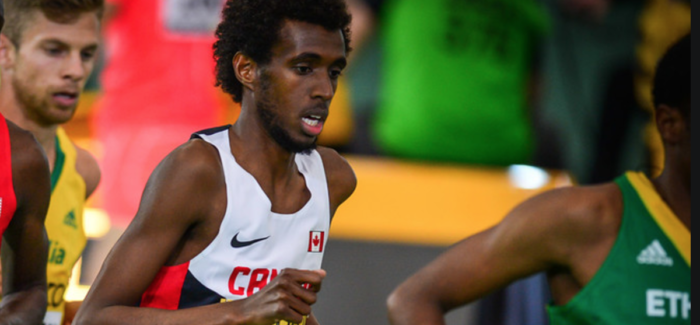 Brendon Desrochers | On 13, Feb 2017
NEW YORK — Ben True won the thrilling Paavo Nurmi Two Miles against a loaded field on Saturday afternoon at the Millrose Games in northern Manhattan, but he took a moment afterward to show respect to the man who finished three places and nearly two seconds behind him.
"That was a great thing you wrote, by the way," True said, as he reached out to shake Mo Ahmed's hand while Ahmed was being interviewed for this story.
Ahmed, though he didn't realize it, had just set a new Canadian indoor two-mile record in the race, but his bigger statement, the one to which True was referring, came not with his legs on a track but with his fingers on a keyboard.
On Feb. 3, in response to President Donald Trump's executive order on immigration, Ahmed published a column on CBC.com in which he described lifelong problems trying to cross the border from Canada to the United States, including a harrowing incident en route to a recruiting visit at the University of Washington.
Ahmed, a Canadian resident and citizen since his youth who ran for the country in the 2012 and 2016 Olympics, was born in Mogadishu in Somalia, one of seven nations whose citizens were subject to a travel ban and "extreme vetting" under the president's controversial late-January order.
Ahmed questioned whether the order would do anything "to improve security concerns" and warned about its potential negative impact on global terror.
"This ban has the potential to serve as a recruiting tool for extremists among young Americans who already feel disconnected and isolated from the rest of society," he wrote. "Enacting a 'Muslim ban' seems counterintuitive. Aside from the destructive repercussions this executive order could have domestically, the ban hurts the very people who are most affected by extremism… those seeking refuge in America."
Ahmed is known as Scoop by his Bowerman Track Club teammates because, as his BTC profile notes, "Mo concerns himself with always having choice information on topics." His facility with information and the written word made him an obvious choice for the CBC's David Giddens to reach out to for this column.
Ahmed wrote the piece while at altitude training in Flagstaff, Arizona, and he and Bowerman Track Club teammate Ryan Hill came directly from there to the Millrose Games, though perhaps not "directly."
Ahmed and Hill arrived in Phoenix for their flight to New York, only to learn that flights to the region were canceled due to the snowstorm that struck the Northeast on Thursday. Ahmed and Hill made their way to Baltimore instead, where they stayed Thursday night before taking the train up to New York on Friday morning.
The trip gave Ahmed and Hill another opportunity to discuss world affairs, something Ahmed said is never far from their training-run conversation.
"My training partners, we have a lot of discussion about the Trump presidency," said Ahmed after Saturday's race. His Bowerman Track Club distance teammates include Hill, Rio steeplechase silver-medalist Evan Jager, Beijing 2008 Team USA flagbearer Lopez Lomong and 2012 Olympian Chris Derrick.
"We discuss global issues and stuff like that. We have a lot of time to kill, so on our run we talk for 70 minutes, 80 minutes. However long we're running we talk about some things that come up on the news and talk about it and dissect it and grow and learn from each other."
Ahmed's travel partner Hill, the 2016 world 3000m indoor champion, led the two-mile race with 100 meters left, but True, who like Hill missed the 2016 Olympic team after making the 2015 Worlds team, kicked past him for the win.
After he congratulated Ahmed, True explained his opposition to the executive order.
"Our country is based on immigration, and the Statue of Liberty is right around the corner, and read the slogan at the base of it — that's basically what our country is all about," he said. "And to say, just because you're from a certain nation that you're somehow not welcome here, even though you've gone through all the legal precedents that require visas and require green cards, that's very un-American."
Though green-card holders were not specifically targeted by the ban and were eventually explicitly excluded from it after clarification, haphazard enforcement of the order led to many green-card holders being held in their countries of origin or kept in immigration limbo in airports across America on the first weekend after the ban was enacted.
"I feel sorry for people like Mo or like Hassan Mead, who are from countries that are on these lists and basically – Hassan Mead's a citizen of the United States — and yet the President of this country is basically saying people like you are not welcome here. I think that's a shame," said True.
Mead, like Ahmed, is from Somalia. As a boy, he migrated to Djibouti and, with his mother and siblings, followed his father to Minnesota in 1999. He later ran for the University of Minnesota and made the 2016 Olympic team, also in the 5000m.
Mead told SI.com's Chris Chavez on Friday, "Even if I may not be denied right now, it starts to stress you out. Airports are already a tension-filled environment with random selection because of your demographic and beliefs. Now there's this order from someone with a lot of power, and I'm still trying to take it in as it's happening."
On a recent trip back from attending a friend's wedding in Sweden, Ahmed experienced the "tension-filled" airport environment Mead described. Ahmed was held once again for extra screening, but then something unexpected happened.
"There was a [Customs and Border Patrol] lady who was talking to me, and, when she gave back my stuff, she's just like, 'I'm sorry, sir — it's just bulls***,' and I was like, 'Thank you — thank you for saying that.'
"That was probably the first time that I actually encountered someone say sorry for the hassle," said Ahmed, who grew up close to the US border in Ontario and later attended the University of Wisconsin. "I've been coming to the United States since '14, '15, and I've encountered a lot of times at borders, airports, missed flights. It's something that I've had to deal with. It's kind of nice that the lady said that to me."
Ahmed is pleased by the public demonstrations that may have helped build momentum toward a stay of the travel ban that was upheld last week in a 3-0 vote of the 9th District Court of Appeals, though the Trump administration may appeal the ruling to the Supreme Court or issue a new executive order on immigration.
"It's great that people are speaking up," he said. "That's what I expected. I was worried a bit, because, once [Trump] got elected, I was like, 'How did that happen?' But it's good that there were a lot of protests."
He's also appreciated the support he's gotten from athletes like True and even business leaders like Nike CEO Mark Parker, who, in a company-wide email sent in late January cited the "power of diversity" as one of many reasons why the executive order is "a policy we don't support."
"A lot of athletes definitely are against it, and it's good to see that, and not just athletes — the greater portion of our society is against it honestly," said Ahmed. "I love the [Nike] CEO, what he had to say. A lot of the Nike athletes are wearing black shirts that say 'Equality.' It's good that a company I'm running for believes in that."
Ahmed is running for redemption at this summer's World Championships in London, site of his first Olympics appearance in 2012, Saturday's race was another step in a journey back from disappointment after finishing one spot from the podium in fourth place in the 5000m in Rio.
With his performance Saturday, Ahmed now owns the Canadian record in the 3000m and two-mile indoors and 5000m outdoors. His 8:13.16 chopped more than a second and a half off Cam Levins' previous Canadian best of 8:14.69.