3 Comments
Random Thoughts on the NCAAs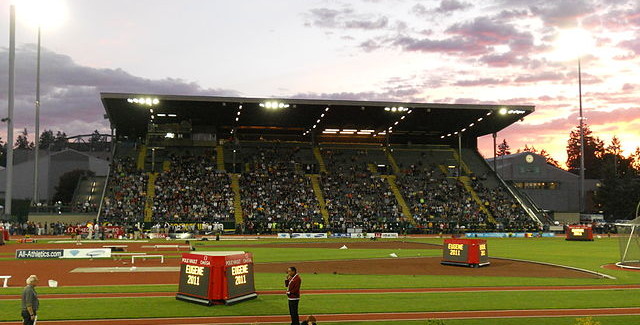 Jesse Squire | On 14, Jun 2015
On Tuesday I'll have a comprehensive look back at the year in college track and field, but for right now I thought I'd give you a few thoughts about the weekend's NCAA championships.
New Format
The new NCAA Championships format—men on Wednesday and Friday, women on Thursday and Saturday—was controversial to say the least. When new policies are rolled out in any sport and get referred to as "controversial", it means "most people really hate it". Here it meant that some people loved it and some hated it.
I liked it. I know other track fans and coaches who liked it too, but ultimately we weren't the reason it changed. The whole purpose was to attract new interest from people not already inside the track bubble—and track and field is very much like the "DC bubble". We suffer from groupthink and talking to ourselves, and we have little idea of what the larger world really wants.
I talked to one casual track fan who really liked it. He thought everything was so much simpler, and he notes that track and field often takes the simplest sport in the world and makes it overly complicated. He couldn't imagine what the possible objections could have been.
There were two, and neither quite worked out the way the doomsayers thought they would. The concerns were:
1. Less attention to women. The worry was that the days of pure women's competition would get ignored. Women's sports do tend to get an order of magnitude less attention than men's sports do (gymnastics and tennis are two notable exceptions). I don't yet have TV ratings, but we have attendance data, and the women's days marginally outdrew the corresponding men's days. It's too early to say that this concern is unwarranted—Oregon isn't exactly like everywhere else, plus the home team was trying to break a long streak of coming up just short—but the early returns are good.
2. Too difficult to double or triple. The concern was that it would overstress athletes being asked to run multiple finals on a single day (and with short rest) and they wouldn't be able to perform as well. Well, Andre DeGrasse ran the single greatest one-day sprint double in world history, and Trayvon Bromell probably went into the top ten. Jenna Prandini ran a nifty sprint triple. Keni Harrison ran two world-top-three hurdle races in short order. I think the athletes showed that concern to be unwarranted.
TV Coverage
The championships got unprecedented coverage on ESPN. There were twelve hours of live TV coverage plus complete live field event webcasts. That alone was a resounding success, and even if I didn't like the new format I'd still put up with it to get this kind of wall-to-wall broadcasting.
Besides there being a lot of it, in some ways it was better than it has been. For example, we got a rare treat of back-to-back (and sometimes back-to-back-to-back) races without a commercial break during Wednesday's and Thursday's semifinals. And when action ran over on one of those nights? ESPN kept with it instead of cutting to something else.
But too much of it was the same old stuff. Larry Rawson is long past his sell-by date. Three nights in a row he rambled on about the origins of the steeplechase, once missing a crucial move while he blathered. It took him 45 seconds to explain the exceedingly simple east and west preliminary rounds (try it yourself with a clock, you won't be able to fill the time). Best quips: "he's like a basketball announcer who doesn't know what the score is but will tell you the dimensions of the court" and "he's a tad reminiscent of Will Ferrell's Harry Caray".
A slight aside: apparently Rawson did do something right that I though he did wrong. Mississippi State's Rhianwedd Price, who won the 1500, is a native of the Welsh town of Llandrindod Wells. In the Welsh language (Cymraeg), those double consonants have a different pronunciation than in English. Price's first name would come out something like "Rhianeth". Via Twitter I excoriated Rawson for pronouncing it "Rhianwed"…then a third party sent me Mississippi State's pronunciation guide:
Rhianwedd Price: "Rhi-ann-wed"
I owe Rawson an apology.
On the telecasts, field events are still treated like bastard children. The only creativity in covering them is whether the top three will be shown in ascending or descending order. The webcasts were wonderful things, almost commercial-free whiparound coverage of the field events, but it's still a bit hard to follow when you have it muted so you can hear the TV broadcast. Simple graphics could address that; maybe the current top three plus the current competitor. Remember the basic test for on-screen graphics: could you tell what was happening if you were watching in a noisy sports bar?
One other sore spot for me may already have been addressed. It's no surprise that there were commercial breaks during the 10,000 meter races on Wednesday and Thursday night. TV sports just never go that long without a cutaway. But they had to time them right, and they didn't. We missed the big move in the women's race on Thursday night—but Dwight Stones said we probably would right before the commercial. I'm going to guess he argued with production staff about it before the meet (and obviously lost) and then used an opportunity for an on-air "I told you so" moment. The commercial break during the 5,000s on Friday and Saturday were much better placed.
The venue
Attendance at Oregon track meets has been in slow decline for a couple of years, but it rebounded for these championships. The final total was 42,544 over four days, the second-best in NCAA Championships history and about 2,000 more than either of the last two years.
Vin Lananna, the Oregon associate athletic director who is in charge of the various track and field projects (including the 2021 World Championships), said last year that he wants to grow the attendance to a Saturday total of 20,000. That's a tall order—so far as I know, it's only been accomplished once in NCAA history, in 1949 at the LA Colisum—and one problem is the venue itself. Hayward Field's seating capacity is listed at 10,500, but they fit 11,734 in there on Saturday and 13,728 for the Prefontaine Classic. He recently talked about a planned upgrade and expansion of the facility, but only to 14,000 permanent seats. Upgrades are necessary too; Hayward has character but it doesn't have the amenities of your basic AAA baseball park, which is the kind of place we'll find that extra 8,000 fans he's looking for.
Oregon will host the championships all the way through 2021 and other coaches see that as too much of a home advantage. It's a legitimate point, but I think the complaint needs further thought. For one, is there a home advantage in track and field? You would assume so, but you know what happens…
Recent research finds that a significant portion of the home advantage in sports is due to officiating. Consciously or unconsciously, subjective calls by officials tend to favor the home team (and in a degree relative to the size and intensity of the crowd). There are very few subjective calls in track and field these days, and even fewer that cannot be protested. So that's mostly a non-issue in track. Oregon athletes do have the advantage of not traveling. They don't have to fly, they sleep in their own beds and don't have to eat road food. This can be significant, especially in distance events.
On the other hand, Oregon has invested a significant amount of time, money and effort into building a serious track and field fan base. Few if any other teams have done that. Yes, Oregon track has a big benefactor in Phil Knight—but you're telling me that Florida and Texas A&M don't have money to spend? Aggie head coach Pat Henry said as much:
I would say the onus is on Texas A&M to build a facility, do things right, get people to come in the door, do things like Oregon does it, and create an environment that kids would love to come to. Until that happens, though, in my opinion, this [Oregon] is where it should be.
Future stars
Track is an odd sport in that it's both a team competition and an individual competition, and at the NCAAs it's even odder in that we're assessing star athletes' potential for other teams. We're wondering who will be national team members for the Worlds and Olympics, who might win a medal, and how soon.
So it was very interesting that the Adidas Grand Prix, the New York stop on the Diamond League tour, happened the same weekend as the NCAAs. We got to see that, at least right now, Usain Bolt isn't the same guy that set the world afire a few years ago. Ditto for Tyson Gay. After Friday night's fireworks, where young Andre DeGrasse ran out of his gourd, it sure looks like the Worlds are a showdown between him and Justin Gatlin. It's too tempting to call it a battle between good and evil…but at least some people will see it that way.
Others who could make serious impacts on the World Championships this year include Shawn Barber (pole vault, Canada), Sandi Morris and Demi Payne (both pole vault, both USA), Marquis Dendy (USA, triple jump and maybe long jump), Jarrion Lawson (USA, long jump), Shamier Little and Keni Harrison (both USA, both 400 hurdles), Michael Stigler (USA, 400 hurdles), and Omar McLeod (Jamaica, 110 hurdles).
And then there are looks farther down the road. Oregon freshman Raevyn Rogers won the women's 800 in 1:59.71, which makes her the sixth American under 2:00 so far this year. That's the same as all of last year, and approaching the most ever (nine, in 2012).