No Comments
5 Questions with Craig Lutz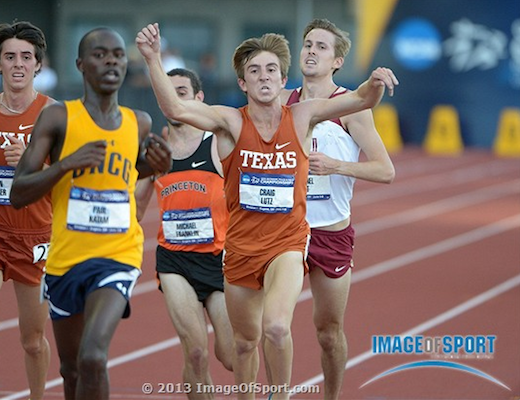 Pat Price | On 18, Jun 2013
photo courtesy Image of Sport
Welcome back to 5 Questions, where we pick the brains of people from all areas of the running scene. Today, we were lucky enough to catch up with NCAA bronze medalist in the 10,000, Craig Lutz. Check out his blog and follow him on Twitter @Craig_Lutz

5 Questions with Craig Lutz
1. Daily Relay: Congrats on the huge race at NCAA's. Going in, did you think top three was a chance? How did it shake out to land you on the podium?
Craig Lutz: Going into the 10k at Nationals, a top three finish had never crossed my mind. Between my coach and I, we felt as though grabbing an All American spot was possible, but that the realistic goal would be to land in the 7 or 8 spot and just try to achieve points for the team.
The race took off at a very slow pace that did not heat up until after 5k. The front guys were going through mid-race surges and throwing in some fast laps followed by another 71 or 72 second quarter. However, the guys in the back were just running a consistent pace and not worrying about moving around for position, so when the final laps came up, we were probably feeling a lot more fresh than the guys that had been jostling for a majority of the race.
2. Daily Relay: You've been fighting through injury for some time now. What exactly was the issue and is it fair to say you are back at 100%? What was the hardest part about going through the injury?
Craig Lutz: The issue is still not very black and white. We have ideas as to what may have been the cause for a lot of the problems I was going through, but at the end of the day, I think what we found ultimately was that I have a body just like anyone else. It has its own flaws and features that pertain to my specific being and thus I have to continually find the most efficient way to maintain it, and therefore improve it.
I'd say the hardest part of going through the year, that included my freshman track season and sophomore cross season, was dealing with the memories of recent success. I came out of high school running well, and then in a short period of time I was suffering in races and not performing to the expectations that I had put on myself. I continually saw failure and never looked at any workout or race with a positive aspect.
3. Daily Relay: You were the first freshman at NCAA Cross Country your freshman year (33rd overall). What are your goals this coming season now that you are feeling well again?
Craig Lutz: To race to my full potential and continually improve myself day in and day out. My "new" process on running is that I can't keep expecting great things from myself in everything that I do. It's not a realistic idea and one that no man can accomplish. We all have our bad days and it's who we are during them that defines the individual we are during our best.
4. Daily Relay: Texas is known for it's highly competitive high school football. The state is also pretty strong during the cross country season. What was it like competing on the prep level in the lone star state?
Craig Lutz: High school anything will always and forever be in the shadow of football. Even in schools that have a less than stellar football program and a cross or track team that continually compete at the state level, the football team will always trump. But that is the reality in all levels of sport. Pro runners never see the light of day in the news while the third string player on a low market pro team will occasionally have a headline about what they ate that day.
5. Daily Relay: How are the Longhorns looking for cross this fall? Austin gets pretty hot during the summer months. What kind of training do you guys do and any tips on staying cool?
Craig Lutz: We're looking just as strong as ever! It should be another exciting season to follow as we continue to try to improve on our national finish. Our training is probably no different than any other program during the summer months. It's a grind that involves a lot of slower mileage and the occasional tempo for turnover. And to avoid the heat we run early or late! That's really they only choice you have unless running in 100 degree heat is a fun activity for you!
If you enjoy 5 Questions, check out the archive of previous interviews over at Writing About Running