5 Comments
National Championships preview -- Men's jumps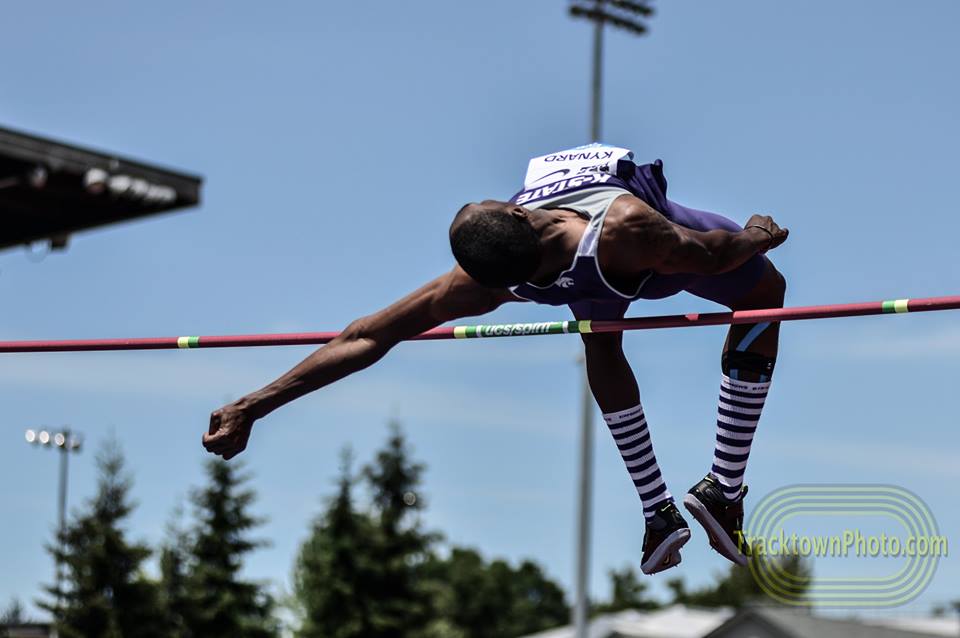 Jesse Squire | On 18, Jun 2013
Kansas State superstar Erik Kynard won an Olympic silver medal and was on David Letterman's show but hasn't won a USATF title. Yet. (Photo courtesy TrackTownPhoto)
We continue with our series of national championship event previews with the men's jumping events.
Make sure and bookmark the Daily Relay Coverage of the 2013 USA Outdoor Track and Field Championships and follow @DailyRelay for updates!
Before we get to the previews, though, there are few other things to let you know…
Basic Info
The 2013 USATF Championships will be held on Thursday through Sunday at Drake Stadium in Des Moines, Iowa (click for meet home page), with the junior (U20) championships held concurrently.
In most events, the top three athletes will make the US team for the World Championships, to be held in Moscow in August, but in some event the 'A' and 'B' qualifying standards will make that a bit less straightforward (see Jim McDannald's explanation).
The Canadian Championships will be held on Thursday through Sunday at Moncton Stadium in Moncton, New Brunswick (click for meet home page). Those 'A' and 'B' standards will play a much larger role in qualifying for the Worlds due to the lesser depth of talent in the smaller nation, but in one way Athletics Canada has made it much more clear-cut: if you're not in the top three, you're not going.
How to watch
USATF just announced that the entirety of the national championships (and the concurrent junior national championships) will be webcast at the brand-new USATF.TV. There's a schedule but all you really need to know is that *everything* will be webcast. The webcasts will even run during the weekend's live TV broadcasts, covering field events only.
Speaking of TV coverage, here's the weekend schedule (all times Eastern):
Friday, LIVE 8-10 p.m. on ESPN2
Saturday, LIVE 4-5 p.m. on Universal Sports, LIVE 5-7 p.m. on NBC Sports Network
Sunday, 2-3 p.m. on Universal Sports, LIVE 3-4 p.m. on NBC Sports Network, LIVE 4-6 p.m. on NBC
The Canadian Championships in Moncton will be webcast in their entirety at this link.
On to the event previews!
Final: Sunday, 1:45pm local time (2:45pm ET)
Standards: 'A' – 2.31m, 'B' – 2.28m
The heavy favorite to win the national title is Erik Kynard (Kansas State), the college senior. His four best results in 2013 are better than anyone else's single best. It would be the first USATF title for the reigning Olympic silver medalist.
Two other jumpers have the 'A' standard, and one of them will be going to Moscow regardless of how he performs. That's Jesse Williams (Nike), who has a wild card entry as the defending world champion.
Given that Dusty Jonas (Nike) also has the Worlds 'A' standard, he's got an advantage over everyone else to get onto the team. The 2010 World Indoor bronze medalist has a remarkable record from a career-threatening injury.
Since Williams has that wild card, the USA can send four jumpers to the worlds, and one of them need only have the 'B' standard. Four jumpers have already hit it–Keith Moffatt (Nike), Marcus Jackson (Mississippi State), Ricky Robertson (Ole Miss) and Nick Ross (Arizona). Making a comeback of sorts at the USATF Championships is veteran Jamie Nieto (New York AC), the defending champion who has been out all year with injury.
Canada has two 'A'-qualified athletes, Derek Drouin and Michael Mason, who need only finish in the top three at the national championships to qualify for the Worlds.
Final: Friday, 5:15pm local time (6:15pm ET)
Standards: 'A' – 5.70m, 'B' – 5.60m
Veteran Brad Walker (Nike), the 2007 world champion, looks like the favorite to retain his US title. His main competition comes from three collegians, the oldest of which is nine years younger than Walker. Those are Sam Kendricks (Ole Miss), the NCAA outdoor champion; Andrew Irwin (Arkansas), the NCAA indoor champion, and Jack Whitt (Oral Roberts), the NCAA runner-up both indoors and out. All four of these vaulters have already achieved the 'A' standard.
The pole vault is a fickle master, though, it's possible and even likely that some 'B'-qualified athlete will sneak into the top three and get a spot on the Worlds team. Among those with the 'B' are a long list of college kids plus Jordan Scott (PowerBar), a wily journeyman who won this year's USATF indoor title.
Canada has just one vaulter who has met the standard, Akron freshman Shawn Barber. The 2012 bronze medalists at the World Juniors broke the Canadian record earlier this year but is still looking for his first national championship.
Final: Sunday, 2:30pm local time (3:30pm ET)
Standards: 'A' – 8.25m, 'B' – 8.10m
Believe it or not, as of right now the USA has just one 'A'-qualified long jumper, and he didn't even make it to the NCAA Championships. What's going on here?
One thing is that the 'A' standard is tough: 27′ 1″. Only seven men in the entire world have jumped that far in 2013. The lone American to do so is Marquis Dendy (Florida), who had a tremendous indoor season topped off by a win at the NCAA indoor championships. Outdoors he jumped nearly as well but had an inexplicable bomb-out at the NCAA east prelims.
Another thing is that just because a jumper hasn't done it yet doesn't mean they won't get it done at the USATF meet or shortly after. Dual long/triple jumpers Will Claye (Nike) and Christian Taylor (Li Ning) have both competed sparingly this season, and both are quite capable of hitting that 'A' standard sometime before the qualifying window closes on July 20.
One more thing is that one US jumper doesn't need it. Four-time world champion Dwight Phillips (Nike) has an automatic entry to the Worlds as a wild card. With just two competitions under his belt this year, he's obviously strategically managing the strain on his 36-year-old legs.
Kansas State junior Jharyl Bowry, seventh at the NCAA championships, is Canada's best jumper so far this year but is more than a foot shy of the 'B' standard.
Final: Thursday, 6:00pm local time (7:00pm ET)
Standards: 'A' – 17.20m, 'B' – 16.85m
Once again, a ridiculously difficult 'A' standard is in place for the triple jump. Only six athletes worldwide have met it so far this year (although there will certainly be more before the qualifying window closes on July 20). The lone American, Christian Taylor, gets a wild card entry to the Worlds and will put all his efforts into the long jump.
That gives Olympic silver medalist Will Claye a shot at his first USATF outdoor title. He hasn't lost a triple jump to an American besides Taylor since May 2011, so it's probably a safe bet that he'll do it.
Considering the difficulty of the 'A' standard, it's likely that only one other jumper will make the US team for the Worlds. The 'B'-qualified athletes as of now are Bryce Lamb (Texas Tech) and Omar Craddock (Florida). Craddock just won the NCAA title with a PR, while Lamb had a horrible outdoor season and might be lucky just to make it to the finals in Des Moines.