No Comments
5 (more) Questions: Ben True and his 'almost season'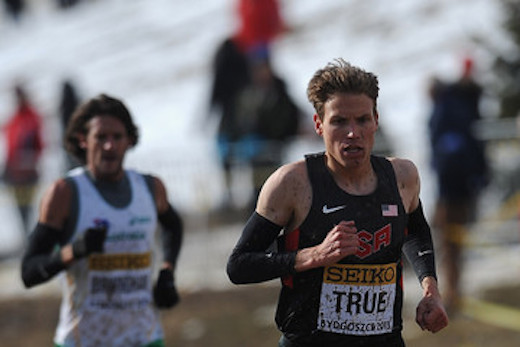 Daily Relay | On 30, Dec 2013
photo: Zimbio
Ben True was one of American distance running's breakout performers of 2013, making headlines by leading the way with a six-place finish on the stunning silver medal-winning Team USA at World Cross in Poland in March.

Heading to the Trials in July, the Maine native and Dartmouth product seemed a reasonable bet to make the team to Moscow in either the 5,000m or his preferred 10,000m. It didn't happen, though, as True finished in the worst spot — fourth — in both races.
With the 27-year-old turning his attention to the 2014 season, we talked to him ahead of the New York Road Runners Dash to the Finish Line 5K in November, discussing his plans for what's to come as well as the "almost season" just past.
Can you take us through your two races at Nationals, first the 10,000m on Thursday night and then the 5,000m on Sunday afternoon?
I wasn't prepared for the [80-degree] heat and the humidity that was out there. I don't think I took proper precautions beforehand with making sure my core was cooled down. As soon as we started out, we weren't running very fast, but immediately my body temperature just started rising and rising and rising. And so running 29-minute 10K pace was kind of tiring, which it should never feel tiring.
It's one of those things where I don't think I was prepared for that sort of heat. It took too much energy out of me, and I just didn't have it at the end. There wasn't too much I could do about it but try to learn from my experience and be able to apply it to the 5K.
And so the 5K comes around — I was ready to go. I don't think it was as hot nor as humid that day. Extremely slow [5:19 and 5:02 for unofficial splits at one and two miles]. I knew going into the race it was going to come down to the kick. I figured it would be me who would have to make the move in the end, but I didn't think it was going to be as slow as it was. It was kind of ridiculous. [It was House of Run's choice for Worst Race of 2013.]
With the 10K in my legs and the heat, I felt like I was very drained going into it, so I knew I wasn't going to have the top-end speed when I wanted to. I just knew, when I made a move, I had to make a move for the finish. I ended up going with just under 1500 to go — I probably should have gone a little bit earlier, but I was worried how my body was going to respond. The last 100 meters I just didn't have any more pop in my legs. That was pretty tough to swallow, because I really felt that I should have been able to put myself in position to be in the top three. I felt like I messed up with the tactics.
How do you look at this season, knowing that you ran really well but didn't achieve the goals you were looking for?
My coach and I call it "the almost year." I almost get on the World Championship team, which was my No. 1 goal. And I really felt that I was in shape to run a fast 5K — that was one of the "almosts" — and I never was able to find the right race at the right time to be able to run. Monaco would have been my best shot, but I didn't get into that race until the last minute so I raced Heusden the week before. I thought I could run 13-flat. I still think that's what I could have run this summer in the right race.
I can't be disappointed with 13:11, but with how every workout was going and where we felt we could have been, it is a disappointment. So it's the almost season.
[True finished third in Heusden, Netherlands, in 13:11.59 on July 13 and eighth in Monaco in 13:13.98 six days later. The Heusden race was the one in which Ryan Hill, who finished third ahead of True at USA Nationals got the Worlds standard, placing 10th in 13:14.22]
What are your plans for 2014?
I'm going to stick with the five and the 10. I want another crack at a 10. I've never really had a good 10K [PR of 27:41 at the Payton Jordan in April 2012]. It's still something I'm trying to figure out. So that's definitely something that I want to do. I want to break 13 minutes in the 5K — that's going to be the No. 1 goal for the year. I'm going try to chase after some of the fast 5K's. Having a season that's a lot more open as far as no World Championship races and no race that I really need to peak for — it's a lot easier to work my schedule for a few key races.
[Are you planning to run indoors this winter?]
Yeah, I probably will do a few indoor races. I'm going to jump down to the five, try to run some fast times on the indoor track. Every time I really train on the indoor track, I tend to get injured.
It's one of those things that, if all goes well, I'll probably run maybe two indoor races. I'll try to get my speed in and hopefully that will help for the 5K.
[On injuries related to running indoors]
It's been in my [left] calf. The Dartmouth track that I train at is a flat 200m [indoor] track, so it's tough on my body, just because I'm not used it. Usually in a year I'll probably only do a handful of workouts on the indoor track. It's not something I did in college. It's not something that I'm used to, so it's just tough on my body.
You went to Oregon for a bit to train after college, but you've been back in New Hampshire for a while. Is the plan to stay there?
Yes, things are going very well in training. I'm working with Mark Coogan, my coach. Things are going really well. Things are going really well with other athletes — with Abbey D'Agostino [Dartmouth's reigning NCAA champ in the 5,000 and cross-country this fall]. I just got a new training partner — Sam Chelanga. It's going really well and I'm very excited. He just ran a 61-minute half marathon [as well as a second-place finish at the Dash to the Finish 5K and a win at the Manchester Road Race in November].
[On adding more athletes to the group]
I think so. I think we're seeing how things go, but Sam and I are definitely liking the idea of trying to expand the group and trying to recruit some other top-level runners to the Upper Valley. It's a great place to train for three quarters of the year [laughs].
You've said before that your legs are younger than most runners at your age due to the time you spent skiing competitively. Do you think that's still the case and how does that impact you going forward?
I definitely think I'm a very young runner. The skiing has really helped my body not age in the same way. I hope that that will translate into a longer career. When I graduated from Dartmouth, I said that it was going to take me five years to get to the level where I thought I should be at.
In high school, I was racing with guys like Rupp. Through college, focusing on skiing, I felt like my running really took a back seat, and I slipped down the rankings from where I thought I should be. So I knew I would get back once I started focusing on running again, but I figured it would take five years. This coming season will be the fifth year after graduating. Hopefully it's when the big things will start coming.
Read the first installment of 5 Questions with Ben True and follow him on Twitter @BenTrue