No Comments
The Weekend's Best Matchups: World Relays, College Championships and more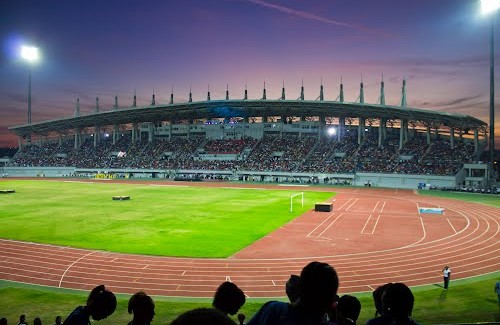 Jesse Squire | On 23, May 2014
The world is coming to the Bahamas for the first ever IAAF World Relays this weekend, a meet that looks like it will be great fun. There's plenty of other action this weekend too: three lower-tier national collegiate championships, US meets in Arizona and Texas, and top-level road races in Colorado and London.
1. USA vs Kenya
Women's 4×800, IAAF World Relays
Tommy Robinson National Stadium, Nassau BAH
Sunday, 7:19pm ET
Meet website
Webcast links: WatchAthletics.com | Trackie.ca
Live coverage on Universal Sports TV
I see this as the most interesting matchup of the weekend. The USA is sending its best available athletes, missing only Alysia Montano (preggers) and Mary Cain (taking a break from racing). Kenya is sending it's 'A' team too.
The (presumed) US starting lineup:
Brenda Martinez, 2013 Worlds silver medalist
Ajee Wilson, 2013 Worlds 6th place
Chanelle Price, 2014 World Indoor gold medalist
Geena (Gall) Lara
reserves: Charlene Lipsey, Morgan Uceny
The US team is, shockingly, actually deeper than the Kenyan team, but Kenya has a much better anchor leg. The Kenyan team will be two decent runners plus an aging Janeth Jepkosgei (2007 Worlds gold medalist) and Eunice Sum, the reigning World champion. Sum is the best half-miler on the planet right now and by a lot.
The conventional wisdom is that the US will be leading at the final exchange, but in order to win it had better be a big lead. This is what makes relays fun; things go one way on one leg but can drastically change on the next.
2. USA vs Bahamas
Men's 4×400, IAAF World Relays
Sunday, 7:52pm ET
Full men's preview
Remember the 2012 Olympic final in the men's 4×400? The Bahamian team beat the USA on Ramon Miller's thrilling come-from behind anchor leg, just the third time in Olympic history that the USA was beaten in this event.
Remember this year's USA vs The World race in the men's 4×400? The Americans and the Bahamians were so close at the final exchange that both teams' anchors grabbed the same baton. The Americans goofed and the Bahamians went on to win, the first time in Penn's USA vs the World competition that the USA was beaten in this event.
So there's some history here, and the Bahamians are running at home with their full 'A' team. The Americans don't have the services of all the top quarter-milers, but they have LaShawn Merritt and as long as the other guys can keep it close, that's all they need.
3. Kenya vs the record book
Men's 4×1500, IAAF World Relays
Sunday, 6:48pm ET
The Kenyans are bringing everything they have, including 3-time Olympic/Worlds gold medalist Asbel Kiprop. His teammates include Silas Kiplagat and Nixon Chepsaba, the 2012 and 2011 Diamond Race champions. The gold medal is not in doubt, only the time. Gold is worth $50,000 (split four ways), and the world record (14:36.23) is worth another $50,000. You know they're going after it, but how fast can they run once clear of the field?
4. Luc Bruchet vs Erica Avila
Men's 1500 meters, NAIA Championships
Mickey Miller Blackwell Stadium, Gulf Shores AL
Saturday, 4:10pm ET
USTFCCCA Championship Central page
Live webcast link (subscription required)
Bruchet and Avila might not run in the top tier of college track but they're every bit as good. British Columbia's Bruchet, the defending champion, is a sub-4:00 miler and won the 5000 at the Payton Jordan Invitational (over tons of D-I runners), while Southern Oregon's Avila, last year's runner-up, has run the metric equivalent of a sub-4:00 and won the 5000 at the Stanford Invitational (over tons of D-I runners).
5. Jeron Robinson vs Eric Dudley
Men's high jump, NCAA Division II Championships
Arend D. Lubbers Stadium, Allendale MI
Friday, 4:30pm ET
USTFCCCA Championship Central page
Live webcast link
These two jump high enough that they would easily be All-Americans in D-I but only one of them can be D-II champion. At the D-II indoor nationals, Lake Erie's Dudley beat Texas A&M-Kingsville's Robinson on the countback. Outdoors, Robinson has jumped 2.29 meters (7′ 6″) to Dudley's 2.26 (7′ 5″). Both are in the top 5 among all college high jumpers, regardless of division, and in the all-time D-II top ten.
6. Ashante Little vs Jana Hieber
Women's 400 hurdles, NCAA Division III Championships
Selby Field, Delaware OH
Saturday, 4:00pm ET
USTFCCCA Championship Central page
Live webcast link
These are the two fastest 400 hurdlers in D-III history and separated by just 0.02 seconds. They have not met in this event this year, even though their universities–Wheaton (MA) and Tufts–are separated by just 32 miles. Little defeated Hieber in the flat 400 last weekend, but that is a bit of a disadvantage. Little is going for the double and Hieber is not, meaning one will be tired and the other fresh.
7. Sultana Frizell vs Amanda Bingson
Women's hammer throw, Tucson Elite Classic
Roy P. Drachman Stadium, Tucson AZ
Saturday, 4:00pm local time (7:00pm ET)
Meet information
The Tuscon Elite Classic is a field-event only meet and actually has two competitions, one on Thursday and one on Friday. On Thursday, Frizell broke the Canadian record with a throw of 75.73 meters (248′ 5″). Bingson was second and not far behind, and last year she set the American record with 75.73 meters (248′ 5″) — the exact same distance. The rematch is set for Saturday.
This meet has some other good competitions, especially the javelin. Top American Brittany Borman takes on US record holder Kara Patterson, who is on the long road back from injury, and Canadian record holder Krista Woodward. Most of the USA's top men are throwing too, including Riley Dolezal, last year's shock winner at the USATF Championships.
8. Ashton Eaton vs Reggie Wyatt
Men's 400 hurdles, American Track League
Texas State Track & Field Stadium, San Marcos TX
Saturday, 7:55pm local time (8:55pm ET)
Series website
Eaton is such a dominant decathlete that he's taking a season away from the event and trying out the 400 hurdles. His two races have given him a pair of 50.01 times. Chief among his rivals here is Reggie Wyatt, last year's NCAA champion, whose best time in 2014 is 50.00. If seed times mean anything, this should be a tight race. Another race to watch is the women's 100 hurdles, which matches up Lolo Jones and Janay DeLoach Soukup.
9. USA vs Kenya vs Ethiopia
International Team Challenge, Bolder Boulder 10k
Monday, 11:15am local time (1:15pm ET)
Race website
The IAAF World Relays is not the only national team competition this weekend. The elite portion of the Bolder Boulder 10k features three-person teams in both the men's and women's races. The USA brings three teams (Red, White and Blue, of course) and takes on teams from not only Kenya and Ethiopia but Mexico, Peru, Eritrea (men only), Ecuador (men only), South Africa (women only) and Morocco (women only).
The US teams have some big names in Ryan Hall, Shalane Flanagan, and Deena Kastor, all of whom will run on the Red teams. There is a lot of supporting talent too, such as Bobby Curtis (White team), Stephen Pifer (Blue team), and Luke Puskedra (Re team). Notable US women running include Kellyn Johnson (White), Adriana Nelson (White), and Mattie Suver (Blue). Kenya brings two-time men's champion Alan Kiprono, and Ethiopia brings three-time women's champion Mamitu Daska.
10. Andy Vernon vs Chris Thompson
Mens' race, Bupa London 10,000
St James's Park, London ENG
Sunday, 10:00am local time (5:00am ET)
Race website
The London 10,000 serves as the British road 10k championships and, with Mo Farah's withdrawal from the race, these are the next two best long-distance runners in England. They finished 1-2 at last week's track 10,000 championships, where Vernon beat "Thommo" over 10k for the first time ever.