3 Comments
Five Things We Learned Sunday at USA Outdoors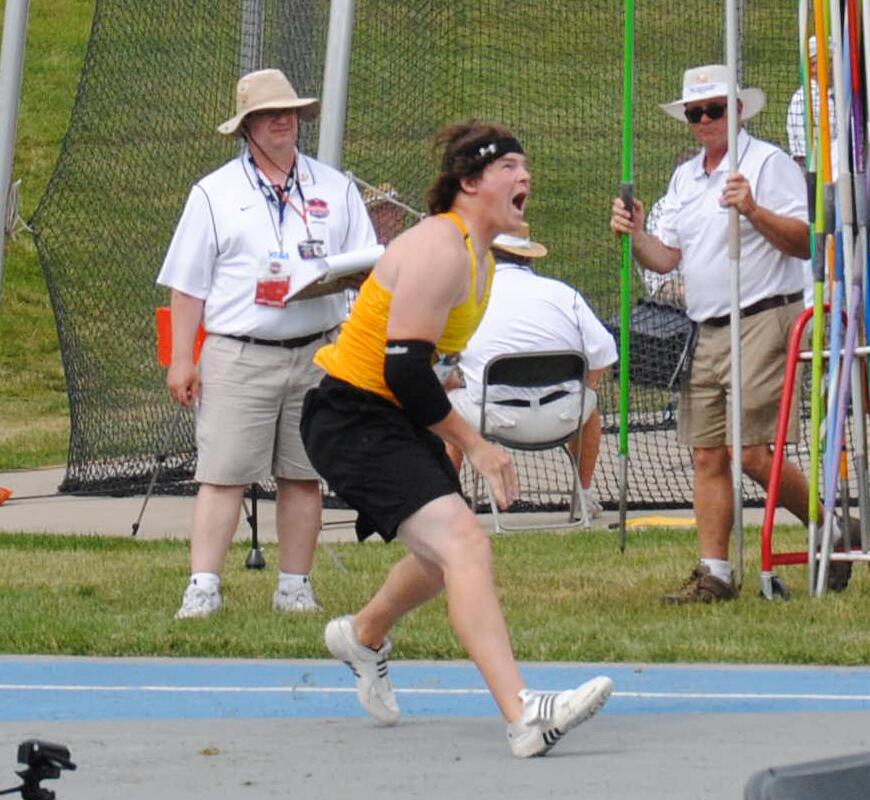 Jesse Squire | On 23, Jun 2013
Miracles happen. Photo courtesy North Dakota State Athletics.
Five quick thoughts on the final day of the USATF Championships…
Tyson Gay really is back.
As if his 9.75 win in Friday's 100 meter final wasn't enough, he backed it up with a 19.74 win in today's 200 meter final. Most observers, including yours truly, wondered if he was pressing his luck by running the double but it came out OK and then some.
He indicates that this is the healthiest he's felt since 2007, which not coincidentally was the last time he won the USATF 100/200 double. Back then he was on his way to a World Championships sprint sweep, beating a 21-year-old kid named Usain Bolt by 0.15 seconds in the longer race. (Whatever happened to him?) Anyway, Gay has turned back the clock. Maybe not all the way, but this is either the best or second-best season he's ever had up through the national championships.
Nick Symmonds finally lost.
Coming into today, he'd won the USATF 800 meter title five times in a row but here he finished second. It is not because he wasn't up to the task but because things have changed.
In a rather weird set of coincidences, the last time Symmonds failed to win the USATF 800 meter title was on the very same wet, breezy day in Indianapolis when Gay last won the USATF 200 meter title. He was second behind Khadevis Robinson, the elder statesman of the event now retired and coaching at Ohio State, and third behind Symmonds was Duane Solomon.
Symmonds' time in the '07 championship final was 1:45.17. This year, that barely even got you to the final. Today Symmonds ran 1:43.70, the fastest he's ever run in a national championship, but it wasn't good enough.
Today's winner was Solomon, the same guy who finished third in 2007. From 2008 through 2011 he was lost in the wilderness, but finally got things back together in 2012 for a 4th-place Olympic finish and the second-fastest in US history, with Symmonds behind him in 5th place for third-fastest in US history.
Yet another coincidence: the same guy coached both Robinson when he beat Symmonds, and coaches Solomon now. That's Johnny Gray, the first-fastest in US history. Or maybe that's not a coincidence.
The high hurdles are wide open.
Aries Merritt redefined high hurdling in 2012. His world record of 12.80 seconds is on another plane of existence from any other race in history. But last year is last year and this year is this year.
This year he's had injury problems. He ran one indoor race before getting hurt, and came up hurt again in May in Shanghai. His first-round heat on Saturday was his first race in five weeks, and I was impressed that he even made it to the final given the rhythm-based nature of the event (where lots of racing is necessary) and the depth of US talent.
He finished third, just beating out Jason Richardson (who is on the team anyway as the defending world champion). David Oliver is regaining the form of his standout 2010 season and finished second.
The winner was a long-suffering journeyman, Ryan Wilson. The USC alum was just 0.06 off his PR set way back in 2007. He's broken 14.00 for thirteen years in a row, but not only was this his first national title, it's the first time he made a national team.
With Liu Xiang out of hurdling, Dayron Robles at war with his federation, and Hansle Parchment out with an ankle injury, the battle for the World Championship looks wide open. The biggest threats to the four Americans come from the Caribbean, where Ryan Brathwaite is looking more and more like the athlete who won gold at the 2009 Worlds and Andrew Riley won the Jamaican title.
2013 is 1964.
Yesterday the Cain Train scheduled a departure for Moscow when Mary Cain won a spot on the US team by virtue of her second-place finish. Comparisons are being made between her and Alan Webb, Mary Decker, and even Lebron James. I think the most appropriate comparison is with Jim Ryun, who made the 1964 Olympic team in the 1500 meters while a 17-year-old high schooler.
Today a much less heralded teenager made the US team in the 800 meters. Ajee Wilson is the reigning World Junior champion. Now out of high school and eschewing college running for a pro contract, she's still a teenager and qualifies as a "junior" in 2013. She finished third in today's championship final in 1:59.55, the second-fastest junior in US history behind…yep, Mary Cain.
Wilson is not getting due recognition in terms of how fast she's running for a young woman. After you weed out the fishy marks (70s and 80s Soviet-block athletes plus times from the 1993 and '97 Chinese National Games), Wilson rates as the 7th-best junior of all time–behind names like Maria Mutola, Pameli Jelimo and Caster Semenya.
In terms of comparisons to 1964, Wilson is Gerry Lindgren, the enigmatic long-distance runner from Washington. Ryun was dead last in his Olympic 1500 semifinal while Lindgren finished ninth in the 10k. They were part of the most successful US distance team in history, winning two golds among three medals and nine top-ten finishes.
So pull up Mad Men Season 4 on Netflix, cut your hair in a mop-top, and put the Beatles on the hi-fi. Don't be shocked if the US women's distance runners bring home some hardware from the World Championships.
Miracles still happen.
A guy named Riley Dolezal was the 14th qualifier in the javelin, only getting into the meet by setting a PR at the Drake Relays in April. He's been out of college throwing since 2009, when he set the North Dakota State school record and then blew out his elbow a few throws later. It took "Tommy John" surgery to fix him up and he kept on training and competing with other NDSU alumni under the Team NoDak name.
In the first flight of throwers, the bottom half of the qualifiers, he opened with a PR of 74.87 meters (245′ 7″), which was by no means a sure qualifier to the finals. His second round throw of 76.10m (249′ 8″) was a bit more secure, and he PRed again with 76.93m (252′ 4″) in the third round. Not many were having a good day, and that ended up third going into the final.
And then a miracle happened. There is no other way to describe it. On his first throw in the finals, Dolezal hit another massive PR, 83.50 meters (273′ 11″). It put him in first and sealed the win. It was, to the centimeter, exactly the IAAF World Championships 'A' standard. It was the furthest throw by an American in four years and ranks him #16 in the world and #8 in US history. It would have put him fourth in the 2012 Olympic final.
Dolezal never made it to a USATF Championships until last year's Olympic Trials, where he finished 17th. He never qualified for an NCAA Championships or even an NCAA regionals. Yet now he's on his way to Moscow for the World Championships.
Cinderella story. Outta nowhere. Better than a former greenskeeper becoming Masters champion.