No Comments
Formulaic Bolt, summer track in the US, false start in Shanghai + reliable rabbits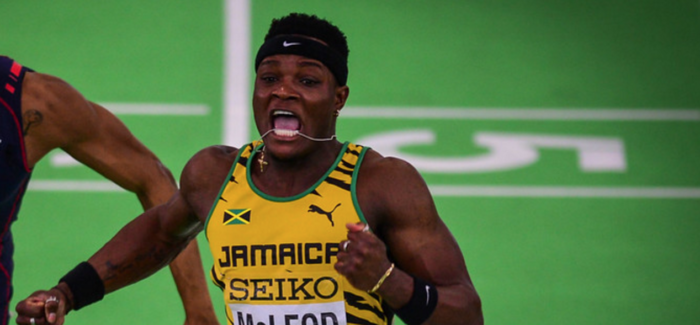 Kevin Sully | On 17, May 2016
After last week's absence I'm going to try and squeeze in two weeks worth of Diamond League meets into one edition of the Monday Morning Run.
This weekend, Asafa Powell, Yohan Blake, Justin Gatlin and Usain Bolt all ran 100m. In different meets. Bolt's 10.05 was the slowest of the group. If this was a few years ago, there might be panic over Bolt opening his season north of 10 seconds. But we've learned, especially in 2015, that the regular season for Bolt has no impact on future events. 10.2, 9.8, 10.5, it doesn't really matter. He will race sparingly and against light competition for most of the summer before turning his attention to the Olympics. We've become so accustomed to this pattern that when a slow early season time really does turn out to be foreshadow his decline, we will only notice after the fact.
But until he loses a championship, we are locked into this pattern of thinking. This makes every one of his races in the run up to a championships a tad predictable. There is no expectation that there will be something out of the ordinary or special, which is a strange place to be for the greatest sprinter of all-time and one of the most transcendent athletes ever. The expectations for him to win gold is huge, but there is really no illusion that the rest of his season will yield anything you'd tell your grandkids about.
Just as we don't fret over Bolt's slow times in May, last year taught us not to weigh Gatlin's early marks that heavily either. He ran 9.94 in Shanghai on Saturday blowing out Femi Ogunode (who has the fastest time in the world this year) and the rest of the field in Doha. Bolt/Gatlin 2016 is starting out very similar to 2015.  To the rest of the recap…
The Medalists
The top three performances of the week….
Gold: Keni Harrison
Harrison clocked 12.42 in the 100m hurdles in the Cayman Islands. That backs up her 12.36 from April and gives her the top two times of the year. It's now less than two weeks until she races against an Olympic Trials field at the Prefontaine Classic. I've discussed Harrison's hot start before and the differing results it can yield. Each time she puts up another mark under 12.50 it's more evidence that she can keep this up through the Trials at the earliest and perhaps even carry it through to Rio.
Silver: Faith Kipyegon
Running a Diamond League 1500m in 2016 without Genzebe Dibaba is like playing the Warriors without Steph Curry or competing against Russia when they don't have access to a secret lab.
But you can only race who shows up and Kipyegon took apart a Dibabaless 1500m in Shanghai, winning by more than two seconds. Kipyegon's time of 3:56.82 broke her own national record and put her comfortably ahead of Hellen Obiri and Dawit Seyaum. Was this fast enough to scare Dibaba out of the 1500m and into the 5000m and 10,000m for the season? Nope, and that was a really dumb question.
Bronze: Omar McLeod
It's been two great weeks on the Diamond League circuit for McLeod. In Doha, he wobbled off of hurdle nine and still held on for the win in 13.05. Saturday in Shanghai, he managed two false starts from the field, and the subsequent delays, and ran 12.98 for a decisive win.
Week by week he's running through every possible scenario that could derail him in a big meet, and handling them all with relative ease. He's still nowhere near a lock, it's too early for that, but as with Harrison in the women's field he's established himself amidst a crowded field of challengers. Hansle Parchment finished second in both meets, giving Jamaica a better chance for 1-2 in this event than the men's 100m and 200m.
Surging….
-Summer track in the US
Eugene's newly scheduled July meet has many of the elements that people clamor for when they describe an alternate sports universe where track isn't relegated to webstreams filled with pop up ads that take 10 minutes to get rid of. The announcement of the meet last week included details about a four team competition (each team representing a city), a draft for team members and a live broadcast on ESPN.
I'm assuming this is a beta test for something bigger in 2017, where there will be home meets at each of the four cities during the summer. Or maybe they are building toward that in 2018 where there isn't a major championship to weaken the pool of interested athletes. Turning track into a team sport is cited as one way to make track more popular in the United States. I've always been skeptical of that approach because track is inherently an individual sport. Will slapping "New York" on the front of a jersey make people care about track? More so than watching Usain Bolt or David Rudisha race?
Nobody is against more track on television. One challenge of this set-up is compiling roster for a meet that takes place is such close proximity to the Olympics. The timing alone will probably exclude some of the biggest names in the sport. Hosting the meet in Eugene guarantees a crowd, but it's a bit strange to host a team competition involving two cities in a third city that is hundreds of mile away. Unless you are the NFL and then you can have Jacksonville play in London and it is considered a good idea.
-Women's sprinters
Over the past two weeks we've had Tori Bowie, Dafne Schippers run low 10.8s, Elaine Thompson and Shaunae Miller put up incredible wind aided marks and Jenna Prandini come away with a 11.16/22.63 double in the Cayman Islands. That doesn't even mention Courtney Okolo or Quanera Hayes, the two other women besides Miller who have broken 50 seconds in the 400m. Or, Shelly-Ann Fraser-Pryce and Allyson Felix.
Those two both scratched out of their Diamond League debuts, I'm assuming they will join the party by the end of the month. If any of the women's sprint world records were in reach, I'd say that we are approaching a level of depth that is bound to lead to something extraordinary this summer.
-Caster Semenya's finish
It's tare to see a true sit and kick 800m–as in the last 100 meters is faster than the preceding 700 meters and not the result of someone slowing down less than the others. Semenya's final straightaway in Doha was that quick and it capped off a 1:58.26 performance.
-Dominant Kenyan steeple wins
Conseslus Kipruto 8:05.13 broke away with 1000 meters remaining to beat Jarius Birech by over three seconds in Doha. In Shanghai, Hyvin Jepkemoi was eight seconds better than second place when she ran 9:07.42. Respect the dominance, appreciate something a little closer though.
-South American triple jump duels
Caterine Ibarguen and Yulimar Rojas is the South American horizontal jumps rivalry that you should be more familiar with. Ibarguen has won 32 Diamond League meets in a row, a streak she continued in Doha with a 15.04m jump to cap a back and forth competition.
With a number that big it's hard to call it a rivalry, but Rojas is much younger and is coming off a World Indoor Championships gold medal. She's dabbled in other jumping events earlier in her career before settling on triple jump. Physically, she looks like a different caliber of athlete. Rojas is 6'4 and towers over the other women on the runway. It seems like it won't be long before she puts together the highly technical elements of the triple jump, but getting past Ibarguen is proving to be one of the most difficult chores in track and field.
-Muktar Edris
The race to be the guy everyone thinks can beat Mo Farah and then gets blamed when they run a tactical race is underway. By virtue of his 12:59.96 5000m win in Shanghai, Edris is the earlier leader for that honor/privilege/burden.
-Sam Kendricks
Pole vault history in Shanghai! Kendricks became the first American man to win a Diamond League pole vault competition, clearing 5.88m and beating Renaud Lavillenie. The U.S. men haven't won an outdoor championship medal since 2007.
Slowing….
-Shanghai Starter
There was a false start in the truest sense of the word in the men's 800m. The gun fired to start the race despite the fact that several runners were not in the set position. Some, like David Rudisha were especially late to react.
Rudisha said after the race that there were field event athletes in his lane and didn't anticipate the start. The rabbit, Bram Som, looked like he thought the race was going to be called back and was still at start line when the rest of the field was halfway through the first turn. Som didn't catch the field until 300 meters into the race.
Without a rabbit, Rudisha whole race was turned upside down. He probably would have had more for the finish if he made a more gradual move to the front after spotting the field a few seconds. But he reacted how we all would when we see the world move on without us–he scrambled desperately to catch up as soon as possible.
Rudisha is so good that it only took him 200 meters of panic mode running to get back the front. Save for 100 meters of leading when Som caught back up, Rudisha did all the work at the front. Ultimately, that probably hurt him as he went from first to fifth in the last 90 meters to finish in 1:46.64. Ferguson Rotich started at the appropriate time and ran 1:45.68 for the win.
-Ezekiel Kemboi
16th in Doha in 8:31.18 isn't a good debut, especially when the winner runs 8:05. Kemboi has always had a little bit of Bolt in him though.
-Men's high jump world record
The winning jumps from the first two Diamond League meets were modest in comparison to renaissance year of 2014 when it looked like two men could best Javier Sotomayor's world record. Bohdan Bondarenko won with a 2.28m mark in Shanghai and Erik Kynard cleared 2.33m to win in Doha. Bondarenko's other half of the record scaring duo, Mutaz Essa Barshim, went out early in Doha and finished seventh.
-Kenya changing the date of their Olympic Trials
We spent most of the past week debating Kenya's interesting selections for their Olympic marathon team. Lost among that was the country changing the dates of the track and field Olympic Trials.
In May.
For a meet that takes place in June.
Kenya: Elite level athletes who consistently thrive in the face of elite level bureaucratic incompetence.
-Russia's reinstatement
Last week's New York Times story on Russian doping at the Sochi Olympics showed the incredible lengths a country will sink to in order to be atop the medal table. It also makes it even harder for the IAAF and IOC to reinstate Russia before the Olympics begin. The Sochi story furthers the argument for systematic doping in the country and provides a fresh reminder of the problems within the anti-doping operation in Russia.
Winners who didn't win….
-Bram Som
Much respect to you, Bram Som and your desire to keep your word even in the most fruitless of endeavors. You were supposed to rabbit the men's 800m in Shanghai for at least 400m and you didn't let the starters early gun dissuade you.
The commentators said you might as well stop running when you were 50 meters behind the field 50 meters into the race. You caught up by the 300 meter mark and, if we were going by chip time instead of the gun, you probably set some sort of Dutch 300m record in the process. You kept your word and went through 400m when you could have called it a day and blamed it on the atrocious decision to start the race when they were still clearing runners out of your lane.
That time of stubborn determination is commendable. If Bram Som promised you a ride from the airport it doesn't matter that his car broke down on his way to pick you up. He'd commandeer a moped, ride that up to the terminal and tell you to hop on. He'd give you that ride because, darn it, he said he would.
-Next Mary Cains
The actual Mary Cain ran 2:08 and finished third at the Oregon Twilight two weeks ago. The next group of phenoms behind her continued their rise. Alexa Efraimson won the 1500m in Kingston, Jamaica in 4:08.37 last weekend and then ran right a two minutes for an 800m at the Portland Twilight meet on Saturday. Katie Rainsberger, a high school senior from Colorado, ran 4:14.82 in Eugene and pushed Treniere Moser for the whole 1500 meters.
-Guowei Zhang's Doha celebration
Erik Kynard wins high jump with 2.33m

Guowei Zhang wins high jump celebrations with this and 2.31m pic.twitter.com/srgb3x92Ld

— SPIKES (@spikesmag) May 6, 2016