No Comments
The Weekend's Best Matchups: pros at Rabat Diamond League, Hoka One One Classic, and more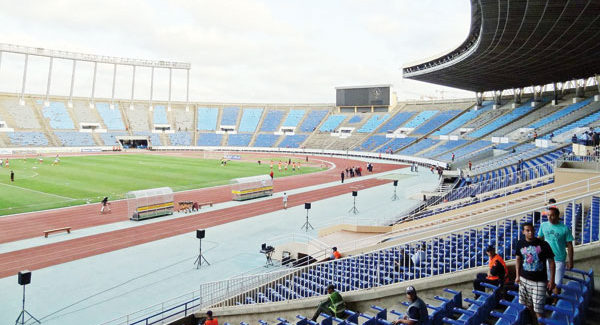 Jesse Squire | On 20, May 2016
Rabat's Prince Moulay Abdellah Stadium awaits the arrival of the Diamond League.
The Weekend's Best Matchups is back after a long absence, and just in time as the pro action is heating up. There's a wide array of competition this weekend, a IAAF Diamond League meet in Morocco, an IAAF World Challenge meet in the Czech Republic, USATF's Hoka One One Middle Distance Classic on the Occidental College Campus, and more.
I have a lucky thirteen matchups for you to follow this weekend. My pick for the best of them brings together three rivals at the newest meeting on the Diamond League circuit.
Bondarenko vs Kynard vs Tamberi
Men's high jump, Meeting International Mohammed VI
Prince Moulay Abdellah Stadium, Rabat MAR
Sunday, 4:35pm local time (11:35am ET)
Meet website
Live coverage on beIN Sports from 12:00pm ET
There have been three important high jump competitions this year, and the three men above have each won one of them. Bohdan Bondarenko (Ukraine) was the superstar of 2013 and '14 but came back to Earth in 2015; he won the Diamond League meet in Shanghai. Erik Kynard (USA) got his first Diamond League win ever two weeks ago in Doha, and that it was his first is a bit surprising considering how good he has been and for how long. Gianmarco Tamberi won the World Indoor gold medal over Kynard and others.
The best of the rest, in chronological order…
Lavillenie vs Barber
Men's pole vault, Golden Spike
Metsky Stadion, Ostrava CZR
Friday, 4:07pm local time (10:07am ET)
Meet website | IAAF page
Live coverage on beIN Sports from 11:30am ET
Renaud Lavillenie (France) is the undisputed #1 pole vaulter in the world. His only recent shortcoming was finishing third at last year's Worlds, which was won by Shawn Barber (Canada), then still a junior at the University of Akron. Barber then signed with Nike and had a great start to his first pro season, but like most pole vaulters he's been up and down since then.
Yego vs vs Rohler vs Vadlejch
Men's javelin throw, Golden Spike
Friday, 6:40pm local time (12:40pm ET)
You can't come up with a better story than Kenya's Julius Yego, a man who taught himself to throw the javelin via YouTube videos and who worked his way up to being world champion. This is his first meet on the international circuit this year, and his best competition may come from Germany's Thomas Rohler, who won the first Diamond League competition of the year last week, and the Czech Republic's Jakub Vadlejch, the early world leader and home favorite in Ostrava.
Silva vs Morris
Women's pole vault x 2
Ostrava Golden Spike, 10:40am ET Friday
Rabat Diamond League, 1:25pm ET Sunday
The pole vault is not as physically destructive as other events and that means we get to see the best compete much more often. This weekend, Cuba's Yarisley Silva will face off against the USA's Sandi Morris twice, in the Czech Republic on Friday and in Morocco on Sunday. Silva is the reigning world champion and Friday is her season opener, while Morris is riding a nearly unprecedented hot streak and already has one Diamond League win under her belt.
Schippers vs Bartoletta
Women's 100 meters, Great CityGames
Deansgate, Manchester ENG
Friday, 7:10pm local time (2:10pm ET)
Meet website | Live webcast from 1:00pm ET (subscription required)
The Great CityGames is one of the "street meet" competitions that have become popular in recent years. The competition is a bit lacking in big names and even more lacking in races that will be competitive, but the women's 100 looks like a good fight between Dafne Schippers (Netherlands), the heptathlete-turned-star-sprinter, and Tianna Bartoletta (USA), the reigning world long jump champion who is also a top-notch short sprinter.
Jager vs Huling vs Hughes
Men's steeplechase, Hoka One One Middle Distance Classic
Jack Kemp Stadium, Los Angeles CA
Friday, 6:28pm local time (9:28pm ET)
Meet website | Live webcast from 9:00pm ET
Let's Run preview
On some level, the Hoka One One Middle Distance Classic is less about racing and more about getting qualifying marks. None of these three need them, so this one is likely to be some bona fide racing. Evan Jager is basically the best non-Kenyan steeplechaser in the world, except for when one of his Bowerman Track Club teammates beats him. Dan Huling did that at last year's World Championships, where he finished fifth and Jager was sixth. Almost right behind in eighth was Matt Hughes, another Bowerman TC runner and the Canadian record holder.
Martinez vs Roesler vs Ludlow
Women's 800 meters, Hoka One One Middle Distance Classic
Friday, 7:07pm local time (10:07pm ET)
The 800 meters is possibly the deepest event in US distance running, but there is only one true star: Ajee Wilson. She's not entered in this meet, and neither is Chanelle Price (the 2014 World Indoor champion) or Alysia Montaño (who has been on every US World/Olympic team since 2011).
Pretty much every other contender for the US Olympic team is here, led by Brenda Martinez (New Balance/Big Bear TC), Laura Roesler (Nike), and Molly Ludlow (Saucony). Martinez is a two-time Diamond League winner and a bronze medalist at the 2013 Worlds, and Ludlow and Roesler are rising stars. Super-miler Shannon Rowbury (Nike Oregon Project) is in the race mostly for conditioning, and some others with outside chances are Phoebe Wright (Nike) and McKayla Fricker (Brooks/High Performance West).
Manzano vs Manzano
Men's 1500 meters, Hoka One One Middle Distance Classic
Friday, 8:10pm local time (11:10pm ET)
Leo Manzano (Hoka One One/Austin TC) is like a box of chocolates; you never know what you're gonna get. Under the best of circumstances, he's capable of both great (Olympic silver) and terrible (DFL), and right now is not the best of circumstances. From Let's Run:
Manzano's 2016 has been rocky so far. He changed coaches, from John Hayes to Ryan Ponsonby, and missed three weeks of training in February due to pneumonia, shuttering his indoor season. With a late jump on outdoors, he finished a well-beaten 5th at the Texas Relays on March 31, running 1:49.92 for 800, his slowest outdoor mark in 10 years. He hasn't raced since then. . . Manzano has bounced back from challenging circumstances before — one need only look back two years ago. In 2014, Manzano entered the year sponsorless and in the midst of a coaching change and ran just 3:59 for the mile to finish fourth at the Adrian Martinez Classic in his final race before USAs. He wound up winning his second U.S. title and running a PR of 3:30 for 1500 later that summer.
He's got some good competition, such as Garrett Heath and a comebacking Andrew Wheating, but they are almost secondary.
Willis vs Canadians
Men's 1500 meters, Running Factory Windsor Open
St. Denis Athletic and Community Centre, Windsor ON
Saturday, 9:40pm
Entries | Schedule
The Windsor Open is one of the better spring meets in Canada and its close proximity to the US means that a good number of Michigan-based runners often show up. Four years ago a local high school kid named Brandon McBride ran the 800 against Olympic silver medalist Nick Willis of New Zealand and beat him. Willis will be here again and is the most accomplished of the "Very Nice Track Club", but America's Will Leer and Britain's Lee Emanuel aren't exactly chopped liver either. Most of the top Canadians are in this race too; veteran Nate Brannen plus Taylor Milne and Jeremy Rae. There is no live webcast of this meet, but yours truly will be there offering live coverage via Twitter.
Ibarguen vs Rojas
Women's triple jump, Meeting International Mohammed VI
Prince Moulay Abdellah Stadium, Rabat MAR
Sunday, 4:15pm local time (11:15am ET)
Meet website
Live coverage on beIN Sports from 12:00pm ET
Caterine Ibarguen (Colombia) has a long winning streak going – 32 meets now – but she really had to work to keep it alive two weeks ago in the Diamond League opener in Doha. She and Yulimar Rojas (Venezuela) staged a back-and-forth battle that saw the lead change four times and the meet record was broken three times. They're back at it again here.
Kipruto vs Birech
Men's steeplechase, Meeting International Mohammed VI
Sunday, 5:33pm local time (12:33pm ET)

Conseslus Kipruto, the two-time Worlds silver medalist, and Jarius Birech, the reigning Diamond League champion, went 1-2 in the Diamond League opener in Doha two weeks ago.
Malachowski vs Milanov
Men's discus throw, Meeting International Mohammed VI
Sunday, 5:55pm local time (12:55pm ET)
Poland's Piotr Malachowski and Belgium's Philip Milanov are pretty obviously the world's top two discus throwers. They won gold and silver at last year's Worlds, and between the two of them they won every Diamond League meet last year. They traded the lead multiple times in the last Diamond League meet in Doha before Malachowski put it away in the final round.
Ayana vs Cherono
Women's 5000 meters, Meeting International Mohammed VI
Sunday, 6:45pm local time (1:45pm ET)
The organizers chose to close the meet with this race, a rematch of the top two at 3000 meters in the Doha Diamond League meet. Ethiopia's Almaz Ayana is the reigning world champion at 5000 meters and won that 3k race two weeks ago, while Kenya's Mercy Cherono was second.