One Comment
The Monday Morning Run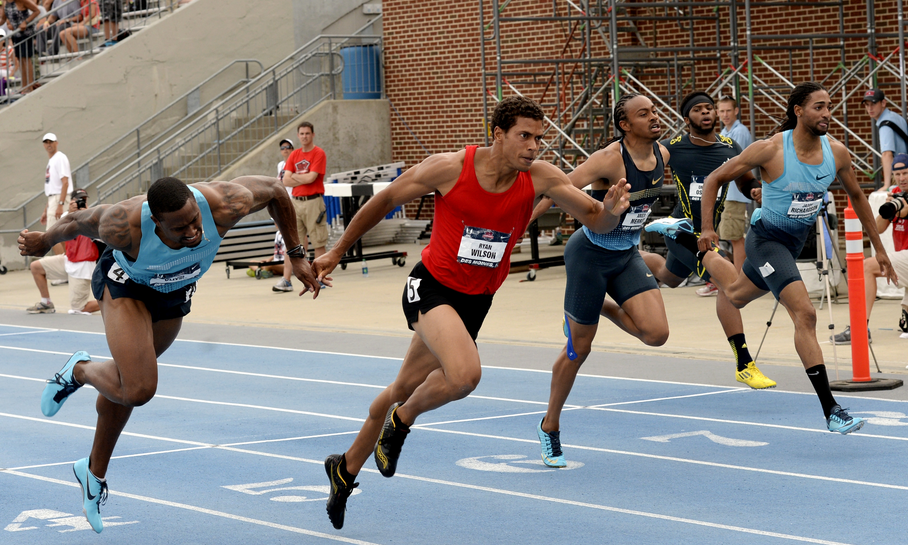 Kevin Sully | On 24, Jun 2013
Photo courtesy of trackandfieldphoto.com
It was a busy weekend in track and field with national championships taking place in the United States and Jamaica. Let's hand out some awards!
Best performance:
Brianna Rollins (100 hurdles)
Rollins set an American record of 12.26 and dominated the deepest event in the entire meet. She broke Gail Devers's mark of 12.33, which has stood since 2000 and is now the fourth fastest woman of all-time. Rollins's margin of victory (.17) was especially impressive in an event where Americans have the top 25 times this season.
There is no reason to think she can't go faster. She has been setting personal bests every time she starts a race this season and her record run on Saturday wasn't flawless. Her reaction time was among the slowest in the field and she even clipped a few hurdles. If it all comes together, Yordanka Donkova's world record won't be standing by the end of the summer.
Biggest upset:
Kimberlyn Duncan defeats Allyson Felix in the 200
Prior to the meet, I rather incorrectly stated that the biggest match-up in this race would be Allyson Felix vs. the clock. I wasn't downplaying Duncan's accomplishments as much as I was respecting Felix's ability to run well at US Championships in her favorite event. How long has it been since Felix has lost a US Championship that she competed in?
The last time Felix competed in a USA final and didn't win was 2003, when she was Mary Cain's age.

— Tim Layden (@SITimLayden) June 23, 2013
Biggest breakthrough:
Ryan Wilson (110 hurdles)
The 31-year-old finally cracked the top three in a US Championships. With the depth in this event, that is no small task. Jesse Squire summed up Wilson's accomplishment nicely:
The winner was a long-suffering journeyman, Ryan Wilson. The USC alum was just 0.06 off his PR set way back in 2007. He's broken 14.00 for thirteen years in a row, but not only was this his first national title, it's the first time he made a national team.
Best race:
???
Is there a winner in this category? The women's 100 hurdles had fast times, but not a close finish. The men's 1500 had all of the big names, but it ended up being almost too predictable. Ditto with the men's 100. The usually dramatic men's and women's 800s had wire-to-wire wins that sapped some of the excitement from the event. If you like upsets maybe the women's 200 or women's steeplechase. Overall, the meet featured a good mixture of emerging stars and established veterans with a few records and fast times sprinkled in between.
Not Race of the Meet:
Men's 5,000
A much easier decision than the best race of the meet.  Ordinarily any race involving Galen Rupp and Bernard Lagat is a must watch. This installment was a bit diminished when there were only nine runners on the start line and the winning time was 14:54.
Best comeback performance:
Shannon Rowbury (5,000)
On Saturday, Rowbury was just off the 1500 team finishing fourth to the fast-closing Treniere Moser and Mary Cain and the surprise upstart, Cory McGee. On Sunday she was in danger of missing the squad in the 5,000 as well.
With 150 meters remaining Rowbury appeared to be out of contention for a world championships spot, falling behind Abbey D'Agostino, Chelsea Reilly and Kim Conley in the race for third. That was when she found enough of a kick to squeeze by all three women and into third place behind Jenny Simpson and Molly Huddle. Considering the weather and racing conditions from the last two days, it was a remarkable turnaround.
Best double:
Tyson Gay (100 and 200)
As the only double winner, Gay was an easy choice for this category. Once he ran 9.75 to win the 100, doubt began to creep in on whether he would risk running the 200.
On Sunday, he returned to the startling line (which was actually the finish line because of the wind), but needed some good luck to reach the final. Video replay showed that Gay stepped over line several time in his preliminary heat. The officials did not call anything (I'm assuming they didn't call it because they didn't see it) and he proceeded to the final where he cruised to a 19.75 win. Lucky and good is a great combination.
Best interview:
Matt Elliott (1500)
Rarely do you see tears of joy from a fourth place finisher. In 55 seconds, the unheralded Elliott runs the gamut of emotions.
Biggest no show:
Kori Carter (400 hurdles)
The world leader in the 400-meter hurdles qualified easily in her preliminary heat and then never raced again this weekend. In her post-race interview on Friday she gave no indication that she was injured or that she didn't plan on competing in the meet. Carter's best time this season was over half a second faster than the eventual winner of the race, Dalilah Muhammad.
Best celebration:
Ryan Whiting (Jenny Simpson, Molly Huddle, Shannon Rowbury)
Whiting won the shot put, and then lifted up the entire women's 5000 team. In the process, he introduced us all to the newest form of chicken fighting.
Ryan Whiting is stronger than you pic.twitter.com/tjnevmTZ1k

— House of Run (@HouseofRun) June 23, 2013
Strangest injury:
Hansle Parchment (Jamaica)
We leave the United States momentarily for Kingston, Jamaica where that nation was also holding its trials for the world championships. Bronze medalist Hansle Parchment was off to a great start in 2013. He had a big Diamond League win in the 110-meter hurdles at the Prefontaine Classic and the fastest time in the world this year.
That was before Saturday night when he tripped over a hurdle in a dimly lit warm-up area and had to withdraw from the race.  That might be a metaphor for something, but I'm not sure what.  #Lightupthewarmuparea
Best Unintentional World Record:
Sanya Richards-Ross Women's 400 (flats)
This is unverified, but it is hard to believe that any woman has run faster than 51.92 wearing flats. Richards-Ross opted to ditch her spikes in the final after the pain from her surgically repaired toe became too great. She still managed to place sixth in the final, which keeps her eligible for the 4 x 400 relay at the world championships.
Strangest outcome based on NCAA results:
Jordan Hasay and Abbey D'Agostino
Several to choose from here. Arman Hall went from third in the NCAA Championships to third in the country this weekend, but much of that had to do with Bryshon Nellum's injury and early departure from the meet.
Instead, let's look at the women's distance races. Abbey D'Agostino has wins over Jordan Hasay this year in cross country, indoor track (3,000 and 5,000) and outdoor track (5,000). The most recent came just a few weeks ago in Eugene when D'Agostino crushed Hasay on the final lap to win the NCAA Championship. But it appears that Hasay will be the one making the trip to Russia. She finished second in the 10,000 on Thursday night and is poised to make the team if she meets the qualification standard. D'Agostino struggled over the final 200 meters in the 5,000 on Sunday and finished 6th.