One Comment
Men's World Relays Preview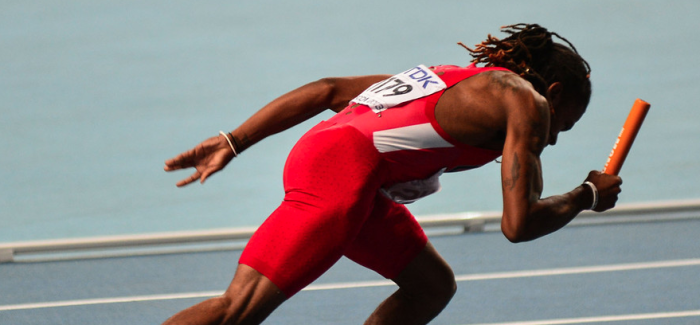 Kevin Sully | On 22, May 2014
Photo via TrackTownPhoto
The inaugural World Relays take place Saturday and Sunday in the Bahamas.  Competitors from across the global will compete for baton-based supremacy in the 4 x 100, 4 x 200, 4 x 400, 4 x 800 and 4 x 1500-meter relays. There will be no Usain Bolt, David Rudisha or Allyson Felix. But there will be plenty of national records, a Jamaican 4 x 800 team and a Kenyan 4 x 200 squad. It may not exist after this year, so let's give this meet a proper preview.  Men's events today, women's tomorrow.
4 x 100
Favorites: Jamaica, United States
The United States won't have Justin Gatlin at their disposal. He is busy racing and setting world leads on the other side of the globe. Even without Gatlin (or Tyson Gay or Ryan Bailey), the United States can still contend with Jamaica. Marvin Bracy won silver at the 60 indoors, Charles Silmon has world championship experience and Mike Rodgers and Trell Kimmons still can pump out a quality 100 meters
I guess the 90 minute flight from Kingston, Jamaica to Nassau, Bahamas was too far for Usain Bolt. A Bolt debut certainly would have given this meet a bump.  Alas, he will just have to settle for opening his season with a ginormous appearance fee at a European meet.  His loss.
Bolt's absence makes the Jamaican team vulnerable. Yohan Blake will anchor the squad, but after him there isn't much firepower. Nesta Carter has looked sluggish this year and Michael Frater is 31-years-old. The strongest Jamaican runner behind Blake might actually be little-known Andrew Fisher who beat Carter at the Jamaica Invitational.
Records: Nope, they actually run this race more than once every five years.
Fun fact(s):-Team GB's squad tried to recreate the plot to Fast Girls in lead up to this meet. According to the British newspaper, The Telegraph, members of Steve Fudge's training group, which includes Adam Gemili and James Dasaolu, and Rana Reider's group, featuring James Ellington, Richard Kilty and Harry Aikines-Aryeetey, aren't fond of one another. The feud resulted in Ellington putting Dasaolu in a headlock at a meet in February. The 4 x 100 line-up for this meet doesn't include any members of Fudge's group.
-St. Kittts and Nevis still isn't using Kim Collins on their national team. If they are going to stay mad at him for sleeping outside the Olympic village can they at least transfer his citizenship to a country that will use him?
–Yoshihide Kiryu is slated to race for Japan. Later this summer he could become the first Asian man to break 10 seconds in the 100.
-Darrel Brown might make an appearance for Trinidad and Tobago. The former phenom is still only 29, but ran his fastest time in the 100 nine years ago.
4 x 200
Favorites: Jamaica, United States
Warren Weir and Nickel Ashmeade make Jamaica a pretty strong favorite. The US team, with Walter Dix and Wallace Spearmon, was built for 2008, not for 2014. Their fastest leg should come from Curtis Mitchell who won the World Championships bronze medal in the 200 last year. The biggest intrigue in this race might come from watching who forgets where the exchange zone begins and ends.
Records: The time to beat is 1:18.68, or roughly 19.65 per runner. That seems pretty quick even with three of the legs getting a running start. Will the top teams attempt open handoffs like a 4 x 400, or go blind and maximize speed and risk?
Fun Fact(s): -Kenya is entered and their team is led by Pitt standout Carvin Nkanata. Somehow, Nkanata can run this meet the week before NCAA Regionals, but Bolt, Gatlin and the others can't seem to squeeze it in? Track and field, you always figure out new ways to confuse me.
-Only six of the 15 teams entered have a national record listed. There may not be a world record broken in this event, but be prepared for an endless string of NRs.
4 x 400
Favorites: United States, Bahamas
With Lashawn Merritt, Tony McQuay and Christian Taylor the United States should have enough to stave off a Bahamian team running in front of their home crowd. If you remember, the Bahamas beat the United States to win gold in London in 2012. Their team has all the familar names, Demetrius Pinder, Michael Mathieu and Chris Brown. These two countries faced off earlier this season at the Penn Relays and were heading for a close finish before American anchor Manteo Mitchell mistakenly grabbed the wrong baton and gave the race to the Bahamas.
Fun Fact(s): -Belgium is trotting out not one, not two, but three Borlees. Dylan Borlee will join twins Kevin and Jonathan on a team that could factor in for a medal.
-It's not just the experience stars that are skipping this meet, Jamaican Javon Francis is not listed on the Jamaican roster, effectively eliminating any chance for Jamaica to contend with the leaders.
-The 4 x 400 should always be the last event in a track meet. The IAAF switched the order a few years ago in order to let Bolt and the 4 x 100s end the meet. Sadly, that schedule has stayed in place even when Bolt is absent. If they aren't going to change this for the World Relays, I have little faith that the 4 x 400 will ever close out the Olympics or World Championships again.
4 x 800
Favorites: Kenya, United States
Records: The American record is 7:02.82, while the world record stands at 7:02.43. This works out to about 1:45.5 per runner. If the weather cooperates, the United States is certainly capable of average that time. Duane Solomon was in 1:43 shape last month, who knows how fast he can run now. Robby Andrews, David Torrence and Brandon Johnson all have run faster than 1:45.5 before in their careers. Doing it all on the same day in the same race will be the true challenge.
If the miss the record, the United States still might have a shot at the win. Kenya is Rudisha-less and none of the other entrants jump off the page. Poland could factor in with Marcin Lewandowski and Adam Kszczot.
Fun Fact(s): -Australia is using two collegians, Sam McEntee and Jordan Williamsz. Best spring break ever!
4 x 1500
Favorite: Kenya
This Kenyan group is the one true all-star team in the entire meet. In essence, this is probably what the organizers envisioned when they sketched out plans for this competition. That, and a free trip to the Bahamas. All of Kenya's best are running including Asbel Kiprop, Silas Kiplagat and Nixon Chepseba. If they run hard from the gun they shouldn't have any competition.
Ethiopia is bringing Aman Wote and Mekonnen Gebremedhin making them a slight favorite for the silver over the United States. The American squad is headlined by Leo Manzano and Will Leer. David Torrence and Robby Andrews are also listed, but they are also in the pool for the 4 x 800. This race looks like a Kenyan time trial up front with 3-4 teams fighting over silver.
Records: The world record is 14:36.23….let's do more division…….3:39 per 1,500 meters. The American record is 14:46.3. Seems doable until lap 11 when the wind picks up and everyone is 30 meters apart.
Fun Fact(s): -Noted EPO savant Rashid Ramzi is entered for Bahrain.
-800-meter runners Marcin Lewandowski and Adam Kszczot will run for Poland. Over-distance training, or punishment if they don't run well in the 4 x 800 the day before?
-Prize money goes eight deep in the World Relays. There are only eight teams entered in this event, which means that by finishing every team is guaranteed at least $4,000. More on this tomorrow in our women's preview where only 5 teams are listed for the 4 x 1500.  Free money.