One Comment
Women's World Relays Preview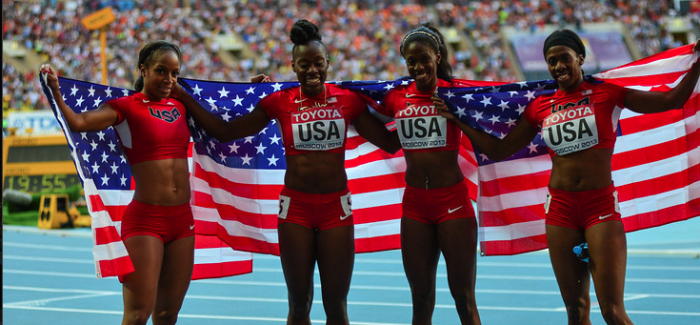 Kevin Sully | On 23, May 2014
Photo vis TrackTownPhoto
Yesterday, I previewed the men's events for the inaugural World Relays.  Today I'll cover the women's 4 x 100, 4 x 200, 4 x 400, 4 x 800 and 4 x 1500.
4 x 100
Favorites: Jamaica, United States
As per usual in this event, the race is between the United States and Jamaica.  The United States will be without Carmelita Jeter and Allyson Felix and instead will rely on Tiana Bartoletta to recapture the gold medal magic from London.
Alex Anderson, Jeneba Tarmoh, Lakeisha Lawson, Barbara Pierre and Stacey-Ann Smith round out the American squad. With just those names, you might figure a Jamaican rout is in the cards.
But the Jamaicans aren't deep either.  They do have the best runner in the world, Shelly-Ann Fraser-Pryce, who skipped the Diamond League meet last week. After Fraser-Pryce, Jamaica's roster is heavy on role players, not stars.  Kerron Stewart has plenty of experience, but isn't at her peak anymore.
Invariably, there will be a team that looks mediocre on paper, who will surprise. Michelle-Lee Ahye has run well for Trinidad and Tobago this year and Nigeria will have the services of Blessing Okagbare.
Records: The United States's world record of 40.81 from the London Olympics is safe and sound, but surely some national records will fall.  I'm looking at you British Virgin Islands (44.34) and Venezuela (44.16)
Fun fact(s):-Nigeria has a "Peace" "Endurance" and "Blessing" in their quartet.
4 x 200
Favorites: Jamaica, United States
After looking at both the men's and women's fields, it doesn't look like many countries took the 4 x 200 too seriously.  There are just nine teams entered for the women and the Jamaican and American teams are light on recognizable names.  Fraser-Pryce is entered and will surely run down any team that happens to be ahead.  After her, there isn't much. Okagbare,  Regina George and the rest of the Nigerian team could threaten the Americans.
Records: The world and American record is 1:27.46.  That mark was set by a Marion Jones led team at the Penn Relays in 2000.  My rule with Marion Jones records is that they are pretty hard to break.  Jamaica's national record of 1:30.23 is well within range.
Fun Fact(s): -"Patience" joins "Endurance" and "Blessing" on Nigeria's team for this relay.
-The Kenyan men entered a 4 x 200, why no women's team?
-If they ever do the World Relays again, let's have a two-turn stagger so the second lap turns into a giant fight for lane one. Running in lanes for 800 meters is boring.
4 x 400
Favorites: United States, Russia, Great Britain, Jamaica
On depth and experience the United States should prevail, but their grip on this event isn't as strong as it was in previous years. Sanya Richards-Ross, Natasha Hastings, Deedee Trotter have seemingly been running 4 x 400s together since the 19th century.  Backing them up in the Bahamas is Joanna Atkins, Jessica Beard and Monica Hargrove.  This might be the most complete American team in the entire meet.
Great Britain should medal with Christine Ohuruogu on the anchor.  Fresh off her Diamond League win in Shanghai, Novelene Williams-Mills leads Jamaica.
Records: The 4 x 400 world record turned 25-years-old last year.  It definitely will be around to celebrate another birthday.  3:15.17 isn't unbeatable, but it requires the United States to use their best runners.
Fun Fact(s): –Victoria Ohuruogu, Christine's younger sister, is part of the British relay pool. How has the British press allowed her to reach 21 years of age without suffocating her with unrealistic expectations to the point that she burns out completely?
-I follow track pretty closely and I have no idea who any of the Russian women are in the 4 x 200.  In most cases this is because they aren't very good, but with Russia it probably means they are all running sub-50 seconds on Sunday.
4 x 800
Favorites: Kenya, United States
This should be a great race between Kenya and the United States.  If the US prevails, it will be because of their depth.  Brenda Martinez and Chanelle Price have run under two minutes already this season and the other four runners in the American pool (Ajee Wilson, Charlene Lipsey, Geena Lara and Morgan Uceny) have all run at, or near, two minutes in their careers.
If Kenya wins, it will be because of the strength of their best two runners.  Eunice Sum is the reigning World Championships gold medalist and Janeth Jepkosgei has a personal best of 1:56 from 2007.  The other members of their team aren't as well known and could be revelations or liabilities.  I'm leaning toward the US just because they are less likely to have a bad leg and they have three women who are capable of splitting 1:57/1:58 with a running start.
Records: Depending on the weather, the American record of 8:04.31 could go down.  The world record of 7:50.17 will still be around at the 2024 World Relays.
Fun Fact(s): -This is the only distance event with a Jamaican team.
-The relay order could be a fun subplot to follow.  Does Kenya save their best runners for last so they can chase? Or do they use them early to build a lead?
4 x 1500
Favorite: Kenya
I brought up the prize money issue in my men's preview, but I'll mention it here again.  Prize money is awarded for the first eight teams.  There are five teams entered in the women's 4 x 1500, which means that every team will win at least $10,000.
Kenya almost certainly will walk away with $100,000. $50,000 for the win and $50,000 for a world record.  Much like the men's 4 x 1500, Kenya didn't get the memo about leaving some of their big stars at home.  This team is preposterously good.
Records:  The question is not whether Kenya will break the world record, but if they could break it using only two runners.  Four few weeks ago in Nairobi, a Kenya team set the world record of 17:05.72.  The time averages out to just over 4:16 per runner.  Earlier this month in Doha, the four likely members of Kenya's team (Mercy Cherono, Hellen Obiri, Faith Kipyegon and Irene Jelegat) all ran 3,000 meters at a pace much faster than 4:16 per 1,500.  Obiri lead the way with a 8:20 clocking and Cherono was close behind in 8:21.  That is 2 x 3,000 in 16:41.  Their 1,500 meter personal bests add up to under 16 minutes.
With the weather and lack of pacesetters this weekend, all four may be way off their best.  But it would take something really strange for them not to set the world record.
Fun Fact(s): -The United States will definitely medal and should get silver.  They also should be under the current world record, which would give them the American record.  Brenda Martinez and Morgan Uceny are entered in both the 4 x 800 and 4 x 1500.
-Romania is one of the five teams entered.  Remember Gabriela Szabo?