No Comments
The Weekend's Best Matchups for September 27-29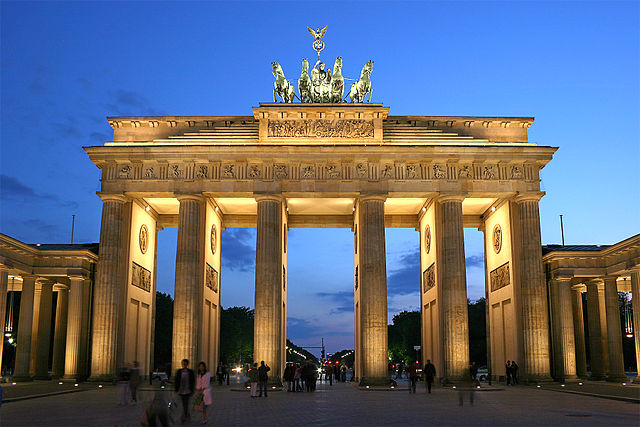 Jesse Squire | On 27, Sep 2013
The World Marathon Majors fall season begins at Berlin's Brandenburg Gate.
Fall is finally here and that means cross country and marathons are getting serious. This weekend's top matchups are still early in those seasons but awfully good. Let's take a look.
1. Wilson Kipsang vs the clock
BMW Berlin Marathon
Sunday, 8:45am local time (2:45am ET)
Webcast at UniversalSports.com and WatchAthletics.com
Kipsang says he's taking a shot at the Berlin course record of 2:03:38, which also happens to be the world record. Berlin has produced eight world records and you never want to say anything is impossible here. WR holder Patrick Makau recently announced his withdrawal due to injury, so it's assumed that Kipsang, the Olympic bronze medalist, will go it alone but you never know when a breakout star will arrive in the marathon.
Geoffrey Mutai is the most accomplished of Kipsang's competitors; he is the defending champion and holds the world's fastest time of 2:03:02 (run in significantly aided conditions in Boston two years ago). Others to watch for include former track star Eliud Kipchoge, 5k world champion ten years ago, and Geoffrey Kipsang, the junior world cross country champion two years ago.
2. Oklahoma State vs Northern Arizona
University Men's race, Cowboy Jamboree
Oklahoma State Cross Country Course, Stillwater OK
9:45am local time (10:45am ET)
Meet website
Flotrack coverage | Runnerspace page
This is a rare early-season matchup between the #1 and #2 ranked teams in the nation. It being the early season, neither will fully show their hand, especially since both teams are nearly assured of qualifying to the NCAAs once they do put all of their best runners on the line. So who wins isn't by itself so meaningful as much as what we find out about the runners who do race and what kind of shape they're in. #6 Tulsa lurks in the background.
I think we might find out about something else, namely the Breaking Bad series finale. Northern Arizona is in the same high-altitude southwest desert area as Albuquerque, the show's setting. The Lumberjacks' top runner is named Brian Shrader, oddly similar to Hank Schrader, one Breaking Bad's central characters. That character is played by Dean Norris, who also portrayed Bill Dellinger in Without Limits. Next week, Oregon hosts the Bill Dellinger Invitational. I have no idea what will happen in Sunday night's finale, but it obviously has a lot to do with college cross country.
3. Florence Kiplagat vs Sharon Cherop
BMW Berlin Marathon
Sunday, 8:45am local time (2:45am ET)
Kiplagat is considered the favorite to win this race given her impressive PR (2:19:44) and long list of accomplishments at shorter distances, but she hasn't raced well lately (5th at the RAK Half Marathon and 6th at the London Marathon). Cherop has done far better, with two marathon wins and a third over the last year and a half, and I think she just might pull off an "upset".
4. Providence vs Oregon
Women's race, Coast-to-Coast Battle in Beantown
Franklin Park, Boston MA
Friday, 3:30pm
Flotrack coverage
This meet might as well be called the Kickoff Classic. The football game of the same name was held from 1983 to 2002 and attempted to match up the defending national champions and the pre-season's #1 team. That's what we have here in #3 Oregon and #1 Providence. This might be a better matchup than the 1-2 men's matchup above, as both of these squads will be closer to full power. The Friars will be running all three of their stars (Emily Sisson, Laura Nagel, Sarah Collins) and the Ducks will only sit their new transfers (Lindsay Crevoiserat, Julia Zrinyi). Neither can look past the other, as #9 Cornell will also be in the race.
5. Desi Davila vs the comeback trail
BMW Berlin Marathon
Sunday, 8:45am local time (2:45am ET)
Two years ago Davila came that close to winning the Boston Marathon and ending a long US drought. For her heroic efforts she became a mainstream sports hero for a time, especially in her adopted hometown of Detroit. But injury stopped her shortly into last summer's Olympic marathon and she's had a long and slow road back to health. She's not really certain what she has in her; she's thrown out times ranging from 2:26 to 2:30 (which are unlikely to make her competitive for the win). US fans are simply hoping for a good sign. Davila is the third fastest American ever, after all, and her brilliant run in Boston was the best result by an American since Deena Kastor won London in 2006.
6. Adams State vs Grand Valley State
Men's and Women's Gold Races , Roy Griak Invitational
Les Bolstad Golf Course, St. Paul MN
12:20 and 1:20pm local time (1:20 and 2:20pm ET)
Meet website
Webcast at Flotrack.org (subscription required)
These are the #1 and #2 men's teams in Division II, and the #3 and #1 women's teams. Not only will we get to see how they stack up against each other, but we can see just how good they are in a global sense: they're both in the D-1 race and will take on several ranked teams. #4 BYU headlines three top-30 men's teams and #5 Arizona leads the eight top-30 women's teams. Adams State's men's team is so good that Flotrack has filmed a video series on the Grizzlies–and it would surprise no one if they could beat one or more of the ranked D-1 teams.
7. Guelph vs Western Ontario
Women's race, New Balance Vic Matthews Collegiate Open
University of Guelph Arboretum, Guelph ON
Saturday, 11:30am
Meet website
Last week I hyped a matchup between the two top Canadian collegiate squads that never materialized, as Guelph sent a B-team to Western Ontario's invitational. The Gryphons probably won't hold back here, especially since we're somewhat deep into the CIS season (their championships are two weeks earlier than the NCAAs). There's a lot of action in this meet, the largest university meet in Canada brings together the top three returners from last year's CIS Championships for both the men and women. It's a pretty cool event, holding a kid's race, community races and a trail half marathon in addition to the collegiate races.
Guelph is the overwhelming favorite to win a ninth consecutive CIS Championship, but Western has dual motivation: the championships are at home, and will send off 46-year coach Bob Vigars to his retirement.