One Comment
London Marathon Odds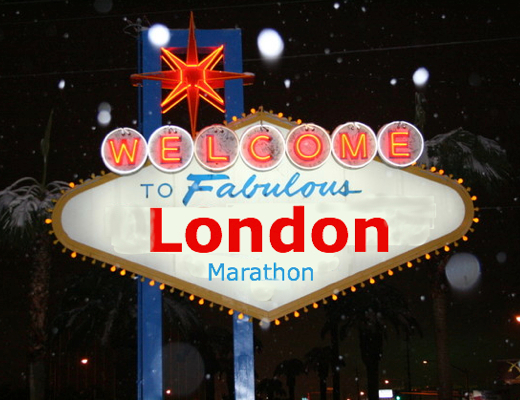 Jason Halpin | On 19, Apr 2013
With the most loaded field in the history of marathons (I'm just assuming this is the case I am 29 and have only been paying really close attention since we started the podcast), I've never had a harder time putting odds together. Normally you have a couple of favorites with maybe four or five legitimate contenders who can actually win. All of those favorites and contenders have decided to enter the same race and give us close to ten guys who you can make a reasonable argument for. Among these runners you have the world record holder, the fastest marathoner ever (yep these are two different things), the Olympic champion, the defending London champion and basically every major marathon winner over the past two years.
Below I picked nine guys with the odds I would put up if I were a bookie taking action on the race. This is not necessarily the order that I think they will finish in but how I think the public might view and bet these runners. Enough explaining, to the odds!
Geoffrey Mutai – Kenya
7/2
As far as I'm concerned still the best marathoner in the world. Has the aforementioned fastest marathon in history at Boston in 2011 (2:03:02) and won in New York the same year setting course records in each. No one had ever won Boston and New York in the same year and Mutai did it in perhaps the strongest year in marathon history. Detractors may point to the fact that this all took place two years ago and wasn't as strong last year. It's true he withdrew from Boston because of tough conditions but he managed to run the 4th fastest marathon ever in Berlin (2:04:15) in the fall and broke 59 minutes in the half marathon earlier this year. He's run under 2:05:10 five times, so unless Athletics Kenya prevents him from getting to the starting line, he should be the favorite.
Wilson Kipsang – Kenya
4/1
Kipsang is the defending London Marathon champion and 2nd fastest ever at the distance and yet I still don't have him as the favorite. He's also run under 2:05 three times including his personal best 2:03:42 at Frankfurt in 2011. He's won six of his last seven marathons with his only loss coming at the Olympics when he got the bronze. He's also won four of his last five half marathons as well…Why is he not the favorite again?
Patrick Makau – Kenya
6/1
And coming in as your third favorite the world record holder … wait, what?! Oh he must have broken this years ago and now is past his prime right? Actually, it was in September 2011? Well, he must have been injured and hasn't done anything of note since then…Yeah, he DID drop out of London with an injury and then wasn't selected for the Olympic team…See I knew it! …But I guess I should mention he won the Frankfurt Marathon six months ago in 2:06… Oh, then why did you put him this low? You mean this weird asking myself questions thing didn't straighten this out? Not at all.
Tsegaye Kebede – Ethiopia
8/1
He's run the London marathon more times than anyone else on this list competing in it every year since 2009, including one win and two other podium finishes. His personal best actually came last year in Chicago where he also set the course record running 2:04:38. Like Mutai and Makau, none of these accomplishments were good enough to make his country's Olympic team, but at least Ethiopia didn't end up with three DNF's.
Ayele Abshero – Ethiopia
10/1
The 22 year old only has one marathon under his belt but it was the fastest debut marathon ever and the 4th fastest in history. It's like a pitcher throwing a no-hitter in his first career start. The sky is the limit; but against a much better and more experienced field can he provide the encore? If forced to choose I would think he's more likely to finish closer to 10th than 1st but 2:04:23 is really tough to pick against.
Emmanuel Mutai – Kenya
10/1
Unrelated to Geoffrey other than the fact they are both really fast, Emmanuel won London in 2011 with a course record 2:04:40 and finished 2nd to Geoffrey in New York later that year. Going into last year he looked like the second or third best marathoner in the world, but has really struggled since then. In trying to defend his title in London he finished 7th.  However, he was able to make that elusive Olympic team as an alternate but the curse of Athletics Kenya struck again and he finished a disappointing 17th.  If he can regain his form from 2011 I would expect nothing worse than a top 3 finish, but with the recent results I'm not as optimistic.
Stanley Biwott – Kenya
12/1
With the 8th best personal best in the field with a 2:05:12 (Really?! 8th?!) and no major marathon wins or even starts for that matter (He was entered in New York last year) it's hard to find marathon credentials that stick out, especially in this crowd. I just can't see any reason to pick…*Checks his half marathon time*58:56?!?! Stanley Biwott is your 2013 London Marathon champion!
Feyisa Lilesa – Ethiopia
15/1
For just a 23 year old it seems like Lilesa has been racing for a while. He's already competed in six marathons, seven half-marathons and a couple World Cross Country Championships.  The highlights include a 3rd place finish at the World Championships in 2011 and runner up in Chicago last year in a personal best 2:04:52. He's had more success winning at the half-marathon distance winning the last two in Houston including a course record 59:22. It's well documented I'm a sucker for the fast half marathoner (see above) but I just don't see a top 3 finish for Lilesa.
Stephen Kiprotich – Uganda
18/1
Coming in with my 9th best odds to win the London Marathon, your 2012 Olympic champion! An Olympic gold medal is obviously great and he did beat some very good runners (Wilson Kipsang, Emmanuel Mutai, all those DNF's from Ethiopia…) but the rest of his resume consists of a personal best 2:07:20 in the 2011 Enschede Marathon (I'll save you some Google time, it's in the Netherlands) and 3rd place in the Tokyo Marathon.  I felt like he had to be listed on his own outside the field to respect the gold medal but he hasn't even appeared in a major marathon yet and this is one hell of a baptism by fire.
Field
22/1
It was tough deciding when to make the cut off into the "field" category as the list of runners just keeps on going with impressive times and wins. Some of the guys included are Deressa Chimsa who has a 2:05:42 to his name, and two sub 2:08 guys Yared Asmerom and Adil Annani. Normally, you can get some good odds out of the field because there is always an East African or two who come out of nowhere to run 2:06 but this field is just too good and deep at the top for me to see that happening (or for 2:06 to be enough) but it's possible!
Prop Bets:
Odds of breaking Patrick Makau's World Record 2:03:38:
7/2
Does 7/2 seem crazy to suggest that a world record will be broken? Absolutely, but with this field and rabbits set to take out the first half in 61:45 I worry these odds aren't low enough. London is a fast marathon with the last two winners coming in at 2:04:40 and 2:04:44 and both of those guys are in the field along with 5 others who've run under 2:05. Weather can definitely play a factor and the temperature is projected to be high of 56 low of 43 which isn't bad but there is a 60% chance of rain.
Odds of breaking Geoffey Mutai's fastest time ever of 2:03:02:
15/1
As mentioned above, Geoffrey Mutai ran the fastest marathon ever when he won Boston in 2011 with a downwind and downhill course (the latter prevents it from being the world record). However, if any field could do this it's this one. It would take a negative split from the 61:45 first half goal, which seems insane but if weather and everything else break right it's possible.
Odds of staying awake through the whole race live and completing my "live diary":
Yes: -250
No +200
Kevin has no faith in this one and I'm sure he will be trying to take the bet on "No" as soon as he reads this… BUT I have maintained that I will make it through and even complete a running diary as I watch. The men's race kicks off at 1:45am Pacific Standard Time so I will be in for a long night, but trust me just the opportunity to prove Kevin wrong alone is enough to have me shotgunning Red Bulls and 5 hour energy come midnight.
Odds Mo Farah says screw it and decides to finish the race:
50/1
This should be a joke but sadly I've seen people discussing this and even some sites listing the odds. I want him to run as much as anybody but it's not happening! Accept it!
Odd this race can actually live up to the hype:
Off the Board
As mentioned about 600 times above, this race is absolutely loaded with the best in the world. It's been hyped up ever since the elite fields were released and so far the only withdraw of note is Abel Kirui. (I know he always does really well in championship marathons but not as much in major marathons. I don't think he would have been a factor in the top 5 in London). For this race to live up to the hype I think we need a world record, a close finish and the winner racing David Rudisha and Usain Bolt to the top of Big Ben.
*Note: If you're in the US (and not in Vegas), we don't condone betting. But if you are in the UK, here are the official odds at Paddy Power and William Hill