One Comment
Marathon Notebook: Rita Jeptoo's failed drug test looms over New York City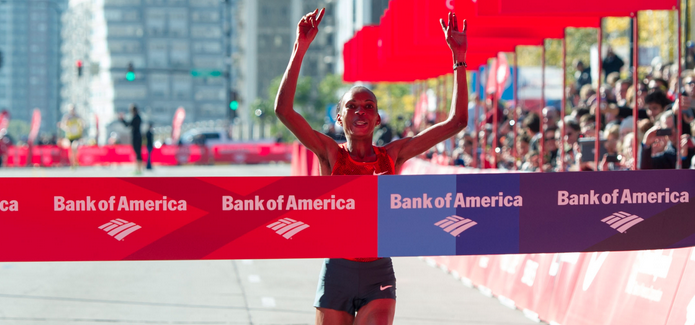 Daily Relay | On 31, Oct 2014
Photo via Chicago Marathon
The world's best female marathoner, Rita Jeptoo, isn't running in New York City this weekend, but she dominated the chatter Friday after Run Blog Run reported that Rita Jeptoo, winner of both the Boston and Chicago Marathons in 2013 and 2014, had an "A" sample test positive in out-of-competition test taken in September.
Jeptoo, reported to have tested positive for EPO, was to receive a $500,000 check for her World Marathon Majors win in a presentation in New York on Sunday, but the World Marathon Majors organization has already canceled that event, according to a Friday statement.
"WMM has always held a stern line on drugs cheats and has been proactively supporting the sport's governing bodies to ensure the integrity of the athletes competing in their races. Cheats need to understand that they are not welcome in our sport and that they will be caught."
After Jeptoo's manager, Federico Rosa, confirmed that he had been informed of the positive "A" sample test result, her coach, Claudio Berardelli, fielded questions about his athlete, but offered little insight into what happened.
"I'm definitely confused based on what I've seen in training, what I've seen in races," he said, confirming that he was not suspicious that she was doping.
"Especially with Rita, there is still quite a lot to do in terms of performance," he added. "Right now, I can't say I was suspicious about the way she was running. I believe she can train to run 2:17, even faster than that."
For now, Jeptoo owns the Boston Marathon course record of 2:18:57, set this April. She is the second athlete from Berardelli's large — perhaps more than 100 strong — training group in Kenya. The other positive test came from half-marathoner Mathew Kisorio.
"I've spent 11 years in Kenya," said Berardelli. "I coach them on a daily basis on this doping issue. Ninety-nine percent have been clean. My job is coaching people, so I'm not an expert. Trust me — I'm there from 5:30 in the morning until 7:00 at night."
Berardelli also coaches marathoners Stanley Biwott and Priscah Jeptoo (no relation), both of whom pulled out of Sunday's race in early October due to injury. Top 800m runners Eunice Sum and Janeth Jepkosgei are also among those in his group.
The field of international elite runners for the New York City marathon, all of whom answered questions from the press Friday, had little to say on the issue. Most indicated that they had just heard about it or hadn't heard anything previously.
Firehiwot Dado, the 2011 New York City champion, did say, perhaps hopefully, "She's a very tough athlete. She's good at what she does. Maybe it's not even true."
New York-based Ethiopian Buzunesh Deba finished second to Jeptoo in Boston, 62 seconds behind a record Jeptoo broke by 1:46. Deba is running New York City, where she finished second to Priscah Jeptoo last year.
World record-holder Paula Radcliffe, in New York this weekend to cover the race, had mixed feelings on the reports.
"I would rather it have come out officially, and both the A and the B were," she said. "Because then you could say it's a really good thing — the testing is working better. At least this time they kind of caught it before World Marathon Major payouts and hopefully before Chicago has paid. I think it shows the system is improving and is getting better but it still has a way to go."
Gebremariam: Ethiopians are better suited to Boston, New York
If you add up the last 10 winners from the five established World Marathon Majors — Berlin, Boston, Chicago, London and New York, the results aren't pretty for Ethiopians. Kenya has 34 wins, Ethiopia has 11 and the rest of the world has five.
Four of those five "other" wins have come in New York City, but, of Ethiopians, only Gebre Gebremariam has won since 2001. Still, the 2009 champ, who is running Sunday, thinks that Ethiopians can compete with Kenyans in marathons like Boston and New York but not as much at the flat, fast, paced majors.
"New York and Boston, they seem like cross-country races," said Gebremariam. "They are up-and-down races. Ethiopians and Kenyans, in cross-country races, they compete with each other — it's very, very similar in those two countries. Some win in Boston and some win in New York, so I think it's parallel."
The only Ethiopians to win at Berlin, Chicago or London in the last 10 years are Haile Gebrselassie, who won Berlin four times, and Tsegaye Kebede, who won Chicago once and London twice.
Lelisa Desisa, one of three Ethiopians to win in Boston over the last 10 years, said of Ethiopians' struggles in the majors vs. Kenya of late: "That is a very difficult question."
Golden boy ready to compete
Stephen Kiprotich surprised many with his gold medal at the London Olympics in 2012 and then doubled down with another gold at the Moscow World Championships a year later. Both races were run in hot conditions as opposed to the spring and fall World Marathon Majors, where Kiprotich has struggled.
"Maybe the previous years, I would not have done good in the World Majors because of some reasons," said the Ugandan, who indicated he is not worried about running in the cold. "One reason is maybe it was a bad day for me. Maybe I didn't prepare well. So the competitions are different now."
Since winning gold in London, Kiprotich finished 12th in the London Marathon in 2013 (2:11:34), 12th in the New York City Marathon in 2013 (2:13:05) and sixth in London in 2014 (2:11:34) with the World Championship gold squeezed into his 2013 season.
"In the competition like this one, everything is possible," said Kiprotich, who may be fresher in just his second marathon of 2014 — New York was his third last year. "My hope is to finish at the top."
One sign he could finish at or near the top is the success of training partners Emmanuel Mutai and Eliud Kipchoge. The perennial bridesmaid Mutai ran second in 2:03:13 behind Dennis Kimmetto's world-record time. Mutai's time was faster than Wilson Kipsang's previous record mark. Kipchoge just won the Chicago Marathon in a fast 2:04:11, despite significant winds.
Waitz's New York legacy alive in Norway
Annie Bersagel is an American athlete based in Oslo, and she's coming off a two-minute personal best (2:28:59) at the Dusseldorf Marathon in April.
The emerging American, now 31, was planning to do a fall marathon, so why not the marathon of choice for Norwegians?
"I wanted to do a fall marathon, and then next year [due to Olympic trials in February 2016], it's a little bit more difficult," said Bersagel. "So this is really the year to do it. And this is one of the races that has always been on my short list. It's huge in Norway — I think there actually might be more Norwegians here than in the Stockholm Marathon."
Why is that? New York City Marathon legend Grete Waitz, of course. She won nine New York City Marathons in an 11-year span, from 1978-88. Waitz, who succumbed to brain cancer in April 2011, is a legend in her native Norway.
As for Bersagel making the adjustment from Oslo to New York time, she arrived Wednesday and is not worried.
"Remember on race morning, it'll be 3:10 p.m. in Norway," she said, referring to the women's start time. "I personally think it's easier to do that than to come from California where I used to live."
Luke Puskedra, the Usain Bolt of marathoning
At 6-foot-4½, Luke Puskedra towers over your typical elite long-distance runner, something that became clear to him when he encountered a world record-holder during his time at the University of Oregon.
"When I first started meeting a lot of the elite athletes — being in college and having [Kenesisa] Bekele come to Hayward Field and run the 10K. When you see him on TV, you don't really think of that, and when you do see him you're like — that guy is a lot smaller of a guy."
"At first it's kind of discouraging, because you're like, 'Man, I don't have the right build for this sport.' But I think there's different strengths you can have, and I know the same thing happened with Usain Bolt being a different build than everybody else, and that was kind of refreshing, drawing inspiration from that."
Linden not planning family
Mary Keitany enters Sunday's marathon as the women's favorite, despite it being her first marathon since giving birth. Keitany, who said Friday that she did not train during her pregnancy, nevertheless broke Radcliffe's course record with her 65:39 time in September's Great North Run in Newcastle, England. It is the second fastest half-marathon ever run by a woman.
Americans Kara Goucher and Deena Kastor, both also racing Sunday, have had success on the roads after having children. So what about Desiree Linden, who was married last summer?
"It hasn't really been on my radar," said Linden on Thursday. "The children thing is super frightening to me, so I don't even talk about it. Like I have dogs — I'm good.
"It's certainly good to see that people have done it and done it well and that it's certainly doable," she continued. "I'm sure it's got to be challenging. It's a thing that you can run through and stay relatively fit. … It's nice to know that, if I do go down that road, I'll have plenty of people who have gone through it and really good support to help me through that process.