No Comments
Monday Morning Run: World Champs bidding heats up, NYC Marathon look ahead and Symmonds's world record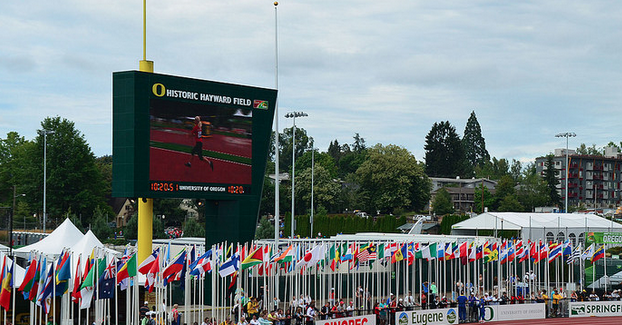 Kevin Sully | On 21, Oct 2014
Photo via TrackTownPhoto
The Monday Morning Run waited until Tuesday this week to make way for Jesse's comprehensive NCAA recap with news and notes from two mammoth races on the collegiate slate. For the professionals, it was a slow week, with the major marathons on hiatus until New York City on November 2nd.
Read it quickly, before we all get swallowed up by the Oscar Pistorius verdict.
The Medalists
The top three performances of the week
Gold: Abraham Cheroben
The in-between weeks of major marathons are a good time to mine for gold. The lower profile marathons and the half marathons often foreshadow the next big star on the roads. With that context, enter Abraham Cheroben, who ran the seventh fastest half-marathon of all-time in Valencia, Spain last weekend.
Cheroben ran 58:48 and told the IAAF after the race that he was targeting the world record and thinks he can run under 58 minutes. Zersenay Tadese holds the record of 58:23 from 2010. Tadese is Exhibit A of a fast half marathoner not translating into a great marathoner. Others at the top of the all-time list also have struggled at the longer distance.
But there is hope. Haile Gebrselassie and Sammy Wanjiru both held the half marathon world record during their careers.
Silver: Girmay Birhanu and Fatuma Sado
If you ever wondered what it's like to run through a post-apocalyptic wasteland, I invite you to look at the pictures of the Beijing Marathon, which was dubbed the "world's unhealthiest marathon," due to the thick smog. I'm not sure how smart it was to even start the race, but Birhanu and Sado took home the men's and women's titles in 2:10:42 and 2:30:03 respectively.
Anybody know what those times would convert to if they didn't need to breathe the air with a spoon?
Bronze: Bernard Kipyego
Kipyego, who could be considered a poor man's Emmanuel Mutai for his near misses in marathons, broke through on Sunday and won the Amsterdam Marathon in 2:06:22. Previously he finished second twice and third three times.
Athlete of the Year
The IAAF announced the finalists for the World Athlete of the Year. Mutaz Essa Barshim, Renaud Lavillenie and Dennis Kimetto got the nod for the men and Valerie Adams, Genzebe Dibaba and Dafne Schippers are the women's finalists.
I outlined my picks before Kimetto ran his world record and I think the final three for the men are fine. Justin Gatlin made a bunch of news when he was included in the final ten, but I think you could make a non-doping argument as to why he was not included in the final three. Namely, he didn't race very good competition this year.
Obviously, that isn't his fault. You can only race the people in the lanes next to you, but in such an arbitrary debate as athlete of the year, you need to draw some distinctions. All undefeated seasons are not equal.
Another way to break it down is by looking at strength of performance across the season. Track and Field News uses the method of averaging an athlete's five best performances in a season. Jesse ran the numbers and this is what he found:
Barshim has the #2 high jump season of all time (and Bondarenko is #5, Ukhov #6), Lavillenie has the #5 season pole vault season (and note that the pole vault rules changed to shorten the pegs about a decade or so ago).

Gatlin is at #7 for the 100m. I also tried a 100/200 combo, averaging athletes' four best 100s and single best 200, but that dropped him to #8. The same analysis showed he clearly had substandard competition.
Lavillenie and Kimetto set world records. Barshim won the Diamond League in the most competitive event of the year and consistently put up great marks. Those three all have strong cases.
Would Usain Bolt have made the list if he was undefeated in the 100 and 200 like Gatlin? Yes, but I think that says more about track's obsession with Bolt than it does about it's desire to distance itself from Gatlin.
If you wanted to bounce any athlete from the top three to include Gatlin, it would probably be Kimetto. The debate between the two underscores how convoluted the process is of deciding the best athlete in track and field. On one hand, you have Kimetto who went 50% in his races this year, but covered the distance faster than any human in history. On the other, there is Gatlin, who ran all summer against diminished competition, but never lost. It's a tough call and makes me glad that when it comes to awarding medals, track and field is able to use absolute measurements to decide the winners.
The women's list is much more flawed. Dibaba was lights out indoors, but was a shell of herself in the summer. Schippers didn't win Diamond League title, didn't have the fastest time in the year and yet somehow finds herself in the final three. The inclusion of Dibaba and Schippers means two very deserving throwers, Anita Wlodarczyk and Sandra Perkovic were left off the list. I knew the IAAF wouldn't have three throwers in the final three, but I sure would like to hear someone attempt to make the argument that Schippers/Dibaba had better seasons than Wlodarczyk/Perkovic. Both had phenomenal marks and dominant records over their competition.
One more thing. If you are going to include marathoners in the award (like they did with Kimetto), you should probably wait until the fall season is complete. I'm sure Rita Jeptoo would have been added if they didn't name the finalists prior to her domination in Chicago. She certainly had a better season than most of the ten women on the preliminary list.
The Road to the Decision of the host for the 2019 World Championships
If the IAAF is swayed by public displays at NCAA football games, then Eugene '19 is a lock. The student section at Saturday's Oregon football game hoisted this banner:
Huge banner just unfurled in student section for 2019 IAAF World Championships. #VoteTracktown #GoDucks pic.twitter.com/tOZa9roxQ9

— Craig Pintens (@UOPintens) October 19, 2014
I'm not sure the IAAF factors in public opinion in their decision. Perhaps it was designed to shore up hometown support ahead of the IAAF's visit to Eugene on October 26th and 27th. It was interesting to note that Mutaz Essa Barshim was in attendance at the game. He is of course Qatar's biggest track and field star and a vocal supporter for Doha's bid to host the World Championships.
Enjoyed my first football (American football ) game last night . Thanks @NikeRunning family #oregon #ducks #justdoit pic.twitter.com/Xocc35YH35

— ♕♕معتز برشم ♕Barshim (@mutazbarshim) October 19, 2014
It's the third city in the bidding process that might have the best chance to win. Barcelona hasn't been as active on social media as Eugene and hasn't lined up the athlete endorsements like Doha, but they do represent the safest bid for the IAAF. With the variables of Doha and Eugene, a large European city in an established venue might be very appealing, especially with concerns about Eugene's size and Doha's weather.
Doha is the last city to meet with IAAF before the final decision is made on November 18th. The heat will be a problem with average summer temperatures usually reaching well into the 100s. More problematic though is Doha's abysmal record on workers' rights and women's rights. There is also the well-documented controversy around the 2022 World Cup that doesn't seem to go away.
It seems like a pretty big risk for very little gain.
Qatar is not a track crazy nation. Only 13% of the population is Qatari. There are more Indians and Nepalese (two countries known for their love of track and field) in the country than Qataris. The annual Doha Diamond League meet usually takes place in front of large amounts of empty seats. On the track, they've tried to improve themselves through unofficial free agency, but they pretty much just have Barshim.
However, their bid probably won't hinge on any one of that. Qatar has deep pockets and has shown they are willing to spend big money to host global events.
A gaudy oil rich nation, a beautiful European city with Olympic tradition and America's track haven armed with a 30 foot banner and a hashtag. Which way does the IAAF go?
Marathon Midway Report
It's still almost two weeks until the next major marathon. If you need something to tide you over, here are few unanswered question that will get resolved in New York.
1) Who is the best men's marathoner in the world?
By virtue of beating the other, either Wilson Kipsang or Geoffrey Mutai will enter the conversation of best men's marathoner. Kipsang would have a better case because he used to hold the world record and has won two majors in a row. If neither win, or if the performance is ho-hum, they won't get much traction against Dennis Kimetto. Kimetto's only deficiency is that he hasn't established himself on a difficult course, something that he won't get to prove until next fall at the earliest.
2) Who is the best American woman behind Shalane Flanagan?
Amy Hastings set a high bar in Chicago, can any other American match? While Hastings tied her personal best in that race, she also showed that it is possible to bounce back after a rough year. Desiree Linden will need a similar rebound to do well in New York and keep pace with Hastings. Linden was ultra consistent, but is 3 ½ years away from her second place finish in Boston.
Kara Goucher is five years older than Linden and hasn't run a marathon since the spring of 2013. A better challenge for the second best marathoner in the US distinction might actually come from 41-year-old Deena Kastor. She just ran 1:09:36 in the half-marathon, the fourth best time in her career. Some calculators project that time to equate to a 2:25/2:26 marathon which would put her right in the neighborhood of Hastings.
3) Are Any Americans close to Meb?
Keflezighi's grip over the marathon in the United States is somehow tighter than it has been at any point in his career. With all the question marks around Ryan Hall, it is Keflezighi who is the clear number one. Much of that is based on his miraculous performance in Boston (along with the decline of the other Americans). In the marathon, much can change in seven months and as impervious as Keflezighi is to the aging process, eventually he has to slow down.
No American in Chicago looked like they are ready to mount a serious challenge. In New York, he will face off against Ryan Vail, Nick Arciniaga and Josphat Boit. Not household names, but they are pretty high up on the list of probable Olympic qualifiers in the marathon for 2016. Keflezighi's personal best is over two minutes better than Vail and I don't think anyone is going to out-strategize Meb at this point in his career.
Obscure Record Alert
–Nick Symmonds obliterated the road 800 world record, running 1:51.20. A quick look at this post-race photo, shows you that even in October you can get a pretty good middle distance field together in Eugene.
@NickSymmonds crushes the 800 m road world record in @spfldoregon! 151.20 pic.twitter.com/lEayXZZ8cW

— Niel Laudati (@NielLaudati) October 18, 2014
Ben Blankenship, Andrew Wheating, and Tyler Mulder finished 2-3-4. Symmonds broke the previous record which was probably held by some guy who had a very fast 800 split in a road mile.
-The Canadian soil record withstood another challenge on Sunday. At the Toronto Marathon, Laban Korir and Mulu Seboka won the men's and women's races in 2:08:15 and 2:23:14.
Canada's Eric Gillis ran 2:11:22 and set a personal best, but was still far from Jerome Drayton's Canadian record of 2:10:09. With each unsuccessful attempt, Drayton is looking more and more like Canada's Bob Beamon.