No Comments
NCAA XC Championships History, Visualized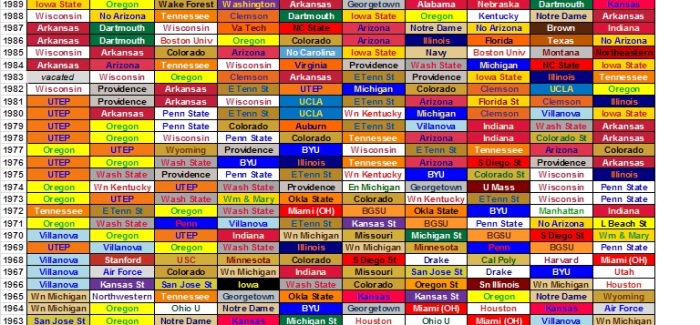 Jesse Squire | On 22, Oct 2014
I've produced a couple of handy documents that give you a visual representation of the top ten teams at every NCAA Cross Country Championships, from the meet's inception in 1938 until today. Each team is shown in their school colors.
Men (click here for PDF):

and Women (click here for PDF):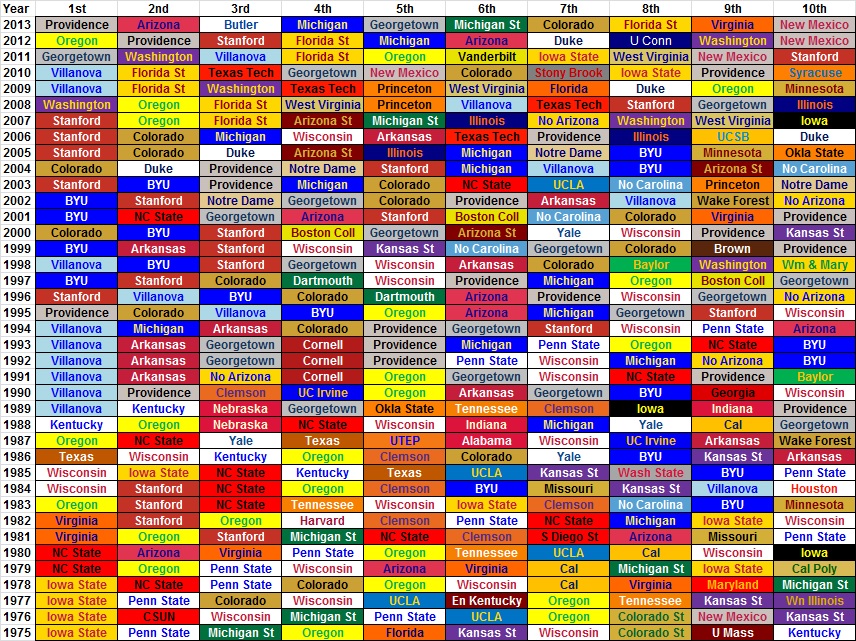 A few things to note…
1) You can see how little variety there is in college color schemes.
2) Count back how many times in a row Wisconsin has been in the top ten of the men's championships, and find me another Division I sport where one team has a streak like that. Impressive.
3) The NCAA doesn't officially break ties in cross country but I did because it's about impossible to represent a tie in these images. I used the arcane tiebreaking system used for at-large points.
4) The early years of the men's championship were nothing like they are today. It's hard to call it a true "national" championship any time before the late 50s; it was more of a midwestern and eastern competition. Up through 1971 it was an open championship–any team could run if they showed up–but the first western team to show up was Colorado in 1957, and the first west coast teams to come were Oregon State and San Jose State in 1961. I only list the top five teams in the early years because many of those championships didn't even have ten teams competing.
5) The first women's NCAA Championships were in 1981, but the Association for Intercollegiate Athletics for Women sponsored championships beginning in 1975 and I included those results. The AIAW continued on in 1981 before folding after the spring of 1982 and mergin with the NCAA, and so there were two women's national collegiate cross country championships in 1981. No team ran in both–the races were just two days apart–and were relatively equal in terms of competitiveness. I listed the NCAA Championships top ten for 1981, but understand that they don't represent the true the top ten women's college teams that year.
6) If you really want to look into NCAA Cross Country Championships history, the Track and Field News archive of the meet is the place to poke around.