2 Comments
The Monday Morning Run: World Indoor Championships Preview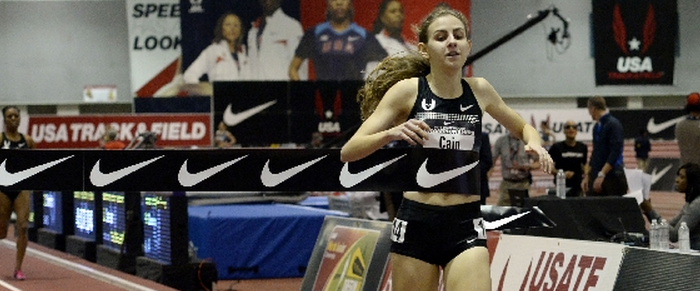 Photo via Track and Field Photo
The professional indoor season reaches its climax this weekend with the World Indoor Championships in Sopot, Poland. One of the charms of indoor track that I learned to appreciate this year is the condensed schedule–less than two months. There is no downtime and American athletes mostly stay stateside throughout the season. The World Championships take place just two weeks after the national championships.
The season mirrors the venue where the meets are held, compact and chaotic. That doesn't mean the story lines are static. Look at the men's 3,000 where Galen Rupp looked invincible in January until Bernard Lagat put together a great couple weeks and is now one of the favorites for gold. That is one of the many marquee races in Poland next weekend. Before we jump ahead, let's look back at another entertaining week.
The Medalists
The top three performances of the week….
Gold: Sandra Perkovic
With no event to contest indoors, Perkovic stepped outside and chucked the discus 231-4′ in Split, Croatia.

The mark is a personal best, a national record and the best throw in the event in the last 22 years. But the farthest throw since 1992 in the women's discus only gets you 21st on the all-time list and more than 20 feet from the world record. Man, they sure threw it far in the 80s.
Silver: Ivan Ukhov
The up-and-down Russian has been consistently great the past six weeks. Last week, he cleared 7-11 ¼ to come within ¼ inch of Javier Sotomayor's world record. He now has seven of the best eight marks of 2014 and has jumped 7-10 or higher on three separate occasions.

Bronze: Sally Pearson
It didn't take long for Pearson to make herself the favorite for the World Indoor Championships. On Saturday in Berlin, the Australian ran 7.79 in the heats of the 60-meter hurdles. She came back in the finals to run a 7.80, equaling Nia Ali's mark from the US Indoor Championships. It's summer in Australia, which means they are entering the heart of their outdoor track season. Despite not making any indoor appearances before Saturday, Pearson has already run 12.59 in the 100-meter hurdles outdoors.
Surging…
-Veronica Campbell-Brown
If you aren't completely confused by the handling of the Veronica Campbell-Brown doping case, then you haven't been paying attention. Last May, she tested positive for a masking agent at a competition in Jamaica. In June, she was provisionally suspended, keeping her out of the World Championships. It took until October for the Jamaica Athletics Administrative Association (JAAA) to issue a ruling–a public reprimand with no further suspension.
That didn't seem to fly with the IAAF who picked up the case and reinstated her suspension. Nothing happened until February of this year when it appears that the IAAF and JADCO came to a consensus on a two-year suspension.
Campbell-Brown then appealed that decision to the Court of Arbitration in Sport (CAS) and was immediately reinstated. The case hinged on the handling of the original urine sample.
"The athlete argued that the WADA International Standards for Testing (IST) have been violated during the course of the sample collection process, thus compromising the integrity of the urine sample collected."
Jamaican anti-doping officials were responsible for collection of the sample, another blow to the nation's drug testing credibility.
Campbell-Brown is now eligible to compete at the World Indoor Championships this weekend.
-David Torrence
Silly of me to think that the obscure record chase was over just because the major indoor meets of the season are behind us. Bizarre records can happen anywhere. On Sunday afternoon at the Boston University Last Chance Meet, Torrance set the American indoor 1,000 record, winning the race in 2:16.76. Nate Brannen ran 2:16.87 to set the Canadian indoor record.
Nick Symmonds was the mid-distance runner who put records front and center this year, but it is Torrance who has come away with two records already in 2014. He was also on the team that set the 4 x 800 indoor world record last month in Boston.
Slowing…
-USATF
Seven days have passed since the Gabe Grunewald disqualification controversy was resolved. and there is still no explanation of the enhanced visual evidence that officials used to disqualify Grunewald from the 3,000 at the US Indoor Championships.
Does it exist? We'll probably never find out. Last Monday, Jordan Hasay dropped the appeal and Grunewald was reinstated as the winner. USATF CEO Max Siegel played the role of peacemaker and their was no immediate need for Grunewald or her team to push for answers as to why the USATF did not follow their own appeals process.
The kicker of course is that no evidence, no matter how enhanced, will be able to explain why the officials were overruled. Unless the tape reveals an unknown fourth dimension, you could see everything you needed to see on the original television broadcast.
By this point though, the issue has gone far beyond a debate about incidental contact. No matter how tidy the resolution on Monday was, questions about the tape will linger and will surface every time USATF's credibility is questioned.
-Joe Biden
Throughout their run around the White House last week, the Vice President trailed Barack Obama. The gap was never more than a few feet, but the President definitely was the aggressor from the gun. Biden did score points on form though. His arms carriage was low, economical and much more efficient than the President's.
FAQs
Answering a few question you probably didn't have about this week's World Indoor Championships….
-Can Mary Cain medal?
Her chances improved exponentially when Genzebe Dibaba decided to focus on just the 3,000 for this meet. The tear that Dibaba has been on over the last four weeks made her a sure thing, despite her unsuccessful history in championship races.
Abeba Aregawi is the next in line behind Dibaba and is a logical choice for gold with her 3:57 season best and a World Championship gold medal from last August. Even with Aregawi, Cain has a better than 50/50 shot at a medal and an outside shot at winning the whole gold.
Here are the names ahead of Cain on the yearly list:
Genzebe Dibaba: Not running the 1,500
Abeba Aregawi: 3:57.91
Laura Muir: 4:05.32
Sifan Hassan: 4:05.34
Kim Conley: Not competing in the meet
Elena Korobkina: 4:05.78
Hellen Obiri: Not running the 1,500
Mary Cain: 4:06.83
Forecasting the 1,500 on season's bests alone isn't always instructive. However, the list above does give you an idea of how close Cain is to the best in the world. There will always be surprises (Gamze Bulut the Olympic silver medalist has only raced once this season, a 4:07.94), but there are fewer threats than outdoors. Kenya has only one entrant. Ethiopia's two haven't broken 4:08 this season. Russia is always a mystery, but Korobkina is the only one under 4:11. Right now, it looks like Cain will definitely be in the mix for a medal and is one bad race by Aregawi away from gold.
-What are the chances of a world record?
Don't be greedy, there have already been five in 2014. Unless Renaud Lavillenie can get a new ankle or Genzebe Dibaba is able to convince someone to rabbit for her the men's pole vault and women's 3,000 marks are safe. However, there could be some movement in the field and multi events.
Ashton Eaton has the three best marks of all-time in the heptathlon. His world record of 6,645 points comes from this same competition in 2010. By every measure he is vastly improved from 2010. He didn't need to compete at US Indoors last week so he will be rested and ready.
Other than Eaton in the heptathlon, the men's high jump, women's pole vault and men's shot put marks could receive a scare. Ivan Ukhov only needs a quarter of an inch improvement to break Javier Sotomayor's mark of 7-11 ½. If he really gets rolling Sotomayor's overall record of 8-0 ½ could fall as well.
Randy Barnes's men's shot put record of 74-4 ¼ didn't seem vulnerable until Ryan Whiting tossed a 72-11 ¼ at the US Indoor Championships. He still has over a foot to go and won't have the benefit of the thin Albuquerque air.
Despite her loss in Albuquerque, Jenn Suhr is a threat to re-break her mark from last February of 16-5 ½. As with the men's high jump, there isn't much separation between the indoor and outdoor mark, so on a good day Suhr could take a run at Yelena Isinbayeva's outdoor world record of 16-7 ¼.
-Who has the most at stake?
It's indoors so nobody really has all that much to lose. If I had to pick, I would focus on two veterans who may not get another chance at a World Championship or Olympic medal.
The sea has parted for 37-year-old Kim Collins this season. One-by-one all of his expected rivals in the men's 60 meters have evaporated. Jimmy Vicault, James Dasaolu, Yunior Perez each broke 6.50 this year. None of them will be competing in Sopot. American Mike Rodgers, who has specialized at the distance in year's past, didn't compete at US Indoors last week. Surely Jamaica will send a team, but their fastest time from this season is Nesta Carter's 6.53 in Birmingham.
All of this is breaking perfectly for Collins. He has run 6.54 or faster four times this year, including a 6.49 last Tuesday. His re-emergence sets up a nice young vs. old battle with 20-year-old Marvin Bracy. Bracy, and his fellow American Trell Kimmons, both went under 6.50 at in Albuquerque. Other than Cain, who shouldn't really count because of what she did in 2013, Bracy is the breakout American star of the indoor season.
Two years Collins's senior is Bernard Lagat, who is attempting to win his 13th major championship medal. At the top of this section I said Lagat and Collins may not get another chance at a medal. When it comes to Lagat, I'm already regretting that statement. Even at 40, who will be picking against him next year?
Lagat's event, the 3,000, is one of the most exciting races of the meet. Augustine Choge, Caleb Ndiku, Hagos Gebrhiwet, Dejen Gebremeskel and Galen Rupp all showed themselves to be medal contenders at some point this season. It is fitting that this event will boil down to essentially a tri-meet between Kenya, Ethiopia and the United States. Those three countries have combined for the 21 fastest times in the 3,000 (and 3,000s converted from 2-miles) this indoor season.
-What will be the best match-ups or most competitive events?
Here are a few:
Men's shot put: David Storl vs. Tomas Majewski vs. Ryan Whiting
Men's 1500: Any one of ten different men could medal
Women's 800: Wide open race where two American (Ajee Wilson and Chanelle Price) have the two best times of the year
Women's 400: Francena McCorory vs. Kseniya Rhyzova
Women's 60 hurdles: Sally Pearson vs. Nia Ali
-Any locks?
Dibaba, Eaton and Ukhov are three that come to mind.
Mohammed Aman looked pretty dominate in his two 800-meter wins this season, but too much can happen over four laps of an indoor track to call him a lock.
Murielle Ahoure's season best is .05 ahead of the next fastest person. But the entry of Veronica-Campbell Brown, Shelly-Ann Fraser-Pryce and the resurgence of Tianna Bartoletta makes the women's 60 far from a sure thing.
Lalonde Gordon's best competition in the 400 will be preparing for the NCAA meet so you can probably pencil him in for the gold.
Christina Schwanitz has the five best shot put marks of the season. Nobody is within a meter of her. Valerie Adams, where are you???????? (Note:  Adams does actually have the world-lead, it is just outdoors.  Southern hemisphere gets me again.)
-Any potential surprises?
No idea if any of these folks will show up (official entrants have not be posted as of this writing), but they sure have run some fast times.
–Tosin Ogunode, Men's 60
–Femi Ogunode, Men's 60
–Mohamed Moustaoui, Men's 1,500 and 3,000
–Nadine Hilderbrand, Women's 60 meter hurdles
The Roads
–Bazu Worku won the Lake Biwa Marathon in Japan with a time in 2:09:10. Yuki Kawauchi finished fourth in 2:10:38, two weeks after winning the Kumamoto Castle Marathon in, you guessed it, 2:10. Next up, Kawauchi is scheduled to race the Hamburg Marathon in May, but I'm sure he will get restless and run another marathon or two in between.
-Aziz Lahbabi ran a personal best of 59:25 to win the Rome-Ostia Half Marathon. It is a personal best by more than two minutes for the Moroccan and the fastest time ever from a non-East African.
Commentator Tim Hutchings has some questions.
Lahbabi (MOR) improves 61:53 > 59:25 at Rome-Ostia Half. Wow! Some improvement, huh? Same guy , 13:09 5k June9 '13 but 13:30+ rest of 2013?

— Tim Hutchings (@TimHutchings1) March 2, 2014
@TimHutchings1 His13:09 was (u guessed) in Rabat. Funnily enuf, in '12 he ran 13:04 May27 (Yup, Rabat!), but by OLY cld manage just 13:47??

— Tim Hutchings (@TimHutchings1) March 2, 2014
–Mo Farah's London Marathon tune-up will take place on March 16th at the New York City Half Marathon. Farah won the race in 2011.
-While we are doing announcements, Chris Solinsky said last week that he is planning to transition to the marathon this fall. It has been a tough slog for Solinsky since 2010 when he ran 26:59 to set an American record in the 10,000. This is certainly a risk to move up in distance, especially considering his history with injuries, but the marathon does represent his best chance to make an Olympic team.
-And one more announcement. Bernard Lagat is targeting the American 5k road record at the Carlsbad 5,000 on March 30th. That takes all the drama out of the race for gold in the 35-39 age group.
The Week Ahead
-The World Indoor Championships run from Friday to Sunday. More previews to come on Daily Relay throughout the week.
–Shalane Flanagan, Janet Cherobon-Bawcom, Chris Derrick and Ben True are scheduled to compete in the Gate River Run 15k. Less than two months out from the Boston Marathon, this is an important tune-up for Flanagan.
-The first two finishers from last year's race, Erick Mose and Julius Keter, headline Sunday's Los Angeles Marathon. Raji Assefa of Ethiopia has the fastest time in the field. American Aaron Braun will be making his marathon debut in the race.
The women's race features Tigist Tufa who led Buzunesh Deba for much of last year's New York City Marathon before they both fell apart in the final miles.
-Sunday will also bring the Antarctica Marathon where Hein Wagner hopes to become the first blind runner ever to complete the race.
–Oscar Pistorius's murder trial begins in South Africa on Monday.
Reading List
–Doug Binder profiles a high school shot putter, who is throwing farther than ever after doctors removed a "cantaloupe-sized tumor" last summer.
–Toni Reavis weighs in on the USATF's handling of the Gabe Grunewald disqualification.
–The New York Times Magazine features the story of a physiologist in Scotland who is trying to find a more effective way to detect doping in athletes.