One Comment
The Monday Morning Run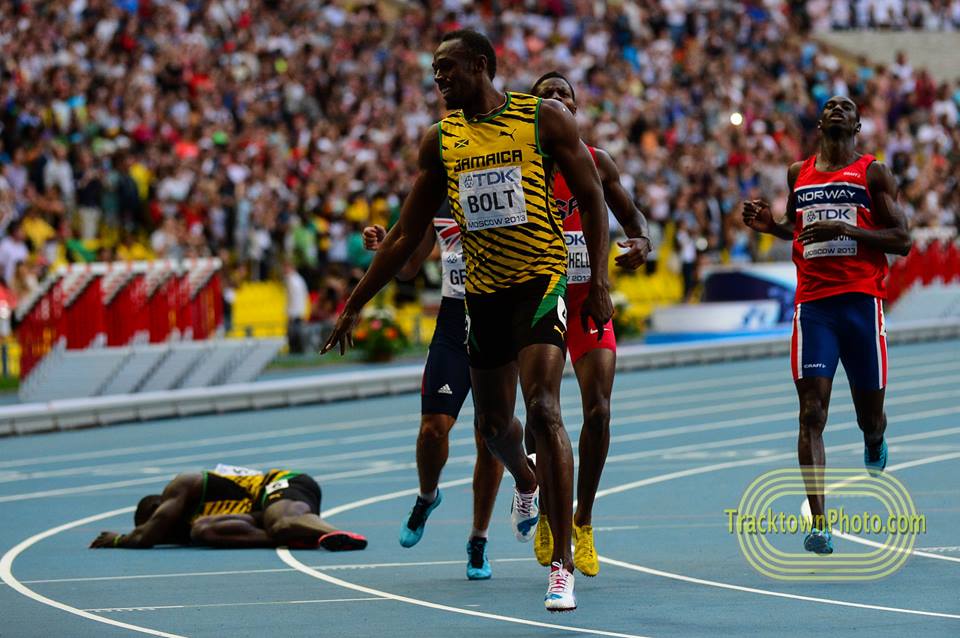 Kevin Sully | On 24, Sep 2013
Photo Courtesy of TrackTownPhoto
A little late here on the Monday Morning Run, but only because it took me a day to fully process the "Italian athlete used fake penis to dodge doping test" headline. Creative evasion techniques aside, it was a slow week for results in the running world. We are done with the track season, but the cross country and fall marathon seasons haven't truly begun. Now is as good a time as any to preview what the off-season will bring. Here are four things to watch for in track and field between now and next spring.
Top 4 Off-Season Track and Field Stories
-Injuries
David Rudisha, Yohan Blake, Jessica Ennis-Hill and Allyson Felix all will be using the off-season to recover from injuries that cost them all, or part, of 2013. Felix went out most recently and will draw the most attention, especially in the United States. Her rehab on her hamstring is reportedly progressing well (whose isn't?), but I would expect her to be extra cautious with her racing in 2014. There is no good time for an injury, but the end of a season right before a non-championship year does provide the most recovery time before the next race of consequence occurs.
Sprinting is hard on the hamstrings regardless of the distance, but might this layoff help usher in the Felix 400 era? Her success in the event is well known and the competition isn't nearly as deep as it is in the 100 or 200, both in the United States and internationally. In 2016, Shelly-Ann Fraser-Pryce will 30 and her third Olympic cycle, but she is still younger than Felix who will be 31 in Rio.
Does sprinting need Yohan Blake? Probably not, Usain Bolt could run in the middle of seven vacant lanes and people would still watch. But Blake definitely makes it interesting. His injury occurred much earlier in the season, and he didn't make a single Diamond League appearance. So far, his off-season has been filled with positive news and encouraging tweets. Still, with nothing to gain in 2014, how much is he willing to risk?
Rudisha and Ennis-Hill were the class of their events in 2012. Both missed the World Championships in Moscow, but both are young enough to expect a full recovery next year. One article in a Kenyan newspaper already noted that Rudisha is plotting his comeback and will make an appearance in December. Look out Jingle Bell Jogs!
Not mentioned above, but also on the banged up list are Ashton Eaton, Sally Pearson, Carmelita Jeter and Sanya Richards-Ross. Eaton won the gold easily in Moscow but withdrew from the Decastar meet with a back injury last week. The last two weeks Sally Pearson has set a Guinness World Record (more on that below) and completed a 100 hurdles/150-meter double, so by all accounts she will be back to 100% in the spring.
-Doping Suspensions
We should have more information, if not a resolution, on all of the major doping positives from 2013 by the end of the year. The results of those cases are less clear. Veronica Campbell-Brown's failed test was the first to be reported, but her hearing has not appeared to progress since the beginning of September. Attorney Howard Jacobs who has also represented Marion Jones and Tim Montgomery is representing Campbell-Brown.
Also in Jamaica, the preliminary hearing for Asafa Powell and Sherone Simpson will take place on September 27th. Those two tested positive for a stimulant, Oxylifrine and haven't raced since July. Since then, their coach has blamed their agent. The agent has blamed the trainer. And the trainer claimed he is being scapegoated.
How much of Jamaica's standing in track and field is at stake in the Campbell-Brown and Powell/Simpson cases? Jamaica has had positive tests before, but the names of the athletes are bigger, as are the accusations. Campbell-Brown hasn't trained in Jamaica for some time, but is still revered by her native country. Questions about the effectiveness of JADCO (Jamaica's anti-doping organization) have already surfaced this summer. Will the verdicts of Campbell-Brown, Powell and Simpson be influence by a doping agency that is seeking credibility? Will a longer suspension do anything to quiet critics?
If a date has been set for Tyson Gay's hearing, they are doing a great job keeping it under wraps. Gay's positive test, announced the same day as Powell and Simpson's, was reportedly for a steroid.
Gay stated from the beginning that he would be willing to with USADA. It is still unclear what information he will divulge and how valuable it will be for authorities. David Epstein has already linked Gay to anti-aging specialist, Clayton Gibson. Is Gibson who Gay was referring to when he said, "I'm going to be honest with USADA, about everything, everybody I've been with, every supplement I've ever taken, every company I've ever dealt with, everything"?
Also on the doping front, the case of Kelly-Ann Baptiste will be interesting to follow. Less is public about her situation after she withdrew on the eve of the World Championships in August. Baptiste is a part of the same Clermont, Florida based training group as Tyson Gay. Steve Mullings was also part of that group before he was banned for life for doping in 2011.
-Alan Oliveira
A few weeks prior on the Monday Morning Run, I speculated who would be the "hopes of the nation" track and field athlete for Japan in 2020 and Brazil in 2016. The Brazilians have had success in a variety of events in track and field in the past, but there doesn't appear to be an athlete in the pipeline that is the obvious choice to become the face of the Games. Alan Oliveira may play that role. If you aren't familiar with Oliveira he is the Paralympian who set world records in the 100 and 200 at the IPC World Championships this year running times of 10.57 and 20.66 seconds. Those marks are huge improvements over the previous records.
Oliveira was also the object of criticism from Oscar Pistorius, when Pistorius objected to the height of Oliveira's prosthetic blades at the Paralympics in London. The argument that Pistorius made was eerily similar to ones used against Pistorius himself when he tried to gain admittance into able-bodied races in 2007 and 2008. At 21-years-old, Oliveira's greatest potential may lie in the 400-meters, which will put the IAAF, not to mention the IPC, in a difficult position. Pistorius was fast enough to make the Olympics, but never was a serious threat for the medals. Oliveira is .34 seconds faster than Pistorius in the 100 meters and .64 seconds faster in the 200. With those personal bests at the shorter distances, a sub 45-second 400 is on the horizon.
If a governing body is going to revisit the "blade runners" they would be wise to do it sooner rather than later. There is no indication they will address it this year or even in 2014, but the closer we get to the Rio Olympics the less likely it is that we will see a level-headed debate on the topic, especially if it concerns an athlete from the host country.
-How many times will Usain Bolt change his mind about retirement?
I, like most people, have staked out the completely uncontroversial opinion of  being solidly against retirement announcements made 3 years in advance. Call it retirement fatigue, or maybe I am just romanticizing about my sports watching youth, but I feel like an athlete saying they planned to retire used to carry a bit more weight. Or maybe athletes just used to mean it when they said it.
Now, it all seems orchestrated and choreographed to maximize exposure and minimize risk. There have been too many Evander Holyfield and Brett Favre type of announcements to actually trust that someone will pick a time and stick with it. This position shouldn't be confused for me imposing my timeline on an athlete. I'm the guy who thought Michael Jordan coming back to the Wizards was great, he was nowhere near what he was, but we at least got to see him play until he had virtually nothing left. Two more seasons of the greatest player of all-time even when he wasn't playing like the greatest player of all-time was a fascinating watch.   Leaving at your peak always leaves the public asking what if. With Jordan there was closure.
Usain Bolt, track and field's equivalent to Jordan, has already changed his mind about his retirement date twice this month. First, he said he would like to walk away after the 2016 Olympics. Then, he left the door open for 2017 after London hosts the World Championships. Before the 2014 season starts, will he change his mind again? Will anyone care? Unlike Jordan, Bolt isn't beholden to teammates or a general manager trying to chart a path forward for their organization. Bolt may clarify his retirement plans in the next few months, but don't put anything he says in ink.
Over the weekend
-Jenny Simpson and Nick Wills won the elite races at the 5th Avenue Mile in New York City. Simpson has been running fast and winning races since April when she opened the season with a meet record at the Drake Relays.  Also on the road, Andrew Bumbalough and Molly Huddle won the US 5k Championships in Providence, Rhode Island.
-The world record drought of 2013 is officially over. Sally Pearson ran 100-meters holding an egg in a spoon in 16.59 seconds, shattering the old record by over 2 ½ seconds. Good money says that Pearson could also set the 100-meter hurdle egg in spoon record as well.
Read This
-Ken Goe profiles Portland State University's newest volunteer cross country coaches, Alan Webb and Shalane Flanagan.
-The Daily Relay's Jesse Squire recaps the final week of preseason NCAA cross country.
The Week Ahead
-The Berlin Marathon takes place on Sunday. Here is a uniform guide so you can decipher who in the men's field is not a rabbit.
-Also, NCAA cross country's regular season begins with important match-ups at the Cowboy Jamboree and the Roy Griak Invitational.