No Comments
The Weekend's Best Matchups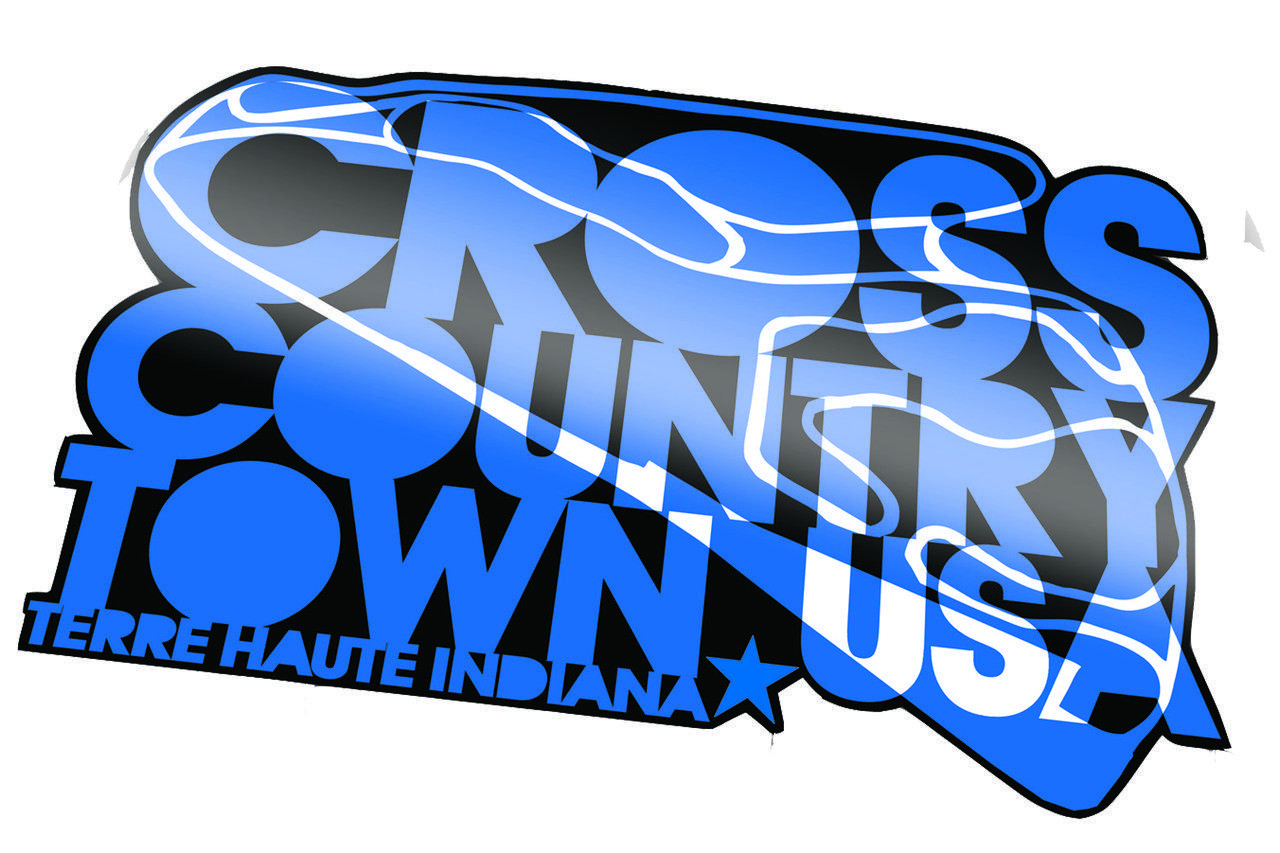 Jesse Squire | On 22, Nov 2013
Terre Haute loves cross country. (Photo: XCTownUSA.com)
The NCAA Cross Country Championships, the culmination of the fall season, will be run on Saturday in Terre Haute, Indiana. What matchups should you be watching? Let's take a look.
1. Oklahoma State vs Challengers
Men's race, NCAA Division I Cross Country Championships
Lavern Gibson Championship Cross Country Course, Terre Haute IN
Saturday, 12:00 noon ET
Live webcast at NCAA.com from noon (ET)
Live results | Flotrack coverage | Runnerspace page
Oklahoma State may be only #2 in the latest coaches' poll, but they appear to be the consensus favorite to repeat as champions and win their fourth title in the last five years. They return all but one of their top runners from last year, and some are markedly improved. They were such a strong pre-season favorite that Running Times has run a lengthy three-part series this fall, A Season Inside Oklahoma State Cross Country.
Last year at this time I thought Oklahoma State was essentially unbeatable at the NCAAs, but I most certainly do not feel that way right now. Some previously dependable runners have had multiple bad races, the kind that will tank a championship should it happen again on Saturday. If that happens, then there are two other teams identified as very real threats to win: Northern Arizona and Colorado.
Northern Arizona surprised everyone last year with their fourth-place finish…everyone, that is, who was not paying attention. They had run very well all season but flew under the radar given their membership in a third-tier conference. I picked them second in the season preview I wrote for Track and Field News–and given that I submitted that piece way back in July, they've lived up to all expectations and then some. The Lumberjacks won the two deepest meets of the year, Wisconsin's Adidas Invitational and the Mountain Regional.
If you're going to find a reason why the Lumberjacks won't win, it's as simple as this: they've never won it before. Take a look at the history of NCAA men's cross country champions and you'll find it quite monotonous. It's the same teams, over and over and over again. The last university to win its first-ever title was Colorado in 2001, and they had twice been runner-up and the subject of a cult classic book before finally breaking through. The last "mid-major" team to win was UTEP, which put together a bunch of championships in the 70s and early 80s on the talents of foreign all-star teams. The last "mid-major" champion before that was Western Michigan in '65 and '66.
The other contenders are the Colorado Buffaloes. They are the surprise of the season, a team that was expected to be "top ten" good but not "championship contender" good. The Buffs won the other big regular season meet, the Pre-National Invitational, and then won the Pac-12 Championships with a stunning display of depth. They did have a significant home advantage at that meet, though, since it was at a mile of altitude and the Buffs are the only mountain team in the conference. It's hard to gauge exactly how good they are, especially given that the team is mostly cross country specialists and they have only modest track credentials. They could win this or they could be revealed as an overrated team, and I don't think anyone really knows which will happen.
There is a long shot out there: the BYU Cougars. They are ranked just 8th in the latest poll but are probably much better than that. The Cougars were downgraded in the poll due to their fourth-place at the Mountain Regional, but coach Ed Eyestone sat out half of his squad. They suddenly have the services of Jared Ward, whose season was in jeopardy due to an overly strict interpretation of NCAA rules. He looks like a certain top ten candidate, and the rest of the team is deep and strong enough to have a real shot at the title.
2. Providence vs Arizona
Men's race, NCAA Division I Cross Country Championships
Lavern Gibson Championship Cross Country Course, Terre Haute IN
Saturday, 1:10pm ET
Like Oklahoma State, Providence started the season ranked #1 in the country. Like the Cowboys, the Friars were found to have a vulnerability due to depth problems. They have the best one-two punch in the nation (Emily Sisson, Sarah Collins) and are very good through four runners. That fifth was a real problem until Grace Thek came on the scene late in the season, and now the Friars are favorites again.
When Providence fell out of favor, Arizona took the top spot in the polls and now sit at #2. The Wildcats won the three toughest women's meets of the year, Wisconsin's Adidas Invitational, the Pac-12, and the West regional. Each of those wins have been close, though, and in each they've shown a possible weakness with a weak fifth runner. But closer look reveals two things: one, that fifth runner hasn't been the same person each time, and two, their fifth runner was about as good as everyone else's.
Others tabbed as favorites include Arkansas (second at the Adidas Invitational), Colorado (second at the Pac-12) and Stanford (second at the West regional). I still think it's a battle between Providence and Arizona, and that contest boils down to a battle between their fifth runners.
3. Anthony Rotich vs Kemoy Campbell
Men's race, NCAA Division I Cross Country Championships
Lavern Gibson Championship Cross Country Course, Terre Haute IN
Saturday, 12:00 noon ET
This is the battle to see who is second. Nobody is going to beat Texas Tech's Kennedy Kithuka, who is undefeated in his NCAA cross country career and stomped a quality field to win last year's title. The only way he loses is if he shows up sick or hurt. Rotich has only lost to Kithuka, and Campbell's only losses were to Kithuka and teammate Stanley Kebenei while cruising in to a 1-2 finish. Campbell was closer to Kithuka in his loss, just six seconds, but Rotich is already an NCAA champion (winning the steeplechase crown in June). From my perspective, everyone else is battling for fourth.
The women's individual race is likewise not up for grabs. Dartmouth's Abbey D'Agostino is fast and smart and tough, and she has motivation. The only cross country races she's lost since October 16, 2011, were at the NCAA Championships. She was third two years ago in her breakthrough performance, and then runner-up a year ago after being slowed by injury. That means this is her last and only chance at an cross country championship. Probably the only way she gets beaten is if she's caught unprepared, and that's not going to happen here.
4. Runners vs Mud
Big storms over last weekend dumped loads of rain on the Lavern Gibson Championship Cross Country Course and more rain in the last few days has made it even wetter. That could completely upend the formcharts.
Indiana State's cross country course is a tremendous success story on many levels, not the least of which is an environmental one. The land was once an abandoned coal mine, leaving behind "a 245-acre area of gob, slurry, derelict concrete structures, trash, debris, a hazardous open slope entry and acid mine drainage problem" but was eventually rehabilitated into the wonderful greenspace we see today. The one thing the course does not do well is drain off excess rainwater, and it tends to turn into a giant mudpit in wet conditions.
This is not necessarily a bad thing. Cross country is supposed to be hard, and if the elements are not part of the challenge then it really isn't cross country. Different conditions favor different kinds of runners, though, and these will be conditions that are different from most of the ones we've seen this season.
In Running the Lydiard Way, Arthur Lydiard identified two kinds of runners that he called "drivers" and "pullers". Drivers push off the ground with great force while pullers seem to float over it. Drivers do well in windy conditions but need a firm surface to push on, and they'll be at a big disadvantage in muddy conditions.
Colorado's men's team won two of their three national championships in these kinds of muddy conditions, so the conventional wisdom is that they'll have an advantage. That assumes that these particular runners are like the ones that won the titles in 2004 and 2006, which may or may not be a valid assumption. This team did, however, record a perfect score in a home meet run under wet and muddy conditions. The only other major meet I can think of this year that was run in extreme mud was Arkansas' Chile Pepper Festival, and the depth of competition there wasn't enough reveal much.
I'm going to guess that middle-distance specialists are going to be at a disadvantage and that the lightest runners will be at an advantage. That could spell trouble for #5-ranked Oregon, who leans heavily on NCAA 1500-meter champion Mac Fleet.
5. Adams State vs Western State
Men's race, NCAA Division II Cross Country Championships
Plants Ferry Athletic Complex, Spokane WA
Saturday, 11:30am local time (2:30pm ET)
Live webcast at NCAA.com from 1:30pm (ET)
Live results
These two teams are intense rivals and the dominant teams in Division II over the last decade. Imagine Alabama vs Auburn for the national title in football, or Duke vs North Carolina in basketball, and that's what you have here. The intraconference rivals are located just 120 miles apart (practically next door in Colorado) and one or the other has won 17 of the last 21 national titles. In nine of those years, they were first and second.
The Adams State Grizzlies were figured to be the powerhouse of Division II this year and were profiled in a Flotrack film series. But then Western State pulled off the upset at the RMAC Championships–and it wasn't even close, as the Mountaineers put an amazing seven runners in front of Adams State's third.
But rivalries don't go quietly. Adams State is out for revenge.
6. Blue Jays vs Ephs
Women's race, NCAA Division III Cross Country Championships
L.S. Ayers Complex, Hanover IN
Saturday, 11:00am ET
Live webcast at NCAA.com from 11:00am (ET)
Live results
The women's title in D-III looks to come down to defending champions Johns Hopkins (the Blue Jays) and #2-ranked Williams (the Ephs). Johns Hopkins is the consensus #1 team due to the Blue Jays' undefeated season. Williams vaulted into the #2 spot on the strength of winning the tough Northeast regional meet and beating Middlebury, the previous #2 team. No doubt Middlebury alumnus Snake Jailbird will be rooting for the Panthers.
Until last year, the D-I championships were held on a Monday while the D-II and D-III championships were on the preceding Saturday. That made it possible to see multiple meets in a weekend if they were held in close proximity, as they are this year. I've been to the D-III championships twice and I can tell you that the fans there are absolutely nuts, far crazier than at the D-I championships (and weirder than the typical College Gameday crowd). D-III competition is serious but it is also fun, no doubt about it.
7. St. Francis (IL) vs Southern Oregon
Men's race, NAIA Cross Country Championships
Rim Rock Farm, Lawrence KS
Saturday, 10:30am local time (11:30am ET)
Meet website
The most compelling race at the NAIA Championships looks to be in the men's race, where defending champions St. Francis (IL) takes on Southern Oregon, last year's runner-up. These two teams were #1 and #2 in the polls all year until the last weekend of the season. Southern Oregon moved into the #1 position after winning the Cascade Conference title and St. Francis slipped after narrowly losing the Chicagoland Collegiate Conference to Olivet Nazarene, now ranked #2 in the NAIA.
8. Kenya vs The World
International Chiba Ekiden
Chiba, Japan
Saturday, 1:00pm local time (11:00pm Friday ET)
Japan Running News preview & viewing info
The International Chiba Ekiden is a road relay consisting of six legs totaling the familiar 26.2 mile (42.2 km) marathon distance. National teams (plus a Japanese college team) compete with the legs alternating between men and women. Of course Kenya is the favorite, and no surprise that they're the two-time defending champions.
Team USA won bronze last year but that was with a mostly "A" team, including Galen Rupp. This year's team is not as loaded. The countries that have sent the best teams available are probably Canada and New Zealand. The Canadian team includes Lanni Marchant, the new national marathon record holder, and Alex Genest, one of the best steeplechasers in Canadian history. The Kiwi team is led by Olympic silver medalist Nick Willis, and is supported by Olympic semifinalist Lucy Van Dalen and cult heroes Jake and Zane Robertson.
Ekiden racing is a huge spectator sport in Japan in a way that's almost unimaginable here. This isn't even the most popular ekiden of the year but it will get live TV coverage and massive attention from the sports press. If you're up late and looking for something to watch, go to Brett Larner's blog and take a look. You won't be disappointed.