7 Comments
College Weekend Wrap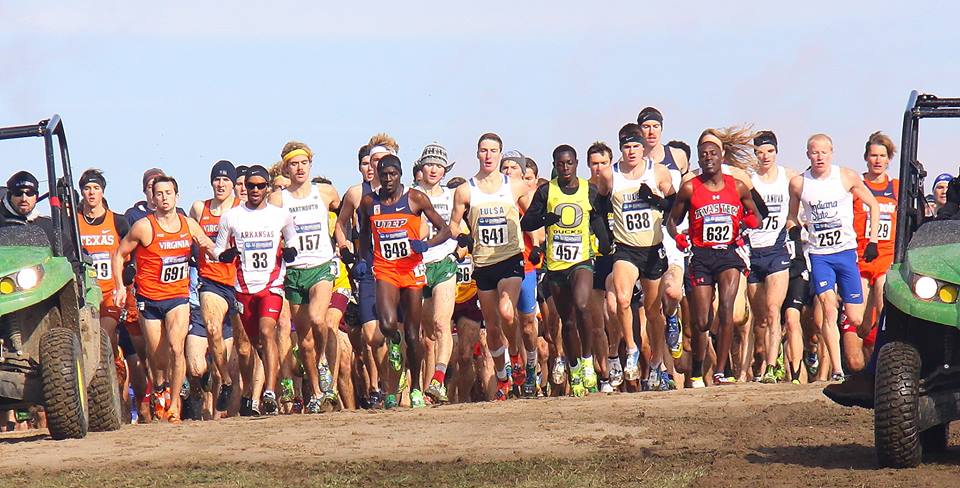 Jesse Squire | On 25, Nov 2013
The men's race at 600 meters. (Photo by Dane Schubert for DailyRelay.com.)
I've been to the NCAA Cross Country Championships eleven times now, and off all the meets I see every year I think this one is the most fun. It's fun for several reasons; one is that I go with old teammates and we cut loose for a weekend (by the standards of middle-aged teachers, at least). Another is the Woodstock atmosphere at Indiana State's grand facility, and yet another is the emphasis on the team aspect.
We–two of my college teammates and some of the high schoolers coached by one of them–arrived late on Friday at our accommodations which appeared only a step above Breaking Bad's Crossroads Motel. We woke up Saturday to go out for a short run and found the weather to be chilly (25F/-3C) but with only a light breeze. Cold, we thought, but manageable by spectators and not a huge problem for the athletes. As the sun came up it warmed a few degrees. We headed over to the course and got there about 90 minutes before the first race.
We knew the course was muddy. A massive storm outbreak across the lower Great Lakes area last weekend dumped several inches of rain, and more came later in the week. Officials agreed to move the starting line forward by a little over 100 meters in order to bypass some of the worst of it.
What we did not realize until we got out there was just how strong the wind was, dropping wind chills into the teens. It got worse as the day went along. We all agreed, though, that this was totally appropriate for cross country. In this sport, easier and better are mutually exclusive terms.
My two former teammates, acting as Daily Relay photographers, set up at various points around the course before the race. Dane and I were at the first downslope in the race, about 700 meters after the start. At that point we already knew Oklahoma State was in trouble–their trademark fluorescent orange jerseys allowed us to see that five of their runners were in the middle of the pack and none were anywhere near the front. What we did not know was that one had already fallen and lost some ground.
Looking at the race among individuals, we saw that a) heavily favored Kennedy Kithuka of Texas Tech was one of the dozen or so runners on the front line of the pack, and b) Oregon freshman sensation Edward Cheserek was right next to him.
As the race progressed, I knew that Oklahoma State continued to be in trouble. Their runners moved up but far too little, and I counted many bright yellow Northern Arizona jerseys ahead of the Cowboys' orange jerseys. We were not near enough to any scoreboards to be able to see unofficial team scores at the checkpoints, but my visual estimation was correct: OSU was 15th at 3k, 9th at 5k, and third at 8k and the finish. NAU had them whupped from the get-go.
As the lead runners came by us to head out on their second lap around the course, Kithuka and Cheserek had distanced themselves from the rest of the competition. On the back side of the course, with maybe 4k to go, Kithuka began to open up the race, as if to say it's been nice, kid, but we're done playing around. He soon opened up a gap of nearly 40 meters and looked to be on his way to winning his 15th NCAA cross country race in as many starts.
Then a strange thing happened, something almost no one expected. Cheserek, just a freshman, closed the gap. He caught Kithuka with less than two miles to go and eventually went into the lead. He kept driving while Kithuka faded, and the freshman won by nearly 100 meters.
On the final run-in to the finish we counted yellow NAU jerseys and orange OSU jerseys and presumed that the Lumberjacks won their first-ever national title. What we did not know, and did not see, were the muted black-and-tan jerseys of Colorado. They blended into the crowd and we never noticed them. All of a sudden we saw a bunch of guys in those uniforms standing next to us. And then someone came up to them, said something, and they all jumped up and down and screamed. It was then that we knew Colorado had won but we wondered how they did it.
The Buffaloes ran a smart and controlled race from the beginning. They were tenth at the 3k mark (but not terribly far from the top 5), third at 5k, and second at 8k. A strong closing 2k sealed the win–albeit with the highest score in NCAA men's championship history, a testament to the quality of the 2nd and 3rd teams.
We have seen this movie before. In 2004, the Indiana State course was a giant mudpit and Colorado won with a steady-as-she-goes come-from-behind win. In 2006, the course was also muddy and Colorado pulled off a miracle upset. All three of the Buff's wins in Terre Haute have been come-from-behind wins in horrid conditions, and in none of them were they the favorites.
We chatted with some other fans while we waited for the women's race (and tried to stay warm). The other fans asked if I thought we would see similar upsets in the women's race. We didn't.
Dartmouth's Abbey D'Agostino was the overwhelming favorite to win the individual title and win it she did. She followed a conservative plan, allowing Iona's Kate Avery to lead in the middle portion of the race and waiting to take the lead until late. When she took the lead, she forced the pace all the way to the finish. Only Boise State's Emma Bates could come close.
Likewise, the team race went mostly according to form. #1 Providence won over #2 Arizona. Whereas fifth runner depth was an issue early in the year for the Friars, here they beat Arizona's fifth by thirty places, and that alone accounted for more than half of the winning margin.
Over and Under Achievers
Which teams beat expectations by the most? Which teams fell short? That all depends, of course, on whose expectations you look at.
If you go by the coaches' poll, then the most striking result was the Butler women's team. They were ranked 13th but managed to finish 3rd. But Isaac Wood's pre-meet rankings called for the Bulldogs to be 8th, and the system created by James Butler called for them to be 5th. By any metric the Bulldogs overachieved, but maybe not as drastically as thought.
On the men's side, the biggest "where did they come from" performance was put in by the Iona Gaels. None of those three I mentioned above picked them for better than 13th but they ended up sixth.
The biggest flameout of the meet was by Arkansas' women's team. #2 in the polls and picked no worse than 5th by anyone, they finished 15th.
Putting all three of the pre-meet prognostications together, here are the over and underachievers…
| | |
| --- | --- |
| Men's Overachievers | Men's Underachievers |
| 1. North Carolina | 1. Tulsa |
| 2. Indiana | 2. Stanford |
| 3. Virginia | 3. Columbia |
| 4. Iona | 4. Harvard |
| 5. Texas | 5. Princeton |
| | |
| --- | --- |
| Women's Overachievers | Women's Underachievers |
| 1. Wisconsin | 1. Arkansas |
| 2. Butler | 2. Notre Dame |
| 3. New Mexico | 3. Iowa State |
| 4. Michigan State | 4. Villanova |
| 5. Stanford | 5. Minnesota |
(Oh, and James Butler's projections were by far the most accurate of the three.)
Big Ten
As a group, the conference that surprised the most was the Big Ten.
Michigan's women took fourth and the "podium" finish and trophy that comes with it, only the fourth top-4 finish in team history. This was highly unexpected, considering that the heart of last year's team fifth-place team graduated. All are Michigan natives and none are seniors. Note that 6th-place Michigan State, the Big Ten Champions, only graduates one runner and will bring back 2012 Big Ten champion Sara Kroll off a redshirt year.
On the men's side, both Indiana and Wisconsin snuck into the top ten with 8th and 9th place finishes. Considering how many critics thought the Badgers lacked the talent to even qualify this year, it's an amazing feat–and makes it the 18th straight top-ten finish. Even more remarkable is this: #2 runner Michael VanVoorhis ran horribly, finishing as the team's #6 runner way back in 158th. Had he finished as the team's third runner, then the Badgers would have been in the hunt for a top-4 finish and a trophy. Nuts.
JFK
Until two years ago the NCAA Championships was traditionally on the Monday before Thanksgiving (with some exceptions), but fifty years ago today it was not. The nation shut down that day for the funeral of President John F. Kennedy, and the meet was pushed back until Tuesday. Run on Michigan State's golf course, the championships went to Villanova's Vic Zwolak and the San Jose State Spartans.
In a memorial article published in the wake of his assassination, Sports Illustrated called him The President Who Loved Sports:
He was not the only President to throw out the first ball of the baseball season, or the only one to attend faithfully the Army-Navy game. But John Fitzgerald Kennedy was one of the few Presidents to participate in such events–and countless others–out of a consuming, lifelong dedication to sports and fitness.
Kennedy was a varsity swimmer and sailor Harvard plus a JV wide receiver, and was a serious (if closeted) golfer. He was not a runner but his public appeal for people to get off the couch and exercise helped fuel the running boom, one that started during his presidency. In one way or another, many of the athletes running on Saturday were there in part because of Kennedy's recognition that "there is no greater glory for a man while yet he lives than that which he achieves by his own hands and feet."
A number of odd coincidences happened in relation to JFK on Saturday. The heavy individual favorite was named Kennedy Kithuka, and he lost to the first freshman champion out of a U.S. high school since Bob Kennedy. Kithuka was nearly run down at the finish line by a Harvard man, Maksim Korolev, who recorded the Crimson's best-ever finish at an NCAA cross country championships.
Rare Company
Edward Cheserek is the fifth freshman to win the NCAA men's individual title, and three of the other four were significantly older than your typical freshmen. Those were Lawi Lalang (Arizona, 2011), David Kimani (South Alabama, 1999) and Henry Rono (Washington State, 1976). Only Bob Kennedy (Indiana, 1988) and Cheserek have done it coming straight out of a U.S. high school.
Cheserek is the fourth Oregon Duck to win the men's individual title. The others were Steve Prefontaine, Alberto Salazar, and Galen Rupp. All of the other three went on to be 10,000 meter American Record holders and each held American Records at other distances as well.
My All-Americans
All-American status was originally granted to only the top 15 finishers at the NCAA Championships but has now expanded to the top 40. Those awards are based solely on finish at the nationals. Here are my seven-deep All-American teams based on accomplishments of the season as a whole.
MEN
Kemoy Campbell, Arkansas
Edward Cheserek, Oregon
Andrew Colley, North Carolina State
Kennedy Kithuka, Texas Tech
Maksim Korolev, Harvard
Anthony Rotich, UTEP
Futsum Zienasellassie, Northern Arizona
WOMEN
Kate Avery, Iona
Emma Bates, Boise State
Aisling Cuffe, Stanford
Abbey D'Agostino, Dartmouth
Emily Lipari, Villanova
Colleen Quigley, Florida State
Emily Sisson, Providence
What About Next Year?
Here's what you get if you weed out the seniors and score the meet again…
MEN
1. Colorado 114
2. Indiana 161
3. Northern Arizona 202
4. Portland 220
5. Villanova 234
6. Wisconsin 253
7. Virginia 255
8. North Carolina 272
9. Providence 302
10. Michigan 334
WOMEN
1. Michigan 136
2. Michigan State 170
3. Florida State 176
4. Georgetown 178
5. Iowa State 253
6. Arkansas 262
7. Arizona 266
8. Virginia 288
9. Stanford 310
10. New Mexico 316
Quotes of the Week
There's been so many good teams in the past, and we've kind of been living in shadows of those teams…For us to come out and win is to say Colorado isn't just going to be known for those guys that came before us — Jorge (Torres), Dathan (Ritzenhein), Adam Goucher, those guys that won titles in the earlier part of the millennium.
— Colorado's Blake Theroux
People kept telling me, "Your fifth guy was passing hundreds of people" and I said, "Well he had to, he was in 300th when I saw him".
— Colorado coach Mark Wetmore
We're starting to realize the sting a little more. It was so close, which stinks. It was a once in a lifetime opportunity to win, and that's hard. But everybody on the team was tough. We ran as hard as we could today.
— Northern Arizona senior Brian Shrader on finishing second
A couple things went wrong for a couple guys, and we got rattled. They were five to 10-second mistakes that turned into 30-second mistakes, because we let it get to us. We had a couple guys fall, lose a lot of ground and weren't able to get it back. You have to be mentally prepared to deal with situations like that—they're going to happen. We weren't far off from being in the hunt for the win. We had five guys in the top 100 and we've won doing that. We didn't underperform, it just didn't go our way.
— Oklahoma State coach Dave Smith
It was an incredible feeling when I crossed that line. I woke up this morning with a good feeling and a great deal of trust in myself. Having the team here was a huge difference and the final piece of the puzzle for me this year being able to win.
— Dartmouth's Abbey D'Agostino on her first NCAA cross country title after being third and second
He's my favorite person to work out with on the team because he's smooth and does what he's told and doesn't race workouts or anything…He's very mature for how young he is. Honestly, it's amazing.
— Oregon's Mac Fleet on Edward Cheserek
I just came in and said "I'm going to love this"…It's a little muddy, a little cold, but you've got to go in with the mindset that you're going to enjoy whatever is going on. It's not under your control.
— Harvard's Maksim Korolev on how he dealt with the mud, the cold and the wind and finished third