No Comments
The Weekend's Best Matchups: College Cross Country Conference Championships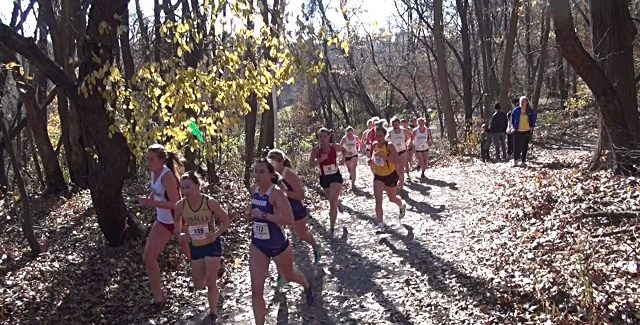 Jesse Squire | On 27, Oct 2016
Several conference championship meets will be held at The Bronx's Van Cortlandt Park, America's classic cross country venue. (Getty Images)
We at the Daily Relay have ended our extended two-month break and we're back for the collegiate cross country championship weekend.
I can't speak for the other members of our relay pool, but for me it was a combination of post-Olympic exhaustion combined with my busiest time of the year (I teach, coach, and manage a championship meet).
This is a great weekend for one of the rarer beasts in American sports, the college cross country fan. College sports are different from pro sports in that they are about a community, a campus and town and alumni. Most of this weekend's meets take place on or near a college campus, and each team will bring a community of its own. Besides, it's real autumn now and that really means something in this sport where the landscape really is an essential part of the competition.
So if you only get to go to one college cross country meet this year, this weekend is the time to do it. The upcoming regional championships and the big invitationals of the last month matter to the clear minority of teams who could qualify to the national championships, but the conference meet is important to everyone. I'll be driving all the way across Ohio on Saturday just to cheer on my beloved Bowling Green Falcons, who might have their best Mid-American Conference finish in twenty years.
If you're staying at home, many of the meets will be available live online or tape-delayed on TV. One meet, the Big Ten Championships, will be carried live on the Big Ten Network for the first time ever.
Major Conferences
Atlantic Coast Conference
WakeMed Soccer Park, Cary NC
Women's race on Friday at 10:03am ET, men's race at 10:45am
Meet home page | Live results
Live webcast at ACC Extra from 10:00am ET
Best Matchups: National Contenders vs Reality
Both the men's and women's competition have overwhelming team favorites to win and only under strange situations would the races become competitive. In the women's race, #3 NC State is the NCAA's top-rated team that didn't get any #1 votes in the latest coaches' poll. In the men's race, #6 Syracuse is the defending national champions but currently isn't figured as a contender to repeat. The ACC meet will give us a better idea of whether either of these teams could challenge for the national championship next month.
Southeastern Conference
Agri Park, Fayetteville AR
Women's race on Friday at 10:00am local time (11:00am ET), men's race at 11:00am (noon ET)
Meet home page | Live results
Tape-delayed coverage on the SEC Network on November 6 at 11:00am ET
Men's Matchup: Arkansas vs Ole Miss
As the #5 team in the latest coaches' poll, the Arkansas Razorbacks are the favorites to win on their home course. It would be their 25th win in the last 26 years.
But a new contender has emerged in #11 Ole Miss. How long has it been since they won the SEC? Always. By that I mean the Rebels have never won any of the 78 SEC Cross Country Championships ever held. Only twice have they been runner up, in 1968 and 2014.
This same matchup looks like the one to watch in the women's race, where #10 Arkansas is the favorite and #16 Ole Miss is the contender. The Razorbacks have won 16 of the 25 SEC titles held since they joined the conference, while the Rebels' best-ever finish is 4th (2012).
Pac-12 Conference
Randolph North Golf Course, Tucson AZ
Women's race on Friday at 9:30am local time (12:30pm ET), men's race at 10:30am (1:30pm ET)
Meet home page
Tape-delayed coverage on the Pac-12 Network on October 31 at 6:00pm PT (9:00pm ET)
USTFCCCA meet preview
Women's Matchup: #1 vs #2 vs #5
Colorado is #1 and Washington is #2 in the latest coaches' poll. Those same coaches will tell you that polls mean diddly-squat and the #5 Oregon could beat them both. This is the best race of the weekend.
Men's Matchup: Stanford vs Oregon
Stanford and Oregon are #2 and #3 in the latest coaches' poll, but it was a split decision to say the least — the Cardinal ended up a single point ahead of the Ducks. It would be simplest to say that this rates as a toss-up. #7 Colorado lurks as a team that could upset both of the favorites, and the Buffaloes have a well-earned reputation as a team that comes up big in the championship meets.
There is another fight going on behind those three behemoths. The West regional championship in two weeks will produce many at-large qualifiers for the NCAA Championships because there are a lot of good teams in it. The fourth- and fifth-place finishers at the Pac-12 Championships will earn enough points to virtually assure themselves of one of those at-large bids, while those at the bottom of the standings will put themselves in a tough situation. For every team in this race, where they finish really matters.
Big 12 Conference
The Rawls Course, Lubbock TX
Women's race on Saturday at 10:00am local time (11:00am ET), men's race at 11:00am (noon ET)
Meet home page | Live results
Live webcast via Flotrack (subscription required)
Women's Matchup: Baylor vs Iowa State vs Oklahoma State
#15 Iowa State and #18 Oklahoma State are no strangers to winning this meet — one or the other has won each of the last five titles — but #12 Baylor has never won the Big 12. They did win four straight titles in the old Southwest Conference (1990-93), but this would break a long drought.
Men's Matchup: Oklahoma State vs Iowa State
The Cowboys have won every Big 12 men's championship since Colorado left for the Pac-12, a total of eight in a row. Their #9 ranking in the latest poll makes them the favorites, but #13 Iowa State is capable of winning. Their last conference title was in the Big 8 back in 1994, the same year they last won the NCAAs.
Big Ten Conference
Les Bolstad Golf Course, Minneapolis MN
Women's race on Sunday at 10:00am local time (11:00am ET), men's race at 11:00am (noon ET)
Meet home page
LIVE coverage on the Big Ten Network from 11:00am ET
Women's Matchup: Michigan vs Penn State
Two teams stick out head and shoulders above the rest in the Big Ten, #6 Michigan and #9 Penn State. The Wolverines have a long tradition of success in women's cross country but haven't won the conference meet since 2012, while the Nittany Lions are the defending champions. Michigan's Erin Finn is favored to repeat as individual champion.
Men's Matchup: Wisconsin vs Michigan vs Indiana
Wisconsin ruled the Big Ten for a generation, winning fourteen championships in a row from 1999 to 2012 (and 25 of 28 from 1985 to 2012). Indiana finally broke through for a win in 2013, the Badgers regained the title in 2014, and then Michigan won last year (while Wisconsin fell to 8th, their worst finish ever in their 108 years in the Big Ten).
The rankings have Michigan at #15, Wisconsin at #18, and Indiana at #19, but it's a toss-up and comes down to whoever gets the job done on Sunday morning.
In terms of the individual title, it also looks like Wisconsin vs Michigan. The Badgers' Morgan McDonald and the Wolverines' Aaron Baumgarten were the Big Ten's top finishers at the last two major meets, the Wisconsin Invitational and the Pre-Nationals.
Best of the Rest
Big East men: Georgetown vs Providence
Van Cortlandt Park, The Bronx NY
Friday at 11:50am ET
Meet home page
#23 Georgetown rates as favorites to defend their title but an unranked Providence squad could win their first men's Big East championship in ten years.
Mountain West men: Colorado State vs Boise State vs Air Force
Falcon Crest Golf Club, Kuna ID
Friday at 10:45am local time (12:45pm ET)
Meet home page | Live webcast
All three are ranked in the latest poll with CSU at #17, Boise State at #24, and Air Force at #28. Besides the conference championship, the winner will give themselves a leg up on qualifying to the NCAAs out of the deep and tough Mountain region.
West Coast men and women: BYU vs Portland
Tecolote Shores Park, San Diego CA
Friday at 10:00am local/1:00pm ET (women) and 11:00am/2:00pm ET (men)
Meet home page
Portland won this meet every year from 1979 to 2010, then BYU entered the conference and it's been back and forth ever since. #4 BYU is the favorite but #12 Portland is good enough to make it a contest.
Portland never dominated the women's side of the WCC like they did the men's, but come in ranked #8 and are favored to win their first championship since 2008. #20 BYU is also a contender, but #13 San Francisco is the team more likely to upend the apple cart.
Conference USA men: UTEP vs Middle Tennessee
Frank Liske Park, Charlotte NC
Saturday at 10:00am ET
Meet home page
The UTEP Miners have a long tradition of excellence in cross country and have won more C-USA titles (5) than any other current member. Middle Tennessee has improved since last year, when they were a distant second to UTEP. The Miners have a lot to gain by winning this meet, including a likely NCAA Championships qualifying point from defeating the Blue Raiders, which will come in handy in the deep and tough Mountain region.
Ivy League men and women: Penn vs History
West Windsor Fields, Princeton NJ
Saturday at 11:00am (women) and noon (men)
Meet home page
The Penn Quakers are the favorites to win the men's championship and among three favorites (with Harvard and Yale) to win the women's. Winning the meet that used to be known as the Heps is almost unprecedented for Penn; the women have won just once (1990) and the men just twice (1971 and '73).
NESCAC women: Williams vs Tufts vs Middlebury
Quarry Road Trails, Waterville ME
Saturday at 1:00pm ET
Meet home page
This is the toughest women's conference meet in Division III, with all three contenders ranked between #5 and #8 in the latest D-III poll. These are the prototypical small elite New England colleges. Well-known alumni include Sports Illustrated's Olympic writer, Tim Layden (Williams) and The Simpsons' Snake Jailbird (Middlebury).
WIAC men: Wisconsin-Eau Claire vs Wisconsin-La Cross
Wisconsin River Golf Club, Stevens Point WI
Saturday at 1:00pm local time (2:00pm ET)
Meet home page
The WIAC should be a war, just as it always is. Two-time defending champions Eau Claire is #4 in the latest D-III poll and 32-time champions La Cross is #7.
OUA women: Guelph vs everyone
Centennial Park, Etobicoke ON
Sunday at 11:00am ET
Meet home page
The Guelph Gryphons have dominated cross country in Canadian collegiate competition like UCLA once dominated men's basketball. Their women's team is sitting on streak of twelve straight Ontario championships and they are favored to win a thirteenth, but not by much. The latest CIS rankings have them #1 but they face #3 Toronto, #4 Western Ontario, #6 Queen's, and #10 McMaster. The hosts, the Toronto Varsity Blues, are led by Gabriela Stafford, the fastest miler in CIS history.