No Comments
The Weekend's Best Matchups: Berlin Marathon and College Cross Country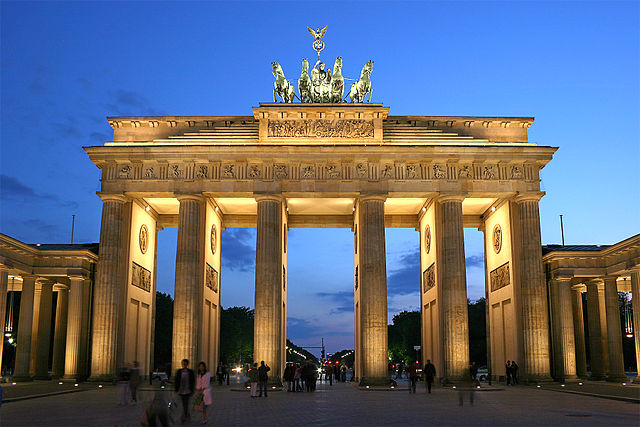 Jesse Squire | On 26, Sep 2014
Will Shalane Flanagan get to the Brandenburg Gate in record time? And will she be the first woman to get there?
After a brief hiatus, the Weekend's Best Matchups returns just in time for fall. That means distance running, specifically marathons and cross country. Here are the best half-dozen matchups to watch this weekend.
Shalane Flanagan vs record book
Women's race, BMW Berlin Marathon
Sunday, 2:45am ET (8:45am local time)
Race website | Let's Run coverage
Live webcast links: Universal Sports | Trackie.ca | Watchathletics.com
Flanagan says she's gunning for the American Record of 2:19:36, set by Deena Kastor at the 2006 London Marathon. Can she do it? Well…maybe. She thinks she can, otherwise she wouldn't be so public about her attempt at the record. No American marathoner in history has brought faster track times to the 26.2-mile distance. She's being paced by a pair of highly experienced men. And she's never run a race on such a flat-and-fast course, one that has produced more than its share of world records.
But she'd have to produce a PR by 2 minutes and 27 seconds, a tall order considering that she already took it down by over 3½ minutes in April's Boston Marathon. Her tune-up half marathon in July (1:09:44) was barely at the pace she'll have to hold in order to get the record. And the forecast is for weather that's a bit too warm for fast marathoning, in the low 60s.
While Flanagan's pursuit of the record is getting the most attention, I think another matchup is far more interesting.
Shalane Flanagan vs Ethiopians
Feyse Tadese and Tirfi Tsegaye are the two fastest entrants in the Berlin Marathon, with respective PRs of 2:21:06 and 2:21:09. Neither is a stranger to top-level marathoning; Tadese won the Paris Marathon in April and Tsegaye was the runner-up here in Berlin last year.
If Flanagan can get the record or even come close then she's clearly in contention for the win, but these two are formidable opponents. There are others too, such as Ethiopia's Abebech Afework and Japan's Kayoko Fukushi. Marathons often produce winners out of the blue, so there are others that escape notice who could pull off an upset.
Still, it would be huge if Flanagan could win. Massive. Here is the complete list of American women who have won a major marathon in the last quarter-century:
1. Deena Kastor, London 2006
2. umm, there isn't anyone else.
Not only that, it would be wins in major marathons by two different Americans in a single calendar year (remember Miracle Meb?). That hasn't happened since 1983, when Americans swept Boston.
Dennis Kimetto vs Emmanuel Mutai
Men's race, BMW Berlin Marathon
This is a rematch of last fall's Chicago Marathon, where Kimetto won in a course record of 2:03:45 and Mutai finished just seven seconds behind. Kimetto is also the Tokyo course record holder (2:06:50) and Mutai is a former World Marathon Majors champion (2011). Adding depth is Olympic bronze medalist Tsegaye Kebede and World Half Marathon champion Geoffrey Kamworwor.
Emma Bates vs Shelby Houlihan
Women's Gold Division race, Roy Griak Invitational
Les Bolstad Golf Course, St. Paul MN
Saturday, 2:10pm ET (1:10pm local time) Race website
Live webcast at Flotrack (subscription required)
There will be hundreds of runners in this race, but only two won NCAA championships last June. This is an interesting matchup between Bates, the 10k champ, and Houlihan, the 1500 champ, and at the middle ground of 5000 meters. It's an early-season race and neither will be in top form, but top cross country runners rarely lose at any time. Besides this great individual race, we'll get a look at Michigan State's women's team, one that might contend for the national title.
Michigan vs Georgetown
Women's race, Coast-to-Coast Battle in Beantown
Franklin Park, Boston MA
Friday, 3:00pm
In its second year, this race not only brings together top squads from around the country but also brings up memories of awesom low-budget 90s surrealism. Too bad such a great meet is gets a s**t job of promotion, or more accurately non-promotion. The Boston College Eagles host the meet but don't even list the start times anywhere on their official athletic website, let alone any basic info such as course maps, start lists or results.
Oregon's men are coming and that means four-time NCAA champ Edward Cheserek and a host of track stars. While they fulfill one of the "coasts", both the Ducks and Cheserek should also coast to victory. The real drama will be in the women's race, where #1 Michigan represents the North Coast against #5 Georgetown. The Wolverines have never been national champions–their best finish is a runner-up in 1994–and this will be their first true test.
Underdogs vs Favorites
The most interesting part of this portion of the college cross country season isn't clashes between the top teams. For the most part they avoid each other and they certainly aren't worried about September race results when the championship is two months away. No, the most interesting part is the teams on the "bubble" for qualifying to the NCAA Championships. They'll have to get there with an at-large bid earned through regular-season meets like the Roy Griak Invitational and Battle in Beantown.
The top end of the men's field at the Roy Griak Invitational is entirely made up of such bubble teams: #19 North Carolina, #24 Texas, #27 Iowa State, #29 Colorado State, and unranked Arizona State, Illinois, Kansas, Michigan State, Ohio State and Southern Utah. The winner of the race will be in a comfortable position for getting to the "big dance" and the down-the-line squads will have squandered an opportunity.