No Comments
Viewer's Guide to Olympic Track & Field: Weekend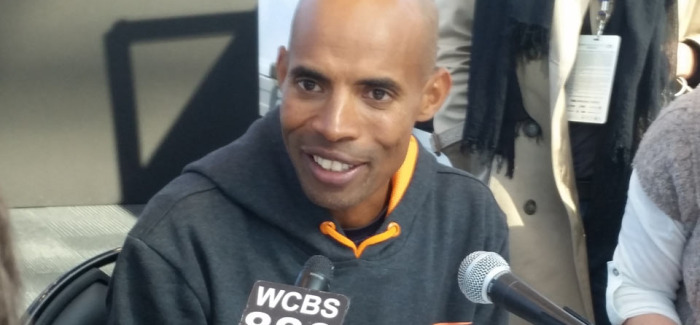 Jesse Squire | On 20, Aug 2016
Sunday morning will be the final Olympic race for a legend.
Welcome to the last of our daily Olympic track and field viewer's guides. We're here to help you find out what, when, how, who and why to watch all of the action.
Weekend highlights:
All times Eastern
Women's high jump final (Saturday, 7:30pm)
Men's javelin throw final (Saturday, 7:55pm)
Men's 1500 meter final (Saturday, 8:00pm)
Women's 800 meter final (Saturday, 8:15pm)
Men's 5000 meter final (Saturday, 8:30pm)
Women's 4×400 meter relay (Saturday, 9:00pm)
Men's 4×400 meter relay (Saturday, 9:35pm)
Men's marathon (Sunday, 8:30am)
TV coverage
Current listings show the following (all times Eastern)…
NBC, Saturday 8:00pm to midnight (live and tape delay)
NBC, Sunday 8:00 to 11:00am (live)
There are
plenty of other viewing options as well, mainly via the internet.
Important links
The IAAF's live results page is awesome, bookmark it.
You also need our own Non-Track Fan's Guides to the Olympics for men and women, even if you're a track fan.
Saturday Night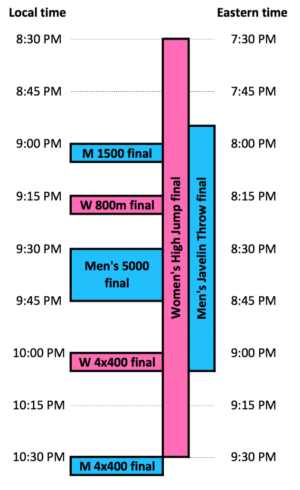 The schedule
Track and field is a sort of a three-ring circus, with many things happening at once, so a schedule is best understood in a visual medium. Competition will begin at 7:30pm (Eastern time) and finish by 9:45.
7:30pm: Women's high jump final
Favorites: Chaunté Lowe (USA), Ruth Beitia (Spain), Kamila Licwinko (Poland), Vashti Cunningham (USA)
Americans: Lowe, Cunningham, McPherson
Canadians: Alyx Treasure
Lowe and Cunningham are at the opposite ends of their careers, but both are serious medal contenders. Cunningham was just six years old when Lowe made her first Olympic appearance.
7:55pm: Men's javelin final
Favorites: Thomas Röhler (Germany), Antti Ruuskanen (Finland), Keshorn Walcott (Trinidad), Julius Yego (Kenya)
Americans: none
Canadians: none
The javelin is a difficult event to handicap. Walcott was a huge upset when he won Olympic gold four years ago, and Yego was a minor upset when he won the Worlds last year.
8:00pm: Men's 1500 meter final
Favorites: Asbel Kiprop (Kenya), Abdelaati Iguider (Morocco), Taoufik Makhloufi (Algeria), Matthew Centrowitz (USA)
Americans: Centrowitz, Ben Blankenship
Canadians: Nate Brannen
The 1500 is another relatively unpredictable event, although Kiprop is still a big favorite to win. Centrowitz is a master strategist who does best in championship racing. A long shot who I think will do well is New Zealand's Nick Willis, the '08 silver medalist now running in his fourth Olympics.
8:15pm: Women's 800 meter final
Favorites: Caster Semenya (South Africa), Francine Niyonsaba (Burundi), Margaret Wambui (Kenya), Melissa Bishop (Canada)
Americans: Kate Grace
Canadians: Bishop
This race is going to get a lot of attention due to Semenya's intersex status, and she might not be the only finalist in that condition. For an in-depth and intelligent discussion of the matter, go to The Science of Sport blog.
8:30pm: Men's 5000 meter final
Favorites: Mo Farah (Great Britain), Dejen Gebremeskel (Ethiopia), Muktar Edris (Ethiopia), Hagos Gebrhiwet (Ethiopia)
Americans: Bernard Lagat, Paul Chelimo, Hassan Mead
Canadians: Mo Ahmed
Farah looks ready to complete an Olympic distance double for the second time. This might actually be the Bizarro World Olympics, since three Americans made the final and no Kenyans did. Lagat showed off an amazing kick at the US Trials and has a real chance at getting on the medal podium.
9:00pm: Women's 4×400 meter final
Favorites: USA, Jamaica
The Americans have such tremendous depth that it's difficult to imagine them being beaten. Jamaica is a clear #2, but the race for bronze is wide open.
9:35pm: Men's 4×400 meter final
Favorites: USA, Jamaica, Bahamas, Trinidad & Tobago
The Bahamas (population 377,000) beat the USA (population 319 million) at the 2012 Olympics, but doesn't bring as much depth this time around. It was just the third major championship in world history where the Americans were beaten. If they're going to get a challenge this time around, it's likely to come from Jamaica or Trinidad.
Sunday Morning
8:30am: Men's marathon
Favorites: Eliud Kipchoge (Kenya), Stanley Biwott (Kenya), Lemi Berhanu (Ethiopia), Ghirmay Ghebreslassie (Eritrea), Galen Rupp (USA)
Americans: Rupp, Meb Keflezighi, Jared Ward
Canadians: Reid Coolsaet, Eric Gillis
More often than not, Olympic marathon champions don't come from the ranks of established stars. They're relatively new to the event and on a sharp improvement curve. That perfectly described Uganda's Stephen Kiprotich four years ago and he came away with the gold medal.
The Kenyan and Ethiopian entrants are the favorites, and should be since they are all established stars. But the above history makes that favorite status a bit suspect.
Rupp is a very talented runner with just one marathon under his belt, the Olympic Trials back in February. No one would be surprised if he ends up challenging for a medal, even gold.
And then there is Meb Keflezighi, the ageless wonder who ran his first Olympic marathon back in 2004 and won silver, the USA's first Olympic medal in this event in a generation. He's just plain fun to watch.