One Comment
Centrowitz/Willis rivalry, American 800m depth & Dibaba world record:The Monday Morning Run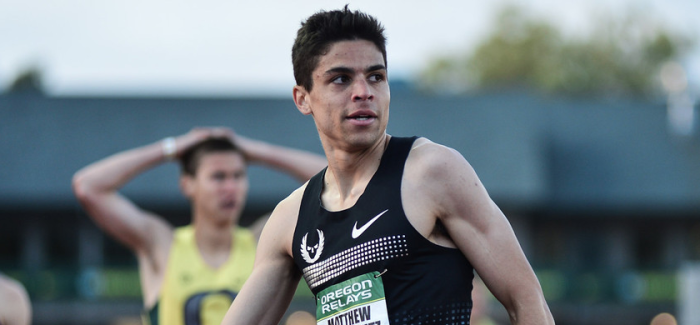 Kevin Sully | On 22, Feb 2016
Millrose, Glasgow and a Genzebe Dibaba world records highlighted the week in track and field. In terms of indoor racing, this is the best we will see before the World Indoor Championships next month.
The Medalists
The top three performances of the week
Gold: Genzebe Dibaba
At a midweek meet in Stockholm that has served as her preferred venue for smashing records, Dibaba ran 4:13.31 in the mile. Women don't run the mile much indoors so it wasn't all that surprising that she beat the old indoor world record by four seconds and was less than a second from the outdoor world record. Two days after the 4:13, Dibaba ran 8:22 in the 3000m, five second behind her world record from 2014, but the second fastest time ever indoors. Competing against Genzebe Dibaba is even hard for Genzebe Dibaba.
The mile/3000m focus instead of the 3000m/5000m indoors looks to be an indication that Dibaba might lean more toward the 800m/1500m this year as opposed to the 1500m/5000m. She's great in all of them, though I think most people want to see the 800m/1500m if only to satisfy some curiousity about what she is capable of in an 800m outside of a workout.
Silver: Matthew Centrowitz
Centrowitz won in New York City again, and held off Nick Willis, again, to take the Wanamaker Mile championship. What looked like a conservative pace in the early laps when the pack didn't go with the rabbit, ratcheted down very quickly. Centrowitz and Willis broke away from the rest of the field with a little more than a lap remaining. At the bell, Centrowitz made a subtle, but decisive surge to get in front of Willis–a common move for Centrowitz and one that takes on increased importance indoors.
After that, Centrowitz wasn't giving back the lead. He finished in 3:50.63, a time that puts him fourth all-time indoors behind Hicham El Guerrouj, Eamon Coughlin and Bernard Lagat. Good group. More on Willis, and the rivalry with Centrowitz below.
Bronze: Mo Farah
Farah's time in Glasgow (7:39.55) was slower than the Millrose Games 3000m, but he beat Augustine Choge pretty handily in what turned into a tactical race. Farah last 400m wasn't that quick. That's understandable since his main focus in the short-term appears to be the World Half Marathon Championships in just over a month. There, he will face Geoffrey Kamworor, who says he wants to break the world record in that race.
Surging….
-American women's 800
Four women broke 2:01 in New York led by Ajee Wilson who won the race in 2:00.09. She had to chase down Brenda Martinez in the final straightaway. It was a typical display of poise from Wilson (she could be behind 30 meters with 30 meters remaining and it wouldn't rattle her) as she tested just how long she was willing to wait before pulling out a win.  Martinez, Raevyn Rogers and Laura Roesler also went under 2:01, which means it's shaping up to be another intensely competitive year for the women's 800m in the United States.
The growing depth in the event didn't yield a good World Championships for the US in 2015, but there is reason to believe that they will be even better this year. Wilson, Martinez and Alysia Montano are still in their primes. Roesler's second year as a pro already looks much better than her first. Rogers is only 19-years-old and has an enormous ceiling. She skipped the US Championships last year, but this season she will presumably be competing for an Olympic spot.
-Allyson Felix
Felix ran 7.15 to win the Millrose Games 60m. She wasn't the quickest out of the blocks, didn't get a great start and still won the race. If that happens, then the rest of your race must be near perfect because there just isn't enough track in a 60m race to make up ground. Running, and winning, a 60 is all icing for Felix at this point in her season.
-Drew Hunter
Hunter's high school indoor record in the mile didn't last more than a couple weeks. He ran 3:57.81 in the B section of the mile. Alan Webb now has the third fastest time indoors. That sentence sounds even weirder than Webb having the second fastest time indoors.
-Ryan Hill's tactics
Bernard Lagat was labeled a master tactician early because of his ability to stick behind the rabbit, or another sacrificial lamb, for as long as possible before kicking away in the last 200 meters. Hill's strategy isn't as inconspicuous at this point in his career, but his kick is looking more and more like an in-prime Lagat's with each passing race. Hill emerged from a crowded field to chase down Hassan Mead in the last lap to win the Millrose Games 3000m in 7:38.82. Credit to Mead who qualified for the World Championships in the 10,000m last year and was able to keep it very close against Hill, running 7:38.85.
-Close distance races at Millrose
In distance racing on the track,it's difficult to get fast and close in the same race. The women's 5000m at the Millrose Games was advertised as an American record attempt. It didn't go that quick, but it still stayed under 15 minutes with Molly Huddle and Betsy Saina pushing each other to the line. Huddle did most of the leading; however, Saina stuck close behind and held Huddle off to win 14:57:31 to 14:57.31.
This pattern repeated itself of Saturday. The margins of victory in the women's 5000m, women's 800, men's 3000m and men's mile were .13, .05, .03, .43 seconds. In distance races that close, it usually indicates the time is slow. These were close and fast because the favorites (like Huddle) were willing to take the lead and drive the pace from farther out than is if they were racing outdoors. The tight turns and cramped fields indoors give more incentive for the best runners to run in front. It's a side effect that you wish could somehow carry over to the summer season.
The only distance race that was decided by more than a half second in New York was the women's mile. Shannon Rowbury was chasing the American mile record and though she came up short, her solo mission resulted in a comfortable victory in 4:24.39.
-Matthew Centrowitz/Nick Willis rivalry
Another rarity in track and field–a rivalry that actually meets the minimum requirements of a rivalry. There's no hate, but they do run incredibly competitive races against one another. Listening to the pre-meet press conferences, both men seem like they want to beat each other and the Wanamaker Mile carries enough prestige that athletes don't feel like they are betraying their Olympic chances and endless desires to peak by admitting that yeah, they'd like to win the race and get that giant cup that comes with it.
After last year's narrow Centrowitz victory, I didn't think that type of performance from both men would be replicable. Instead, it was essentially the same race and that is meant in the best way possible. Willis didn't back off when Centrowitz jumped to the lead and kept the outcome in doubt through the final turn. He didn't have the final gear to get past Centrowitz, like last year, but did finish with 3:51.06, the eighth best mark all-time.
-Renaud Lavillenie
He's been competing frequently during the winter and he has his best performance on Sunday in France. He got over 6.02m and then had three unsuccessful attempts at a world record of 6.17m.
-Jama Aden
His athletes set three world records last week in Stockholm–women's mile, men's 1000m and men's 500m. Perhaps more impressive is that there is someone who coaches distance runners and quarter milers. That doesn't even happen at most high school anymore.
Ok, now you can throw rocks at me for failing to mention Aden's connection to Hamza Driouch.
-Indoor sprint sensations
This year's early front runner for sprinter we get way too excited about in February is Great Britain's Sean Safo-Antwi. He won the Glasgow 60m in 6.56 beating Richard Kilty, Mike Rodgers and Adam Gemili. Earlier this season he ran 6.55, but his 100m personal best is only 10.14. Can he pull a Kilty and win gold at the World Indoor Championships? Sure. Does that mean he's a contender outdoors? Probably not, but gold medals in March are still cool.
-Keni Harrison
Harrison won in Glasgow in 7.92. Before this weekend she had the top four times, that changed to four of the top five after Janay DeLoach went 7.85 at the Armory. Still, Harrison has distinguished herself as the best American in an indoor season where they have the top nine spots on the performance chart.
-Dafne Schippers
She's winning all over Europe this winter. In Glasgow, she was off her season best, but still got a 7.10 to 7.14 over Elaine Thompson. If she runs in Portland, she'll be the favorite in a race that is so short it's tough to know anything for certain.
Slowing….
-Kenyan anti-doping
Athletics Kenya's CEO is being investigated after accusations that he accepted bribes in exchange for reduced doping bans with two athlete. It's already sounding like Kenya's anti-doping program was better when it had no anti-doping program.
-Mary Cain
She ran faster than she did in Ireland two weeks ago, but Cain is still well behind where she's be in the past, both in terms of time and place. In Glasgow, she finished eighth in 4:13. From an American perspective, she was about two second behind Cory McGee. I'm not sure if Cain is planning on running the US Indoor Championships in three weeks or if she'll call it a season and look to outdoors. At this point, there are good arguments for both approaches.
-Kim Collins
At 39, he's Meb in a speedsuit. Collins pulled up in the men's 60m in Glasgow. Mid-race injuries are never good, but at Collins's age it's especially worrying. Fear not though, he said it was only a cramp so everything is still on schedule for the 2024 Olympics.
-Cam Levins
During indoors, it's hard to know who is at what point in their training and for what purpose they are racing. That aside, in a fast and deep men's 3000m Levins was off the pace, finishing in 7:45.44
-Millrose long jump competition
It was a cool idea. Starting after the second jump, eliminate the low man at the end of each round until only two jumpers remain. However, the realities of track and field kicked in and spoiled the payoff.
Marquis Dendy and Mitchell Watt were atop the leaderboard entering the last round. But there was no mano-a-mano when it came to last jump. Down two runs in the top of the ninth, Watt passed and opted not to jump. Dendy took his last attempt with his victory assured.
I do appreciate that there is some effort to experiment with the field events. I'll repeat my other preferred exhibition long jump format. Seed all the jumpers after the first round. Then, use a single elimination bracket where jumpers go head-to-head with the top man advancing until the next round. Previous marks don't count, it's all about beating your man. The brackets narrows from eight to four to two.
What could go wrong with this plan? Other than someone not jumping in the last round and ruining the entire point of the bracket? Nothing at all.