One Comment
Five Things We Learned in NCAA Cross Country (Plus One Open Question)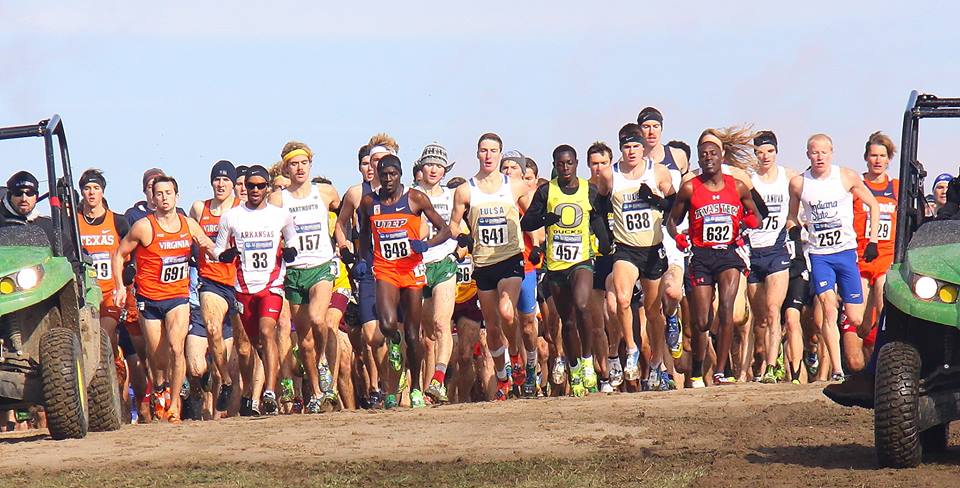 Jesse Squire | On 20, Nov 2015
(Photo credit: Dane Schubert for Daily Relay)
I shirked my writing duties for most of this year's collegiate cross country season. I teach and I coach and have a bunch of other responsibilities too, but none of that is new this year. Yet somehow I had so much less spare time this year than in past years. Thus only now am I analyzing the 2015 NCAA cross country season.
Tomorrow is the big show, the NCAA Cross Country Championships, and I'll be there to cover the meet for the Daily Relay.
Here are five things we learned in the season so far, plus one that is still an open question.
Cross Country is easier to follow than track.
Well, maybe we didn't learn this so much as I did. During my busy last two months I didn't have much time to follow college cross country, but I still kept up with the basics:
*Colorado is still the best men's team in the country, but not as dominant as expected.
*New Mexico has assembled virtually an all-star women's team.
*Two-time defending NCAA champion Edward Cheserek was shockingly beaten but in a race that, for top individuals, doesn't mean a whole heck of a lot.
*Wisconsin's men had a historically bad season.
*A freshman might be the favorite to win the women's race at the NCAAs.
There are many more stories across the country so far this season but the above is the big picture. Cross country is easy to follow because every meet keeps a team score and the results matter. For example, I don't have to know who the best runners are in the Mid-American Conference, I just know that my alma mater had its best season in fifteen years. The fact that teams have only seven runners and they all run the same race helps too. Even so, the team is the thing in cross country and a quick look at the scores sums everything up.
Track and field's team aspect comes into play only a few times a year, and you have to keep track of dozens of events to have some idea of who's the best and how your favorite team is doing. Not so easy.
The system works.
For those who are unaware, the system for qualifying to the NCAA Championships is one of automatic and at-large berths, kind of like March Madness but with a cut-and-dried points system rather than a selection committee.
Last Friday there were nine different regional meets and the top two teams at each went to the nationals. The third-place team with the most wins over qualified teams got an at-large bid to the NCAAs, at which point that team is entered into the pool from which others can earn points and replaced on the waiting list by the fourth-place team in its region. The process repeats and repeats. A team with insufficient points can get in on a "push" if it finished one place in front of the next top-point team, in which case they both get into the NCAAs. Once thirteen at-large bids are earned, it's all over.
I like the system because it makes the regular season actually mean something. Winning and losing matters. The best teams don't have to worry about qualifying and can save their mojo for the end of the season, but the bubble teams have to run well in October (and honestly, bubble teams are happy just to get to the NCAAs and aren't expecting big results there).
But can a cut-and-dried system be gamed? Maybe. On October 6, Let's Run wrote that the Wisconsin Badgers should have been disqualified from the Greater Louisville Classic. Coach Mick Byrne's men's squad went to the meet with the stated purpose of running the NCAA Championships course in a less-than-all-out manner (just to preview the facility) and they finished seventh.
Wisconsin is likely going to impact the NCAA at-large bids that go out at the end of the season…The top six teams in Louisville – teams like Louisville, Illinois and Eastern Kentucky – all just earned an at-large point to NCAAs by beating Wisconsin.
The NCAA Track and Field/Cross-Country Rules Committee needs to get together and DQ Wisconsin from the Louisville results.
This was all based on the assumption that Wisconsin was going to get one of those automatic qualifying spots to the NCAAs. They were ranked #4 in the coaches' poll at the time, well ahead of any other team in the Great Lakes region, and had won that region in fourteen of the last sixteen years. Of course it looked like Byrne was having his Badgers game the system and giving away qualifying points to a bunch of teams that didn't earn them.
At the time, though, I wondered if maybe all of this wasn't being a bit presumptuous. The qualifying system has been in place since 1972 and it always seems to work itself out. Plus, maybe Wisconsin wasn't as good as everyone thought they were. Byrne often talks about how racing in a Wisconsin uniform requires pride effort and recognition of the history of the Badger program. So that he'd ask his team to go out and half-ass it just didn't pass the smell test.
Two weeks later, Wisconsin hosted the big adidas Invitational which brings in the lion's share of the nation's best teams. And despite having home advantage, the then-#11 Badgers bombed and finished seventeenth.
So Wisconsin came into the Big Ten Championships as the #25-ranked team in the NCAA and just third-best in the conference, one spot ahead of Indiana. While the Badgers' streak of fourteen straight Big Ten titles was snapped two years ago, they went right back to the top last year. They hadn't finished outside of the conference's top three since a few days before Ronald Reagan won his first presidential election. Could the downward spiral continue?
Um, yeah. The Badgers finished eighth. That's their lowest finish ever at a Big Ten cross country championship, going all the way back to the first meet in 1908. Injury contributed to this; two-time defending champion Malachy Schrobilgen led the first half of the race and then dropped out. But even if he'd won the race, the Badgers still would have been sixth, which would still equal their lowest finish ever.
You might not say this was Wisconsin's worst Big Ten finish ever—they were dead last among four or five teams three times in the 1940s—but arguing about it is pretty much the definition of a trivial pursuit. What's not trivial is that Wisconsin went on to finish a well-beaten sixth at the Great Lakes regional, by far their worst regional finish, which failed to qualify them to the NCAAs. And they've always qualified to the NCAAs, the only program to do so every year since the qualifying process was instituted in 1972. Not any more.
It was a bad season for Wisconsin but a good season for the NCAA Championships qualifying system. All that concern was for naught.
Times aren't the best predictor of talent.
A whole bunch of superstar girl runners have come through the high school ranks in the last few years. Mary Cain was by far the fastest and best-known, but Alexa Efraimson, Elise Cranny, and Sarah Baxter were the headliners in a 2104 Runner's World article titled Why Are These Teens So Fast? . Plus 19-year-old Alana Hadley is already a 2:38 marathoner and got a lot of attention in Sunday's New York City race.
Despite the fact that three of the above have given up collegiate eligibility for endorsement contracts, it still shouldn't surprise you if the favorite to win the NCAA women's title is a freshman. But maybe which freshman is a bit of a surprise.
Completely absent from that RW article was Allie Ostrander. Right now she's running better than any of those other former high school superstars. A freshman at Boise State, she ran at Alaska's Kenai High School last year. There she won NXN, one of the two national high school cross country championship meets, but wasn't even the nation's fastest high schooler at 3200 meters this past spring.
But in context, it all makes sense as to why Ostrander has made the jump that eluded the others. For one, it's cross country season and she appears to be a better runner off the track than on it. Last year she was runner-up (and broke the old course record) at the Mount Marathon Race, possibly the nation's single most difficult 5k (it's held on Mount Marathon but is not a marathon race). Hills in college cross country have nothing on a race with nearly 1000 feet of elevation gain in its first 1½ miles.
On the track, Ostrander did manage to run 9:58 for 3200 meters in May. That's a time bettered by maybe fifteen high school girls ever, and she did it with less training than most and maybe all of her peers.
I've never done a whole lot of winter training in Alaska, because I've always been in basketball…I would usually run about three days a week during basketball, but mainly just short runs to keep up my aerobic capacity and I only started doing that this year. Before that, I hadn't done any running in the winter.
Compare that to Cain or Efraimson or Cranny, who competed full-time in indoor track for several years, or to Baxter, a lifelong SoCal girl, and a 9:58 suddenly becomes remarkable. She did it with so much less training.
There's an old saw in baseball scouting that if prospects from the south and the north are equally good at a young age you should always take the northern kid. Since he's done the same thing with less time to practice and play, he has more innate talent and still has room to improve. Well, what if "north" is inside the 60th parallel?
Second is sometimes as good as first.
With last year as a notable exception, Stanford's men have performed poorly at the end of the season. Only once in the preceding ten years did the Cardinal's finish at the NCAAs equal or exceed their ranking entering the meet. A few of them were true stinkers: in 2013 they were ranked fourth and finished 19th, in 2012 they were ranked second and finished 16th, and in 2009 they came in the favorites to win and finished tenth.
But as I said, last year was notably different. Little was expected of Stanford as they were ninth in the final coaches' poll going into the NCAA Championships but they ended up second. Going into last Saturday's Pac-12 Championships they were just #23 in the polls, behind five other conference rivals including #1 Colorado and #3 Oregon. And they ended up second, within spitting distance of top-ranked Colorado.
How did they do this? By finally getting some top runners to the starting line. Sean McGorty and Joe Rosa were second and eighth, but both have been racing throughout the season. Freshman Grant Fisher, last year's national high school champion, ran his first college race and finished eleventh, and the oft-injured Jim Rosa ran his first race in eight months and finished twentieth. One would presume that the latter pair would benefit from another race at regionals before the big test at the NCAAs, so maybe the Cardinal could close the gap on the Buffaloes.
That door is open because Colorado is missing Ben Saarel, who was seventh at last year's NCAAs. That's a big cog to not have in the machinery. But all of this is predicated on Stanford markedly improving from where they are now and Colorado remaining in stasis. Colorado has a well-earned reputation for coming up big at the championship (more on that later) and they put their fifth man ahead of Stanford's fourth at the Pac-12 Championships. According to Buffalo coach Mark Wetmore, Saarel is healthy but will redshirt if his presence is not necessary for winning yet another team title. It looks like Wetmore is standing pat.
…but sometimes third is as good as last.
The woman who teaches in the classroom directly next door to mine has a son named Willy Fink. He's the captain of the cross country team at Eastern Michigan. She missed school last Friday and drove the six hours to Madison, Wisconsin, to see Willy and the Eagles run—and hopefully qualify to the NCAA Championships.
Last year I described EMU as a bubble team looking to overachieve and get to the NCAAs. They hung in there for a while at the regional meet but faded to fifth. Third and fourth got at-large bids but EMU lacked the points to get one of their own, nor did sixth-place Notre Dame have enough to qualify and "push" the Eagles in.
This year's team was better and came into the regional meet with higher hopes. Again they figured the chances of getting an at-large bid on their own merits were slim (conference meets usually offer point opportunities for power-conference teams but rarely to mid-majors) but a third-place finish could probably get the job done since the Great Lakes region virtually always gets multiple at-large bids.
Not this year. The Eagles beat perennial powers Notre Dame, Indiana and Wisconsin, but all had down years and none had enough to push them in. Lead runner and MAC champion Nick Raymond qualified as an individual but Fink was three places away from making it.
Is there such a thing as an unbeatable team?
New Mexico appears to have assembled the closest thing to an unbeatable team. They brought back a pair of track All-Americans in Alice Wright (8th in the NCAA 10k) and Calli Thackery (6th in the NCAA 5k), and added a two more who are even better: UMKC transfer Courtney Frerichs (NCAA steeplechase runner-up) and Scottish import Rhona Auckland (19th at the World Cross Country Championships). The supporting cast, such as grad student transfer Molly Renfer, is hanging right with the pack.
All of this points to an extremely low score at the NCAA Championships, maybe 60 points or less. No team has scored under 60 since 1985, and it's safe to say that women's cross country is just a little different now than it was back then. This appears to be a historically good team.
But I hesitate to call this an unbeatable team, and that's because I've seen an unbeatable team get beaten. Back in 2004, Wisconsin came into the NCAAs with a formidable lineup that included Simon Bairu, Chris Solinsky , and Matt Tegenkamp. The first two went on to set national records in the 10k and the third finished fourth in the World Championships 5k. Colorado countered with, well, a bunch of guys that are hardly memorable names; since then only Brent Vaughn has any impact on the national pro scene. The Buffaloes were picked to win by just 1% of the entrants in that year's Let's Run prediction contest.
2004 was one of the first years that chip timing allowed scores to be shown at the 3k, 5k, and 8k splits. The Buffaloes weren't even on the leader board at 3k, then began to move up. But at 8k they were still more than 80 points out of first, which of course was Wisconsin. Colorado's runners came on like a hurricane in the last mile and stole the win. Wisconsin gave up just 14 points over the last 2k and finished with 94, while the Buffalos dropped more than 70 points over that distance to finish with 90.
Colorado and head coach Mark Wetmore got famous in running circles due to the cult classic Running with the Buffaloes, which chronicled the 1998 season. At the time they had yet to ever win a national title and maybe they didn't deserve the attention. It wasn't long before they did, though, and that 2004 win was the moment when the Colorado legend was cemented as the team that always comes up big and makes everyone look over their shoulder.
Will New Mexico win the NCAA women's title? Probably. But not certainly. Nothing is ever certain.