No Comments
Viewer's Guide to Olympic Track & Field: Thursday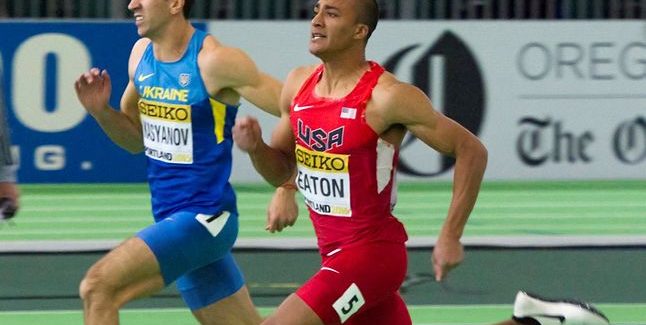 Jesse Squire | On 18, Aug 2016
The decathlon concludes today, and Ashton Eaton is cruising towards gold.
Welcome to the seventh of our daily Olympic track and field viewer's guides. We're here to help you find out what, when, how, who and why to watch all of the action.
Today's highlights:
Decathlon day 2
Men's 400 meter hurdles final (11:00am)
Men's shot put final (7:30pm)
Women's javelin throw final (8:10pm)
Women's 400 meter hurdles final (9:15pm)
Men's 200 meters final (9:30pm)
TV coverage
Current listings show the following (all times Eastern)…
NBC Sports Network, 8:00 to 11:30am (live)
NBC, 10:00am to noon (live)
NBC, 8:00pm to midnight (live and tape delay)
There are
plenty of other viewing options as well, mainly via the internet.
Important links
The IAAF's live results page is awesome, bookmark it.
You also need our own Non-Track Fan's Guides to the Olympics for men and women, even if you're a track fan.
Morning Session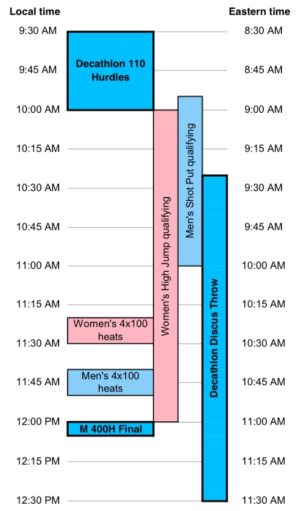 The Schedule
Track and field is a sort of a three-ring circus, with many things happening at once, so a schedule is best understood in a visual medium. Competition will begin at 8:3am (Eastern time) and go to just after 11:00.
8:30am: Decathlon 110 meter hurdles
Take a look at the forecasting model and you can see how this is shaping up. Ashton Eaton is having a very average outing by his own standards but is still well on his way to a win. Silver is shaping up as a battle between Canada's Damian Warner and France's Kevin Warner. Warner will beat Mayer in the hurdles, but Mayer gains the advantage if he can keep the difference under 100 points.
8:55am: Men's shot put qualifying
Qualifying format: Two groups will throw in side-by-side circles and get three attempts each. The top twelve will go to tonight's final, and anyone over 20.65 meters (67' 9") will get there automatically.
Favorites: Joe Kovacs (USA), Tom Walsh (New Zealand), David Storl (Germany), Ryan Crouser (USA), Darrell Hill (USA), O'Dayne Richards (Jamaica)
Americans: Kovacs, Crouser, Hill
Canadians: Tim Nedow
9:00am: Women's high jump qualifying
Qualifying format: Two groups will compete in side-by-side pits. The top twelve overall or everyone over 1.94 meters (6' 4¼") will go to the final, whichever is more.
Favorites: Chaunté Lowe (USA), Ruth Beitia (Spain), Kamila Licwinko (Poland), Vashti Cunningham (USA), Marie-Laurence Jungfleisch (Germany)
Americans: Lowe, Cunningham, Inika McPherson
Canadians: Alyx Treasure
9:25am: Decathlon discus throw
The three medal favorites are all roughly equal in ability in this event, especially Warner and Mayer who are fighting for silver. An outsider could put themselves in medal contention if they get a big throw.
10:20am: Women's 4×100 relay heats
Qualifying format: The top three in each of two heats plus the next two fastest qualify to tomorrow's final.
Favorites: Jamaica, USA, Trinidad & Tobago, Great Britain, Holland
The USA has the most speed, but it's always an adventure to see if they can get the baton around the track.
10:40am: Men's 4×100 relay heats
Qualifying format: The top three in each of two heats plus the next two fastest qualify to tomorrow's final.
Favorites: Jamaica, USA, Canada, Great Britain, China
The USA has avoided disqualification just once in the last six World or Olympic men's 4×100 relays. About the US relay team, Usain Bolt said "they tend to panic".
11:00am: Men's 400 meter hurdles final
Favorites: Kerron Clement (USA), Yasmani Copello Escobar (Turkey), Javier Culson (Puerto Rico)
Americans: Clement
Canadians: none
Clement was once one of those young stars who leaves college early, but that was eleven years ago. Now he's the most experienced athlete in the final, which is another way of saying he's old. He's probably the favorite but nothing has gone to form in this event recently. Weird stat of the day: there are more Kenyans in the final of this event (2) than in the finals of the men's 5000 meters (0).
Afternoon Session
There is no official "afternoon session", but two decathlon events will essentially create one.
12:25pm: Decathlon pole vault
You might be able to read War and Peace while waiting for the decathlon pole vault to finish. It is, however, where someone having a good meet can shoot themselves in the foot. As with the others, follow the forecasting service to see how this event affects the final outcome.
5:35pm: Decathlon javelin throw
A decathlon is often like playing Hearts, just trying to go as long as you can without taking a big hit and falling behind. The javelin is one of the few events where an athlete can shoot the moon and get ahead by nailing a great throw. It's more or less where Nafissatou Thiam won the hepathlon.
Evening Session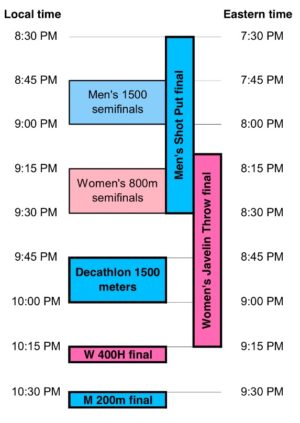 The Schedule
There's a lot going on, and if you want to see it all in real time you should turn away from broadcast TV and towards the internet.
7:30pm: Men's shot put final
Finalists will be determined in this morning's qualifying round. All of the Americans use the spin technique, which is great unless your timing is off. That's happened a lot at recent Olympics due to the heightened pressure and nervousness.
7:45pm: Men's 1500 meter semifinals
Qualifying format: The top five in each of two heats plus the next two fastest qualify to Saturday night's final.
Favorites: Asbel Kiprop (Kenya), Elijah Manangoi (Kenya), Abdelaati Iguider (Morocco), Taoufik Makhloufi (Algeria), Matthew Centrowitz (USA), Ronald Kwemoi (Kenya), Nick Willis (New Zealand)
Americans: Centrowitz, Robby Andrews, Ben Blankenship
Canadians: Nate Brannen, Charles Philibert-Thiboutot
8:10pm: Women's javelin final
Favorites: Tatsiana Khaladovich (Belarus), Linda Stahl (Germany), Barbora Spotáková (Czech Republic), Sunette Viljoen (South Africa), Kathryn Mitchell (Australia), Christina Obergföll (Germany)
Americans: none
Canadians: none
Bet worth taking: Khaladovich is picked to win by Track and Field News and pays 7:2.
Spotáková injured her foot in the spring and has been slow to round into form, but is an experienced champion and could make a run at gold.
8:15pm: Women's 800 meter semifinals
Qualifying format: The top two in each of three heats plus the next two fastest qualify to the final.
Favorites: Caster Semenya (South Africa), Francine Niyonsaba (Burundi), Margaret Wambui (Kenya), Melissa Bishop (Canada), Eunice Sum (Kenya), Ajee' Wilson (USA)
Americans: Wilson, Kate Grace
Canadian: Bishop
8:45pm: Decathlon 1500 meters
The decathlon 1500 is often like the final stage of the Tour de France. The podium is usually already decided, and it's more of a ceremonial parade at the end of an exhausting journey. Sometimes, though, the outcome of this race really does matter, and I suspect we will have a battle for silver.
9:15pm: Women's 400 meter hurdle final
Favorites: Dalilah Muhammad (USA), Sara Slott Petersen (Denmark), Eilidh Doyle (Great Britain), Zuzana Hejnová (Czech Republic)
Americans: Muhammad, Ashley Spencer
Canadians: none
Bet worth taking: Britain's Eilidh Doyle pays 6:1 for a medal.
Muhammad appears to be in a different zone from everyone else. Spencer is a newcomer to this event–she only started racing it seriously this year–and has the best pure speed in the race.
9:15pm: Men's 200 meter final
Favorites: Usain Bolt (Jamaica), LaShawn Merritt (USA), Alonso Edward (Panama), Andre De Grasse (Canada)
American: Merritt
Canadian: De Grasse
Bet worth taking: A De Grasse win pays 20:1. I don't think he'll win, but I think his chances are better than that.
This is expected to be little more than a coronation for The Big Man. Silver is probably a battle between De Grasse and Merritt.