No Comments
Viewer's Guide to Olympic Track and Field: Wednesday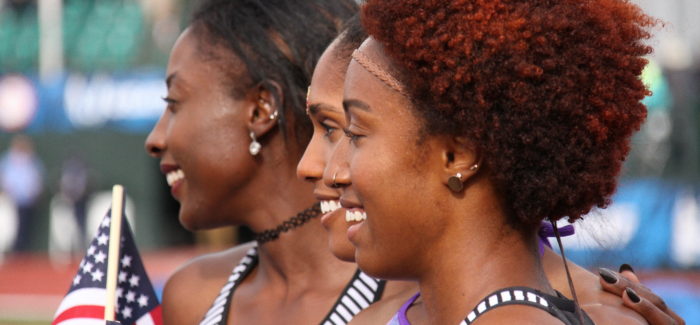 Jesse Squire | On 17, Aug 2016
The USA is almost certainly going to win tonight's 100 meter hurdles…but which American will win?
Welcome to the sixth of our daily Olympic track and field viewer's guides. We're here to help you find out what, when, how, who and why to watch all of the action.
Today's highlights:
Decathlon day 1
Men's steeplechase final (10:55am)
Women's long jump final (8:15pm)
Women's 200 meter final (9:30pm)
Women's 100 meter hurdles final (9:55pm)
TV coverage
Today's track coverage according to NBC listings (all times Eastern)…
NBC Sports Network, 8:00 to 11:00am (live)
NBC, 10:00amd to noon (live)
NBC, 8:00pm to midnight (live and tape-delay)
There are
plenty of other viewing options as well, mainly via the internet.
Important links
The IAAF's live results page is awesome, bookmark it.
You also need our own Non-Track Fan's Guides to the Olympics for men and women, even if you're a track fan.
Morning Session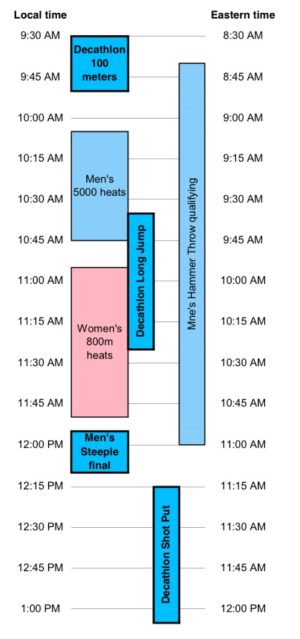 The Schedule
Track and field is a sort of a three-ring circus, with many things happening at once, so a schedule is best understood in a visual medium. Competition will begin at 8:3am (Eastern time) and go until about noon.
8:30am: Decathlon 100 meters
The thing about the decathlon is that everyone has their strengths and their weaknesses. Each event must be considered relative to their capabilities. For example, Canada's Damian Warner is capable of beating the USA's Ashton Eaton in this opening 100 meters, but a big PR by a relatively slow decathlete like Germany's Arthur Abele could put him in an advantageous position over Warner when the remaining nine events are taken into consideration.
What we do is we forecast each event for the top contenders and update after each event. We used to do it with paper and pencil, but the internet now does it automatically. That's a valuable link so bookmark it if you're going to follow the decathlon.
8:40am: Men's hammer throw qualifying
Qualifying format: Two groups will throw, one at 8:40am and the other at 10:05am. The top twelve overall will go to the final, and anyone over 76.50 meters (251' 0") will get there automatically.
Favorites: Pawel Fajdek (Poland), Krisztián Pars (Hungary), Dilshod Nazarov (Tajikistan), Ivan Tikhon (Belarus), Wojciech Nowicki (Poland), Marcel Lomnicky (Slovakia)
Americans: Kibwe Johnson, Conor McCullough, Rudy Winkler
Canadians: none
9:05am: Men's 5000 meter heats
Qualifying format: The top five in each of two heats plus the next five fastest will go to the final.
Favorites: Mo Farah (Great Britain), Dejen Gebremeskel (Ethiopia), Muktar Edris (Ethiopia), Hagos Gebrhiwet (Ethiopia), Geoffrey Kamworor (Kenya), Joshua Cheptegei (Uganda)
Americans: Bernard Lagat, Hassan Mead, Paul Chelimo
Canadians: Mo Ahmed, Luc Bruchet
9:35am: Decathlon long jump
Check the forecasting service to see how the long jump affects the anticipated outcome.
9:55am: Women's 800 meter heats
Qualifying format: The first two in each of eight heats plus the next two fastest will go to the semifinals.
Favorites: Caster Semenya (South Africa), Francine Niyonsaba (Burundi), Margaret Wambui (Kenya), Melissa Bishop (Canada), Eunice Sum (Kenya), Ajee' Wilson (USA)
Americans: Wilson, Kate Grace, Chrishuna Williams
Canadians: Bishop
10:55am: Men's steeplechase final
Favorites: Ezekiel Kemboi (Kenya), Conseslus Kipruto (Kenya), Evan Jager (USA), Brimin Kipruto (Kenya), Mahiedine Mekhissi (France), John Koech (Bahrain)
Americans: Jager, Donn Cabral, Hillary Bor
Canadians: Matt Hughes
Bet worth taking: PaddyPower is offering 2:1 odds on Kemboi. Like taking candy from a baby…
Kevin Sully previewed this for us. Kemboi's specialties are winning championship meets and awesome celebration. Jager is good enough to get on the medal stand, which would be a first in this event for the USA since 1984, but the competition is tough.
11:15am: Decathlon shot put
Eaton and Warner should come back to the pack here, but the key is by how much.
Evening Session
The Schedule
There's a lot going on, and if you want to see it all in real time you should turn away from broadcast TV and towards the internet.
The decathlon requires tonight's action to begin early, at 4:45pm (Eastern time), and then the rest of the evening's action is in the usual 7:30 to 10:00pm slot.
4:45pm: Decathlon high jump
It's hard to gain a lot of points in the high jump but you sure can lose a lot. This forecasting service tells you how much.
7:30pm: Men's javelin throw qualifying
Qualifying format: Two groups will throw, one at 7:30m and the other at 8:55pm. The top twelve overall will go to the final, and anyone over 83.00 meters (272' 4") will get there automatically.
Favorites: Thomas Röhler (Germany), Antti Ruuskanen (Finland), Keshorn Walcott (Trinidad), Julius Yego (Kenya), Jakub Vadlejch (Czech Republic), Tero Pitkämäki (Finland) , Johannes Vetter (Germany), Vitezslav Vesely (Czech Republic)
Americans: Sam Crouser, Sean Furey, Cyrus Hostetler
Canadians: none
7:45pm: Women's 100 meter hurdles semifinals
Qualifying format: The top two in each heat plus the next two fastest qualify to the final, held later tonight.
Favorites: Brianna Rollins (USA), Kristi Castlin (USA), Nia Ali (USA), Cindy Roleder (Germany), Alina Talay (Belarus), Tiffany Porter (Great Britain), Cindy Ofili (Great Britain)
Americans: Rollins, Ali, Castlin
Canadians: Phylicia George, Nikkita Holder
This is another two-for-one semi-then-final event, and Kevin Sully previewed it for us. The USA is favored to sweep the medals, but those ten obstacles tend to upset the apple cart.
8:15pm: Women's long jump final
Favorites: Brittney Reese (USA), Ivana Spanovic (Serbia), Tianna Bartoletta (USA), Sosthene Taroum Moguenara (Germany)
Americans: Reese, Bartoletta
Canadians: none
Bet worth taking: Reese is even money to win. She's not going to lose.
Reese, aka "The Beast", is nearly unbeatable when healthy. She wasn't healthy in 2014 or '15 but is now. One or two jumps will be huge and put away the gold. The real battle is for silver.
8:20pm: Decathlon 400 meters
Eaton is good enough here to be an Olympic finalist in the individual 400. As always, check the forecasting service to see how things stack up.
9:00pm: Men's 200 meters semis
Favorites: Usain Bolt (Jamaica), Justin Gatlin (USA), LaShawn Merritt (USA), Alonso Edward (Panama), Andre De Grasse (Canada), Miguel Francis (Antigua)
Americans: Gatlin, Merritt, Ameer Webb
Canadians: De Grasse, Aaron Brown
9:30pm: Women's 200 meters final
Favorites: Dafne Schippers (Holland), Elaine Thompson (Jamaica), Tori Bowie (USA)
Americans: Bowie, Deajah Stevens
Canadians: none
This is a reprise of the 100, where Thompson ruled and Bowie won silver. Schippers was a well-beaten fifth in that race, but she's much better at this longer distance.
9:55pm: Women's 100 meter hurdles final
The finalists will not be known until the semis earlier in the evening.