No Comments
The Monday Morning Run: Bolt returns, Farah sets world lead, De Grasse doubles up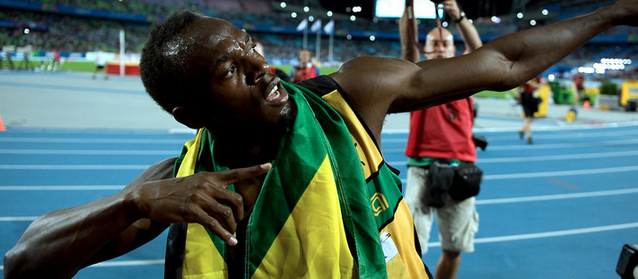 Kevin Sully | On 27, Jul 2015
If you live in the United States, I bet you were wondering why there was live track on your television during primetime last week. The Pan-American Games wasn't the best showcase, but we'd all be idiots to complain about live track on television during primetime. The feature meet of the week, the London Diamond League, might have been live and on your television, but it certainly wasn't on during primetime in the United States. It was, however, the best meet of the weekend.
Now the World Championship wind down begins.  Looking ahead to next week's Stockholm Diamond League, you can already see that the start lists aren't as strong as prior meets. There are now only three Diamond League meets remaining on the year and 26 days until the World Championships.
The Medalists
The top three performances of the week
Gold: Mo Farah
The field wasn't as deep as the Lausanne 5000m and the distance was more in his sweet spot than Monaco. The result was a comfortable Farah victory in the 3000m at the Anniversary Games in London.
Watching Farah lead at any point in the race before the last lap is rare. At the 2000m mark he was in front before giving it up to settle back into his customary hunter role. Farah covered the last 400 in 55 seconds and won in a world-leading 7:34.66. There isn't much more to add other than unless Kenya or Ethiopia is hiding a secret runner capable of closing in 52 seconds, then Farah is on course to defend both his 5000m and 10,000m titles in Beijing.
After Monaco, Farah said he may not run the 5000m at the World Championships. I think he'll run both mostly because if he skips the 5000m he is essentially donating a gold medal to Ethiopia or Kenya. That's a very kind gesture, but not one I'd like to see after a relatively flat men's season in the distance races on the circuit.
Silver: Usain Bolt
In his first race since June 13th, Bolt ran 9.87 twice on Friday evening and won the London Diamond League 100m. The prelim heat elicited the most reaction when Bolt glided to a very smooth prelim victory into a headwind. In the final, he ran harder and ended up with a narrow victory. Based on his last two years of running, the results are about as promising as Bolt could have hoped for.
The vox populi in track is pulling hard for Bolt (Seb Coe articulated that sentiment on BBC Saturday when he said, "The sport, for all sorts of reasons, needs Usain to come through in Beijing.") One of those reasons is the anti-Gatlin feeling that is pervasive in the sport. Another one, and maybe not one that Coe was referring to, is the possibility of the marquee race actually being competitive at the World Championships. So far in 2015, it's been heavily tilted in the direction of Justin Gatlin.
But before we run headlong into the Gatlin/Bolt madness, remember that Gatlin has won all of his races this year comfortably. Friday demonstrated how much better Bolt can get in the span of five weeks, but how much more can he improve in the next four weeks? If he called it a day after the prelim, there would have been reasonable speculation that he was capable of a 9.7 in the final. As it was, we saw him run at full effort in the final. He beat Mike Rodgers by .03 seconds and Kemar Bailey-Cole by .05. Bolt looked good, especially if you were expecting the worse, but he's still a good distance from Gatlin.
He didn't get out of the blocks well and while the ability to recuperate after a bad start does speak to Bolt's freakish top end speed, it won't help in Beijing. Starts are still part of the race and Gatlin's first 30 meters have been flawless all year. Still, Bolt did enough to let us know there is a race to be had at the World Championships and, more importantly, Bolt will show up to said race. London provided just enough Bolt to put some doubt into our certainties of the past three months.
Bronze: Andre De Grasse
Lane eight is hot this year. De Grasse became the latest to run a fast time from the outside, clocking a 19.88 to win gold at the Pan-American Games. Earlier in the meet he won the 100 in 10.05. Not as impressive as the 200m, but De Grasse keeps winning. I'm still optimistic about his chances at the World Championships. There have been plenty of collegians extend their season and run well into the championships (Kirani James, Matthew Centrowitz and Brianna Rollins come to mind). De Grasse has raced sparingly since the NCAA Championships. After that meet, I thought he was the best remaining challenger to Justin Gatlin.
Usain Bolt's run on Friday recalibrated the pecking order. Now the known (Bolt) once again looks like the better choice to beat Gatlin than the unknown (De Grasse). So while De Grasse may be sliding slightly in the medal projections, he's not out of it. His performances in Eugene at NCAAs were that good. The fact that they came from someone so inexperienced added to the intrigue of how fast he could run. On potential alone, you still have to consider him.
Unfortunately, his best chance to beat Bolt, and win a medal, is probably in the 200m. He's not running that event at World Championships.
This past weekend, Zharnel Hughes won the London 200m in 20.05. The field that De Grasse beat in Toronto was stronger. Including De Grasse, there are only seven men who have broken 20 seconds this year. Two of them aren't running the event in Beijing. De Grasse beat two others this weekend in Toronto. The final two are Justin Gatlin and Isiah Young. Even if Bolt jumps in there, De Grasse is a pretty much a lock to make the final. Meanwhile, the 100m is fat with runners in the high 9.8s to the mid 9.9s. If you put Gatlin, Bolt, Tyson Gay and Asafa Powell ahead of him then it gets very hard to work his way into a medal. I like De Grasse in both events. But I think he has better prospects this year in the 200m.
Surging….
-Nijel Amos
After London, he is now 6-1 against Rudisha with the lone loss coming in the Olympic final. Rudisha ran the race with caution–a diversion from his normal strategy of locking on to the rabbit and trying to run the legs off of everyone else. For the past two years, that plan hasn't worked against Amos. On Saturday, the more methodical approach didn't work either. He sat back in third place and his first lap was well over 50 seconds. Amos shadowed him and stuck right on his shoulder until they reached the final 100 meters. There, Rudisha tried to shake him with a burst, but Amos swung wide and flailed past him for victory. It wasn't a convincing margin, just .10 seconds, but there is an element of deja vu with these races that has to be worrying for Rudisha. After the race, he said he didn't know what strategy he would use for Beijing–frontrunning or come from behind. Amos has had the answer for both. The only possible solution for Rudisha is just to get faster or hope Amos gets slower.
It's an oversimplification, but I don't think tactics are what ails him. Starting slower was a good wrinkle to see if it could rid him of Amos. But the result wasn't any better than when Rudisha goes out aggressively and chases the rabbit. Amos for his part hasn't shown any willingness to take the bait and put himself in a vulnerable position of being the chased instead of the chaser. The only way that changes is if Rudisha can convince the whole field to go out in 60 seconds. Even then you could count on Amos to run 60.1 and be right behind Rudisha.
-Elaine Thompson
She's kept a low profile in her breakthrough year and is eschewing the 100m in favor of the 200m at World Championships. In London, she beat Tori Bowie by .22 seconds and won in 22.10. That time is a personal best and puts her in the gold medal conversation if Allyson Felix, Shelly-Ann Fraser-Pryce and Shaunae Miller all opt for other events. This scenario is still very much possible and if it happens, the race for first is between Thompson, Jenna Prandini, maybe another American and whoever looked good in the 100m final. Regardless of what she does the next month, Thompson rise has been remarkable. From 11.17 to 10.84 in the 100m and 23.23 to 22.10 in the 200m, all in the last year.
-Mike Rodgers
If we are going to heap praise on Bolt, then there also should be some kudos for the guy who finished .03 behind him. Both men were running all out and it's a good sign for the Americans that their fourth best runner is just fractions of a second behind Jamaica's best. This is Rodgers's 12th time under 10 seconds this year.
-Asbel Kiprop
His run in the mile on Saturday was three races in one. He didn't follow the rabbit initially which quickly quieted any talk of a fast time. Then, he bridged the gap back to the pacer and looked like he was concerned with time, or at the very least maintaining a good position.
With just over two laps remaining he got tangled up with someone's legs, stumbled and then drifted to the back of the pack. Somehow, miraculously, he didn't fall or knock into anyone else either. He just gracefully slipped through the field.
Kiprop stayed at the back and he was just far enough off the field that you thought he might be hurt and he would step off the track. He stayed on and was in last place almost until the bell when he made a huge move out to the lane three to bring himself back into the race. Kiprop was shoulder to shoulder with Ayanleh Souleiman on the backstretch, but Kiprop kicked again with 100 meters remaining and closed the door on the rest of the field. He ran 3:54.87–a solid time considering all that went on. If he didn't legitimately stumble, you'd think he ran that way just to challenge himself. Or, maybe he just wanted a to see what a race looked like from the back of the pack. To be able to yo-yo that much in the span of 800 meters and still have that kind of kick is impressive. And scary for everyone who is racing him.
-David Oliver
Over at the Pan American Games, Oliver had to run the 110m hurdle final twice. The first race was called back for a false start when the runners were midway down the track. Oliver continued anyway and finished the entire race.
Luckily, he came back for the rerunning of the race 30 minutes later and won in a Pan-Am record of 13.07. That's why you play until the whistle…..and then run the redo race that is way harder because you played through the whistle the first time.
-Dafne Schippers
10.92 and a nice win over Blessing Okagbare and Murielle Ahoure. The transformation from heptathlete to full-time sprinter is complete and now I'm wondering why she didn't make it sooner. In the prelims, Dina Asher-Smith set a British national record of 10.99. 2015 has already seen the most athletes break 11 seconds in one season.
-Sifan Hassan
After Genzebe Dibaba administered the closest thing to a TKO in a distance race that you'll ever see, I was interested in how Hassan would respond. She dropped down to the 800, which was probably a nice break, and ran a personal best of 1:59.46 to finish second to Eunice Sum. So if a 3:56 woman can run 1:59.5 800m, how fast could a 3:50 woman run? I'm asking hypothetically of course because we'd never see a woman run 3:50 for a 1500m.
-Kemar Bailey Cole
Bailey-Cole finished behind Rodgers in a personal best of 9.92. Chijindu Ujah also ran the fastest time of his life in fourth–9.96.
-Jeff Porter's finish
This looks like the best possible result when you lose your balance at the finish line.
— James Campbell (@jcampbelljav) July 24, 2015
-Molly Huddle's racing strategy
Channeling Genzebe Dibaba, Huddle held a huge lead for most of the women's 500m. She was the only one who followed the pacer, Gabe Grunewald, and her cushion on the rest of the field ballooned to 50 meters. When Grunewald stepped off, Huddle look like she could maintain the pace and hold on for a win. She didn't slow, but Mercy Cherono made a huge move slicing the lead to only four seconds with two laps remaining. She caught Huddle with 300 meters remaining and, after some resistance from Huddle, won the race comfortably. Cherono's last lap was 63 seconds and she finished in 14:54.81.
Even with the result, it was smart running by Huddle. An even tempo was her best bet to win and run a fast time.
-Zharnel Hughes
He just turned 20 and is racking up Diamond League wins and personal bests. Hughes clocked a 20.05 in London, beating a mediocre field. Lucky for him the 200m in Beijing will only have few people who are capable of beating him. Hughes is better than all the Americans, except Gatlin. He's better than all the Jamaicans, except Bolt. Andre De Grasse isn't running the 200m. Send Hughes the bronze now!!!
-Damian Warner
In Toronto, Warner set the Canadian record in the decathlon on his way to a gold medal at the Pan-Am Games. He amassed 8,659 points, including ridiculously fast times in the 110m hurdles and 100m. There is tons of potential for Warner–he's only 25-years-old and still has plenty of areas to improve. I don't see him beating Ashton Eaton this year or next, but maybe he's close enough to make the decathlon a competitive event again.
-Jasmin Stowers
Two American hurdlers who aren't on the World Championship team, Stowers and Jason Richardson, won the high hurdle races in London. Stowers gained momentum as the race went on and stormed to a comfortable victory in 12.47. Behind her were the familiar American names of Dawn Harper Nelson and Brianna Rollins. Richardson ran 13.19 and beat a field that included everyone except for David Oliver.
Slowing….
-Ryan Bailey
More evidence that the track season is really long—it has enough time for someone to go from medal favorite, to not on the team for the World Championships, to finishing last in a Diamond League race. Bailey ran 10.40 in the London 100m prelim heat. I'm guessing there is some injury issues, but as of this writing there hasn't been any statement. Since he and Warren Weir started going tweet for tweet after the World Relays, neither man has run well. Hopefully, this doesn't chill the trash talk for 2016.
-Mutaz Essa Barshim
Jumping in wet conditions, Barshim could only clear 2.28m in the high jump. With the rain, the low height isn't surprising, but his third place finish was. Especially when one of those men wasn't Bohdan Bondarenko or Ivan Ukhov. Rather, it was two Italians–Marco Fassinotti and Gianmarco Tamberi who beat Barshim. From tops in the world to third best in Italy, what is going on with Barshim?
-Isaac Makwala
His 45.29 fourth place finish in London makes his time from La Chaux-de-Fonds look even more like an outlier.
London's track didn't produce quick 400m times for either race, but Wayde Van Niekerk's winning time was at least within a second of his season's best. Makwala's 43.72 early this month at the high(ish) altitude Swiss city is still sitting atop the yearly list with little chance of it being supplanted in 2015. Right now, he looks somewhere in the 4-10 range if everyone lined up to race a 400m today.
-Ayanleh Souleiman
With Kiprop's stumble (read, covert stalling technique), I expected Souleiman to take advantage. He hasn't been shy about leading before and it wasn't long ago that he was the guy in the 1,500/mile. Instead, he waited and allowed Kiprop to get back in the race with little cost to the Kenyan. When it came time for a kick, he didn't have much left and was passed by Matthew Centrowitz for third place in 3:55.06. Fingers crossed he is just tired from the intense training he is doing to prepare for his 800/1500 double at the World Championships.
-US Men's 800m
The slow pace didn't help the American men. The trio of Erik Sowinski, Boris Berian and Cas Loxsom placed 8-9-10.
Berian took the role of David Rudisha early in the race, sitting directly behind the rabbit. He led through the 600m mark, but he faded the last 200m and drifted well back in the pack. Sowinski was one of the eight runners who passed Berian and finished in 1:45.82. The US team will have more experience at the World Championships when they swap Berian for Nick Symmonds. Sowinski and Loxsom will race in Beijing and will need to run much better if they are going to make a final in a very congested 800m field.