No Comments
Monday Morning Run: Dibaba beats history, Kiprop scares the record and the rest of those 1500m times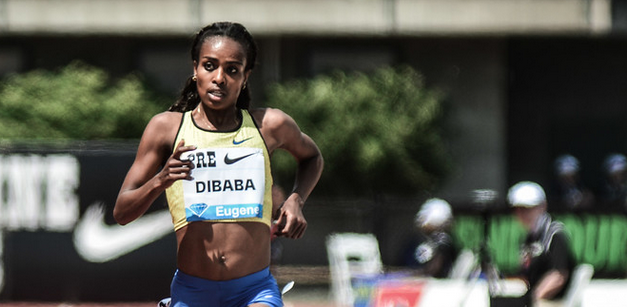 Kevin Sully | On 20, Jul 2015
World records, historically deep races, false start drama, US relay ramifications, 200m runners running in the wrong lanes…..Monaco had a little bit of everything.  I tried my best to cover it all.  If there is anything I missed, chances are I'll discuss it on the weekly podcast I do with my friend Jason. Then again, we might just end up talking about Genzebe Dibaba for 90 minutes.  Either way, you can listen here.
To the Run!
The Medalists
The top three performances of the week
Gold: Genzebe Dibaba
Dibaba didn't just break a world record she broke one of those world records. Qu Yunxia's 3:50.46 has long been out of reach, one of the many women's marks that has made it next to impossible to match for everyone who has come after them. To call the Chinese's women's distance marks controversial is correct on one hand, but it also implies there is some sort of disagreement on how they are viewed. There isn't. They are unanimously seen as fraudulent. And yet, there they stood, waiting for either PEDs to become legal, or some otherworldly talent to come along.
It's been over 20 years after the 1500m record was set in Beijing and you don't hear anyone who thinks they were achieved legitimately.  You also didn't hear many people who thought these marks were attainable by modern athletes. So even after Dibaba ran 3:54 last week in Barcelona, it was still a leap to think she could shave four more seconds off her time.
There were rational reasons to think she could.
The track in Monaco is faster than the one in Barcelona. The pacing would be better. Also, this would be her second 1500m of the year and there is usually some improvement between a first and second race.
All of those factors could explain how she could cut more time, but that still didn't seem enough to beat one of the untouchable marks. It was logical to think she would fall short because we've been conditioned to believe that running 3:50 is off-limits. The pinnacle for current female distance runners was stuck on "best non-Chinese mark" or "fastest time in the last 15 years," or the other useless qualifiers that provide valuable context, but also show the frustration that the current group of athletes have when trying to be compared with history.
Dibaba beat back all of that on Friday. Buoyed by a preposterous third lap of 60.1 she ran 3:50.07. She was by herself after the pacer, Chanelle Price, took her through 800 meters in 2:04.52. At that point it looked to be fast, but not world record fast. But Price's exit jump started Dibaba and she put herself right back on pace in the next 300 meters. The gap at the finish was huge–six seconds back to Sifan Hassan. In Monaco, that much real estate probably costs at least a few thousand dollars.
The margin of victory, along with the history of the 3:50, inevitably brings questions of Dibaba's legitimacy. The skepticism is valid, especially when we start talking about her purifying other records (just how fast could she run the 800…..?).
We don't know if she clean. We do know that the anti-doping measures are better now than they were in the 1990s. We also know that the track in Monaco is fast and that Dibaba's marks indoors and in the 5000m make this less of a shock than the 3:54 to 3:50 jump implies (or if you want to take from her personal bests before this year, 3:57 to 3:50). Her sister Tirunesh and her cousin, Derartu Tulu, are both Olympic champions meaning whatever genes Genzebe has are probably close to perfect for distance running. While we can't say with absolute certainty, right now 3:50.07 is much more believable than 3:50.46.
Silver: Asbel Kiprop
Unlike Dibaba, there was no warning Kiprop's race was coming. He didn't have a 3:54-type tune-up race and has looked fairly ordinary by his own standards for all of 2015. The way the 1500m has been working out this year, Kiprop getting beat was more of a possibility than him running under 3:27
But he is Asbel Kiprop after all and these things are possible, especially in Monaco where the track doubles as a conveyor belt for mid-distance races. Kiprop ran a solo last lap and won in the fifth best time in history 3:26.69–just off the world record of 3:26.00.
He stayed behind the rabbits for an opening lap under 54 seconds. The tempo slowed a bit from there and the pacers came through 800 in 1:50.37. Jackson Kivuva, the second rabbit, took over on the third lap and led until the bell lap. Then, Kiprop was by himself and I was waiting for him to crack over the final 400 meters. The margin was so big back to second place that a win still looked likely, but the inevitable slow down was also imminent. Kiprop had no help leading anymore and there was no sign that he was capable of this pace.
But he didn't slow down, when he was by himself. He sped up. Kiprop ran the last lap in 54.76 and got much closer to Hicham El-Guerrouj's record than I could anticipate.
Bronze: Francena McCorory
I could load this full of 1500m runners, but I opted for diversity in event choices (also, more on both 1500m races from Monaco below). McCorory ran 49.83, setting a world lead and making it very clear that her fourth place finish at the US Championships was either a fluke or the result of a struggle with rounds during a very hot week in Eugene.
She still might get to run the 400m in Beijing, but she'd need Allyson Felix to opt out of the race. It's a shame we can't get both since, outside of USAs, they look like the best two 400m runners in the world this year. Interestingly, McCorory could have got a better time on Friday, without having to run any faster. She had the slowest reaction time in the field by more than a tenth of a second. Stephenie Ann McPherson, who finished second, was two tenths faster than her responding to the gun.
Surging….
-The rest of the women's 1500m field
Pay extra attention to the column on the far right…..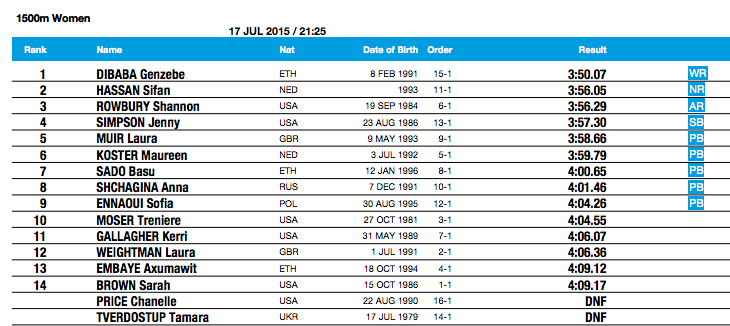 I was too preoccupied with Dibaba that Shannon Rowbury's American record didn't immediately register. She stuck behind Jenny Simpson until 100 meters remaining before ducking around her and crossing the line in 3:56.29.
Her race had hints of two previous American records–the surprise element had shades of the Chris Solinsky 10,000m record in 2010 when all the attention was on Galen Rupp to break 27 minutes before Solinsky beat him. Simpson received the pre-race hype about breaking the American record. Given the way the race broke down, it wasn't all that unbelievable that Rowbury was able to pull it out. She and Simpson were close on several occasions last year. Rowbury did run 3:59 last year and Monaco takes fast and makes it faster.
The large finishing margin between Dibaba and Rowbury looked liked Molly Huddle's 2010 American record run in the 5,000. Despite the accomplishment, Huddle was only tenth in the race.
Congrats America, you have a new record setter!! Bad news, they placed 10th…..
The chasm between the world and the US, isn't as big in the 1500m. Only two women beat Rowbury, not 10, and the large margin was the product of a once in a lifetime runner in Dibaba. America continues to show rapid progress in the mid-distance, both in medals and in times. Dibaba beating the best American by six seconds isn't an indictment on the quality of US runners. It's more proof that Dibaba ran an incredible race.
Elsewhere in the race, Simpson was in a good spot with 300 meters remaining, but ended up being the only one in the top nine who didn't set a personal best. Sifan Hassan stuck with Dibaba much longer than any physician recommends and came away with a personal best and probably massive chest pains.
-The rest of the men's 1500m field
Again, attention to the far right column….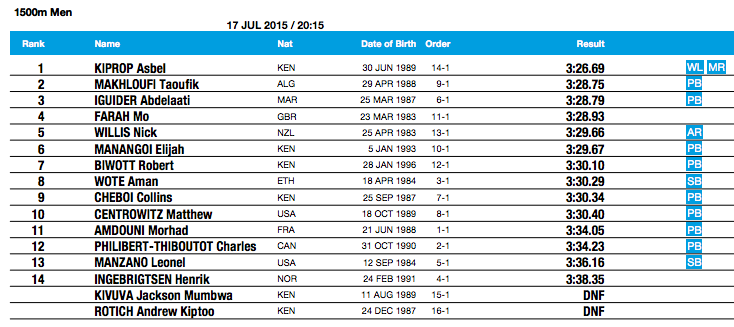 Farah served as a rabbit for the second group and it probably cost him a few positions down the stretch, though it certainly kept the pace hot once Kiprop started running in a different solar system. Though he only placed 10th, Centrowitz ran a lifetime best and passed Alan Webb on the US all-time list. There was even something worthwhile in the result for Manzano, who finished second to last–almost 10 seconds behind Kiprop. He attained the qualification standard for the World Championships by .04 seconds and will join Centrowitz and Robby Andrews in Beijing.
This weekend actually sorted out all the qualification questions for the American team in the running events. The men's 1500m is set, so is the women's 1500m. Ben True ran under the 5000m standard in Belgium, which gives officially gives him a spot in both the 5000m and 10,000m.
-Justin Gatlin
In between the two incredible 1500m races in Monaco, Gatlin continued his undefeated streak in the 100m. He ran 9.78 into a .3 m/s headwind and beat Tyson Gay (9.97) and Jimmy Vicaut (10.03) with ease. Gatlin has hunkered down in the 9.7s this season, running faster than 9.80 four times. He might not go much faster in 2015 and for his sake he may not want to. But even if he stays right where he currently sits nobody has shown the ability to challenge him, let alone beat him in a race.
Gay, Asafa Powell, Vicaut all have yet to pose a threat. There is an air of resignation hanging over the men's sprints. The event traded one dominant presence (Bolt) for another (Gatlin). Barring injury, false start, the reincarnation of Bolt or an unprecedented rise of Andre De Grasse there is no reason to think the results at the World Championship will be any different that what we have seen over the past two years.
-Amel Tuka
The newcomer from Bosnia and Herzegovina used the outside lanes to kick past Nijel Amos and win the 800m in 1:42.51. If you don't know Tuka that's because he ran 1:46 last year and didn't show any signs of being a medal contender. Now, after running the race of his life in Monaco, he has the world lead. The field looked an awful lot like a World Championship final, with Amos, Ayanleh Souleiman and Mohammad Aman. It really was only missing David Rudisha.
There weren't any marks that registered in the pantheon of great 800m running, but the top seven ran season's best and four in the field posted lifetime bests. Knowing that, and seeing the 1500m times, I'm wondering how fast Rudisha could have run in 2012 if the Olympics were in Monaco instead of London.
American Boris Berian ran 1:43.34 giving him the fastest time ever run by someone who didn't make the final at a US Championships. I'm not sure that statistic is true, but I think it has to be.
-Sharika Nelvis
Nelvis led a 1-5 American finish in the 100m hurdles, running 12.46 in Monaco. That is Nelvis's fastest time outside of this year's US Championships. The next four Americans (Kendra Harrison, Brianna Rollins, Jasmine Stowers and Dawn Harper Nelson) finished within .12 of each other. Rollins, who didn't run at the US Championships because she had a bye, set a season's best of 12.56.
-Caleb Ndiku
With Mo Farah's attention on the 1500 for this meet, the guy we've somehow decided is his main rival won the 3000m comfortably. Ndiku rebounded from his fall in Lausanne and won in 7:35.13. This race didn't feature Farah or Yomif Kejelcha, but it went about four deep with medal contenders. Ndiku's run wasn't enough to make Mo Farah nervous, although after the meet Farah only committed to running the 10,000m at the World Championships.
Ndiku, it's assumed, will run only the 5000m in Beijing. Is there something in the IAAF bylaws to make Farah run both? Can Ryan Hill or some other American start asking why Farah is scared to race him? That might rope him back in. I know Farah's had a rough year, but that 5000m loses all of its sizzle without him.
-Bershawn Jackson
Other than Gatlin victories, the most predictable element on the Diamond League circuit has been Jackson's kick, sit, and then kick again strategy in the 400m hurdles. You can set your watch to it each week, even though commentators get caught off guard and start talking about an upset with 150 meters remaining. If you look closely enough you can actually see the life get sucked out of the people Jackson is passing in the homestretch as he flies past them. He ran 48.23 in Monaco with Patryk Dobeck (48.62) and Johnny Dutch (48.67) his most recent victims.
-Renaud Lavillenie
Patience pays off if you stuck with him on your Fantasy Diamond Race team. After two losses in a row he vaulted 5.92m to win. Once his victory was secured he took three unsuccessful attempts at 6.02m. Let's start looking for that world record again, Renaud….signed, loyal Fantasy owners.
-Men's triple jump
It wasn't as fantastic as Doha or Lausanne, but by any other standard it was still good. Christian Taylor notched his second win in a row over Pedro Pablo Pichardo, jumping 17.75m to Pichardo's 17.73. Taylor's best mark came in the second round when he was going against a .8 m/s headwind. Not ideal jumping conditions. Pichardo final two attempts were a pair of anticlimactic fouls.
Like the high jump last year, it's hard to not get greedy and expect classic competitions each week. Unlike last year, there is a World Championship to cap the season. Whether the championship setting guarantees 18-meter jumps is unclear, but at the very least it means we get Taylor v. Pichardo one more time.
-Joe Kovacs
Monaco isn't just for the middle distance, apparently. On his second attempt, Kovacs threw a personal best and set the Diamond League record in the shot put. His 22.56m effort is the farthest in the world since 2003 and moves him up to eighth on the all-time list. Every week is basically a World Championships preview in the men's shot put. Considering that, Kovacs is in a great position for his first gold medal if he can hold onto his form for five more weeks.
–US relay teams
Both the men's and women's squads got the baton around. The men won easily in 37.87 with a team of Trayvon Bromell, Justin Gatlin, Tyson Gay and Mike Rodgers. That's pretty close to the same order they used at World Relays except they swapped Rodgers for Ryan Bailey and put Bromell on the first leg. After Bromell's false start, I wonder if they will think of putting Rodgers back in the leadoff slot. But if Bromell is clearly faster than Rodgers, which he was at USAs, then they might keep him first because he has a better chance at catching Gatlin.
In the women's 4 x 100m, the US entered two teams. The "A" team was English Gardner, Allyson Felix, Jenna Prandini and Kaylin Whitney. The "B" team featured Jasmine Todd, Candyce McGrone, Jeneba Tarmoh and Kyra Jefferson. This one is much harder to sort out than the men's.
Tori Bowie was hurt–she pulled out of the individual 200m, but she will definitely run in Beijing if healthy. I also think they would throw in Tianna Bartoletta for experience. She was fifth at USAs in the 100m and is only competing in the long jump at the World Championships. Felix is the unknown.
She runs a great second leg, but her coach has said that she can't run the 200m, 400m and both relays. Maybe this means she will drop the 4 x 400. She's helpful in the 4 x 100m, but not essential. A team of Gardner, Todd, Tarmoh and Bowie would be fine. Prandini is potent with a flying start and is also another option for the Americans.
Whatever they decide, based on individual marks, both teams should win. That hasn't been the case in the past with Jamaica trotting out four runners whose composite times are usually better than the Americans. Unless Bolt lays down a 9.7 or Veronica Campbell-Brown drops a 10.8, the Jamaicans will be running from behind. If the Americans get the baton around cleanly they should win. But how many times have we said that before?
-Outside lanes in the 200
First Wayde Van Niekerk in Luzern and now Candyce McGrone. Both runners won, and ran fast times, from the outside lane in a 200m. McGrone ran 22.08 in Monaco and beat Dafne Schippers by .01. McGrone won't get stuck in lane eight much longer.
Slowing….
-Blessing Okagbare/Shaunae Miller
Need to get closer to the opposition? Just switch lanes like Blessing Okagbare #DLMonaco pic.twitter.com/i1G44d036G

— Jumping-The-Gun.com (@Jumping_The_Gun) July 17, 2015
I know the two events aren't related, but it sure looks funny when Okagbare jumps into Miller's lane and then Miller starts jogging. If I'm so far behind that my lane looks empty, well I might as well just stop running.
Miller pulled up and ended up running 28 seconds. Okagbare was disqualified.
-Pierre Ambroise Bosse
He was 1:15.97 with 200 meters remaining in the men's 800m in Monaco. He finished in 1:45.30. Ouch
-Emma Coburn
She was sick in Monaco and finished 10th in the steeplechase, running 9:23.91. More concerning than the race was the reemergence of a woman who can pose a real threat to Coburn at the World Championships. Habiba Ghribi made her season debut and won in a world leading 9:11.28.
-The false start rule
The application of the false start rule is mimicking the pirate code in that it is "more what you call guidelines than actual rules…"
I've covered this ground before, but the Dawn Harper Nelson disqualification/reinstatement on Friday brought the murky policy to the forefront again. She clearly flinched in the blocks before the gun sounded in the 100M hurdles. Whether that was enough to warrant getting tossed from the race, I'm not sure. And neither did the officials.
She was disqualified initially, but Harper Nelson plead her case and was shown a green card. So that leaves us with two possible options. Either the official in charge didn't know the rule, or they did and they changed their mind when Harper Nelson took issue with it.
Like most observers, I'm lost when it comes to the rule. It seems like a fairly cut and dry decision and even if it comes down to a judgement call there has to be a quicker and more consistent way to define a false start.
Elsewhere in DQ World, Trayvon Bromell ran out of his blocks early in the men's 100m and was tossed with little commotion. Unfortunately they can't all be that simple.