2 Comments
The Monday Morning Run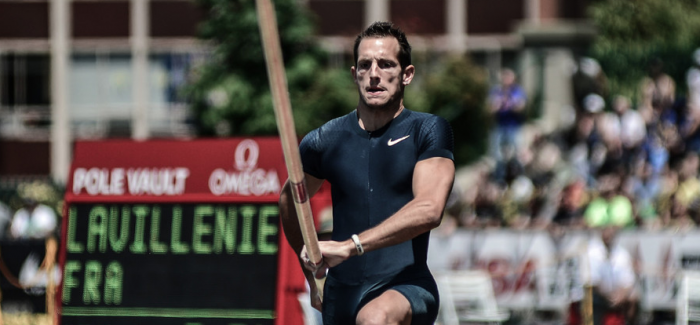 Photo via TrackTownPhoto
World records were the story of the weekend in track and field.  There were three in total, one on the roads, one in the field and one on the track.  Not to be outdone, the Millrose Games in New York City produced another entertaining and high-quality domestic indoor meet.  Off we go!
The Medalists
The top three performances of the week….
Gold: Renaud Lavillenie
Before this year, Lavillenie's personal best in the pole was 19-9 ¼. He began 2014 with two personal bests, a 19-9 ¾ in Rouen and a 19-11 ¼ two weeks ago in Bydgoszcz.  The latter performance made it clear that Lavillenie was ready to take a shot at Sergei Bubka's world record and become the second man in the 20-foot club.
On Saturday in Donetsk, Ukraine, in the same meet where Bubka vaulted 20-2 in 1993, Lavillenie cleared 20-2 ½ to set a world record.
Then, in the weekend's best argument against ambition (and for quitting while you are ahead) Lavillenie attempted 20-4 ½. That's where things got complicated.
On one hand, Lavillenie takes down one of the longest standing men's world records. On the other, he suffers an injury that jeopardizes his chance to win gold in the year's only global championship. Still, a weekend I'm sure he would be satisfied with.
Silver: Genzebe Dibaba
Dibaba ran 9:00.48 in the 2-mile to set the indoor world record at the Birmingham Indoor Grand Prix.
This is Dibaba's third world record in February, giving us plenty of chances to practice our form writing in hopes of capturing just how astonishing her running has been. Here is the Dibaba 2014 template:
How much did she beat the old indoor mark by?
She was almost six seconds faster from Meseret Defar's 9:06:26 in 2009.
Where does the time rank on the outdoor list?
Dibaba is only behind Defar's 8:58.58 in 2007–higher on the all-time list than she was on the 3,000 and 1,500, a fact not that surprising because of how infrequently the 2-mile is contested.
What were her splits?
4:31.7 and 4:28.8 according to Track and Field News.
How does this mark compare with the 1,500 and 3,000 records she set previously?
Not quite as impressive as the 3,000, but pretty much in line with her 3:55 according to one pace calculator.
Has anyone had a better February than Dibaba?
No, but here is a list of who is close:
-Renaud Lavillenie (before the 20-4 ½ vault)
-T.J. Oshie
-Russell Wilson
-Dutch speedskaters
Bronze: Florence Kiplagat
The weekend of records continued on Sunday morning. Florence Kiplagat took a huge chunk off the old world record in the women's half marathon lowering the mark to 1:05:12 in Barcelona. According to the IAAF, Kiplagat had male pacesetters for about eleven miles of the race.
The time is a personal best by 1:26 and 38 seconds faster than Mary Keitany's world record performance at the 2011 RAK half-marathon. Kiplagat has thrived in fast, time-trial settings with her two major marathons coming in the Berlin Marathon in 2011 and 2013. The rise of Kiplagat adds a new dimension to the London Marathon in April. Already among the favorites to challenge defending champion Priscah Jeptoo, Kiplagat now positions herself ahead of Edna Kiplagat, Tiki Gelana and Tirunesh Dibaba as the top contender.
Surging….
1) Mary Cain
Off a slow early pace, Cain won the mile in 4:27.75. She ran a 60.8 last 400 and had no trouble holding off Treniere Moser and Nicole Sifuentes. If there were any doubts about Cain being the favorite in next week's USA Indoor Championships, her last two wins in Boston and New York have made it clear that she is the one to beat.
The one time Cain showed her age last season, and you would be nitpicking, was in the World Championships. Her positioning was a bit erratic particularly in the preliminary heats where she spent lots of time in lanes two and three. Given the rough and tumble style of 1,500-meter running, and her lack of experience, it was an understandable response from a 17-year-old in their first major championship.
So far in 2014, she has been tactically sound. Of course, tactics always look better when you are faster than the field, but any indecision or jitters she may have had in 2013 are clearly not an issue this year.
Also in the mile, Alexa Efraimson placed sixth. The high school junior ran 4:32.15, (becoming the #2 high schooler of all-time) finished between two 2012 Olympians and yet was completely overshadowed by Cain. In any other year, a teenager finishing sixth in professional field would be among the headlines of the meet. Unfortunately for Efraimson (or fortunately if she wanted to stay out of the spotlight), she is living in a post-Cain world.
2) Bernard Lagat
On the topic of mistaking speed for tactics, Lagat controlled the 2,000 from the front and set the indoor American record of 4:54.74. Cam Levins was less than a second back in 4:55.35, but never gave Lagat a serious scare. David Torrence made a last push to take third and has now put together back-to-back solid performances.
Back to Lagat, he had a very modest start to 2014–a slow, tactical win and a convincing loss in his two races in Europe. He was in the background when Galen Rupp was on his Boston record tear. Now, after Rupp's DNF and Lagat's win, the plot at USA Indoor Championships has thickened. Though the lifetime series is lopsided in Lagat's favor, the magnetic force between these two is incredible. Just when it looks like one is poised to pull away, something invariably brings them back within fractions of a second of another.
3) Marvin Bracy
The story in the sprints this winter continues to be the 20-year-old from Florida. Bracy won his second indoor meet in a row, this time under challenging circumstances. After two callbacks, the second of which led to the disqualification of Keston Bledman and Ryan Bailey, Bracy blasted to a comfortable win in 6.50.
There hasn't been much noise in the 60 this year, more on that below, so Bracy finds himself in the unlikely position of being a medal favorite three weeks before the World Indoor Championships in Poland.
4) Will Leer
With an assist from Lawi Lalang, Leer sprinted by Nick Willis on the outside and won the Wannamaker Mile in 3:52.47. Lalang, whose position in the middle of lane one didn't allow Willis to pass on the inside, hung on for second in a collegiate record of 3:52.88 (Jesse Squire has the complete collegiate recap here).
Leer was red hot in the early part of 2013 as well. He won the 1,500 and 3,000 at USA Indoors, set a personal best in the 5,000 at Mt. SAC and took down a deep field in the 1,500 at the Oxy High Performance meet. However, his fast start was not rewarded with a national team appearance when he finished 5th at the USA Championships and missed the team to Moscow.
After Saturday, he looks to be peaking at the right time. Throw his name in the mix for one of those two spots to Poland in the crowded men's 1,500. His closing speed will be a big asset if the early pace is slow in Albuquerque.
In his last race as a professional, Alan Webb ran 4:06 to finish 11th. I wrote about Webb's retirement here. For a quicker analysis, here is co-host Jason's take:
Same time he ran as a Sophomore…in high school. Insane career RT @HouseofRun: 4:06 for Webb in his final race

— Jason Halpin (@jhalpin23) February 15, 2014
Slowing….
1) The 60
Missing many of the big players, the men's and women's 60 meters has been flat. The women took a step forward this weekend. Murielle Ahoure and Shelly-Ann Fraser-Pryce both ran 7.10 in Birmingham (Ahoure was named the winner). In New York, Michelle-Lee Ahye won a squeaker in 7.13.
For the men, a slim field at the beginning of the year has only become more barren. Yunior Perez of Cuba, whose time of 6.49 was the world leader until this weekend, is out for the season with an injury. James Dasaolu ran a world lead of 6.47 in the prelims in Birmingham, but may have hurt himself in the final.
Marvin Bracy looks to be the American favorite. Who the rest of the world contends with is anyone's guess.
2) Nick Symmonds
He came up short in his attempt to break the American 1,000 record indoors. Pierre Ambroise-Bosse of France and Erik Sowinski both finished in front of Symmonds who ran 2:18.87, just over a second off the record. The awkward distance seemed to affect both American's as they gave away too much ground in the early part of the race.
At the beginning of the year, Symmonds outlined six records he wanted to break. Two of them, the 1,000 and 800, were American indoor marks. Barring a last minute record chase, he will enter the outdoor season 0-2 in his record quest.Those numbers don't actually mean anything. At this point Symmonds is surely more focused on trying to make the world indoor team in the 800. The record chase is fun to following along, which is why Symmonds's decision, regardless of the outcome, is so fan friendly.
3) Rabbits in women's mid-distance races
How savvy is Mary Cain? She put herself right behind the rabbit and then set the rabbit free. Sure, Cain could have won in a fast race, but it appeared she wanted something more tactical and that is what she orchestrated. According to the NBC broadcast, the pacesetter Heather Kampf was scheduled to pass the first 400 meters in 64 seconds. She seemed to do just that, but nobody went with her. The pack, led by Cain, went through in around 70 seconds. A visual demonstration of the issue is below: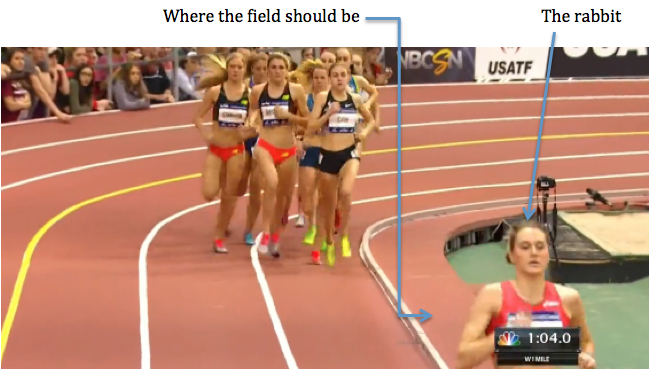 There were more misadventures in rabbiting in the women's 800. Diana Cruz was listed as the rabbit, but didn't lead the race at any point. Seems contradictory.  Here is some more visual evidence, this time just past the 300-meter mark.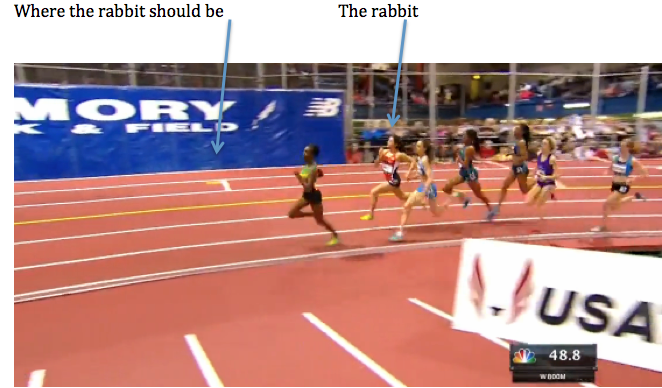 Under the radar
-Friends and relatives of Kim Conley haven't had much luck seeing her run on television the last two weekends. In Boston, her win in the 2,000 wasn't aired on the live broadcast. On Saturday, she had some screen time in the 3,000, but NBC went to commercial in the middle of her race. They got back in time to see her win the race in 8:48.35, good for 11th on the world list this year.
–Chris Derrick defended his USA Cross Country Championship title on Saturday. Derrick cruised to 25-second victory on the 12-k course in Boulder, Colorado. Anyone who could have contend with Derrick is either running indoors, or is the middle of their preparation for a spring marathon. Luke Puskedra was second and Bobby Mack placed third.
In the women's race, Amy Van Alstine covered the 8-k course in 27:35 to score a decisive victory over Jenny Simpson. Win or lose, this was to be Simpson's last race until the outdoor season.
–Mohammed Aman became the third fastest 800-meter man indoors after he ran 1:44.52 in Birmingham. Only Wilson Kipketer and Yuriy Borzakkovskiy are in front of him. Aman looks like the clear favorite for the world title indoors, unless someone finds Rudisha and tells him to count to four instead of two.
–Bernard Lagat thriving at the age of 39 has unfairly skewed everyone's perception of what is capable from an aging track star. As impressive as Lagat has been, it has to be harder to stay relevant in an event as grueling as the high hurdles. 35-year-old Terrence Trammell came way off the grid to win the Millrose Games hurdles in 7.57. It has almost been 14 years since his silver medal run in Sydney.
In the women's hurdles, long jumper Janay DeLoach Soukup tied the world lead of 7.91.
–Lelisa Desisa won the lightning fast RAK Half Marathon in 59:34 on Saturday.
The winning time wasn't nearly as impressive as the depth. A record eight men broke the one hour mark. Little known Nguse Amlosom of Eritria ran 59:38 for second. Ibrahim Jeilan, who is making his marathon debut in London, finished 10th in 1:01:46.
Priscah Jeptoo won the women's race in 1:07:00.
-Turns out the IAAF wasn't too fond of Turkey's decision to lift the suspension of gold medalist Asli Cakir Alptekin. Last week, the IAAF reinstated the ban while their appeal is heard before the Court of Arbitration in Sport. In the interim, Alptekin will be ineligible to run in any competitions.
The Week Ahead
The United States Indoor Championships in Albuquerque is the final stop on the American indoor "tour." Entry lists aren't finalized, but here are ten events I will have my eyes on this weekend:
Men's 1,500: Will Leer, Leo Manzano, Lopez Lomong, Ryan Hill, Galen Rupp, Garrett Heath
Rupp is only racing if he doesn't make the team in the 3,000–this exact situation played out in 2012. Leer is the hottest, Manzano is the most clutch and Heath has been consistent this year.
Men's 3,000: Bernard Lagat, Galen Rupp, Ryan Hill
Can Hill disrupt the expected dual between Rupp and Lagat? Does Lagat have the finishing speed to stick with Rupp over the last two laps? I don't have an answer to either of these questions and I can't wait until Saturday night to find out.
Women's 1,500: Mary Cain, Treniere Moser, Morgan Uceny
As Doug Binder said on the podcast last week, the most remarkable part of Mary Cain's rise is that she has yet to have a bad race. She is expected to win here. Will her training partner Moser grab the other spot?
Men's 800: Nick Symmonds, Erik Sowinski, Mike Rutt, Cas Loxsom, Tyler Mulder
Based on the last two weeks, you would have to make Sowinski the slight favorite. A case could be made for at least 10 different men filling in the two spots.
Women's 400: Natasha Hastings, Francena McCorory, DeeDee Trotter
The fast starting Hastings vs. the fast starting McCorory. Could be contact when they break for the pole.
Men's 60: Marvin Bracy, Mike Rodgers, Trell Kimmons, Joseph Morris, D'Angelo Cherry, Ryan Bailey
Who is going to stop Bracy from running his win streak to three? Also, the thin air of Albuquerque could provide the right environment for a world lead.
Men's 60 hurdles: Aries Merritt, David Oliver, Jeff Porter, Terrence Trammell
Four big names including the reigning world champion and the Olympic gold medalist. It is the hurdles, and the 60 hurdles at that, so there is pretty good chance that none of the above four will win the race.
Women's pole vault: Jenn Suhr
Last year in Albuquerque she set the world indoor record of 16-5 ½ and took a few attempts at Yelena Isinbayeva's world outdoor record.
Men's shot put: Ryan Whiting
Of the big American names, only Whiting is entered thus far.
Women's 60 hurdles: Kellie Wells, Kristi Castlin, Janay DeLoach Soukup
Not the depth we are accustomed to seeing in this event. Soukup will be attempting to double back from the long jump.
Tokyo Marathon
On Sunday morning, or late Saturday evening in the United States, the first major marathon of the year takes place in Tokyo. Tadese Tola, Geoffrey Kipsang, Sammy Kitwara and Abel Kirui are all expected to vie for the win. This field isn't as strong as the original majors (Tokyo was added last season), but it is a good way to predict future greats. Dennis Kimetto launched his marathon career in this race last year.
Reading List
–David Epstein fills in some of the details of Tyson Gay's positive drug test last summer. Gay reportedly was working with a well known anti-aging "specialist" and used a cream that had DHEA and testosterone listed on the label. With that level of negligence it's hard to knock Asafa Powell for using Google to try to learn if there were banned substances in his supplements.
–Doug Binder has the inspiring story of high school runner Mike Brannigan.
-In the Oregonian, Ken Goe lays out a few reasons why track and field struggles to capture casual fans.