No Comments
Daily News Roundup: Celebrity Pacemakers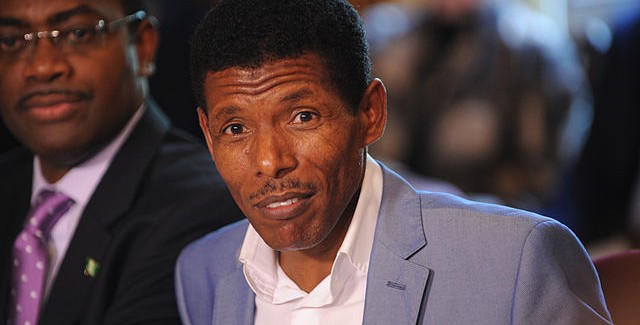 Few runners ever become so popular that they are professional celebrities. This guy might be one of them.
The pacemaker as a feature of distance running has been part of the landscape since before Roger Bannister first broke 4:00 for the mile. Is the celebrity pacemaker the new thing?
Last April, British superstar Mo Farah ran the first half of the London Marathon. He was not specifically acting as a pacemaker but was right up front with the leaders. Brianne Theisen-Eaton, the Worlds heptathlon silver medalist, was the pacemaker for the women's 1000 meters at last week's New Balance Indoor Grand Prix.
This morning it was announced that Haile Gebreselassie, possibly the greatest and most loved runner of all time, will act as the pacemaker for this spring's London Marathon. He will take the leaders at world record pace for 30k.
Geb is no longer competitive with the rest of the world's best distance runners, but his legend keeps him in demand. This could be how road running creates its "Champions League".
Links
Kevin Sully takes an excellent look at the week's action and three world records in the Monday Morning Run.
News
Runner's World's Morning Report recaps all the weekend's action.
In Ken Goe's latest Oregon track and field rundown, posted yesterday, he says the Millrose Games now look like they belong in The Armory.
As noted above: Geb will pace April's London Marathon. And he advises Mo Farah to stay on the track and off the roads.
Brand-new pole vault world record holder Renaud Lavillenie is out of the World Indoor Championships with twelve stitches in his ankle.
The IAAF's weekend cross country roundup.
Track and Field News has updated their US Rankings history through 2013.
Also from TFN: editor Garry Hill sings the praises of Mark James, who is doing his part to help US throwers.
More from Track and Field News
What will Lolo Jones do when her athletic career is over? Anything she wants.
More from the Des Moines Register
An infographic detailing all the Olympic athletes who lost medals for doping (since 1968) and what they took.
More from the Huffington Post
Video of the day
The trailer for Unbroken, the Louis Zamperini film due out on Christmas.

Stat corner
All-time US youth (U18) list for the women's 1500 meters. Note that "youth" designation means being under 18 for the entire calendar year. I'm probably missing a few here.
| | | | | |
| --- | --- | --- | --- | --- |
| 4:04.62 | | Mary Cain | Los Angeles, CA | 17-May-13 |
| 4:14.50 | | Jordan Hasay | Eugene, OR | 4-Jul-08 |
| 4:15.07 | | Elise Cranny | Palo Alto, CA | 28-Apr-13 |
| 4:15.65 | i | Alexa Efraimson | New York City, NY | 16-Feb-14 |
| 4:16.8 | | Francie Larrieu | | 1969 |
| 4:17.12 | | Cami Chapus | Lille, FRA | 9-Jul-11 |
| 4:18.13 | | Chelsey Sveinsson | New York City, NY | 30-May-09 |