2 Comments
The Monday Morning Run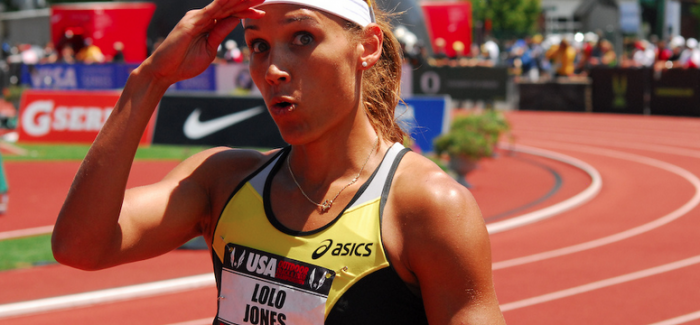 Photo via TrackTownPhoto
Greetings Indoors. Just when we started to mock you for your odd features and strange distances you start the season off with an American record. And not just any record, but a record in an event that is actually contested more than once every three years. Galen Rupp's 13:01 at Boston University to kick off the season not only obliterated the old mark (Lopez Lomong's 13:07), but it also provoked two other questions.
1) Can somebody run that fast in January?
Not before Thursday they couldn't. Rupp's mark is the fastest time ever in January.
2) Isn't indoors supposed to be slower?
In perfect conditions, yes. The 13:01 is Rupp's second best time ever, indoors or out. Only six men have run faster, including Kenenisa Bekele, Haile Gebrselassie and Daniel Komen.
Certainly the American record was realistic, but to break it by that much in Rupp's first race of the year is incredible, even for someone coming into his peak years. It also is partly a reflection of how the Oregon Project group is approaching the season. Alberto Salazar said after the race that they are targeting the World Indoors Championships as one of their main goals for this year and so it is a fair bet that they are much farther along in their training than they would be in a regular championship year. There are less than two months until World Indoors, so we can assume Rupp's form is roughly equivalent to where he would be in early June when he is peaking for a World Outdoor Championships or Olympics in August. This doesn't make the mark any less impressive, but it does make the 13:01 a bit easier to comprehend.
Behind Rupp, Sam Chelanga ran what will prove to be the most overlooked 13:04 in track and field this year. The former Oregon Track Club runner, who is now training on the east coast, provided some competition for Rupp and became the tenth fastest man of all-time indoors. Cam Levins set the Canadian record in third with a time of 13:19.16.
The other record attempt from the Oregon Project was in the women's 1,000. Mary Cain won the race in 2:39.25 ahead of her teammate Treniere Moser. Cain's time was short of the American record of 2:34, but was enough for the world indoor junior record. I'll try to have fewer modifiers in the rest of recap.
The Medalists
The top three performances of the week (other than Rupp, Chelanga and Cain)…..
Gold: Meb Keflezighi
In a rush to continue to heap praise upon Keflezghi, call him an ageless wonder and marvel at how he is still beating the best Americas, we could be missing an even bigger story. What does it say about the rest of American distance running that a 38-year-old coming off an injury-plagued season can still win the US Half Marathon Championships? The cynic in me asks, how much of this is Meb and how much is it a reflection of depleted pool of American marathoner and half-marathoners?
However, as much as we want to be skeptical, the results from Houston say otherwise. Meb won the race in 1:01:23, only 23 seconds off his personal best from 2009. The runners behind him ran well also, eight others ran 1:02:00 or faster and pushed him until the 10 mile mark when Meb broke from the group. He may not be getting faster, but the runners around him sure aren't slowing down either.
In the women's race, Serena Burla had a dominant win in 1:10:48 and Lauren Kleppin placed second in 1:12:12.
Two Ethiopians, Bazu Worku and Abebech Bekele, won the marathon in 2:07:32 and 2:25:52 respectively.
Silver: Murielle Ahoure
You can probably call her 7.05-second 60-meter on Friday the first big sprint performance of the season, unless you want to count Mary Cain's 500. Once the collegians enter the heart of their schedule and the European season gets farther along there will be more to report.
Also under the radar was Anita Hinriksdottir's 2:01:81 800 that set the European indoor junior record. Don't worry, they are too young to start ducking each other so Hinriksdottir and Cain will face each other this year.
I'm beginning to think the best race of the indoor season could be the Cain-Hinriksdottir 800m matchup at the @MillroseGames

— Jesse Squire (@tracksuperfan) January 19, 2014
Full indoor report from the IAAF is here.
Bronze: Hiwot Ayalew
The Ethiopian won her fifth cross country race in a row outdistancing Alemitu Heroye over the 8k course at the Cross Internacional de Italica. In the men's race, Paul Tanui, best known for his role as the sacrificial lamb turned bronze medalist at last year's World Championships 10,000, took the title over Timothy Toroitich and Emmanuel Bett.
The IAAF's full recap of the weekend in cross county can be found here, including results of a mysterious meet in Algeria where no times were recorded. International cross country was much more exciting when Kenenisa Bekele and Asbel Kiprop were racing.
Surging
Track athletes in the Winter Olympics
Lauryn Williams and Lolo Jones were named to the United States bobsled team on Sunday. Joining Williams and Jones as pushers is Aja Evans, herself a collegiate shot putter and sprinter. In the men's competition, Jamaica is poised to send a team for the first time since 2002.
Clearly, sprint fans have found their event for the Winter Olympics. But what about the other events? Let's try to match-up some track disciplines with sports we will see in Sochi.
Short track speed skating-> 1500
Both brutally tactical, with their fair share of quick bursts, jostling and team tactics. When it comes to championships, time is not a factor in either event. With all the bumping and pushing the end result is often this….
Wow. MT @shorttrackHD: Ok so I just woke up to this. Am I seeing what I think I'm seeing? From Euro Champs. pic.twitter.com/AzNKNz7Aec

— Nick Zaccardi (@nzaccardi) January 19, 2014
Which is roughly equivalent to this….
Cross country skiing-> Marathon
One is takes a couple hours and is dominated by East Africans. The other takes anywhere from three minutes to two hours and is dominated by Scandinavians.
Long-track speed skating-> Field events, 400-10,000
Mo Tae-Bum won the 500 meters in the Vancouver in 1:09.82. Lee Seung-Hoon took the gold in the 10,000 in 12:58.55. Those times compare pretty well with the 400 and the 5,000 on the track, but there are other factors to consider. If you prefer taking turns to direct competition, like in field events, this could be your sweet spot. Then again, the presence of lanes could be appealing to someone who enjoys the 400.
Slalom Skiing-> Hurdles
Speed and precision combined. Over one and around the other. Don't think the Americans are a threat to sweep the slalom though.
Luge/Skeleton-> Pole Vault
Lunatics….all of them.
Pat Casey
The rookie miler for the Oregon Track Club won the mile in 3:58 at Saturday's UW Indoor Preview in Seattle. Tyler Mulder, also of OTC, placed first in the men's 1,000 in a time of 2:21.77. There have been some shake-ups in the Oregon Track Club recently since Nick Symmonds departed to train with the Brooks Beasts. The largest is the creation of a new group of sub-elite athletes that will compete under the OTC name and be coached by Ian Dobson.
Slowing
USATF
In this case, "slowing" is meant literally. Our own Jesse Squire wrote last week about the USATF's inability to choose between Houston and Los Angeles as the site for the 2016 Olympic Marathon Trials.
In a nutshell: the evaluation committee voted 5-0 in favor of Houston, but that doesn't mean the site selection is a done deal. It appears that USATF CEO Max Siegel wants the Trials race to be held in Los Angeles, and bylaws gave him the authority to make that decision himself until a rules change voted in by the membership just days earlier.
While the Trials serves as a proxy war between the CEO and the board, there are some real implications for athletes. Both sites would host the Trials the same weekend as their regular marathon, which means Houston would be in January and Los Angeles in March–a much quicker turnaround time for the Olympics or for athletes who also want to compete in the Trials on the track.
Asafa Powell
Somehow professional athletes continue to invent new idiotic things to say when they fail drug tests.
#AsafaPowell said of the prohibited WADA list "I don't know the list, but I know of the list" #AsafaPowellHearing

— TrackAlerts.Com (@trackalerts) January 14, 2014
Powell's trial resumes on February 12th where he is expected to hear his punishment. Like Sherone Simpson, Powell tested positive for oxilofrine which tests show is present in the Epiphany D1 supplement.
London Field
The London Marathon trotted out there men's field last Tuesday. The list includes Geoffrey Mutai, Emmanuel Mutai, Tsegaye Kebede, Wilson Kipsang, Stanley Biwott, Ayele Abshero and Ibrahim Jeilan. There are enough names here to make you forget all about Kenenisa Bekele's absence. Even with the deep field though, Mo Farah's debut will still be the top story. His shoes, stride, appearance fee will be analyzed and scrutinized ad naseum in the months leading up to the race.
The deep field provides many of other story lines though. Assuming past is prologue (which is huge assumption in the marathon) here is what we might be able to expect from the others in the race:
Wilson Kipsang: Does well on fast courses, but has a tendency to overcook the pace in the early miles. This was the case last year in London, where he was part of the mass collapse that paved the way for Tsegaye Kebede's win.
Geoffrey Mutai: If he finishes, he will do well. Mutai has won the last four marathons where he has crossed the finish line. This fact downplays that he has dropped out of two big races in the last two years, Boston in 2012 and last year's London Marathon.
Stanley Biwott: You can count on him to be great through 20 miles. Last year in both London and New York City, he looked poised to contend for a win before crumbling over the final miles. In London, he went from first at 35-k to eighth at the finish and covered the last two kilometers in a quad-shaking and soul-crushing 8:36. Seven months later he went from Geoffrey Mutai's shoulder before Central Park, to over two minutes behind once he reached the finish line.
Emmanuel Mutai/Tsegaye Kebede: Both are uber-consistent. Kebede has 10 top-three finishes since 2007. In that same time period, Mutai has appeared on the podium seven times including a course record-setting win in the 2011 London Marathon.
Ibrahim Jeilan: A distance running gadfly, he appears out of nowhere in odd year championships to harass Mo Farah. Seems like destiny that both will be making their marathon debut in the same race.
Nike Commercial
On Sunday, Nike rolled out a new commercial featuring Kobe Bryant, Richard Sherman and several track and field stars. Ashton Eaton, Allyson Felix, Mo Farah, Evan Jager, Jordan Hasay, Lea Wallace and Brandon Johnson all make appearances though only Eaton and Felix made the shorter cut that rans during the NFL games.
Some revelations:
-Allyson Felix wears a watch over her shirt. Is this a common practice?
-Ashton Eaton leans down awfully far before beginning to sprint.
-Are we to assume that the group of Farah, Hasay, Johnson, Jager and Wallace are running away from a crazed Richard Sherman? After last night that seems probable.
The Week Ahead
Another Boston record party for the Oregon Project. This time Mary Cain will run the mile, Matt Centrowitz the 1,000 and Galen Rupp will take shot at the American record in the two-mile.
Reading List
The New York Times' fabulous obituary of Chris Chataway, the British distance runner who died on Sunday. Chataway was the world record holder in the 5,000 and was one of Roger Bannister's two pacers when Bannister broke four minutes in the mile. Among the anecdotes from the obituary, is that he ran a 5:48 mile at the age of 64.
Buzz Bissinger's tragic story about Chris Lane who was shot and killed while he was running last summer.