No Comments
The Weekend's Best Matchups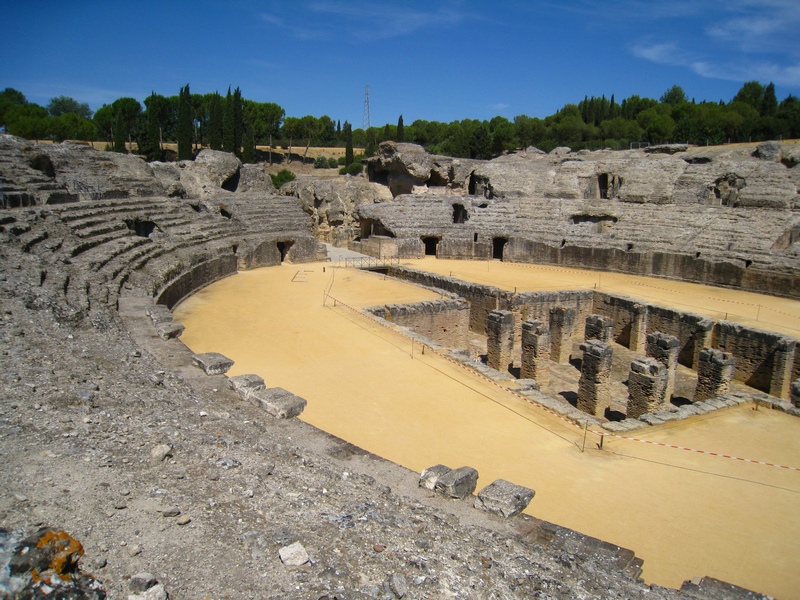 Sunday's Cross Internacional de Itálica runs through ancient Roman ruins near Seville.
The track and road racing seasons are both beginning to gear up. Here are my top ten matchups to watch over the next three days.
1. Texas vs Arkansas
Randal Tyson Track Center, Fayetteville, Arkansas
Friday, 6:00pm local time (7:00pm ET)
Live webcast from 7:00pm ET
Host website | Live results
The first dual meet team rankings from Track and Field News have Arkansas atop the men's rankings and Texas right behind at #2. The women's rankings have Texas at #2 and Arkansas at #4. Whoever wins has the inside track on the national indoor dual meet title, and maybe even the season-long indoor/outdoor title.
Even without any championship on the line, Arkansas versus Texas is an intense rivalry across all sports. It's been one-sided here, with the Hogs winning four straight men's duals. This is the first time the women have squared off.
2. Aaron Braun vs Meb Keflezighi
Men's race, USA Half Marathon Championships
Aramco Houston Half Marathon, Houston, Texas
Sunday, 7:00am local time (8:00am ET)
Race website
The first race in the 2014 USA Running Circuit has a pair of top runners entered. Braun finished off his 2013 season with a bang, winning the inaugural dotUS 12 km Road Running Championships with the fastest US time at the distance in over 20 years. Meb is Meb, the ageless legend who had a tough day at the New York City Marathon in November but was still the third-fastest American half marathoner in 2013.
A couple of dark horses to watch are Shadrack Biwott and Elliot Krause. Biwott beat Braun at the Houston half marathon last year before Braun turned the tables at the dotUS 12k. Krause is a young gun, a former Wisconsin star in his first full year as a pro and making his half-marathon debut.
3. Akron vs Kent State
Kent State Field House, Kent, Ohio
Friday, 6:00pm
Host website
MAC schools? MAC schools. Both teams are in the top ten of both the men's and women's Track and Field News dual meet team rankings. Staying in the top ten is going to require winning this meet. Just like Arkansas and Texas, this is an intense rivalry regardless of ranking. The meet has individual stars too: Akron's Shawn Barber (pole vault) and Kent State's Dior Delophont (high jump) scored at last year's NCAA indoor championships, and Kent State's Matthias Tayala (weight) is #2 on the yearly collegiate list.
4. Sara Hall vs Adriana Nelson
Women's race, USA Half Marathon Championships
Aramco Houston Half Marathon, Houston, Texas
Sunday, 7:00am local time (8:00am ET)
This is a matchup of opposites. Hall's biggest achievements have been at the 1500, mile and 3000 meter distances, so this is something new. It's not her first half-marathon; she's run one before, a tiny race last October that she won by over five minutes. But this is her first big race at the distance. Nelson is on the other end of the spectrum, a road warrior with lots of experience and success at the marathon and half marathon distances.
5. Timothy Toroitich vs Emmanuel Bett
Men's race, 32nd Cross Internacional de Itálica
Itálica, Santiponce, Spain
Sunday
IAAF preview
This is one of the more interesting courses on the international cross country circuit. The "Itálica" name comes not from the race being in Italy (it's actually in Spain near Seville) but from it running through the ruins of an ancient Roman city. Youngster Toroitich has been on an upward swing through the cross country season, finishing fourth, third and second before winning last Sunday's big race in Elgoibar. Bett was runner-up at that race after finishing third in Antrim's International Cross Country race the week before.
6. Renaud Lavillenie vs Brad Walker
Men's elite competition, Pole Vault Summit
Reno Livestock Events Center, Reno, Nevada
Friday, 6:45pm local time (9:45pm ET)
Meet website with live webcast
Lavillenie has been the world's dominant pole vaulter for several years now, but somehow has only one a single championship gold medal, the 'Olympics in 2012. He is the defending champion at this massive pole vault convention, one with dozens of competitions and clinics. Walker is aging and about five years past his peak but still the best vaulter in the USA and one of the best in the world–he missed a medal at the Worlds by just one place.
7. Purdue vs Indiana
Lambert Fieldhouse, West Lafayette, Indiana
Saturday, 2:00pm
Host website
Purdue's men and women are both in the top ten of the Track and Field News dual meet team rankings, and Indiana's are not. Does this mean that Purdue will win? Maybe not. The Hoosiers have swept this rivalry four straight times, ever since it was renewed in 2010. But this is a much different Purdue program than for most of those previous four years, when the Boilermakers were perennial Big Ten basement dwellers; new head coach Lonnie Greene has brought a new attitude, and two school records have already fallen this season.
8. Alyssa Hasslen vs Anna Jelmini
Women's Shot Put, Lumberjack Team Challenge
Walkup Skydome, Flagstaff, Arizona
Friday, 4:00pm local time (6:00pm ET)
Host website
These two in-state rivals (from Arizona and Arizona State, respectively) finished fourth and fifth in the shot put at last year's NCAA Indoor Championships, and are the #2 and #3 returning women's shot putters in the NCAA. Hasslen has won 16 of their 23 meetings, but Jelmini came out on top the last time they met, at the NCAA outdoor championships.
9. Erik Kynard vs Zhang Guowei
Men's high jump, Wildcat Invitational
Ahearn Field House, Manhattan, Kansas
Saturday, around 2:00pm local time (3:00pm ET)
Host website
Kynard, the Olympic silver medalist and first-year pro, starts his season here before going over to Europe to compete in the Czech Republic's Moravian High Jump Tour. Zhang is one of a trio of Chinese athletes mentored by Kansas State head coach Cliff Rovelto (also Kynard's coach) who are visiting the K-State campus, and Zhang holds the Chinese indoor record at 2.32 meters (7′ 7¼"). Kynard won't get a freebie win here, he's going to have to earn it.
10. Alan Webb vs relevance
800 meters and mile, UW Preview
Dempsey Indoor, Seattle, Washington
Saturday, 12:25pm and 2:55pm local time (3:25pm and 5:55pm ET)
Meet home page | Flotrack coverage and live webcast
This meet is mostly an early-season shakeout for college teams and pros on the west coast, but for Webb it may mean a whole lot more. You could argue that it's been a long time since Webb has been relevant, but right now he's on the cusp of complete irrelevance. He is without a sponsor and hasn't run faster than 3:58 in four years. If he can't get it together this year, he needs to find another line of work.