3 Comments
College Weekend Recap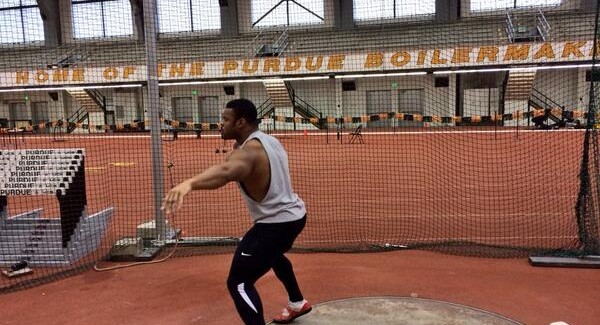 Purdue's Chuk Enekwechi is suddenly a national star. (Photo by PurdueTrack&Field twitter)
This was the first full weekend of college track, one where basically every team was in action. There were big meets across the country, in Washington and Texas and Alabama and Kentucky and Nebraska. But we start at a small meet in West Lafayette, Indiana.
Purdue Beginning a Turnaround?
On Saturday, Purdue hosted Indiana in a dual. This rivalry became an annual affair in 2010–that is if you can call a completely one-sided contest a "rivalry". The Hoosiers swept the men's and women's meets from 2010 through 2013 and did it by an average of 37 points. Almost all of them were thrashings.
And they should have been, because the Purdue Boilermakers were not very good. They were perennial Big Ten basement-dwellers, finishing in the bottom three of the conference 80% of the time from 2009 through 2013–indoors and out, men and women. In four of those twenty conference championship meets, Purdue was dead last.
So in the summer of 2012, Purdue hired Lonnie Greene as the new head track coach. Greene came from Arkansas, where he had been an assistant in the women's program for 16 years and twice been named regional assistant of the year. He brought in a new staff and new attitude, but the 2013 results were still lackluster. There were a few bright points, such as the Purdue women pushing Indiana all the way to the final event before losing by a narrow score of 69-67.
This season has been totally different from the get-go. Throwers Chukwuebuka Enekwechi and Dani Bunch both broke school records in each of their first two meets, and Enekwechi was named national athlete of the week by the USTFCCCA. While they beat Louisville and IUPUI in a triangular last week, this dual against Indiana was their first real test. Had things really changed?
After a close and tight battle, it came down to the relays. Purdue clinched the men's meet in the penultimate 4×400 relay, and the women's meet came down to the very final event, the 4×800. Kari Shoolbraid led off for the Boilermakers, her second event of the day, and handed off with a huge lead that Indiana could not overcome. Purdue got their sweep over their rivals.
"Anytime you win and it's against an instate rival and a great program like IU, a program that we haven't beaten in a long time, it's a good thing," said coach Greene. "I challenged our team to defend our house. We didn't want anyone, regardless of who it is, to come in and push us around. This was our first test to stand up and see how we compete in the Big Ten."
There were big performances by the Boilermakers, too. The throwers broke more school records, Enekwechi in the weight and Bunch in the shot and weight. Both are #1 in the NCAA in the weight and Bunch is #2 in the shot as well. Enekwechi's big mark in the weight, 23.31 meters (76′ 5¾"), puts him #9 in collegiate history.
This is hardly the first time that a dual meet rivalry fueled a program's turnaround. Back in 1997, Stanford's men carried a 25-year losing streak into their annual "Big Meet" against Cal, and had finished in the top half of the conference just once since 1966. But Stanford's new hotshot coach, a fellow named Vin Lananna, promised to shave his trademark beard if the Cardinal swept the Golden Bears. The athletes pushed themselves like never before, won the meet, and off came the beard right there on the tracck. Three years later, Stanford did what no other men's team had done for eight years: beat Arkansas and win the NCAA outdoor championships. That dual meet against Cal was the turning point from perennial losers to national champions.
Other Duals
Duals and triangulars and other small scored meets were the most common type of meet over the weekend. Texas at Arkansas matched up two highly-rated teams, with Arkansas' men and Texas' women ranked #1 in the USTFCCCA's computer ratings. I called it the top matchup of the weekend, as did the coaches' association.
It turned out to not be close at all. The Hogs swept the Longhorns, winning 104-68 on the men's side and 91-63 on the women's side. Collegiate leaders were recorded by three Arkansas athletes: Neil Braddy in the men's 400 (46.36), Jarrion Lawson in the men's long jump (7.79m/25′ 6¾"), and Dominique Scott in the women's mile (4:38.39).
Video highlights:

Big 4
Up in Iowa, a new meet called the Big 4 Duals has been created. The Big 4 are the Division I programs in the state: Iowa, Iowa State, Northern Iowa and Drake. It's supposed to be an annual event, rotating between the four schools. Iowa's Hawk Talk Daily plugged it with the line "throw the trophies away and leave the series points at home; this one is simply about state pride."
Mark Wieczorek, Iowa's director of operations, gave credit to other coaches in negotiating the meet, especially Iowa State's Martin Smith (who gave up a home date to participate). "The coaches are excited about what it does for their team, but they also know what it does for the sport within the state of Iowa. It enhances the visibility of the sport." The host Hawkeyes worked at promoting the meet, giving out meet t-shirts to the first 200 fans, putting on a kid's race and making athletes available for autographs.
The Iowa Hawkeyes swept the meet, beating all their rivals on both the men's and women's side. No big marks were recorded (Iowa State split their squad and got a national leader out of half-miler Edward Kemboi, but in a meet more than 700 miles away) but the meet was hailed as a success. "There was a lot of energy in the building," said Wieczorek, adding that "it was a packed house, everybody enjoyed it, and there was great competition in almost every event on the track." UNI head coach Dan Steele called it "a great way to kick off the indoor season". "I liked how our team rallied together," said Drake head coach Natasha Kaiser-Brown.
Other Duals
The Wisconsin Badgers competed in their first true duals in more than a quarter-century as they took on and defeated the Missouri Tigers by scores of 86-61 (men) and 80-72 (women). In the bigger picture, the return of Jay Cato to the Badger lineup was the story of the meet. The 2013 NCAA indoor heptathlon runner-up was also a big part of last year's improbable Badger victory at the Big Ten Championships, but he lost his outdoor season when he ruptured an achilles tendon during a routine warm-up. Here he hit a near-PR in the high jump and vaulted well too, things that bode well for Wisconsin.

In Kent, Ohio, Mid-American Conference rivals Akron and Kent State renewed their rivalry in one of the most competitive meets in recent MAC history. Winners were Akron's men (77½-73½) and Kent State's women (83-68). Akron's Brittany Funk nearly broke the conference weight throw record and sits at #2 on the national list, and Kent's Joh'Vonnie Mosley (shot put) and Dior Delophont (high jump) and Akron's Shawn Barber (pole vault) all recorded NCAA top-five marks.
Wyoming hosted a dual against Colorado State dubbed the "Border War", but not on campus. The meet was held more than 250 miles away in the sparsely populated northeastern part of the state, in Gillette's Campbell County Recreation Center Field House. It was the first-ever NCAA Division I event held in the facility, and it got outsized pre-meet media attention. Despite sending a small squad, Colorado State was able to win the men's competition (66-55) while the hosts won the women's meet (76-33). Wyoming will return to Gillette to host Montana State in two weeks.
Invitationals
The usual wide array of all-day multi-team invitationals took place over the weekend.
Texas A&M tried something unusual: hosting two meets, one on Friday and one on Saturday, but only competing in one of them. The Aggies won the team titles on Saturday, and sprinter Prezel Hardy, Jr, had a breakout day. He put up national leaders in both the 60 meters (6.56) and 200 meters (20.70), both indoor PRs. The Aggies also got national leaders out of sprinter Kamaria Brown (200m, 22.96), triple jumper LaQue Moen-Davis (13.49m/44′ 3¼") and their 4×400 relays (3:05.68 and 3:37.16)
The Kentucky Track & Field Invitational saw two school records and a national leader for the host Wildcats from Dezerea Bryant. The transfer from Clemson ran 7.19 in the 60 meters and 23.04 in the 200. Teammate and fellow transfer Kendra Harrison also scored a national leader in the 60 hurdles (8.09).

Seattle's massive UW Indoor Preview could fill a story all on its own, and Paul Merca does his usual bang-up job of doing just that. While the oversized track is thought of as a distance mecca, the two most important stories to come out of it in terms of college track were in the sprints.
A pair of Oregon freshmen served notice that they will be NCAA contenders. Sasha Wallace got the headlines in Eugene for breaking the school record in the 60 hurdles (8.21) in her very first college meet, but fellow freshman Jasmine Todd may have been more impressive with her 7.20 win in the 60 meters. It puts Todd #2 on the yearly list, and also in her very first collegiate meet. Sophomore Jenna Prandini, an NCAA scorer a year ago, broke her PR in second (7.24) and sits third on the collegiate list. That, plus a mile PR out of senior half-miler Laura Roesler, indicates that the Ducks will likely yet again be factors in the national championship chase.
Another storyline, albeit a much smaller one, is a change of focus by USC. The Trojans have rarely done much during the indoor season and never run indoors in January, but new head coach Caryl Smith Gilbert says that indoor track will now matter. "We are going to try to place as high as possible at the Indoor NCAA Championships with both our men's and women's teams," she said. "That is the goal." Twenty athletes made the trip to Seattle and the 60 was won by Aaron Brown, USC's Canadian Olympian.
The Nittany Lion Challenge at Penn State saw national leaders from Pittsburgh quarter-miler Carvin Nkanata (46.36) and Iowa State half-miler Edward Kemboi (1:48.14).
Yours truly was in attendance in Ann Arbor for Simmons-Harvey Invitational, a meet that is usually fairly low-key but this year it supplied two national leaders (once flat-track conversions are factored in). Michigan's Brook Handler followed former Wolverines Nicole (Edwards) Sifuentes, Rebecca Tracy and Amanda Eccleston to run 2:08.55 in the 800 (converted to 2:07.09). Michigan freshman Erin Finn, the Big Ten cross country champion, won the 3000 in 9:15.82 (converted to 9:11.10).
Other new national leaders came from the Auburn Invitational at Birmingham's Crossplex, where Alabama freshman Jeremiah Green triple-jumped 16.01 meters (52′ 6½"), and the Virginia Tech Invitational, where South Carolina's Jeannelle Scheper high jumped 1.90 meters (6′ 2¾").

Dual Meet Rankings
The national dual meet rankings, twenty teams deep, will be released tomorrow at the Track and Field News website.
Regional rankings are below. The regions are the nine you know well from cross country season but with a few combined in order to create reasonable depth.
Great Lakes Region
MEN
WOMEN
1. Purdue (3-0)
1. Purdue (2-0)
2. Akron (2-0)
2. Michigan (0-0)
3. Indiana (0-1)
3. Notre Dame (0-0)
4. Kent State (0-1)
4. Indiana (0-1)
5. Eastern Michigan (2-0)
5. Kent State (1-0)
6. Indiana State (3-0)
6. Akron (1-1)
7. Notre Dame (0-0)
7. Indiana State (2-1)
8. Wisconsin (1-0)
8. Eastern Michigan (2-0)
9. Michigan (0-0)
9. Wisconsin (1-0)
10. Michigan State (0-0)
10. Western Michigan (1-0)
Midwest/Mountain/West Region
MEN
WOMEN
1. Nebraska (0-0)
1. Nebraska (0-0)
2. Kansas State (4-0)
2. Iowa (3-0)
3. Iowa (3-0)
3. Kansas State (4-0)
4. Texas Tech (0-0)
4. Southern Illinois (1-0)
5. Air Force (0-0)
5. North Dakota St. (2-0)
6. Colorado St. (1-0)
6. Texas Tech (0-0)
7. Eastern Illinois (1-1)
7. Missouri (0-1)
8. Southern Illinois (1-0)
8. Wyoming (1-0)
9. Wyoming (0-1)
9. Eastern Illinois (2-0)
10. Northern Iowa (2-1)
10. Colorado St. (0-1)
Northeast/Mid-Atlantic Region
MEN
WOMEN
1. Navy (1-0)
1. Harvard (0-0)
2. Buffalo (0-0)
2. Columbia (2-0)
3. Monmouth (5-0)
3. Monmouth (3-0)
4. Princeton (0-1)
4. Dartmouth (1-1)
5. Dartmouth (2-0)
5. Princeton (2-0)
6. Harvard (0-0)
6. Yale (0-2)
7. Army (3-0)
7. Buffalo (0-0)
8. Maine (1-0)
8. Lehigh (3-0)
9. Rider (2-1)
9. Navy (0-0)
10. Manhattan (1-2)
10. Rider (2-1)
South/Southeast/South Central Region
MEN
WOMEN
1. Arkansas (4-0)
1. Texas A&M (0-0)
2. Texas A&M (0-0)
2. Arkansas (4-0)
3. LSU (0-0)
3. LSU (0-0)
4. Texas (0-1)
4. Texas (0-1)
5. Mid. Tenn. State (3-0)
5. North Carolina (0-0)
6. North Carolina (0-0)
6. Louisville (0-1)
7. East Carolina (0-0)
7. Mid. Tenn. State (3-0)
8. Duke (0-0)
8. Western Carolina (0-0)
9. Louisville (1-1)
9. Duke (0-0)
10. Tennessee St. (1-1)
10. Tennessee St. (2-1)
Awards
In the style of pro hockey, here are my three stars of the weekend…
MEN
The first star: Chukwuebuka Enekwechi, Purdue. He won the weight throw in the dual against Indiana with a distance of 22.35 meters (73′ 4″), which puts him #9 on the all-time collegiate list. He also won the shot with a distance of 19.14 meters (62′ 9½"), good for ninth on the national list.
The second star: Prezel Hardy, Jr, Texas A&M. He put up two PRs in the sprints, both of them national leaders, and served notice that he is an NCAA title contender.
The third star: Aaron Brown, USC. He also won a sprint double, at the UW Indoor Preview. Neither were national leaders, but it should be taken as meaningful when a man who was ninth at last year's Worlds breaks his 60 meter PR by 0.20 seconds. Brown was, and Brown did.
WOMEN
The first star: Dezerea Bryant, Kentucky. She had two big sprint wins in her first meet in a Kentucky uniform, and then topped it off with a leg on the 4×400.
The second star: Dani Bunch, Purdue. She went to #1 in the NCAA in the weight and #2 in the shot in the dual meet against Indiana.
The third star: Jeannelle Schepper, South Carolina. Her high jump clearance of 1.90 meters (6'2¾") at the Virginia Tech Invitational is not only a national leader, but just one centimeter short of a PR and the same height she used to take second at last year's NCAA indoor championships.
OTHER AWARDS
D-II Athlete of the Week: Sarah Sawatzky, Simon Frazer. One of only two collegians in her 800 meter heat at the UW Indoor Preview, she ran 2:09.42. The time is good for #5 among all college divisions.
D-III Athlete of the Week: Emily Cousens, NYU. Cousens won the 3000 meters at the Armory's Saturday Night Shootout. Her winning time of 9:41.11 is the D-III leader and just 3.13 seconds away from the all-time D-III top ten.
NAIA Athlete of the Week: Luc Bruchet, British Columbia. Bruchet won the 3000 meters at the UW Indoor Preview, beating pros such as Ben Blankenship and Daniel Quigley. His time of 7:54.57 is the collegiate leader, regardless of division.
CIS Athlete of the Week: Brad Bickley, Calgary. Bickley won a big showdown among top CIS runners in the 1000 meters in a time of 2:24.02 at Alberta's Golden Bear Open. And how can you not love a guy who runs for a team called the Dinos?
Team Player: Alexander Niemiec, Springfield. In just his second college meet, the freshman won the 60 meters, high jump and long jump and took second in the 60 hurdles in a quadrangular against Bowdoin, WPI and D-III #6 MIT.