One Comment
Five Things We Learned At The Prefontaine Classic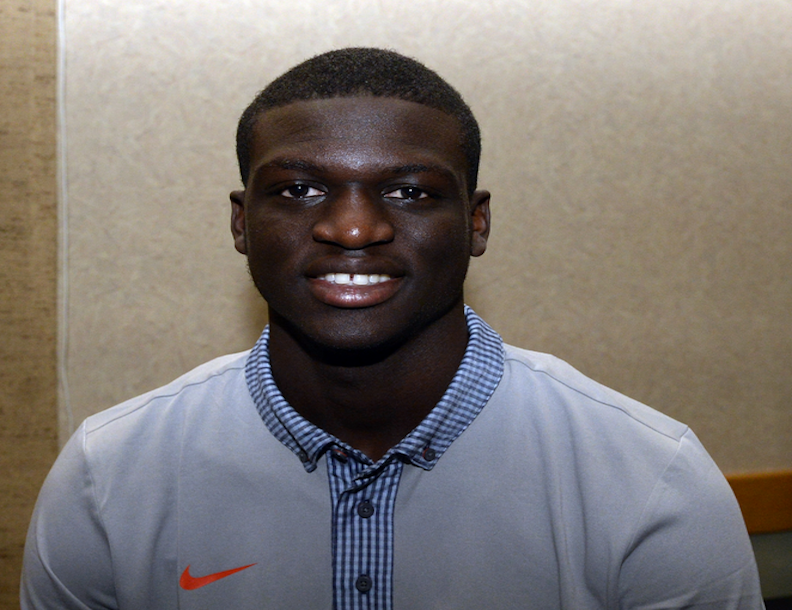 Kevin Sully | On 01, Jun 2013
Photo courtesy of trackandfieldphoto.com
Five quick lesson from today's Prefontaine Classic in Eugene, Oregon.
Don't put the crown on Kirani James yet:
The 400 season looked all but over two weeks ago in Shanghai.  James, the 2012 gold medalist, ran a 44.02 in poor conditions and handily defeated LaShawn Merritt.  With age and talent on his side, it appeared that the best match-up this year would be between James and the clock.  Merritt changed that on Saturday at Hayward Field.  The 2008 gold medalist had a big advantage after 200 meters and then held James off down the home stretch to win in 44.32 to 44.39.
This is the best that Merritt has looked since he returned from a drug suspension in late 2011.  James still has a higher ceiling (he is only 20 years old) but it looks like Merritt is going to push him for at least one more season.
We are running out of words to describe Mary Cain:
The 17-year-old finished 5th in the 800 and set an American junior record of 1:59.91.  It would be a shocking result if she hadn't spent the last four months showing us that nothing she does is surprising.
In this race, she stayed toward the back in the first lap before moving her way up over the final 100 meters.  Cain passed the Olympic bronze medalist Yekaterina Poistogova and almost got by the best American 800 runner over the last several years, Alysia Montaño.  All the more baffling when you consider that this isn't considered Cain's best event.  Perhaps that will change after today.
Sanya Richards-Ross will have a busy three weeks:
The gold medalist from London finished last in the 400; her first race since toe surgery in September.  Her time of 53.77 was more three seconds behind race winner Amantle Montsho.  More importantly, Richards-Ross finished well back from the two Americans in the race, Francena McCorory and DeeDee Trotter.
What can she do between now and the United States Championships at the end of June to secure a top three finish?  Difficult to tell.  There aren't many races on the schedule, especially domestically, to get her prepared for the type of competition she will face in Des Moines.   If she can't qualify there, can she at least finish high enough to be part of the 4 x 400 relay pool?  However rusty she is now, good money says she will be prepared by the time August rolls around.
A bye to the World Championships really does come in handy:
Like Richards-Ross, Lashinda Demus struggled on Saturday.  The 2011 world champion finished 5th in 55.25 in the women's 400 hurdles.  Zuzana Hejnova won the race with a time of 53.70.  When she spoke after the race with Lewis Johnson of NBC, she was clearly disappointed in her performance.
However, there is no need for Demus to panic.  By virtue of her gold medal in Daegu she has a bye to this year's World Championships.  She doesn't need to finish top three in Des Moines and can take a much more measured with her approach to her season.  A position I'm sure Richards-Ross, and many other athletes at this point, envy.
Ezekiel Kemboi deals with victory far better than defeat 
The famous celebrator (who also happens to win gold medals in the steeplechase) was in command of the 3,000 steeplechase until the final barrer.  Kemboi started to fade after stuttering his steps and then drifted to the inside lane where he made contact with the fast-closing Conseslus Kipruto.  Kipruto was knocked off the track for a few strides, but recovered to cross the line first.  Kemboi slowed at the finish before wagging his finger and shaking his head at his countryman.
A conflict in the steeplechase that didn't involve Mahiedine Mekhissi-Benabbad?  Interesting.  Kemboi was clearly in the wrong and was later disqualified.  The big loser in the exchange were the fans who didn't get to see the signature dance from the 130-pound Kenyan.  Luckily, Mutaz Essa Barshim gave them something in the men's high jump.
Barshim goes nuts vine.co/v/b3am7pXhx1Y

— House of Run (@HouseofRun) June 1, 2013