3 Comments
National Championships Preview - Sprints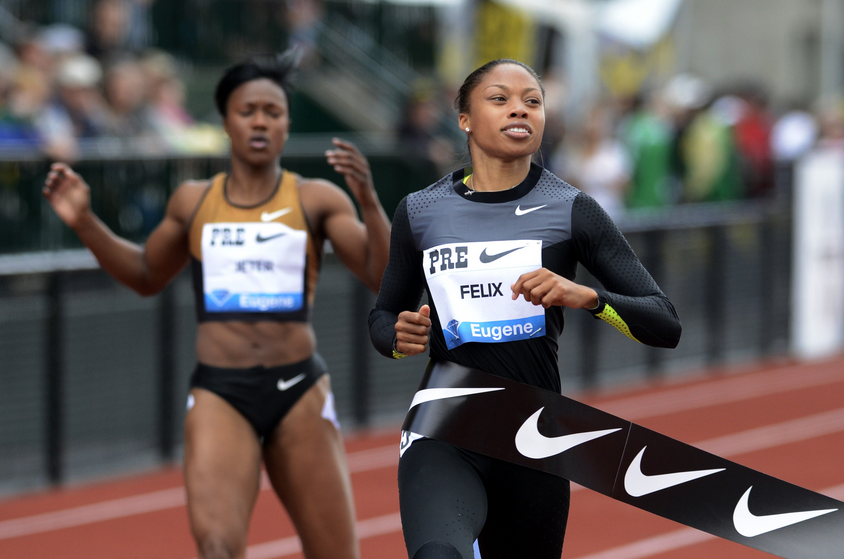 Kevin Sully | On 19, Jun 2013
Photo courtesy of trackandfieldphoto.com
Our 2013 National Championships coverage continues here with a preview of the men's and women's sprints. All of the other event previews can be found on our 2013 USA Outdoor Track and Field Championships page. Also, follow @DailyRelay for updates throughout the weekend.
Men's 100
Final: Friday, 8:52 pm, CST
Key question: Can someone who has beaten Usain Bolt this year be considered the underdog?
This is the position Justin Gatlin somehow finds himself in. Despite topping Bolt in Rome, it is Tyson Gay who is a very narrow favorite. Part of this is due to Gay's times this year, 9.86 in Kingston in May and windy 19.79 in the 200 at his home track in Clermont, Florida. But Gay also appears to have momentum on his side. The healthier diet, the more sensible training regime, and the healthy hip are making us believe we are seeing the Gay of old. His main challenge will come from Gatlin who, aside from beating Bolt, has put up three sub-10 performances this year. How close does Gay anticipate the race being? So tight that he is considering shaving his prodigious beard to become as sleek as possible.
After those two it should be an extremely close race for the third and final spot. Veterans Mike Rodgers and Doc Patton and collegians Dentarius Locke and Isiah Young all figure to be in the mix.
Notable Entrant: Walter Dix
Hurt for much of 2012, Dix showed life in the Prefontaine Classic where he finished second in the 200 in 20.16.
Who's missing? Ryan Bailey
The Olympian, who ran 10.00 for third at the Prefontaine Classic, is not on the start list for the 100 or 200–a big blow for the US 4 x 100 relay's chances in Moscow.
Women's 100
Final: Friday, 8:42 p.m.
Key question: How many collegians will make the team?
By virtue of Carmelita Jeter's bye, the United States will send four women to Moscow in this event. Collegians, or recent collegians, appear poised to fill these spots. English Gardner, formerly of Oregon, won the NCAA Championships just two weeks ago with a personal best of 10.96. Octavious Freeman of Central Florida (11.00) and Kimberlyn Duncan of LSU (11.08) also will contend. Jeter only needs to make an appearance in the meet to receive her bye, so we may just see her in the first round.
Notable Entrant: Marshevet Hooker
The 2008 Olympian in the 200 had a baby last year and was out all of 2012. She doesn't have a mark listed in the entries and would be a long shot to make the team.
Who's missing? Allyson Felix
After dabbling in the 100 and 400 in early season meets, Felix looks to be putting her entire focus on the 200 this season. Doubling in the US Championships would have meant six races in four days.
Final: Sunday, 4:10 pm
Key question: How fast can Tyson Gay run the curve?
It is assumed that Gay will easily qualify in the 100. How he handles the curve on the final day of competition is a much more enticing question. Yes, he did run the wind illegal 19.79 this season, but his last legal sub-20 second performance comes from 2010. After Gay, the field is relatively depleted. Only one American made the final in this event in London and most of the names (with the exception of Gay) are unchanged from last year's Olympic Trials.
Notable Entrant: Wallace Spearmon
The Wallace Spearmon 400 experiment never really got off the ground in 2013. Perhaps he is waiting until the non-championship year in 2014. In any case, he finds himself back in familiar territory in the 200. He was one of the many athletes who was injured in the Shanghai Diamond League Meet in May and hasn't raced since.
Who's missing? Justin Gatlin (probably)
He is on the start list, but it should have a "will scratch after he qualifies in the 100" footnote.
Final: Sunday, 4:20 pm
Key question: How large will Allyson Felix's margin of victory be?
Entry times don't provide the whole story, but this is pretty telling.
Allyson Felix                                                                                            
21.69
Kimberlyn Duncan    
22.34
Yes, I know Felix's time was from last season. And yes, I know she struggled in Rome running only a 22.62. But over a half a second margin in the 200 is enormous. She won't touch 21.69 this weekend, but the race will still be over by the end of the curve.
Notable Entrant: Kimberlyn Duncan
Despite all of her credentials she has yet to make a world or Olympic team. I don't see how she misses it this year.
Who's missing? Carmelita Jeter
She doesn't have a bye in this event, so if she wants to race in Moscow in the 200 she would need to qualify in Des Moines. After suffering an injury in, you guessed it, Shanghai skipping this race is most likely a precautionary measure.
Final: Saturday, 5:30 pm
Key question: Can LaShawn Merritt break 44 seconds?
He hasn't done so since returning from his suspension in 2011, but looked terrific in his win over Kirani James at the Prefontaine Classic in 44.32. Tony McQuay, Bryshon Nellum and the other collegians (Arman Hall, David Verburg, Michael Berry) probably won't give the Merritt much of a challenge.
Notable Entrant: Josh Mance
A silver medalist in the 4 x 400, Mance has gone from USC to Florida State to running professionally all since December. He has race sparingly this spring so this weekend should give a good indication on how he has handled all the transitions.
Who's missing? Nobody
All the principles made it to the start list including gold medalist Jeremy Wariner. Wariner's time of 45.35 puts him 11th on the US list this year.
Final: Saturday, 5:08 pm
Key question: How much has Sanya Richards Ross improved in three weeks?
Richards-Ross struggled in her return from toe surgery and finished last in the Prefontaine Classic. On the podcast this week, Ato Boldon mentioned that Richards-Ross's has diagnosed her challenges as being more psychological than physical. Both need to be in order if she is going to sneak into a top three placing. Francena McCorory and Natasha Hastings have raced consistently and successfully in the Diamond League season thus far.
Who's missing? Dee Dee Trotter
Trotter has been a stalwart in the 400 for many years, but has opted for the 200 in Des Moines. A clearer path in the 200, but that would eliminate the possibility of a 4 x 400 slot.
Notable Entrant: Ashley Spencer
The American 400 field caught a break last year when Spencer decided to focus on the World Junior Championships instead of the Olympic Trials. She is even faster in 2013. The sophomore from Illinois won the NCAA Championships in a personal best of 50.28.