No Comments
The Monday Morning Run: National records aplenty, trouble for US quarter milers and another Kenyan star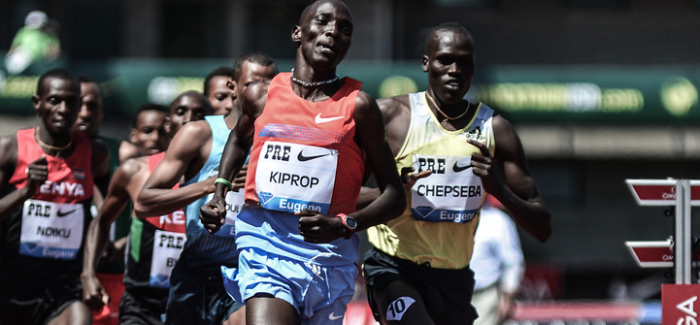 Kevin Sully | On 25, May 2015
With no Diamond League meets on the schedule, we got to catch our breath last week. The next six days should be cracking with Usain Bolt running on Tuesday and the Prefontaine Classic and the Gotzis multi-event meet on Friday and Saturday. The latter doesn't get much buzz outside of the track world, but with Ashton Eaton talking about the world record, it could become the story of the weekend.
As usual, the Prefontaine Classic will form the perfect marriage of fast times and great competition. The meet will host the best 10,000 of the year outside of the World Championships, Justin Gatlin's Diamond League debut in the 200, Allyson Felix's first open 400 of the year and a bevy of other races that will serve as previews for the World Championships.
That's for next week though. This past week, the action was more disparate with mid-level meets taking place in Africa, Europe, Asia and the Caribbean.
The Medalists
The top three performances of the week….
Gold: Dafne Schippers
Schippers ran 10.94 for a national record and personal best at the FBK Games in Hengelo. She is only .02 off the world lead and yet is still deciding between the 100 and the heptathlon, where she won bronze at the 2013 World Championships.
After the race, she confirmed that she will compete in Gotzis next weekend in the heptathlon and then make a decision later in the summer about which event she will focus on for the World Championships. If she wants to make a push for a medal in the 100, this looks to be the year. Both the US and Jamaica are in flux and 10.94 is a medal-worthy time.
Here is a chart to help breakdown Schippers's decision: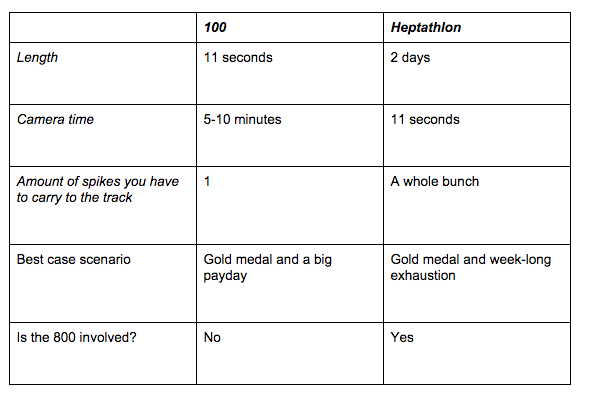 Silver: Marvin Bracy
Bracy ran the first sub 10 of his career–a 9.95 in a winning effort in Beijing. It seems like Bracy would have run under 10 second before, but his personal best prior to Beijing was only 10.08. He's excelled indoors and was poised for a breakthrough race once he got healthy and placed in a fast race.
This also bodes well for the US sprint team. The race to join Justin Gatlin on the US 100-meter team will be very close and Bracy is one of the five or six who should be in the mix in Eugene. He also adds some much needed new blood to the American squad. Gatlin, Tyson Gay, Mike Rodgers, Trell Kimmons and Ryan Bailey are all older than 25.
Bronze: Robert Biwott
Here's where I trot out the familiar refrain of how the Kenyans really needed another 3:33 1,500 runner. Biwott ran 3:33.64 in Hengelo and won the race by over a second. He is the former World Youth Championships gold medalist and ran 3:36 two years ago. Oh, and he's 19. Yep, just what Kenya needed.
Surging….
-Asbel Kiprop
Kiprop skipped the World Relays, but don't worry his five foot long legs still move very quickly. He ran 3:36.09 at altitude in Eldoret, Kenya. Depending on how you work the altitude conversions that is either very fast or ridiculously fast. He will run in the Bowerman Mile on Saturday in Eugene.
-US Men's 800
Nick Symmonds had this event under lock and key in the US for so long. Duane Solomon made it interesting the last couple of years and the rivalry was building before the non-championship year curtailed everything that was fun in track and field.
The landscape has changed since 2013. There is lots of depth, but neither Solomon or Symmonds has distinguished themselves yet. Solomon is one 1:43 away from changing that, and he could do just that this weekend at the Pre Classic, but right now we have a wide open race for all three of the World Championship berths. Last weekend alone, between the meets in Ponce, Puerto Rico and Beijing, five American runners ran 1:45 or 1:46. Charles Jock won the race in Ponce with a 1:45.40, with Symmonds less than a second back in fifth.
-Cuban Women's 800
Rose Mary Almanza and Sahily Diago both ran 1:59 in Ponce, claiming the top two spots on the world list. In Dakar, Yuneisy Santiusty ran 2:02. Where was this three weeks ago at the World Relays when the US beat Cuba by 15 seconds? Their fourth runner can't be that bad……
-Machel Cedenio
Cedenio, who is the only one in the 400 who can possibly make Kirani James seem old, put up his second sub-45 race of the year. He easily beat the field in Ponce that included Lashawn Merritt and Luguelin Santos. Cedenio has been running under 47 seconds since he was 15, so the times this year are no surprise. He's now 19 and like every 400 runner the question now is whether he can continue to improve after their initial phenom years.
-Dina Asher-Smith
In the same race where Schippers went 10.94, 19-year-old Asher-Smith set a British record of 11.02. God, is there anything worse than being second best?
-David Oliver
He ran 13.15 in Beijing to easily win the race over Orlando Ortega who clocked a 13.37. The field was solid in Beijing so perhaps we are seeing some separation in the 100 hurdles between the Oliver tier (which includes Aleec Harris) and everyone else. We won't have to wait long to find out. Oliver, Harris, Ortega and Pascal Martinot-Lagarde are all on the start list for the Pre Classic.
-Ashton Eaton
In Hengelo, Eaton long jumped 8.03 and ran the 100 in 10.42. After competing he said this……
"I think I can break the world record." Ashton Eaton on Gotzis next weekend.

— Steven Mills (@Trackside2015) May 24, 2015
I have no idea how the Eaton machine works. If he says he's ready, he's ready.
Slowing….
-US Men's 400
Lashawn Merritt suffered another loss and Jeremy Wariner has come back to earth after his great relay split in the Bahamas. The US 400 team isn't as vulnerable as they were in 2012, but they are hovering around that territory. In Ponce, Merritt was well-beaten by Cedenio and didn't break 45 seconds. Wariner was sixth in 46.22. Right now, Trinidad and Tobago has more runners in the top five of the world than the US.
-Justin Gatlin/China
In the long history of U.S./China relations, where does last week's Justin Gatlin episode fit in? It wasn't nearly as relevant as ping pong diplomacy and not quite as absurd as Stephon Marbury's statue.
Gatlin was scheduled to compete at the meet in Beijing before he claimed he was kicked out by meet organizers over concerns that Gatlin was injured. The meet organizers denied Gatlin's statement and said they were planning on him running. A day later, Gatlin took to Twitter to clear the air.
"Emotional day. All is fine with Beijing Org & I We have great relationship and look forward to being there in Aug "Worlds" & next year meet."
Crises averted.