13 Comments
Monday Morning Run: Prefontaine Classic Recap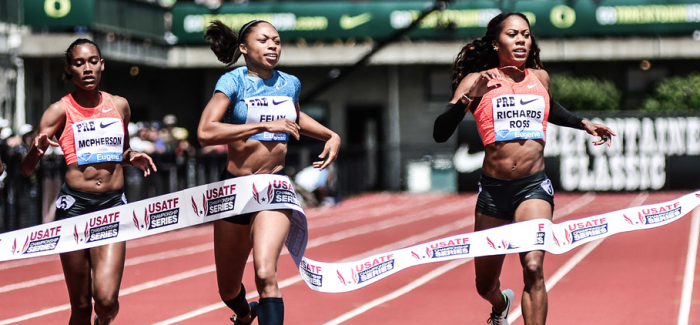 Kevin Sully | On 01, Jun 2015
I was in Eugene this past weekend taking in the Prefontaine Classic. If you are reading this site, I'm assuming you watched, or were there in person, and are all caught up on the results. In case you aren't, here are a few recaps I did for the IAAF website, including an extended look at English Gardner's return to her second home of Hayward Field.
This week's Monday Morning Run is virtually all devoted to the Prefontaine Classic–my apologies in advance for any performances that were overlooked. There were far too many to choose from. Special shout out to the weather in Eugene, which played a big role in the strong marks in the sprints and field events. The wind was just right and the sky was without any substantive clouds for two days.
Other than the Oregon climate, let's run through the other highlights of the weekend.
The Medalists
The top three performances of the weekend
Gold: Genzebe Dibaba
I know I just finished praising the temperatures, but there was one race on Saturday where the 70-degree temperatures didn't help–the women's 5000m. As expected Dibaba dominated the race and posted a time of 14:19, putting her into the top five on the all-time outdoor list. If you could control for weather and pacemaking for performances like this, she would move even higher.
It was warm at race time and Dibaba had virtually no help after the first few laps. Running alone comes with territory when you are aiming for a time that not many people can hold for even an intermediate distance. In distance running, this would be a referred to as a winner's problem.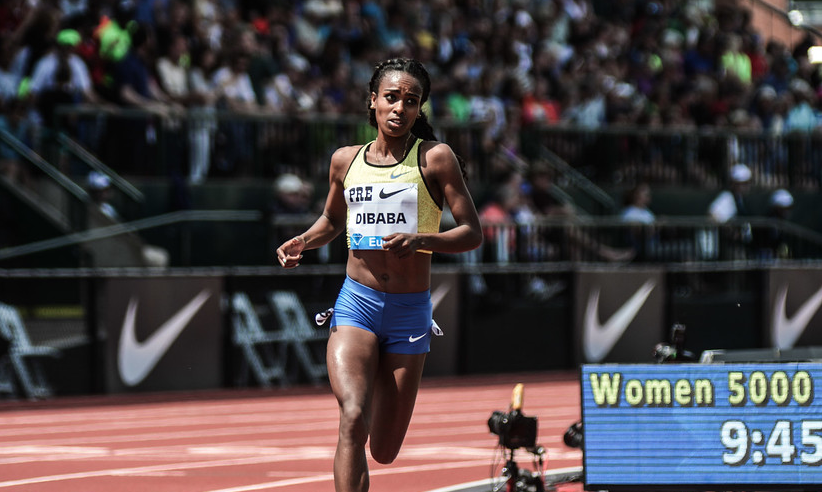 Photo: TrackTownPhoto
There is one woman who can run with Dibaba this year, but she's not interested in rabbiting. Almaz Ayana put up a 14:14 in Shanghai two weeks ago meaning there have been two sub 14:20 performances outdoors before the end of May. I'm sure both desperately want the world record and want to control the conditions in which it is set, but the best way to get it is Dibaba and Ayana lining up and racing each other.  So simple, yet so unlikely.
Silver: Justin Gatlin
Gatlin equaled his personal best of 19.68 in the 200m, all the while receiving no competition from the other seven lanes. If you are a fan of thoughtful pieces about Gatlin's (and Tyson Gay's) place in the sport, this was a good weekend. I believe the questions the track and field is grappling with around Gatlin will eventually trickle down to the other sports. This might be the one area where track is ahead of the rest of the sports landscape in the United States.
As for the race itself, Gatlin said he is still getting accustomed to running the 200m distance. He says both his high school and college coaches insisted that the 200m was his better distance, but he has primarily focused on the 100m since he turned professional. At this point, he looks well ahead of Usain Bolt, though Gatlin got the benefit of a sunny day in Eugene, while Bolt raced in the rain of Ostrava last Tuesday. Gatlin said after the race his dream race against Bolt would be running down the Las Vegas Strip or in some other famous street in the United States. I'd settle for them just running against each on a track.
Bronze: Renaud Lavillenie
Before this weekend, I knew that Lavillenie had to pull out of the first Diamond League meet with a shoulder injury. I was unaware, however, of how he got banged up. It turns out the pole vault world record holder hurt himself after he fell competing in a 4 x 100 relay in a club competition in France. Yes, a man who man regularly flings himself 20 feet into the air with a fiberglass injured himself running in a straight line with a baton in his hand.
On Saturday, the shoulder didn't inhibit his performance as he cleared 6.05m and then took three unsuccessful attempts at the outdoor world record of 6.16m. Assuming he stays away from the perils of garden variety sprinting, he will get that record this summer.
Surging….
-Kirani James
James ran 43.95 to beat Lashawn Merritt by over half a second in the men's 400m. Barring a major turnaround by Merritt or a serious collapse by James, he will cruise all summer. For James, the competition is the clock, particularly as he starts threatening more and more of Michael Johnson's records. He was only a few hundredths off Johnson's Prefontaine Classic mark on Saturday.
James is also competing against historical trends. There are real questions about long-term sustainability in a race that is as challenging as the 400m. He's running in an event where outside Johnson and Merritt, most men peak at an early age. James has pointed out that with age comes experience and consistency, in particularl learning to make sure each 100m segment is run in an even pace. That does seem to be an advantage, though experience doesn't matter as much when your body starts to break down.
-Women's 100
Between the two heats of the women's 100m six women ran quicker than 10.90. The fast track and the good winds helped, so did the competition, which was very close on both races. Shelly-Ann Fraser-Pryce just edged out Murielle Ahoure in the Diamond League heat with both running 10.81. After the start of the season that Fraser-Pryce has had, even the smallest victory is a good sign for her future. Ahoure's time was a personal best. Tori Bowie was third in 10.82.
I have no idea why Jamaica's Elaine Thompson switched to the B heat. She entered the meet with the fastest time of the world and she has already competed against some of the women in the A heat. It ended up working out pretty well as she produced a blanket finish with English Gardner in 10.84.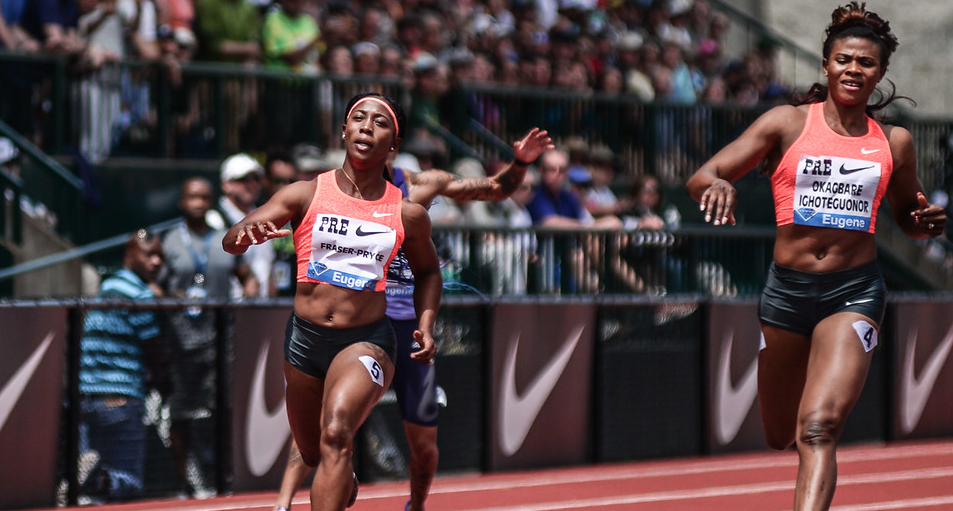 Photo: TrackTownPhoto
-Felix in the 400
As an ambassador and proud resident of Felix 400m Island, I was keenly interested in the result from the women's 400m and what it meant for the future of Felix's career. Before the race, she said that she wouldn't make any decisions about which event she would focus on until after the US Championships. She has a bye for the 200m so she will run the 400m at nationals and then plot out her strategy for Beijing from there. When asked, she was vague saying she was excited to explore the 400 this year, with little mention of whether she planned to stick with the event.
She did say that the 200/400 double is out for Beijing because the schedule won't allow it. The 200m semifinals are on the same night as the 400m final and though a 200 semi is nothing more than a stride out for Felix, the time window is too close to pull off. The 2016 Olympic schedule is equaling challenging.
But the schedule is not permanent; in fact the order of the events changes quite often. When I mentioned to her that the Olympics changed the schedule for Michael Johnson so he could attempt the 200/400 double she laughed and said, "I'm not quite Michael."
That is some strong underselling. Johnson was an established star in 1996, but he only had one Olympic medal at that point. Felix is the face of women's track and field.
If she decides to ditch the modest, her pitch to rearrange the schedule should be something like…. I'm freaking Allyson Felix, if anyone deserves a schedule changed it's me. 
-Rivalries
Felix/Sanya Richards-Ross, Shannon Rowbury/Jenny Simpson, Eunice Sum/Ajee Wilson, the races weren't all close (Sum and Wilson's was fantastic), but the Prefontaine Classic showed there is massive potential for all those rivalries to blossom.
Simpson and Rowbury were great last year and it should get even better with a world championship on the line this season. Unlike the men's rivalries, or Dibaba/Ayana, there doesn't seem to be any ducking, dodging and negotiating preventing them from racing one another.
-Bingtian Su
He finished third, but Su became the first Asian man to break 10 seconds in the 100m. His 9.99 was good enough to put him ahead of Kim Collins, Nesta Carter and James Dasaolu.
-Ayanleh Souleiman
Back-to-back wins in the Bowerman Mile. Saturday was a tactical, but fast 3:51.10 effort where he led from the front. Souleiman's ability to hold off runners and maintain position is remarkable to watch in these deep mile races. After his win, he starred in the mixed zone by tossing out the ultra specific prediction of 13:17 when he debuts in the 5000m and comparing the 800m and 1500m to choosing between spaghetti and rice. I'm still trying to figure that last one out.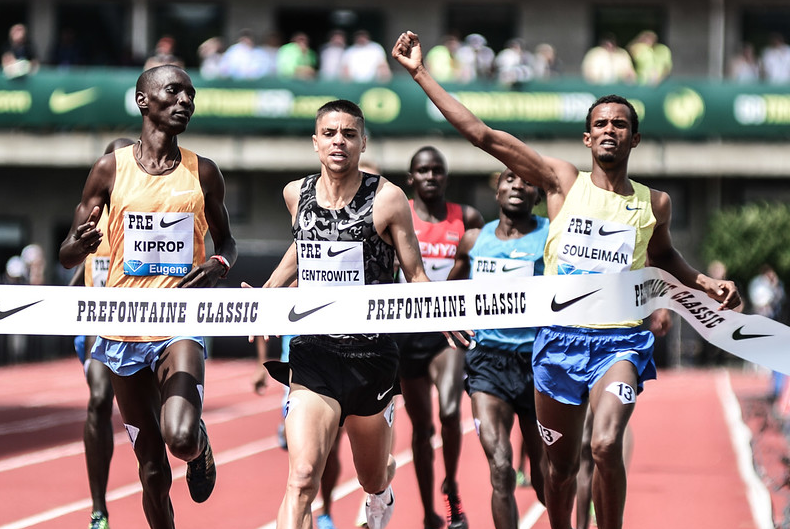 Photo: TrackTownPhoto
-Matthew Centrowitz
In the last event of the meet, and in the Prefonatine Classic's feature event, Centrowitz had the crowd hoping and wishing for a victory. He has deep Oregon connections and a win would have probably would have created seismographic activity in the Eugene-Springfield area. He couldn't get by Souleiman though and had to settle for second.
It was still a wildly successful performance for Centrowitz. He beat Asbel Kiprop and earned his highest Diamond League finish ever.
-Aries Merritt
Merritt finished second to Pascal Martinot-Lagarde in the men's 110m hurdles, running 13.12. Two or three years ago that wouldn't be cause for excitement, but after the injuries in recent years that is a huge step for the world record holder.
Despite the rough season, Merritt still thinks returning to his 2012 form is possible. "With me practically taking 2014 off it's going to take some repetitions, it's going to take some races and a whole year's more of training to get back to that level, but don't sleep on me," Merritt said after the race.
Slowing….
-Pacers for Mo Farah
Like Dibaba, Farah has a "I'm too fast to get pacers problem." Farah said he wanted to run in the 26:30s for the 10,000m on Friday night. The issue is, there are very few people who can hold that pace for 8000m and most of the ones who can are running the race against him.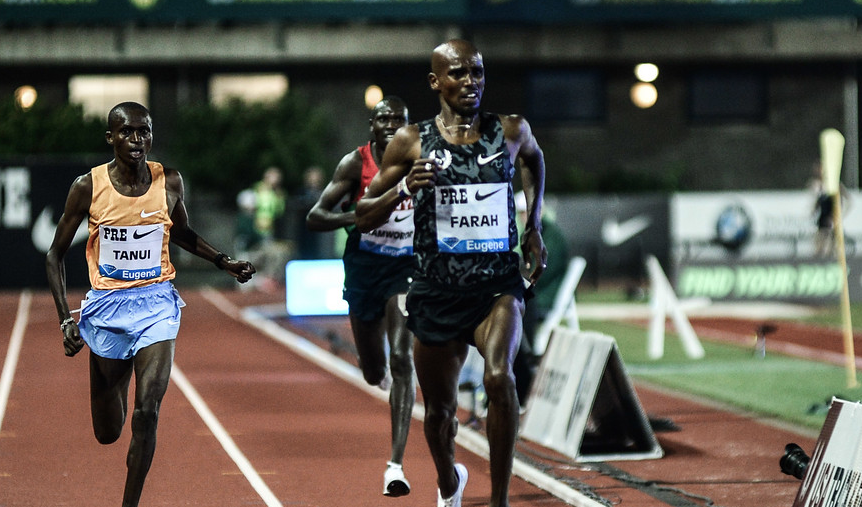 Photo: TrackTownPhoto
On Friday, he ran 26:50.97 and was disappointed that he didn't go faster. There weren't any pacers after 5000m and Farah and Paul Tanui had to share the lead. That worked to a point, but eventually winning became a priority and the looming Geoffrey Kamworor complicated their plans to focus solely on the time.
After the race, Farah spoke like someone who knows his chances to run fast time are dwindling, especially in the 10,000m which now only has one or two fast races per year. When people judge Farah's career, they will rightfully point to the fact that he competed in an era when loads of talent athletes skipped the track and headed straight for the marathon. Alongside that fact, should also be a mention that he ran when there were really no fast 10,000s offered during the season. His ability to run a time that comes close to Kenenisa Bekele is severely hampered by something that is completely out of his control.
-Michelle Lee-Ahye
She pulled up in the women's 100 in what looked to be a very painful injury. Hopefully it isn't a major issue. She started this season strong and is a legitimate contender to make the finals of the world championships.
-Mutaz Essa Barshim record attempts
Barshim had a clean sheet the entire day and set a meet record with a jump of 2.41m. After that, he jumped no more. No attempts at a personal best. No attempts at a world record.
In the press conference before the meet he said he shut it down early in Shanghai to preserve himself for the long season. Perhaps that was his thinking on Saturday. With the conditions that good and without many jumps in his legs it looked like a perfect opportunity to take a shot at 2.46m.
Maybe he is playing coy and wants to wait and break the record later in the season. With Bohdan Bondarenko looming, it doesn't seem wise to forego chances at the world record.
-Ryan Bailey
Bailey withdrew with an injury prior to the men's 100m. I was curious to see how he fared in the race to decide America's second best sprinter. Bailey runs for Nike and competes in Portland so it's a safe assumption that if he could have run, he would have run.
-Aleec Harris
His undefeated season ended on Saturday when he finished seventh in 13.39 in the men's 110m. That time is far off Harris's best of the year. On the flip side, it's better to get the bad race at Hayward Field out of the way now rather than in four weeks when a World Championships berth is on the line.
-Ashton Eaton
Eaton pulled out of the decathlon at the Hypo meet in Austria with a back injury. I can't remember the last time Eaton was hurt and I'm surprised to hear that he is not an indestructible machine programmed to run, jump and throw at ungodly high levels. In his absence, Kai Kazmirek won the decathlon with 8,462 points. Brianne Theisen Eaton scored 6,808 points and won the heptathlon
Finishing kicks…
-If you can speak Amharic, please come forward. The track world needs you. There were so many talented Ethiopian athletes at the Prefontaine Classic who didn't have the benefit of a translator. I would have loved to know more about Genzebe Dibaba's race, but she spoke very little English and the interpreter who was with her at the press conference wasn't around after she won the 5000m.
The men's 5000m winner Yomif Kejelcha entered the mixed zone and looked at the pack of reporters like they were radioactive. After a few awkward seconds for all parties involved, he walked away.
–Johnny Dutch won the 400m hurdles and is without a sponsor. He had green tape covering the logo on his shorts and top during his 48.20 victory. He was almost caught by his training partner Bershawn Jackson, who came from a significant deficit to run 48.22. Jackson said after the race that he wants to be like Bernard Lagat, who has become synonymous with long, productive careers.
–Pascal Martinot Lagarde's Wikipedia page lists him at 6'3 and 177 pounds. After standing next to him for a few minutes, I'd say Wikipedia is selling him short. He isn't David Oliver size, but Martinot-Lagarde is still big enough that he probably could intimidate the barriers into falling over if he didn't have to jump them.
Considering his build, I was surprised to learn that his start in running came by participating in cross country as a boy in France. His brother became a hurdler and so Martinot-Lagarde soon followed suit. He may have made the correct the decision.
-Did you know that you can set meet record and finish second? It's one of track's idiosyncrasies. Caterine Ibarguen triple jumped 15.18m, good enough for a meet record, but it was with a +2.1 headwind. Yekaterina Koneva also surpassed the record with a mark of 15.04m. With a wind of +1.7, her mark stood.