One Comment
Six Underdeveloped US-Canada Rivalries in Track & Field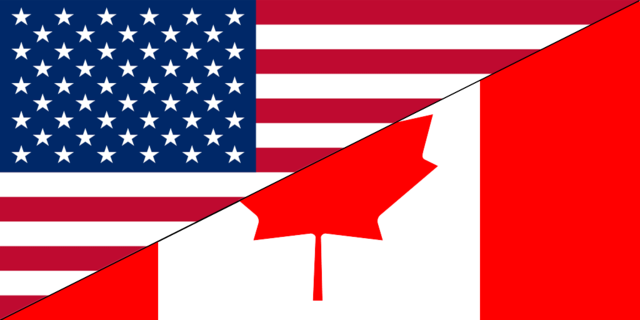 Jesse Squire | On 02, Jun 2015
As usual, the 2015 Prefontaine Classic was a fantastic meet. The majority of the world's best athletes came to Hayward Field for great competition in beautiful weather administered by one of the best track and field organizations anywhere.
In two weeks the USA will have another Diamond League meet, the adidas Classic, held in the greatest city in the world. As much as we American track fans feel slighted by lack of action, no nation in the world hosts more Diamond League meets than does ours.
It's that second level of competition where the US and Canada has very little to offer anymore. There are no World Challenge meets in North America, and the once-vibrant indoor circuit has almost completely disappeared. Canada's summertime National Track League series has attempted to address that gaping hole in competitive opportunities, but most of those meets still draw only minor attention at best.
The end result is that the few big domestic competitions bring in worldwide talent, and meet directors don't have the ability to highlight local or regional stars and rivalries the way they could in a second-tier meet.
That's too bad because there are a good number of North American cross-border rivalries that are beginning to heat up but get usually lost in the shuffle. Here are six that need more promotion.
Men's high jump: Erik Kynard and Derek Drouin
As few as three years ago, the heights these two regularly clear would have put them head and shoulders above the rest of the world. Now the event has become so competitive that they're both struggling just to get on the podium. They were rivals in college—Drouin at Indiana, Kynard at Kansas State—and their respective hometowns in Ontario and Ohio are just 130 miles apart.
Career head-to-head: Drouin leads Kynard, 16 to 10, but Kynard won their last matchup at the Prefontaine Classic.
Women's long jump: Tianna Bartoletta and Christabel Nettey
Bartoletta won World Championships in 2005 (outdoors) and 2006 (indoors), both before turning 21 years old, then fell off the top of the long jump before returning to prominence last year. She's two-for-two in 2015 Diamond League meets. Nettey made a great leap forward this year, already adding 24 cm (9½ inches) to her finishing third and second in those Diamond League meets.
Career head-to-head: Nettey has never beaten Bartoletta in four competitions, but has been awfully close in the last two.
Men's pole vault: Sam Kendricks and Shawn Barber
Kendricks and Barber battled at Ole Miss and Akron respectively during last year's collegiate season, and this year would have been the best men's college pole vault rivalry in decades but Kendricks went pro last summer. Still, they've met in all kinds of domestic competitions. I think it would be fair to say that the only better vaulter at this moment in time is Renaud Lavillenie, Frances' world record holder. Kendricks is the best young American to come down the pike in many years, and Barber is Canada's best ever, period.
Career head-to-head: Kendricks leads Barber by a 8 to 5 tally; they tied their last meeting, at the Drake Relays, and both beat Lavillenie.
Women's javelin: Kara Winger and Liz Gleadle
Winger set the American Record (66.47m / 218′ 1″) back in 2010, when she was known as Kara Patterson. After that, a torn knee ligament required surgery and a long period of recovery and rebuilding. She marred discus thrower Russ Winger earlier this year and has already come within 20cm (8 inches) of her AR. Gleadle had a big breakthrough last year with a Canadian record, which she broke again just three weeks ago (64.83m / 212′ 8″). They finished second and fourth at the Prefontaine Classic.
Career head-to-head: Winger leads by a score of 3 to 2.
Men's sprints: Trayvon Bromell and Andre De Grasse
This is a rivalry between young sprinters, and I anticipate this as the essential sprint showdown at the NCAA Championships. Bromell holds the World Junior record at 100 meters (9.97) and looks ready to go faster in the big races in June. De Grasse is a relative newcomer to track and field but already holds the 200m national record (20.03) and is one of only three Canadians to ever go under 10.00. The big-name American sprint stars (Gatlin and Gay) are aging, and these two may take over for them after the Rio Olympics.
Career head-to-head: Bromell has won all three of their head-to-head races.
Women's hammer: Amanda Bingson and Sultana Frizell
Both of these women are struggling to break through on the world level in an event dominated by Europeans, but they're still on an upward trajectory. Bingson broke the American Record in 2013 with a 75.73m (248′ 5″) throw at the US Championships, and had another 75+ throw last year. Frizell is a two-time Commonwealth Games champion and she broke the Canadian record last year with 75.73m. That's right, they co-hold the NACAC area record.
Career head-to-head: Frizell leads, 7 to 3.