One Comment
National Championships preview - Hurdles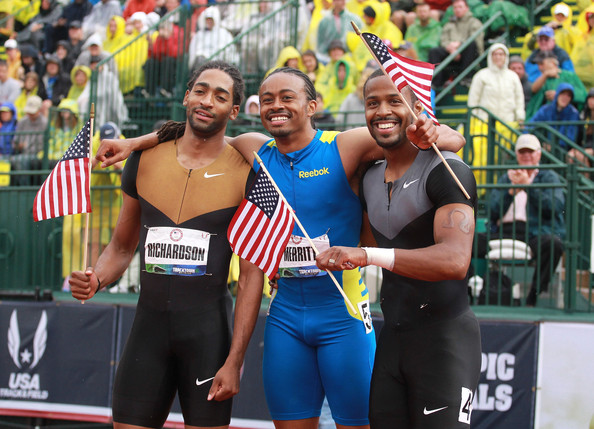 Jesse Squire | On 19, Jun 2013
The hurdles are the USA's greatest strength. (Photo courtesy Trackandfieldphoto.com.)
Our 2013 National Championships coverage continues here with a preview of the men's and women's hurdles. All of the other event previews can be found on our 2013 USA Outdoor Track and Field Championships page. Also, follow @DailyRelay for updates throughout the weekend.
Heats: Saturday, 3:10pm local time (4:10pm ET)
Semifinals: Sunday, 2:40pm local time (3:40pm ET)
Final: Sunday, 4:52pm local time (5:52pm ET)
Standards: 'A' – 13.40, 'B' – 13.50
The meet organizers chose this as the final race of the entire USATF Championships and it may be the most interesting of the entire weekend. It's probably the USA's deepest event in terms of talent.
As the defending world champion, Jason Richardson (Nike) will be on the US team regardless of what happens in Des Moines. His "wild card" status means there will be three more hurdlers on the team in addition to Richardson.
Olympic champion and world record holder Aries Merritt (Nike) came up injured in mid-May and hasn't raced since then. He called it a "hamstring cramp" but it seems unlikely that he'd take an entire month off of racing for a mere cramp. He missed the indoor season with a similar problem. It's hard to know exactly what to expect out of him.
Based on current form, David Oliver (Nike) may be the favorite. He was the top American at the Prefontaine Classic and leads the US list with the 13.10 he ran there.
Ryan Wilson has been around forever (he was NCAA champion ten years ago) and is tremendously consistent, yet has never made a US team. Could he finally make it?
Florida hurdler Eddie Lovett, second at the NCAAs, is not competing but third-place Spencer Adams (Clemson) is here and could make an impact. Others to watch are 2012 Olympian Jeff Porter (Nike/NYAC) and Antwon Hicks.
Heats: Thursday, 4:10pm local time (5:10pm ET)
Semifinals: Friday, 7:04pm local time (8:04pm ET)
Final: Saturday, 4:36pm local time (5:36pm ET)
Standards: 'A' – 49.40, 'B' – 49.60
The top two here are Johnny Dutch (Nike) and Michael Tinsley (adidas) and they are head and shoulders above the rest. Dutch has run the fastest times but Tinsley won their two head-to-head meetings and is the defending US champion to boot.
After that, it's a tight competition. The next fastest times have been turned in by unsponsored Justin Gaymon and NCAA champ Reggie Wyatt (USC), but old pros Bershawn "Batman" Jackson (Nike) and Kerron Clement (Nike) should not be ignored.

>Women's 100m Hurdles
Heats: Friday, 5:15pm local time (6:15pm ET)
Semifinals: Saturday, 2:25pm local time (3:25pm ET)
Final: Saturday, 5:52pm local time (6:52pm ET)
Standards: 'A' – 12.94, 'B' – 13.10
If there is an event in which the USA has more depth than in the men's 110 hurdles, it's the women's 100 hurdles. Americans occupy eight of the top ten positions on the world list and eighteen of the top twenty-five. The women's hurdles supply two Olympic medalists, the defending world champion, and the single-most recognizable name on the entire US team.
Those medalists are Dawn Harper-Nelson (Nike) and Kellie Wells (Nike), both of whom have been tearing it up on the Diamond League tour. Harper-Nelson in particular has been impressive, winning all but her season opener at the Drake Relays, and as defending world champion she's already clinched her spot on the US team.
Lolo Jones (Asics) is running in front of her hometown crowd (but you probably already knew that unless you've been living under a rock) and has been steadily improving over the spring after skipping the indoor season in favor of bobsledding (and again, you probably already knew that).
It would be a huge upset if any of the above won, though. Brianna Rollins (Nike) set collegiate records in the prelims and finals at the NCAA Championships and ran significantly faster than any other American has run this year. In fact, only one active US hurdler (Harper-Nelson) has ever run faster, and by only 0.02 seconds, and in the Olympic final. Unless Australia's Sally Pearson comes back from her injury to peak form, Rollins looks like a world champion.
One other athlete to watch is Queen Harrison (Saucony). She started the outdoor season with an upset victory at the Drake Relays and has been running nearly as well on the pro circuit as Wells and Jones.
Heats: Friday, 5:45pm local time (6:45pm ET)
Semifinals: Saturday, 4:03pm local time (5:03pm ET)
Final: Sunday, 3:44pm local time (4:44pm ET)
Standards: 'A' – 55.40, 'B' – 56.55
Lashinda Demus (Nike) has a "wild card" entry to the Worlds as the defending champion and already has her spot on the US team locked up. That's good for her, because she's been way off form so far in 2013 and might not finish in the top three.
The story of the year in this event is Kori Carter (Stanford), the college junior who has improved by 4.4 seconds in 2013 to lead the world and forge a 5-0 record against Georgeanne Moline (Arizona), herself a 2012 Olympic finalist. There's no reason to believe it won't go to 6-0, with Carter and Moline finishing first and second.
The last available spot on the US team looks like a battle between T'Erea Brown (adidas) and unsponsored Dalilah Muhammad. The USATF Championships will be their first head-to-head meeting in 2013.