2 Comments
National Championships preview - Multi-Events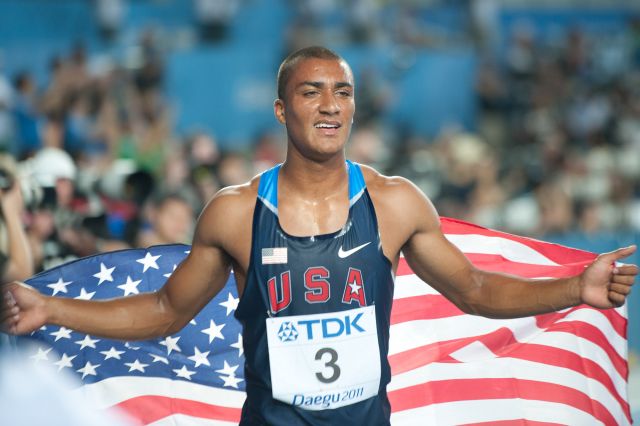 Jesse Squire | On 20, Jun 2013
Ashton Eaton is taking the first step towards one of the few things he doesn't have, a World Championships gold medal.
The final events in our comprehensive previews of the USATF Championships are the multi-events, the decathlon and heptathlon.
Decathlon
Friday and Saturday
Standards: 'A' – 8200 pts, 'B' – 8000 pts
Frank Zarnowski's USATF Decathlon media guide
Ashton Eaton (Nike) broke the world record at last year's Olympic Trials. Will we see another world record? Probably not. He withdrew from the big Götzis decathlon in May citing a hurt knee and coach Harry Marra told the Eugene Register-Guard that "we'll play it safe" at the USATF Championships. He should win and easily, but don't look for fireworks.
Olympic silver medalist Trey Hardee (Nike) has a "wild card" entry into the Worlds as the defending champion and need only show up and do at least one event to get on the team. He's competed very little this year and may not do much here either.
This leaves two more spots open on the US team, and the fight for those is where the real competition will lie. I figure it's down to four men.
Jeremy Taiwo (Washington) might be a bit worn out from the NCAA Championships two weeks ago but he did achieve the 'A' standard, which none but Eaton and Hardee can claim. Unless he DNFs or someone else gets over 8200 points, he's probably on the team no matter where he finishes.
The other three I see as contenders are Gunnar Nixon, Isaac Murphy (Texas) and Gray Horn. Nixon won the World Juniors last year and then gave up his collegiate eligibility. Murphy was fourth at the NCAAs two weeks ago. Horn is an enigma; he finished third at last year's Olympic Trials after getting in some legal trouble and not finishing his collegiate career.
In order to help you follow the ups and downs of the decathlon, I've projected scores among these four decathletes in each event. Here's how I see them in relation to each other after each, in terms of who's leading and how many points behind the others will be.
100 meters
Murphy —
Taiwo -75
Horn -85
Nixon -87
Murphy is by far the fastest sprinter of these four.
Long Jump
Murphy —
Horn -55
Taiwo -78
Nixon -87
On paper at least, there's not a whole lot of difference between these guys in the long jump.
Shot Put
Murphy —
Nixon -34
Horn -37
Taiwo -53
Nixon is the strongest shot putter of the four, Murphy the weakest.
High Jump
Taiwo —
Nixon -30
Horn -118
Murphy -235
Taiwo is an off-the-charts high jumper by decathlete standards, and Nixon is very good too.
400 meters
Taiwo —
Nixon -57
Horn -212
Murphy -223
All but Horn are quite capable of running 48 seconds or so.
110 Hurdles
Taiwo —
Nixon -54
Horn -188
Murphy -214
I'm not projecting much difference between these four in the hurdles, all in the 14.2 to 14.5 range.
Discus
Nixon —
Taiwo -9
Murphy -109
Horn -170
Taiwo is the weakest discus thrower of the group and will come back to the pack here.
Pole Vault
Taiwo —
Nixon -43
Murphy -100
Horn -152
All are about equal here save Nixon, who will give up points.
Javelin
Nixon —
Taiwo -119
Murphy -165
Horn -203
Nixon is the best of the group in the jav and Taiwo is the worst.
1500 meters (final standings)
Nixon —
Taiwo -78
Murphy -156
Horn -274
If it comes down to the final event, Taiwo is the fastest and Horn is the slowest.
Thursday and Friday
Standards: 'A' – 6100 pts, 'B' – 5950 pts
Frank Zarnowski's USATF heptathlon media guide

Three Americans have achieved the 'A' standard of 6100 points, meaning that at least two of them will be part of the US team for the world championships. The third does not have to be an 'A' qualifier, so that opens up the competition quite a bit.
Two-time defending champion Sharon Day (Asics) is the heavy favorite to repeat, although there may be some questions about her form given that she DNFed in both of her heptathlons this year.
The other two with the 'A' standard are Chantae McMillan (Nike) and Bettie Wade (Nike). McMillan made the Olympic team last year with a huge PR but Wade is the more experienced and consistent athlete. Others who could figure into the mix are Keia Pinnick (Arizona State), Erica Bougard (Mississippi State), Kiani Profit and Ryan Krais (Nike).
As with the decathlon above, here is a projection of how the athletes might rank after each event based on recent results. The final scores figure Day for a big win, Wade second, and a three-way fight between McMillan, Pinnick and Bougard for third.
100 Hurdles
Pinnick —
Bougard -26
McMillan -34
Day -53
Wade -54
Krais -89
Profit -106
Pinnick is the best hurdler of the bunch.
High Jump
Day —
Wade -52
Bougard -61
Pinnick -134
McMillan -180
Krais -199
Profit -252
Day should go to first after the high jump and Wade should be second.
Shot Put
Day —
Wade -101
McMillan -162
Bougard -305
Krais -338
Pinnick -370
Profit -416
McMillan and Day are the best shot putters of the bunch, followed by Wade. The others struggle.
200 meters
Day —
Wade -134
McMillan -219
Bougard -277
Pinnick -328
Krais -408
Profit -408
Pinnick and Bougard are the fastest sprinters in this group but there's not a whole lot of difference among any of them.
Long Jump
Day —
Wade -81
Bougard -170
Pinnick -294
McMillan -398
Profit -472
Krais -517
Wade and Bougard are the best long jumpers, McMillan the weakest.
Javelin
Day —
Wade -209
McMillan -291
Bougard -382
Pinnick -410
Profit -556
Krais -589
The jav is where McMillan should make up a lot of points, as she's the best thrower out of the contenders and Wade is the worst. Neither is very good in the 800 so they're going to need a big lead on fourth place after this event.
800 meters (final standings)
Day —
Wade -311
McMillan -382
Pinnick -404
Bougard -418
Profit -520
Krais -588