No Comments
Daily News Roundup: Overly Strict NCAA Rules?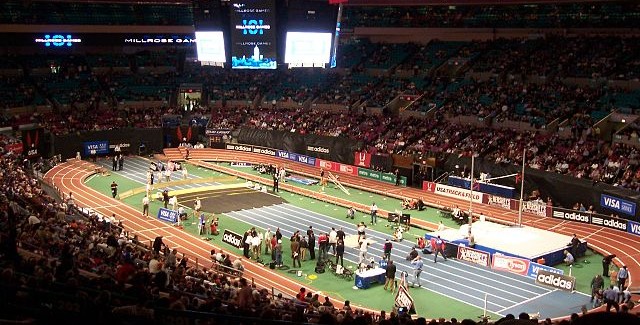 Do meets like this qualify for the NCAAs or not? Like everything in track, it's overly complicated.
Earlier today a small furor erupted on Twitter regarding some collegiate marks made at Saturday's Millrose Games. Initially, the 3:52.88 collegiate record mile by Lawi Lalang and other times from the meet didn't come up at TFRRS.org, the fantastic database of collegiate results and qualifying marks.
What did that mean? Does it mean that they can't be used as qualifying marks for the NCAA Championships? Well…it's complicated.
The real reason they didn't come up at TFRRS.org was a omission of a particular code when results were submitted, an oversight that has since been corrected. But it is also true that the results of the meet might not be accepted as qualifying marks, or they might be. Over the past decade, sometimes they have been and sometimes they haven't.
Meets like the Millrose Games and New Balance Indoor Grand Prix–ones which are primarily invitational meets in the truest meaning of the word–are the meets most challenged with meeting the following NCAA requirement:
Marks will only be accepted for qualifying in meets where a minimum of ten events are open to collegiate student-athletes, per gender.
What, exactly, does this mean? Does it mean that at least ten events had actual collegians competing in them? Or does it mean that ten events could have had collegians competing?
Apparently it simply depends. Since the meet results have been uploaded into TFRRS, they are official until a coach challenges under the above rule. Whether that challenge is successful is dependent on how the NCAA Division I Men's & Women's Track & Field Committee interprets the rule. In past years they've gone one way sometimes and the other way at others.
As I understand it, the intention of the rule is that meets like the Millrose Games are, from a collegiate perspective, primarily exhibitions for the elite rather than true collegiate meets (from which qualifiers are intended to come). The affected athletes who might have to make another qualifying attempt (Lalang in the mile, D'Agostino and Avery in the 3000) shouldn't have much if any difficulty getting a qualifier if it ends up that they need it.
Personally, I think a rule should be clear and open to little interpretation. Certainly we've seen that kind of inflexibility surrounding Sammi Spenner, Nebraska-Omaha's star pentathlete who won't get to compete at the NCAA Championships since UNO is in a "transition" phase from D-II to D-I and ineligible for post-season competition. The Millrose situation appears to be dependent on the committee's makeup as much as the rule, and I don't think that's good. (Then again, I'm a high school teacher and coach and a union member, so I'm very much a rules-oriented person.)
I think it's good for both college track specifically and track and field in general if college stars compete in "professional" meets. Way back when I was in college, a few of my teammates competed in the Cleveland Knights of Columbus meet, one of dozens of indoor meets all across the country. All but two of those meets are now gone and their demise hasn't helped anyone.
Links
This morning, Ben Enowitz picked his Mount Rushmore of US milers. Two deserving athlete who tend to get overlooked in these kinds of debates are Dyrol Burleson and Marty Liquori.
Today I recapped the highest levels of the weekend's college action and what it means.
News
Runner's World's Morning Report has all of yesterday's news: Gebrselassie will be the London marathon pacemaker, Dennis Kimetto hopes to heal for in time for Boston, and more.
The USTFCCCA's college team computer rankings are out: Oregon's women and Arkansas' men lead, both are the defending NCAA indoor champions.
Also from the USTFCCCA: national athletes of the week. D-I winners are Lawi Lalang and Abbey D'Agostino, both of whom ran at the Millrose Games (see above.)
More national rankings: Texas A&M wins the Track and Field News women's indoor dual meet title.
Full top twenty rankings
After the first two runs (out of four) in the two-woman Olympic bobsled, retired sprinter Lauryn Williams and her driver Elana Meyers lead. Canada is second, another USA sled is third, and the Lolo Jones-pushed third US sled is well out of medal contention.
More from USA Today
Speaking of the Olympics, Forbes asks why the USOC is tax-exempt since only 6% of its budget goes to direct athlete support. I'm going to call this lazy reporting since most direct athlete support comes from individual sports' national governing bodies, not the USOC, and nearly 30% of the USOC's expenses are grants to NGBs.
More from Forbes
And the IOC reportedly may add an anti-discrimination rule for future Games bidders. Or, more accurately, they might be held to an existing part of the Olympic Charter.
More from Reuters
Dan (O'Brien) and Dave (Johnson) will battle to see who is the best Wall Street decathlete in a special charity event. I hope O'Brien doesn't no-height in accounting.
More from Bloomberg Business News
Video of the day
Regarding the Mount Rushmore of US miling, here is one of its greatest moments: the 1971 Dream Mile race between Marty Liquori and Jim Ryun.