One Comment
The Monday Morning Run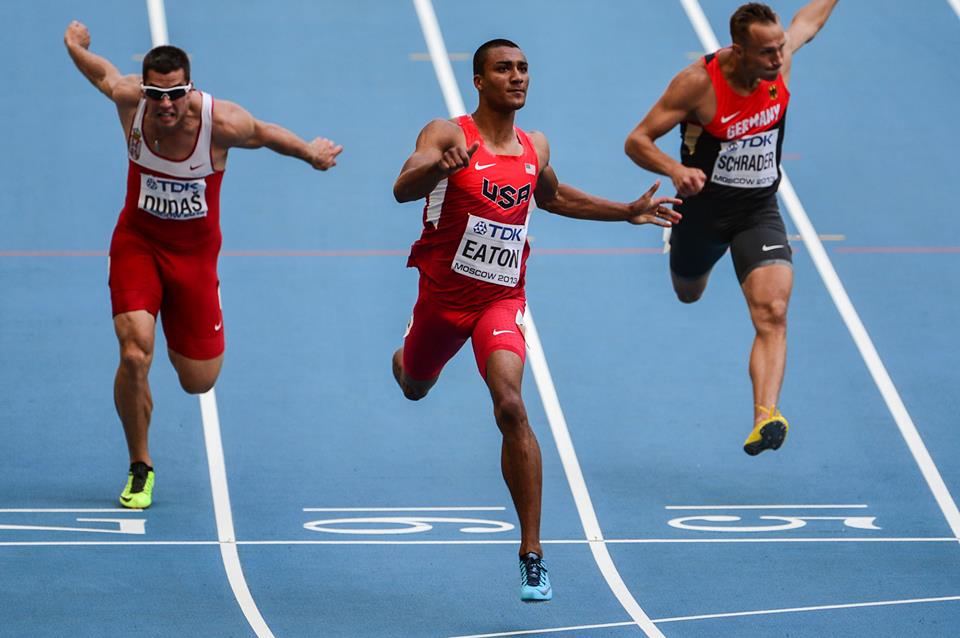 Kevin Sully | On 21, Oct 2013
Ashton Eaton will try his hand at the 400-meter hurdles next season
Photo courtesy of TrackTownPhoto
Track fans received their first bit of positive non-championship season news when Ashton Eaton's coach Harry Marra said that Eaton will focus on the 400-hurdles during the outdoor season.  So much of the lead-up to 2014 has been about who is taking time off, who is trying to stay injury-free and who is going to pay the least amount of attention to the Commonwealth Games.
Eaton's decision will be an interesting story to follow and will inject some excitement into next season.  Can he compete at a world-class level with 400 hurdle specialists?  How will it impact his ability to prepare for his next major decathlon in 2015?  If he does become an elite hurdler, will the rest of track and field just give up and concede that they are only successful in their events because Eaton hasn't gotten to them yet?
The event switch makes perfect sense.  Marra says that it will serve to keep Eaton mentally sharp and will allow him to have a more active competition schedule.  In doing so, Eaton has become the first big name athlete to fully embrace the off-year.  Granted, he is better positioned to take time away from his marquee event than anyone else.  He sits far atop the world in the decathlon and hurdling and running 400 meters are already part of his repertoire.
In the spirit of the newest 400-meter hurdler, here are a few other event changes that could spice up the championship-less year.
David Rudisha: 1500
Watching David Rudisha run 56-second laps would probably be a lot like staring at a Formula 1 car going 150 miles per hour.  You would marvel at the efficiency and effortlessness, but ultimately its modesty would frustrate you. You would want it to speed up because it is built to go fast.
Though the slower pace would appear unnatural, track fans can't help but wonder what Rudisha's fluid stride would look like in a longer distance. We want to see Rudisha go hard from the gun and take a shot at bettering his 1:40.91, but wouldn't it be nice if once in 2014 he shifted into a slower gear and ran the 1500? Ok, maybe twice.
Chances are if he does take a break from the 800, it would be for the 400, a distance he has raced before and where his father won an Olympic silver medal in the 4 x 400 relay.  But there is the fascination with the 1500, and all of that speed harnessed and controlled over three ¾ laps.  How close could he get to running a time that equates to his 800-meter world record?  The IAAF scoring tables say his 1:40.91 is worth a high 3:42 for the mile.
Usain Bolt: 400
Most track fans' first choice for Bolt would be long jump.  The novelty of him trying an event where he possesses all of the requisite skills, but zero experience would be too intriguing to pass up.  Also, as an event, the long jump could use a shot in the arm.  As much as we want it to happen, asking Bolt to add a new event at the age of 27 isn't a reasonable scenario.  The 400 probably won't happen either (save for some early season races), but it is less of a stretch.
All of his attempts at the quarter last season were underwhelming, however that was in the early part of the season, where everything Bolt does is, by comparison, underwhelming.  Give him a couple months to ease into the season and he should be able to go under his 45.28 personal best.  That mark comes from 2007, a year before Bolt became Bolt and left behind the event he grew up with.  Plenty of high school coaches who spend way too much time trying to convince their sprinters to race the 4 x 400 would be appreciative if Bolt could make the 400 cool again.
Mo Farah: Marathon
No need to pray to the running gods, this one is happening, pending an injury, illness or an escalation of the beef between Farah and rapper Busta Rhymes.
Farah's finishing time in his first crack at the distance will draw attention, but the running world is also wondering how he will fare against a field of the world's best. It is an off-year so the risk is mitigated a bit. He will have more than a year to recover if the race doesn't go to plan.
Still, let's take a look at what is at stake.  Farah is jumping into the deepest, most grueling event against a field that will, if prior years are any indication, be stronger than any other major marathon on the calendar.  He is doing this after winning five gold medals over the past three years on the track.  He has little to gain by attempting the marathon, which makes his decision that much more fascinating.  It is much harder to pick and choose your competition on the roads.  There are too many great runners and only a handful of big money races each year.  This risk is there–of a loss, a bad time or even an injury.
Evan Jager: 10,000
My college coach Tom Heinonen (who also happened to be inducted into University of Oregon's Hall of Fame over the weekend) always said that the steeplechase is run at 10,000-meter race pace.  Considering that, why not take the American record holder in the steeplechase and see what he can do over 25 laps?  Jager has never raced a 10,000, but is coming off a season where he set a person best of 13:02 in the 5,000.  He has done well to compete with the Kenyans over the past two championships finishing sixth in the Olympics and fifth at the World Championships in Moscow.  His personal bests of 3:36, 7:35, 8:06 and 13:02 raise those natural questions that track fans have about what he might be capable of in the 10,000.
There is also a competitive question.  With the current Kenyan gridlock in the steeplechase, it might be easier right now to earn a medal in the 10,000.   Jager looks to have both of the prerequisites for 10,000 success–the strength to hang with the pack and the sprint speed to close in under 55 seconds.
Brittany Reese: Triple jump
During the World Championships, it was clear that America's best chance of fielding a competitive women's triple jumper was to teach Brittany Reese to jump two more times.  Currently, Reese is by far the most underrated American track and field athlete.  She has won every world title, indoors and out, since 2009–six in a row in total.  With that sort of dominance, and no meet next year to extend the streak, it would be interesting to see her try her hand in the event where the United States has had no presence in the last few championships.   In 2008, she jumped 13.16 meters.  That mark wouldn't have put her in the top 100 last year.  However, that 13.16 is only .81 meters behind the best American jump of 2013.  Give Reese a whole season and maybe she can flirt with 14 meters.
Valerie Adams: Discus
Adams crushed all-comers in 2013.  Unless her competitors start ingesting/injecting PEDs during warm-ups, she will cruise through another season.  Why not take up the discus on the side?  Next summer will mark the 10-year anniversary of her personal best in the event, a throw of 58.12 in 2004.  Sure that is 14 meters behind what Sandra Perkovic threw this season, but Adams is 10 years stronger.
Even with her vice grip on the event this year, Adams will more than likely finish well behind Shelly-Ann Fraser-Pryce in the Athlete of the Year voting.  If Adams wants some consideration next season she needs to take some chances.  Spend less time practicing the shot put, you are going to win anyway.  Perfect the spin. If the discus doesn't work, have a go with the hammer.   At the very least, she can get some personal bests out of 2014.
World Indoors
Ken Goe reported last week that a group backed by Nike is leading Portland's bid to host the 2016 World Indoor Championships.   Birmingham, England is also in the running.  Both cities will present to the IAAF on November 15th.  The United States has hosted the World Indoor Championships only once and has never hosted an outdoor World Championships.  Before the IAAF, makes their decision, let's take a closer look at these two cities.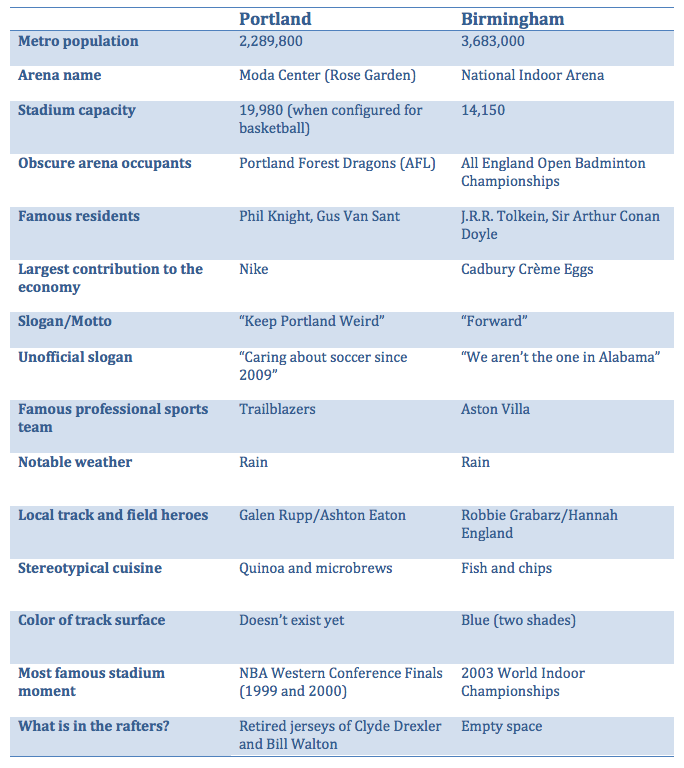 Marathonia
There were marathons in Beijing, Toronto and Amsterdam over the weekend. Five highlights!
1)   Derissa Chemisa won the Toronto Marathon in 2:07:05.  The time was the fastest ever on the notoriously slow Canadian soil.  A great performance by Chemisa, but let's go over, once again, how inane soil records are even amongst the stat-heavy track fan crowd. World records, national records, school records, stadium records, course records.  That's it.  We should also make an exception for high altitude records since it does dramatically influence one's ability to run fast.  That isn't the case with soil records.  Is there something inherently more challenging about running 26.2 miles in Canada than in any other country? How about Japan?  Belgium?  Which ones have the fast soil?  There are enough "records for records sake" in track and field.  Let's keep the soil out of it.
2)   In the women's competition, Flomina Cheyech took the win, finishing in 2:25:13.  The bigger story was the race behind where Lanni Marchant and Krista Duchene both broke the Canadian national record.  Marchant's 2:28:00 is the new mark.
3)   At the Beijing International Marathon, Tadese Tola broke the 27-year-old course record by 19 seconds to win in 2:07:15.  Beijing was Tola's fourth marathon in 2013.  He finished third in Dubai, second in Paris, and third at the World Championships.
4)   More records fell at the Amsterdam Marathon.  Wilson Chebet won the race for the third year in a row and set a course record of 2:05:36.
5)   There is yet another young Kenya to keep an eye on. 20-year-old Valentine Kipketer won the women's race in Amsterdam in 2:23:02.   American Serena Burla made the most of her trans-Atlantic trip and finished second in 2:28:01.  The time was a personal best for Burla and a great bounce back after not finishing the Boston Marathon in April.
 Reading List
–Jesse Squire reviews the NCAA cross country meets in Wisconsin and Terre Haute.
–Toni Reavis takes an exhaustive and insightful look at the relationship between fast times and competition.  I touched on the same topic in my recap of the Chicago Marathon.
–Xinhua writes about Emmanuel Mutai's "bridesmaid jinx." The Kenya has finished second in seven different major marathons, most recently as runner-up to Dennis Kimetto in Chicago.  Given the variability of the marathon, a better question might be how Mutai has managed to place as high as he has over the past five years. The line between implosion and a course record is so thin.  Mutai's consistency is remarkable.