One Comment
College Weekend Recap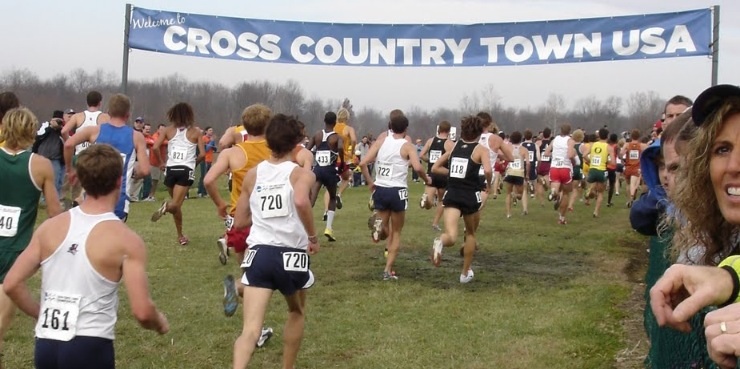 Jesse Squire | On 21, Oct 2013
Up to now, the college cross country season has been mostly speculation as to which teams will probably be the best in the country, but this weekend much of the speculation ended. The season's two biggest invitationals took place, Wisconsin's Adidas Invitational and the Pre-National Invitational at Indiana State.
Pre-Nats
We first go to Terre Haute and the "Pre-Nats". The men's race was supposed to be a battle between #2 Colorado and #4 Oregon. The Buffaloes used their traditional strategy of a controlled start and a strong finish to pull out a win that was bigger than it appeared. More or less even with the Ducks at the 5k checkpoint, they pulled away over the final 3k for a 90-113 win. The score looked relatively close, but the Buffs had five runners in before anyone else had four, and that's the recipe for victory.
My weekend preview expected a clash between Colorado and #1 Oklahoma State, but the Cowboys did not run four of their top runners and finished seventh. It looks like this will be classified as a 'B' team for NCAA Championships at-large qualifying, meaning that no one earns points by beating them.
The expected clash in the individual race between Texas Tech's Kennedy Kithuka and UTEP's Anthony Rotich did materialize…sort of. Rotich did finish second, but Kithuka was 33 seconds clear of him for a dominating win. Third was Tulsa's miler, Chris O'Hare, who just came off national team duty for his native Britain at the IAAF World Championships. Next came two freshmen: Oregon's Edward Cheserek and Stanford's Sean McGorty, two of the nation's most highly touted recruits.
Speaking of Oregon, the Ducks did not run Eric Jenkins, their superstar transfer. He hasn't raced all season and it looks likely that he'll redshirt this year. Even with him, the Ducks would probably be only the second-best team in the country after Oklahoma State. Seeing as how only there are only two seniors in their top eight or nine runners, I wouldn't be surprised if the plan is to bide their time and spend 2013 as a learning year, and then go all-in and shoot for the national title in 2014.
Remember, though, the real drama in these races is the down-the-line battle for qualifying points to the NCAA Championships. The goal is to beat teams who will qualify, either by finishing in the top two at their regional meet or by beating other teams that did the same. Iona (third), Stanford (fourth) and Tulsa (fifth) probably sealed an NCAA berth right here; all are likely to take a top-two spot at their regional meet but now have something to fall back on.
The women's race was quite a bit more thrilling in the chase for the team title. #5 Georgetown upset #2 Florida State and it wasn't close. The Hoyas put five runners across the line before the Seminoles even had three in and won by a startling 45 points. I'm not sure if the Hoyas have what it takes to win the NCAAs–not having a strong first runner makes things hard at the national meet–but they pulled off the miracle win in 2011 so you just never know.
Taking the individual win was Boise State's Emma Bates, who undefeated against collegiate competition this year (but lost to a high schooler at Oregon's Bill Dellinger Invitational two weeks ago). She scored in both long-distance races at June's NCAA Outdoor Championships, 3rd in the 10k and 7th in the 5k, so little she does should be surprising.
Down the line, #20 Butler ran a bit of a shocker to get third over #16 Virginia. #6 Oregon did not run particularly well and finished fifth. #14 Michigan was sixth, followed by #12 Colorado, #21 William & Mary, #11 Stanford, and #23 Princeton.
Adidas
Next to Madison and the Adidas Invitational.
The men's race saw #3 Northern Arizona run to a solid victory over #5 BYU by the score of 121-174. Plugging in Matt McElroy and Nathan Weitz, both of whom were held out of the Cowboy Jamboree three weeks ago, they put six runners in the top 50 (out of 287). Maybe they can challenge Oklahoma State for the national title and maybe they can't, but right now I think they're significantly better than anyone else.
The individual race was a tight one, with three men separated by just four seconds. The win was taken by Arkansas' Kemoy Campbell, who looks like the nation's second-best runner right now. Second was Harvard's Maksim Korolev and North Carolina State's Andrew Colley was third. Arizona superstar Lawi Lalang started his cross country season late after a long summer season and was not sharp at all, finishing just 13th.
#7 Portland took third and #8 Columbia, the big surprise of two weeks ago, finished sixth. #25 New Mexico had been a big question mark all year but ran well to get fifth. #6 Arkansas had a disappointing outing with a seventh-place finish. And who was fourth? It was a surprise.
The streak
I got to watch Hockey Night in Canada on Saturday night, a rare treat for a man who now has six jobs (I am not making this up). It's one of those comforting things on a dark, cold Saturday night that's been a part of my life for as long as I can remember.
Another thing in this part of the country that has seemingly always been there is Wisconsin's domination of men's cross country. The Badgers have won the Big Ten for fourteen straight years and the Great Lakes regional for eleven. But the early-season results this year suggested that Mick Byrne's crew might break those streaks, with Indiana rated as the top men's team in the conference and the region.
Byrne, however, understands tradition as well as Tevye and knows how to communicate it to his team. Was it an upset that Wisconsin finished fourth in their own invitational? Perhaps. They were led by an unproven redshirt freshman named Malachy Schrobilgen (who?). And they have to repeat this performance two more times in the coming month in order to keep those streaks alive, which is no small feat. I will have to say, though, that this run was unexpected and impressive.
"Everybody, all the pundits had us written off, that we suck," Byrne told UWBadgers.com. "But what my guys out there today showed us is that they have heart, they got guts, and that wearing that uniform means something. Having that Wisconsin on their chest means something." This particular pundit hadn't mentioned the Badgers at all this season, which only mean that they hadn't yet earned mention. They sure have now.
Who is Maksim Korolev?
He was second at the Adidas Invitational. I never heard of him until this weekend, and there wasn't much reason I should have. The senior out of Harrisonville, Missouri, finished twelfth at the Paul Short Run two weeks ago and was 24th in the NCAA 10k in June. He has modest track PRs (4:03, 13:58, 29:13) for a guy who just turned back multiple All-Americans. Back in early June, however, there was an entire Let's Run message board thread about him and his tremendous talent and inconsistency.
Women's Race
#1 Providence was a favorite going into this race but not a strong one. The Friars' top three runners are very strong but there have been doubts about depth, particularly in the fifth position.
Boy howdy were those doubts correct. Emily Sisson, Sarah Collins and Laura Nagel were their usual excellent selves and all finished in the top ten. Catarina Rocha did a bang-up job as a fourth runner, especially considering that she's a freshman and has no teammates to help her along. Then the bottom fell out. The fifth runner, Molly Keating, was stuck back in 138th, the slowest fifth runner in the top thirteen teams. She didn't run poorly by her standards. It's just that Providence has outstanding talent in four runners but that fifth is a killer.
Steeping into the gap was #3 Arizona, who received a single #1 vote in the last coaches' poll. Whoever gave them that vote probably feels pretty smart right now, and the Wildcats will probably get more of those in the next poll. #8 Arkansas was second. #9 Michigan State was fourth, while #7 New Mexico, who nearly knocked off #2 Florida State two weeks ago, finished back in sixth. The surprise of the day was #28 Iowa State, who finished fifth.
As expected, the individual race was dominated by Dartmouth's Abbey D'Agostino. Second was Providence's Sisson (see above), and the big surprise was in third. Texas' Marielle Hall had probably the best race of her entire life, even better than her South Regional win or last fall or her follow-up 23rd-place finish at the NCAAs. Duke's Juliet Bottorff had relatively poor race and finished eleventh.
Individual ranking
My ranking of the top individuals runners in the NCAA…
MEN
1. Kennedy Kithuka, Texas Tech. Still undefeated in his NCAA cross country career.
2. Kemoy Campbell, Arkasas. The only guy who's been able to run even close to Kithuka.
3. Lawi Lalang, Arizona. He will be one of the top runners but he isn't right now.
4. Anthony Rotich, UTEP
5. Paul Chelimo, UNC-Greensboro
6. Andrew Colley, North Carolina State
7. Soufiane Bouchikhi, Eastern Kentucky
8. Chris O'Hare, Tulsa
9. Maksim Korolev, Harvard
10. Aaron Nelson, Washington
WOMEN
1. Abbey D'Agostino, Dartmouth. Dominant.
2. Emma Bates, Boise State
3. Emily Sisson, Providence
4. Aisling Cuffe, Stanford
5. Shelby Houlihan, Arizona State
6. Cally Macumber, Kentucky
7. Juliet Bottorf, Duke
8. Marielle Hall, Texas
9. Sarah Collins, Providence
10. Colleen Quigley, Florida State
Awards
In the style of pro hockey, here are my three stars for the weekend…
MEN
The first star: Kennedy Kithuka, Texas Tech
His margin of victory at Pre-Nats, 33 seconds, is astounding. That's nearly 200 meters clear of the field.
The second star: Kemoy Campbell, Arkansas
Actually running close to Kithuka two weeks ago at the Chile Pepper Festival raised eyebrows. His win at the Adidas Invitational shows he's for real.
The third star: Chris O'Hare, Tulsa
Milers are not supposed to be third in an 8k cross country race at Pre-Nats. Then again, record-setting milers who make the World Championships final are supposed to take the shoe contract waiting for them instead of coming back for their senior years.
WOMEN
The first star: Abbey D'Agostino, Dartmouth
She won the Adidas Invitational by 13 seconds and was never really challenged.
The second star: Emma Bates, Boise State
Bates led the Pre-Nats with 1000 meters to go but fell back to third in the final stretch before rallying for the win.
The third star: Madeline Chambers, Georgetown
The Hoyas beat #2 Florida State to win Pre-Nats with depth, and Chambers was a key part of that. The junior out of Rocky River, Ohio, bombed at the Paul Short Run two weeks ago but bounced back strong at Pre-Nats as her team's fourth runner and beat everyone else's third.
Men's team of the week: Northern Arizona
Colorado ran well to win Pre-Nats, but I think the Lumberjacks' win at the Adidas Invitational was more impressive.
Women's team of the week: Arizona
It's an all-Arizona week. The Wildcats' win at the Adidas Invitational will probably propel them into the #1 ranking when the new poll comes out.