No Comments
The Weekend's Best Matchups for October 18-20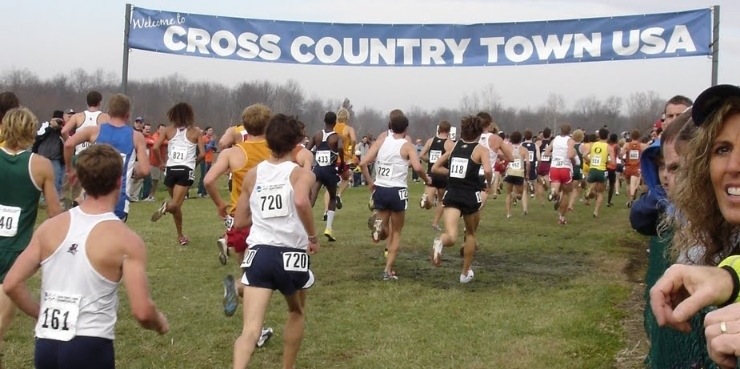 Jesse Squire | On 18, Oct 2013
Terre Haute awaits half of the nation's best teams. (Photo by Jesse Squire)
These matchups all center around college cross country and the weekend's two biggest meets: the Pre-Nationals at Indiana State and the adidas Invitational at Wisconsin. Everyone who is anyone is running at one or the other and both will be webcast live at Flotrack.org (subscription required).
While the matchups below feature the teams and individuals expected to contend for the wins, the real drama in regular-season cross country is back in the back. Teams that finish in the top ten in either meet can figure they'll earn enough qualifying points to assure an at-large bid to the NCAA Championships. Any lower than that and it gets much dicier. A whole lot of "bubble" teams will make or break their entire season in these two meets.
Pre-Nationals
Lavern Gibson Championship Cross Country Course, Terre Haute IN
Meet website | Flotrack coverage
Men's race at 11:00am ET
Oklahoma State vs Colorado
You can't ask for much more than #1 vs #2 and that's just what we have right here. Oklahoma State is the defending men's national champions and overwhelming favorites to repeat. Colorado has its best team in years and might be able to pull off the upset.
Oklahoma State is hiding no one. Everyone knows what they have and they're the subject of a series of in-depth Running Times stories, so it would be pointless to try. The Buffalos are playing it close to the vest; one star (All-American Jake Hurysz) is not running here, another (Ammar Moussa) hasn't raced at all this year, and then there are the freshmen (Ben Saarel and Zach Perrin) who have raced but only unattached. There's a bit of speculation involved in their #2 ranking.
Lurking in the background is #4 Oregon, who will hide no one on Saturday. The Ducks bring two freshman stars (Edward Cheserek, Jake Leingang), an established veteran (track All-American Parker Stinson) and a transfer (Eric Jenkins) who ranks as one of the fastest 5k runners in collegiate history. All of these guys could be very good on the national level in cross country, but all are more or less unproven. Stinson hasn't been as good in cross as he has been on the track, and Jenkins hasn't run a cross country race in nearly two years. The freshmen are, well, freshmen. "Pre-Nats" is where we'll find out if the Ducks are for real.
Kennedy Kithuka vs Anthony Rotich
Texas Tech's Kithuka is undefeated in his NCAA cross country career and has barely ever had anyone even close to him. UTEP's Rotich is a sophomore who was 4th at last year's NCAA meet and won the NCAA steeplechase in June. (Side note: every reigning indoor and outdoor NCAA track champion at 1500 meters or further is back for cross country this fall.) No one figures Kithuka as vulnerable but Rotich is a tough customer. Other top individuals entered include Oregon's Eric Jenkins (see above) and several Oklahoma State runners, such as Kirubel Erassa and Shadrack Kipchirchir.
Women's race at 11:40am ET
Florida State vs contenders
The Seminoles are the #2-ranked women's team in the NCAA but had to fight off a surprising New Mexico squad to win the Notre Dame Invitational two weeks ago. They have a long list of contenders ready to fight for the win.
#3-ranked Oregon comes in as the defending national champions, but the departure of five seniors has left them with a nearly all-new squad. This weekend will be the Duck debut for Lindsay Crevoiserat and Julia Zrinyi, a pair of transfers from UConn. #5 Georgetown won the Paul Short Run two weeks ago despite resting one star (Katrina Coogan) and having another (Madeline Chambers) bomb. If Chambers merely suffered from heat illness rather than injury and can bounce back, then the Hoyas are contenders. College cross country expert Isaac Wood idetifies #14 Michigan as the dark-horse team that could surprise.
Laura Hollander vs Cally Macumber
This could be a very interesting matchup. Cal Poly's Hollander blazed through her first few races during her freshman campaign last year but came back to earth a little bit, finishing ninth at the NCAA Championships. Her spring track season ended prematurely due to injury. She has just one race under her belt so far this fall but it was a good one.
Kentucky's Macumber finished sixth at the NCAAs last year and then had a good indoor season but followed it up with a bad outdoor season. She's raced three times this fall, with two wins and a second, and appears to have made a return to form. Other contenders to watch include Ann Eason (Eastern Kentucky), who beat Macumber two weeks ago in a big upset, and Elaina Balouris (William & Mary).
adidas Invitational
Zimmer Championship Cross Country Course, Madison WI
Meet website | Flotrack coverage
Men's race at 11am local time (noon ET)
Northern Arizona vs Arkansas vs BYU
At first glance this appears to be "the race to see who gets to lose to Oklahoma State". But recall that in December of 1991, SNL ran a Democratic primary sketch called "The race to see who gets to lose to George Bush" but the '92 presidential election didn't work out that way. You have to consider all of these teams as national title contenders.
#3-ranked Northern Arizona returns everyone from last year's NCAA Championships 4th-place squad and have added a few quality freshmen plus a transfer from Oklahoma State. Their only major outing so far was a loss to Oklahoma State at the Cowboy Jamboree while resting several of their top runners. They're #3 in the polls right now but could be a #2. Arkansas has one of the best individuals in the NCAA in Kemoy Campbell but the Razorbacks appear to lack the depth to make a championship run–but on the other hand, everyone with title aspirations sandbags the early season. BYU has tremendous depth and that makes them a contender to win this meet.
Kemoy Campbell vs Soufiane Bouchikhi
The individual competition could come down to this pair of international competitors. Arkansas' Campbell, the Jamaican 5k champion, actually gave NCAA champion Kennedy Kithuka a push in his last race, and no one has done that in more than a year. Eastern Kentucky's Bouchikhi is flying under the radar but has won both of his races this season and by an average of more than 20 seconds. Another contender is BYU's Tylor Thatcher, who also has two wins in two races this year.
Women's race at noon local time (1pm ET)
Providence vs Arizona
I wrote my preseason cross country preview for Track and Field News near the end of July. I had Providence at #1 back then and I still do now, based on the strength of their top three runners, all of who were All-Americans last year. But the Friars are vulnerable as the lack depth beyond those three. It's long been known that Providence could be beaten, but as of yet we don't know what team has what it takes to knock them off.
It's not Oregon, the defending champions–they lost too much to graduation and haven't sufficiently reloaded. Duke was bandied around as a challenger but they are an even longer shot. Florida State is currently #2 in the polls but barely held off New Mexico at the Notre Dame Invitational two weeks ago, so they don't look like the team to do it either.
Next on the list of contenders is Arizona, the NCAA's #3-ranked team. Led by Elvin Kibet, the Wildcats are tough through their first four runners but then, as with Providence, there's a marked dropoff. Even so, they won the Roy Griak Invitational rather convincingly. Other contenders include #4 Washington and #7 New Mexico.
Abbey D'Agostino vs Juliet Bottorff
Dartmouth star D'Agostino will make her seasonal debut here, and she is considered to be head and shoulders above the rest of NCAA competition. She was a close third at last year's NCAA Championships after being slowed by a midseason injury, and then she dominated on the track last spring.
Bottorff is likely to lead the charge against her; the Duke grad student was an NCAA 10k champ in 2012 and then was slowed or knocked out by injury for the entire next year, but looks to be back in top form right now. Other individual contenders include Samantha Silva (New Mexico) and Shelby Houlihan (Arizona State).<