One Comment
The Monday Morning Run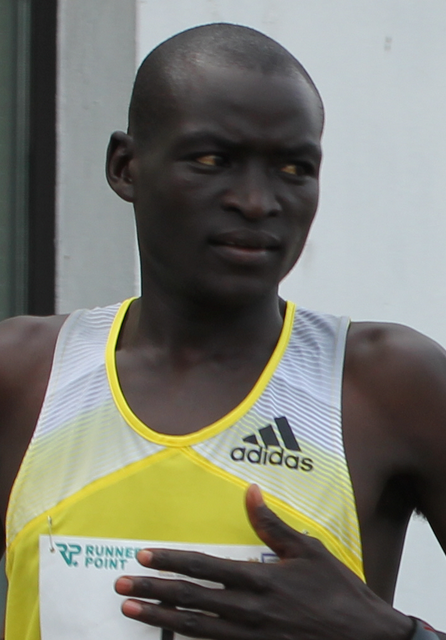 Kevin Sully | On 14, Oct 2013
Photo via Creative Commons
In honor of the Chicago Marathon, 26 thoughts on the race and the wins by Dennis Kimetto and Rita Jeptoo.
1) After a subdued 2012, the marathon is back to its preposterous ways. 2011 set the bar way too high, with course records in all of the major marathons and 2:04s turning into the norm. The weather, Mother Nature and the Olympics all colluded in 2012 to bring everyone back down to earth. This spring, the times weren't there, but the fall has given us a world record, a course record, and the first race ever with two runners under 2:04. If the weather cooperates, expect the trend to continue in New York.
2) Was the world record attainable with better rabbits? In Berlin, a pacemaker guided Wilson Kipsang through 35-k. Forget drafting and the other physical benefits, that is a lot of mental energy that Kipsang didn't expend. Chicago was less of a record attempt and more of a race. The rabbits did a good job running ludicrous, yet even splits. They hit halfway in 1:01:52 and stayed in the race until the 25-k mark. From there, it was every Kenyan (save for one Ethiopian) for himself. Another pacer could have helped keep the pace even the next 10 kilometers, but ultimately the record was lost in the final 2 kilometers. The downside of such a fast pace is that even the rabbits can't keep up.
3) An interesting conversation came up during the broadcast when Toni Reavis and Tim Hutchings discussed the value of competition in a record attempt. The lack of competition was seen as an advantage when Kipsang set the world record in Berlin. When the last pacer exited on Sunday, it looked again that the fast time would take a back seat to the race at hand with everyone reluctant to take on the pace. However, the looking-around phase didn't last long. The competition ended up fueling the break by Emmanuel Mutai and Dennis Kimetto, not impeding it.
4) Dathan Ritzenhein finished fifth in 2:09:45. He was two minutes off his time from last year, but this was his best finish in a major marathon. What was his mindset after a high finish mixed with a "below expectations" time? Disappointment.  He said after the race he wanted to run three minutes faster.
Ritzenhein has competed in enough races to know that fifth in a race where the next closest runner was almost three minutes in front of him isn't the same as placing fifth in a race where he was in contention throughout. Still, it is his best finish ever, but he is well aware that the runners he passed down the stretch were reeling after swinging for the fences in hopes of a great day.
5) As much as the pros preach placing high, there is still currency in fast times., particularly in the marathon. Ritzenhein's frustration reflects that. Marathoners have more control over their own finish time than those who compete on the track. Finishing first will always be the top priority; however, in a race like Chicago where no American had a realistic shot at competing for the win, the time becomes the focal point and the measure of success or failure.
6) The pace was suicidal, except for the eventual winner.
Dennis Kimetto's Chicago halves – 61:52 & 61:53………Nice!!!

— Tim Hutchings (@TimHutchings1) October 13, 2013
7) When Moses Mosop and Ayele Abshero start running JV cross country splits, you know something special was happening.
Mosop 18:44 and Abshero 18:32 for 35-40K. Early pace too hot and they hit a wall. #ChiMarathon

— Ultimate Cranston (@UltimateCrans) October 13, 2013
8) Can we glean anything about Geoffrey Mutai's form based on Kimetto's performance? The two reportedly are training partners and Kimetto paced Mutai to a victory in Berlin last year. Mutai has been bullish about his expectations for the race and hopes to break his own course record. He won't have the luxury of pacemakers in New York , but he will have a deep field to challenge him including including Stephen Kiprotich, Stanley Biwott and Wesley Korir.
9) Where did all the Ethiopians go? Five men were entered. Three made it past halfway. Only one finished in the top thirty, Ayele Abshero in sixth. Also, Kimetto's mark means that Ethiopia no longer holds any of the men's course records in the major marathons. The women fared better with three in the first eight, but they were still a long way from being competitive with the Kenyans.
10) With the absence of the Ethiopians which countries benefitted? Kenya, obviously, but the United States and Japan each placed two runners in the top 10 in the men's race. For the women, the United States had representation in ninth and 10th (Clara Santucci and Melissa White). Once you factor in number of athletes entered and DNFs, comparisons between countries aren't particularly instructive. The one major lesson we can take away from the day is that Kenya is still dominant, which isn't news at all.
11) Somehow, the course record has come down almost two minutes from Sammy Wanjiru's 2:05:41 in 2009. It wasn't just fast runners on Sunday. Like Berlin, the weather and the pacemaking made it possible. Did I mention Wanjiru's 2009 performance? Any excuse to play this clip.
12) Marathon veteran Rita Jeptoo won the women's race in 2:19:57, the fastest time in the world this year. Her closest competition came from Jemima Sumgong, who was with Jeptoo through 35-k. Eventually, Jeptoo extended her lead over the last two miles and won by a comfortable margin. At 32-years-old and after 17 marathons, how much racing does she have left?
13) Further proof of the variability of marathons: Last year, Jeptoo lost to Atsede Baysa by one second. This year, she beat the Ethiopian by 6:47. From an inch to more than a mile.
14) In 2012, Jemima Sumgong was banned from competition for two years after testing positive for prednisolone. Her suspension was voided after a successful appeal on the grounds that she used the drug to treat a hip injury.
15) As was the case in Berlin, the women's race was overshadowed by the men's competition. In New York and Boston the women start before the men so they can have the spotlight during the final miles. The major downside to this is that the women's finish often coincides with a key moment in the men's race. I'm not sure which method I prefer, but it did feel like some of the juice was taken out of Jeptoo's win. Maybe that had more to do with the excitement of the men chasing the record than the timing of the finish.
16) Maria Konovalova, the 39-year-old from Russia, finished 3rd in 2:22:46. That has to be some sort of record, doesn't it?
Konovalova missed becoming the fastest 39 years old by 30 sec. The record is 2:22:18 by Mikitenko

— K Ken Nakamura (@KKenNakamura) October 13, 2013
Never mind, so close!
17) The pacemakers wore red jerseys for Chicago. They didn't scream "I'm not actually competing in this race" quite like the striped kits the pacers wear in Berlin.
18) Toni Reavis reported that Emmanuel Mutai dropped his water bottle at the final aid station and paused to decide if he should pick it up. At that moment, Kimetto attacked and created the gap that eventually led to his victory. If true, this has to be the biggest water bottle mishap in road racing history,.
19) Kimetto's splits compared with Kipsang in Berlin. Kipsang was 16 seconds faster in the final two kilometers.
Kimetto
14:46
14:37
14:39
14:38
14:39
14:45
14:35
14:39
6:27
Kipsang
14:33
14:43
14:29
14:35
14:53
14:48
14:35
14:36
6:11
20) I am starting to think that we may never see an athlete dominate the marathon for more than a year. The competition is too deep and the distance is too unpredictable for one runner to stay on top for very long. Kipsang and Kimetto are the two hottest, but on a given day I could make a list of at least five who could beat them.
21) Since it is too difficult to rank the top marathoners (and it is also highly contingent upon the course, style of race, etc.) here is my first tier, post Chicago.
–Kimetto: I think he is going to get a few calls from London and Berlin next year
–Kipsang: World record, not as proven in non-paced races
–E. Mutai: Due to breakthrough and get another win
–Kebede: The London Marathon in April was the Marathon to End All Marathons, and he won it.
–G. Mutai: Wins New York and he stays on this list, loses and he goes the way of Mosop and Makau
–Stephen Kiprotich: 2-0 in the last two championships
–Abshero: He flamed out on Sunday, but I'm keeping him in the group because of his age and potential in the event.
22) With 100% of the precincts reporting, we can definitively say that Zersaney Tadese is not a marathoner. On Sunday, he fell off the main pack and dropped out just past the halfway point. He hasn't cracked 2:10 in his four attempts at the distance. There doesn't seem to be a logical reason why he isn't good at the distance, but we have a large enough sample size now to assume that he more than likely isn't going to be able to put it together. Maybe it is mental? I guess he will just have to settle for being the best half-marathoner in history.
23) On the podcast, Jason and I concluded that if Matt Tegenkamp finished in the neighborhood of 2:10, he would have to be considered a top-5 active American marathoner. He finished 10th and ran 2:12:28. Not quite 2:10, but can you name 5 other Americans you would pick over him?
24) Kimetto has finished 2nd, 1st and 1st in his three marathons. His time on Sunday was the fourth fastest of all-time and he has reportedly only been running for four years. How did he get to 10,000 hours so quickly?
25) Many different ways to succeed in the marathon. The guy who won has only been running since Obama has been in office. The man in second has been world class since 2007 and has run 14 marathons. Third place was Sammy Kitwara who is a career road racer who began running in 2007. Micah Kogo in fourth was only running his second marathon after a successful career on the track.
26) In the excitement of the race, it was easy to forget that Chicago was the first major marathon in the United States since the Boston bombings. Sara Schweitzer of the Boston Globe wrote a fabulous story about one of the survivors.