12 Comments
The Dual: Why No World Records in 2013?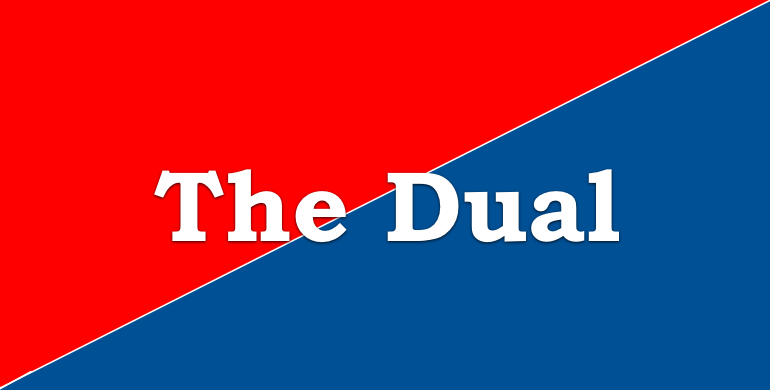 Kevin Sully | On 05, Sep 2013
The Dual is a two-person discussion about issues surrounding the world of running and track and field.  This week, Jesse and Kevin try to figure out why there have been no world records in track and field in 2013.  
Kevin
Barring a huge height by Bohdan Bondarenko or Renaud Lavillenie or a monster jump by Teddy Tamgho in the last few weeks of the season, it looks like this will be the first year since the inception of the IAAF where there have been no world records in track and field or the marathon.
What do you think accounts for this?  Statistical anomaly?  Increased effectiveness of drug testing?  Fewer opportunities to chase records?  Something else?
Or, have all the marks progressed to a point where we should expect to see more record-less years like this in the future?
I should note that all of the record breakers from last year (David Rudisha, Ashton Eaton, Aries Merritt, American women's 4 x 100 team, Jamaican men's 4 x 100 team) all had a tough time getting going in 2013.  The two relay teams had a significant amount of missing parts from their squads in London.
Very curious to hear your thoughts.
Jesse
We've been on a record decline for quite a while, it just didn't show up until now.  Records in recent years have come in four flavors: marathon, "new" women's events (steeplechase, pole vault, triple jump, hammer throw, new javelin, walks), David Rudisha and Usain Bolt.  Other than those, we haven't had much in the way of records for several years.  The first two areas seem to have squeezed out all their improvement and the last two were off their peak in 2013 (maybe permanently for Bolt).
Certainly dope testing has impacted the record book, especially in the men's throws and most women's events.  Way back in previous decades another source of record-breaking was due to innovation or new equipment but there's not a whole lot of that available these days either.  This day was eventually going to come.
Does it matter?  To me, it shouldn't.  A sport that is all about numbers instead of bona fide competition isn't a sport, it's math homework.  I'd much rather watch close, competitive races like this year's World Championships men's 5k and 10k than watch one guy run 25 laps against the clock.  But there are drawbacks to a record drought, regardless of my preferences.
World records do make headlines in the sports press and it hurts track and field that there aren't any.  Maybe the realization that world records are going to become rarer and rarer will help the sport understand that it needs radical restructuring to survive and prosper–restructuring of scheduling, promotion, incentives, and more–but pardon me if I'm cynical towards the inherently individualist types in track and field figuring out how to work together for the common good.
Kevin
Let's go back to the records for a moment and put aside the ongoing debate of how this effects the marketability of track.
You laid out the four different places records have come from in the past few years, but that doesn't account for the marks that were most vulnerable this season (men's high jump, women's 100 hurdles, men's triple jump, men's pole vault). Obviously, none of those have been taken down yet, but it is interesting that they are in play.  You could also make a convincing argument that the women's 400 hurdles, men's 110 hurdles, and maybe the women's 10,000 and men's steeplechase will be bested before the next Olympics.
2013 wasn't a complete loss for top marks, especially for the Americans.  There were three national records this year.  Two of those came in the women's throws confirming your hypothesis about the "new" events.
Jesse
I'd argue with your assessment that the men's pole vault record was in danger but its off-topic.  Maybe it's on-topic to suppose that days are numbered for the women's pole vault record, especially if Yarisley Silva continues her rapid improvement.
By late June it sure looked like both the hurdle and high jump records could be beaten but the opportunities just never came along.  Rollins regrouped after USAs with the apparent lone goal of winning the Worlds, and Bondarenko often had too much competition to concentrate on the record.
There were some late-season close calls too.  Tatyana Lysenko went to #2 all-time in the hammer and Mariya Abakumova had a long mark in the javelin.
Is it possible that the most talented athletes simply had post-Olympic letdown?
Kevin
Upon further review, it appears that you are correct about Renaud Lavillenie.  That is what I get for trying to analyze the pole vault.
I think the post-Olympic letdown idea definitely holds water.  The most recent example to look at would be the 2009 season which came on the heels of the Beijing Olympics.  In 2009 there were only four world records set.  I say only because there were 13 in 2008.
Contrast that with the six we saw in 2012, and now it doesn't seem all that surprising that there haven't been any in 2013.   With the progressions in the "new" events that you outlined, and the superstars coming down to earth (at least for this season) fewer and fewer records are even in the discussion.
Many of the marks that aren't in reach are so unattainable that I don't think you or I will see them in our lifetime (3:50 in the women's 1500, 47.60 in the 400, etc.). There are obvious suspicions that accompany many of the women's records. The evidence is stronger in some cases than others, but history has proven that much of what was accomplished in the 70s and 80s isn't feasible in today's advanced drug testing climate.
Would you be in favor of revising these records?
Jesse
I've long thought most records that remain from the 80s should be ignored.  The rules under which athletes competed were different, specifically the absence of random out-of-competition drug testing.  In my mind it's just like the javelin; when the rules changed in that event, the record book changed.
Kevin
I wonder how the public would react to a record readjustment–especially in sport that is so numbers based.  If you took away the marks from the 80s and early 90s, Allyson Felix would be the world record holder in the women's 200.   Think that would impact her popularity in the United States and abroad?
If the record drought continues past this year it will also be interesting to follow how it impacts the popularity, or lack thereof, of the sport worldwide.  As you mentioned in your initial response, records are one of the few parts of track and field that the mainstream sports fan really seems to value.