12 Comments
Daily News Roundup: Short list of best US distance runners?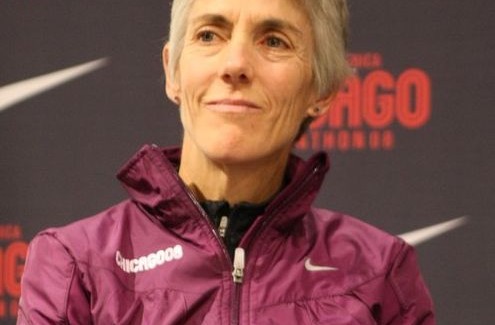 Does this person leap to mind when you think "greatest American runners?" She should.
You may have heard that Galen Rupp broke the American Record for the indoor 2-mile over the weekend. It led SI's Tim Layden to tweet the following:
Rupp has been on short list of best US distance runners in history for a while. Trying to figure out how many names are ahead of his

— Tim Layden (@SITimLayden) January 26, 2014

It led to a interesting Twitter discussion, but of course it was limited statements of 140 characters or less. I can work within the medium but I prefer a more wide-open format. Like this one right here.
The "short list of best US distance runners in history" is assumed to mean distances from 3000 meters to the marathon. "Best" requires sustained excellence.
My thoughts on who (besides Rupp) should be on the list and why…
Definite membership
Joan Benoit Samuelson
The twitter conversation was glaringly absent of women, and Benoit is unquestionably the most accomplished American distance runner of the last 35 years. "Joanie" won the first Olympic marathon for women (and would have been a contender in 1980, had there been a women's marathon and had the USA participated). She held the world record (and is still the 2nd-fastest American of all time, more than 4 minutes faster than the next-fastest) and won five "major" marathons (Boston x 3, Olympics, Chicago). She still runs well; just 33 people in the history of the world have broken 3:00 in each of five decades, and Joanie is the only female on the list.
Frank Shorter
Not only did Shorter won Olympic gold and silver in the marathon, he won the Fukuoka Marathon four times, a race that was the de facto World Championship marathon of its time. No one-trick pony, he won four national titles in the 10k and another four in cross country.
Bill Rogers
Rodgers won the Boston Marathon and New York City Marathons four times each, plus Fukuoka's "world championship" once. He also won bronze at the World Cross Country Championships and in 1978 he won 27 of 30 road races he entered.
Alberto Salazar
Shorter was a versatile runner but Rupps' coach had an even greater range. He won the New York City Marathon three times in a row plus one Boston Marathon win. He took 2nd and 4th at the World Cross Country Championships. He held American records at 5000 meters (both indoors and out) and 10,000 meters.
Steve Prefontaine
Dude, he's Pre.
Craig Virgin
Virgin's greatest accomplishments were off the track, most notably in his two wins at the World Cross Country Championships, aka "The Toughest Race in the World". He is the USA's only three-time Olympic team member in the 10,000 meters.
Bob Schul
The requirement is "sustained excellence", and Schul wasn't at the top for all that long. But all in one year (1964) he won Olympic gold in the 5000 meters, broke the world record for the 2-mile, and went undefeated against the likes of Ron Clarke (who he twice beat at Clarke's specialty, the 10k), Bruce Kidd, Gerry Lindgren, Billy Mills, Bill Baillie, and Bill Dellinger.
Lynn Jennings
The other woman who doubtlessly belongs on this list won three consecutive World Cross Country Championships plus an Olympic bronze medal.
Khalid Khannouchi
Khannouchi was already a bona fide star when he became an American citizen in 2000, after which he won three major marathons (Chicago x 2, London) and set a world record.
Buddy Edelen
The first post-WWII American to become truly world-class in distance running, Edelen set the world marathon record while living in England.
Probable Membership
Bernard Lagat
Layden said he thought of Lagat as mostly a middle-distance runner, but his accomplishments at 5000 meters might put him on the list.
Mary Slaney
Like Lagat, she was more of a middle-distance runner but did do some great things at 3000, 5000 and 10,000 meters.
Gerry Lindgren
A very good runner. Also completely nuts.
Billy Mills
Mills was the winner of the greatest upset in Olympic distance running history, and that's an amazing accomplishment. But since my criteria includes "sustained excellence", one-off success does not merit inclusion. He did break the 6-mile world record the very next year, so maybe he belongs.
Doris Brown Heritage
Heritage was a long-distance runner at a time when there wasn't long-distance running for women. She was a five-time World Cross Country Champion but didn't face anywhere near the kind of competition that came along in later years. Not too many people can say they both held an American Record at 440 yards and finished runner-up in the New York City Marathon.
Meb Keflezighi
What to do about Meb? He won Olympic silver and finished fourth in the Olympics eight years later, a feat no man has ever equaled (American or not). He's held American records and won the New York City Marathon. Does that merit short-list status? I don't know, but it helps his case if you value longevity.
Deena Kastor
Like Meb, Kastor has an Olympic medal plus a few other accomplishments: some major marathon wins (Chicago, London), two medals at the World Cross Country Championships, and tremendous longevity. She was eleventh in the 10,000 meters at the 1999 World Championships and ninth in the marathon at the 2013 Worlds.
Doug Padilla
A runner who is now all but forgotten, Padilla won the IAAF's overall Grand Prix title in 1985, the leading men's points scorer across all events that year in the series that was the precursor to the Diamond League.
Clarence DeMar
AKA "Mr. DeMarathon", he won the Boston Marathon seven times between 1911 and 1930 plus an Olympic bronze in 1924, but marathoners faced much less competition in those days.
Ryan Hall
Eh, maybe.
Shalane Flanagan
Flanagan won Olympic bronze and World Cross Country bronze and finished second at the New York City Marathon. Very good but probably not short-list great.
Links
Kevin Sully recaps the weekend's pro action with his usual insight and dry humor in the Monday Morning Run.
I covered the weekend's college action in the College Weekend Recap.
News
Runner's World's Morning Report has all of yesterday's news.
Ken Goe looks at all things Oregon in the Oregon track & field rundown.
USATF launched its Rewards program today. Basically, you can win stuff by accumulating points via joining the organization, watching webcasts on USATF.tv, using social media to pump up USATF, and more. Things you can win range from small potatoes, like USATF store discounts, to really cool shit, like being an awards presenter at the national championships.
More from USATF
The IAAF rounds up the weekend's Kenyan cross country action.
More from the IAAF
Spikes Mag gives us 13 reasons why a sub-2:00 marathon might happen sooner than you think. "Ever" is sooner than I think.
More from Spikes Mag
Runner's World's Amby Burfoot looks into Galen Rupp's training, especially his famous post-race workouts. He says it's totally rational. If you're a high school coach whose team is forced into a twice-a-week racing schedule, you might want to take notes and try it with your team.
More from Runner's World
Martin Bingisser asks: What makes a good coach?
More from HMMR Media
Video of the day
Today's comes in two parts, RAI TV's coverage of the Cinque Mulini cross country race.